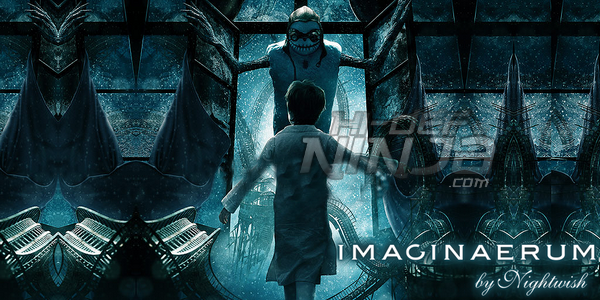 I've been a fan of the Finnish symphonic metal band Nightwish for quite a few years. I'd often listen to their beautifully haunting melodies and envision them playing as a score throughout a fantastical film. While the band has gone through several forms over the last few years by changing out their lead singer – their original front-woman was Tarja Turunen and their most recent as of late last year is Floor Jansen – it was the 2007-2012 incarnation of the band that featured vocalist Anette Olzon that helped bring to life Nightwish's first film foray (and hopefully not their last), IMAGINAERUM.
Imaginaerum is a film that's rather difficult to explain. Its themes are touching and heartfelt, yet dark and tragic. There are moments where you feel as if you're watching one of Tim Burton's films of yesteryear, though the film that IMAGINAERUM was most reminiscent of to me was Dave McKean and Neil Gaiman's MIRRORMASK. IMAGINAERUM is a puzzle-builder – a film where you must take the pieces that are presented to you and glue them together as you view it. It definitely keeps the mind on its toes while your eyes drool over the imagery that's in front of you.
The film tells the story of an elderly man named Tom who falls into a coma after years of dealing with dementia. From here, the film separates itself into two worlds; one of fiction and flashy images – the world that Tom lives in while in slumber – and the other being the real world that's going on outside of his subconscious. Both worlds present mystery; in Tom's mind, he faces bizarre challenges and adventure, meeting many characters on the way that are distorted images of the real people he left behind. Outside of Tom's mind, his daughter and long-time friend/lover attempt to reconstruct his life before he fell into the coma and why he was lead on such a path.
I must admit, when I first heard that Nightwish was putting together a feature film (with the help of writer/director Stobe Harju), IMAGINAERUM is relatively far from what I was expecting. I knew that fantasy and obscure environments/characters would be present, but to think that the film would follow such heart-breaking real-life footsteps is something that was somewhat unanticipated. The film that was put together is something that I was endlessly intrigued by while watching it. For the low budget that IMAGINAERUM was built on, it's incredible of what's been achieved. The cinematography was breathtaking and the cast – led with precise perfection by Marianne Farley and Francis X. McCarthy – was phenomenal. IMAGINAERUM is a film that won't be for everyone, yet it's one that I'd like to see everyone at least experience once. The dementia… the coma… leaving loved ones behind and hoping that everything is reconciled and at peace before you leave… these are all obstacles that people face every day and to see it broken down in such a way with such a glorious soundtrack behind it… I absolutely loved this film.
To purchase IMAGINAERUM, I recommend either the multilingual, region-free "International Edition" that's sold directly off of Nightwish's Web site or the gorgeous looking SteelBook that's available for pre-order in Germany.
~K
——————–
Final Thoughts are an opinion, not a review. I don't believe that anyone should base their own opinion on that of another person. Reviewers and critics are just regular people like everyone else and their opinion shouldn't be the be-all, end-all. What you just read were my Final Thoughts of IMAGINAERUM BY NIGHTWISH. I hope you share yours.