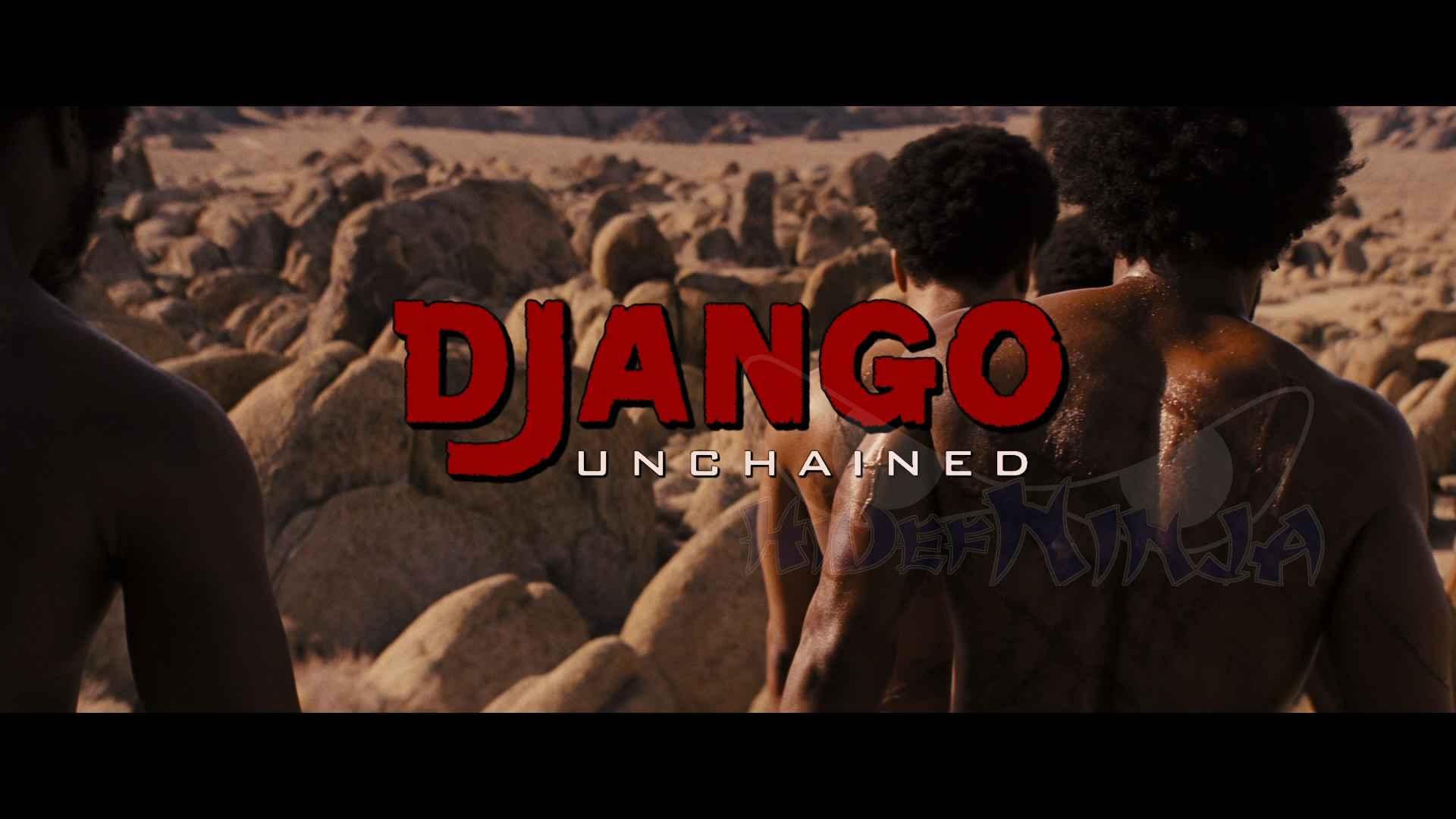 "The D is silent"
Written and directed by Quentin Tarantino and featuring an award-winning cast, Jamie Foxx stars as Django a slave who teams up with bounty hunter Dr. King Schultz (Christoph Waltz) to seek out the South's most wanted criminals with the promise of Django's freedom. Honing vital hunting skills, his one goal is to find and rescue the wife (Kerry Washington) he lost to the slave trade long ago. When their search ultimately leads to Calvin Candie (Leonardo DiCaprio), the infamous and brutal proprietor of "Candyland", they arouse the suspicion of Stephen (Samuel L. Jackson), Candie's trusted house slave. Now their moves are marked and Candie's treacherous organisation closes in on them.
After a somewhat disappointing change of direction (in my honest opinion) with Inglorious Basterds, I was somewhat sceptical of Quentin Tarantino's latest offering. Being a huge fan of the 1966 original starring the legendary Franco Nero, I was afraid that it would be a bit self-indulgent and challenging. How wrong I was! From the opening title sequence that uses the original title music that opens the 1966 film and after the introduction of the Django and Dr. Schultz characters straight away I knew I was in for a treat. The 164 minute runtime was a bit daunting at first glance but Tarantino keeps his finger on the pulse throughout and never lets it get dull with a superb (and Oscar winning) performance from Christopher Waltz who was just excellent in every scene he appeared in. Leonardo DiCaprio and Samuel L Jackson (pulling off a great wisecracking performance) keep the story fresh going towards the final act. A special mention as well for Franco Nero (who does receive a special screen credit at the start) for a superb cameo which respects the title character and keeps the fans happy.
Whilst the film is fun and entertaining but also brutally violent in typical Tarantino fashion, He manages to weave a bloody story of revenge and emotion into a superb motion picture that respects the Django character and spaghetti western genre.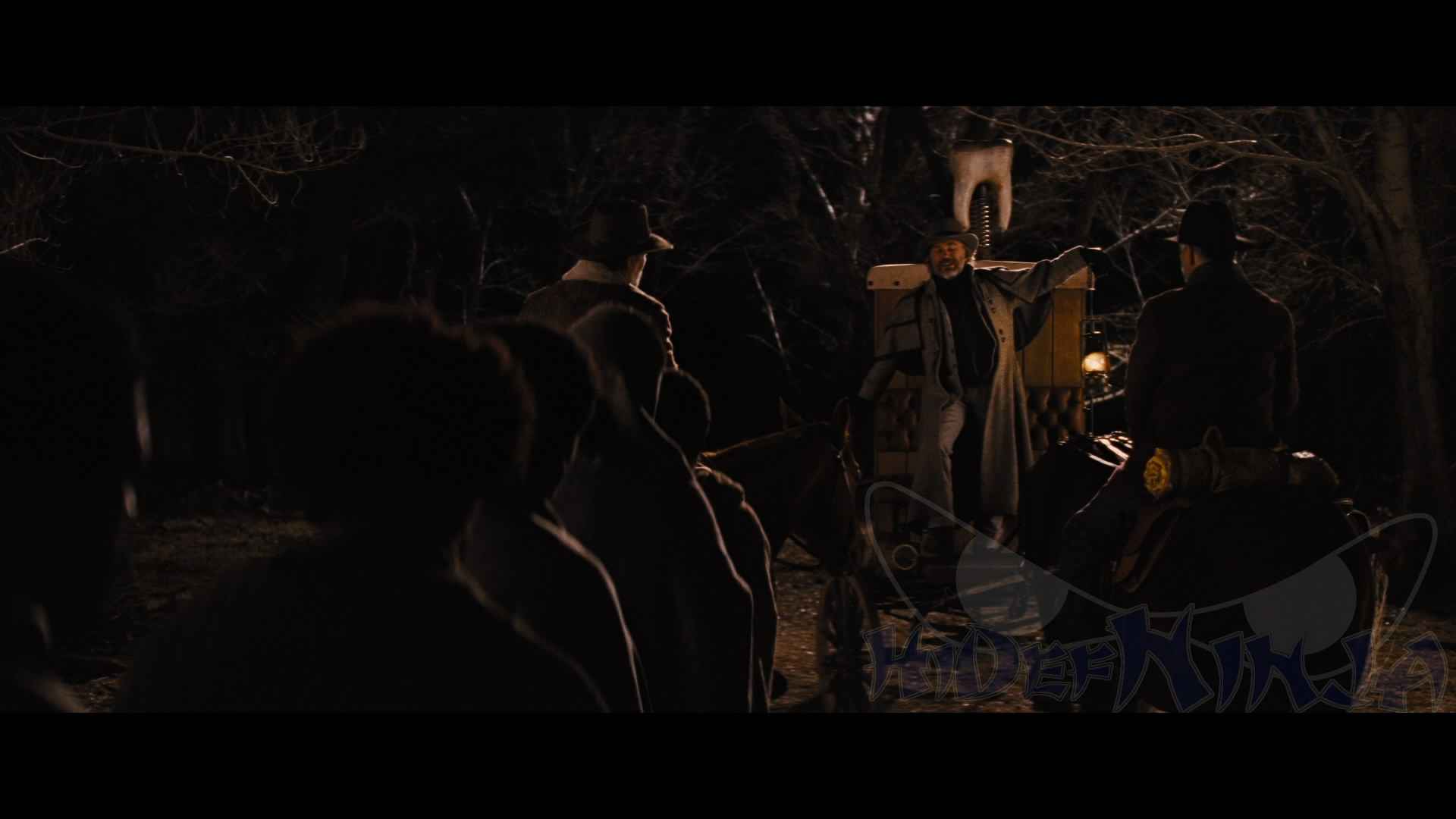 Django Unchained is presented on Blu-ray in its original aspect ratio of 2.40:1 with a 1080/24p MPEG4-AVC codec. Shot in 35mm with the Panavision Panaflex Millennium XL2 camera, from the opening frames of the film that sharpness and clarity in the detail is immense and retains a very nice film like quality throughout and certainly the film's rather exquisite production design during the final act. Colours are crisp and support the golden warm colour timing that was chosen for the film's vintage look. Black levels and shadow detail are nicely balanced and no detail is lost during the darker lit scenes.
"Screenshots were taken from the USA Blu-ray version and are not representative of the final UK version of the film."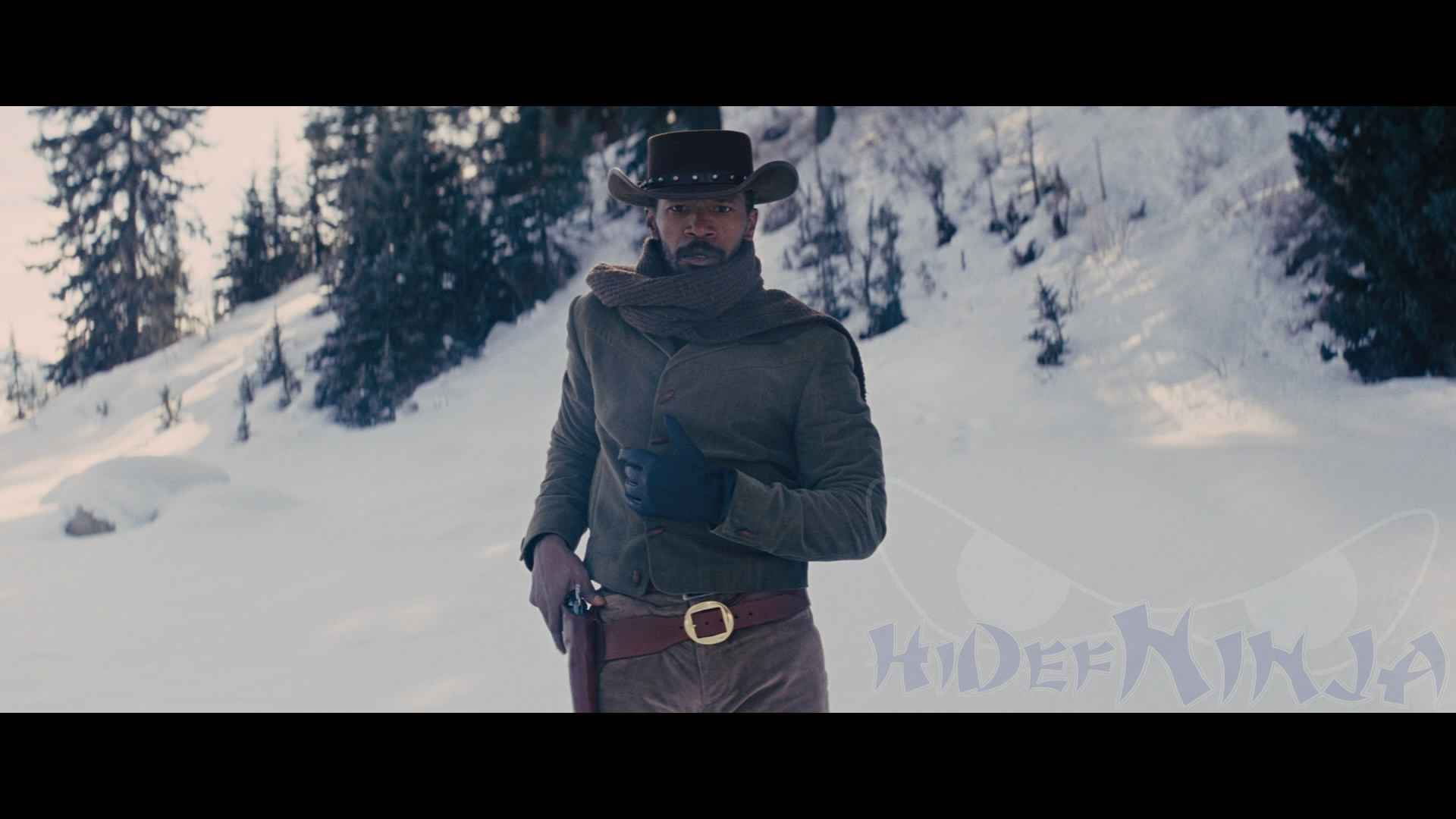 Django Unchained is loaded with multiple audio tracks on Blu-ray. The disc carries English & German DTS-MA 5.1 audio tracks, an English descriptive track for the hearing impaired and a Turkish Dolby Digital 5.1 track. The English DTS-MA 5.1 track though is stunning to listen to. The surround mix creates a great atmosphere and keeps the rear speakers in action throughout with some superb sound panning and general ambience. Dialogue was perfectly balanced across the front soundstage and clear as a bell. The LFE gets used to great effect with stampedes of horse and some pretty powerful gun blasts. As with all typical Tarantino films, he treats us to a superb fusion of music tracks from his personal collection that really give the speakers a good workout throughout.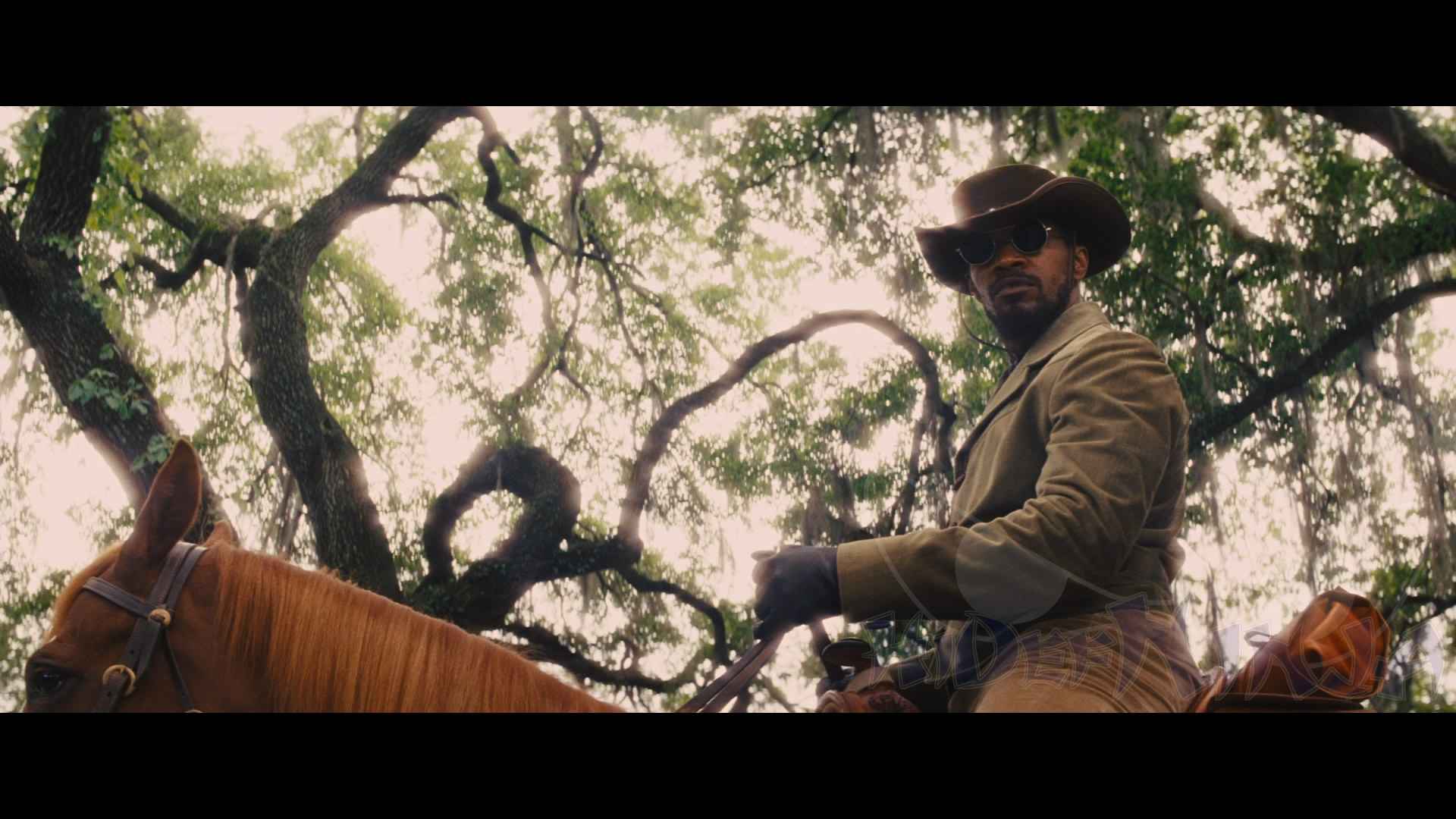 Remembering J. Michael Riva: The Production Design of Django Unchained (Running time 13 minutes): A short feature that pays tribute to the late Michael Riva who passed away shortly after the film's production intercut with interviews of Michael on set. Presented in high definition
Reimagining the Spaghetti Western: The Horses and Stunts of Django Unchained (Running time 14 minutes): Some onset interviews with Quentin Tarantino and Jeff Dashnaw, the stunt coordinator on the film, who detail the work involved with horse wrangling on set and the assurance that all the film's four legged stars were respected and looked after. Presented in high definition
The Costume Designs of Sharen Davis (Running time 12 minutes): A look at the film's rather exquisite clothing design. Presented in high definition
Tarantino XX Blu-ray Collection Promo (Running time 1 minute): A short promo piece looking at the recently released Tarantino Blu-ray boxset. Presented in high definition
Django Unchained Soundtrack Promo (Running time 22 seconds): Another short promo looking at the film's superb soundtrack. Presented in high definition
The Blu-ray also comes with a redemption code to download a portable Ultraviolet digital copy of the film.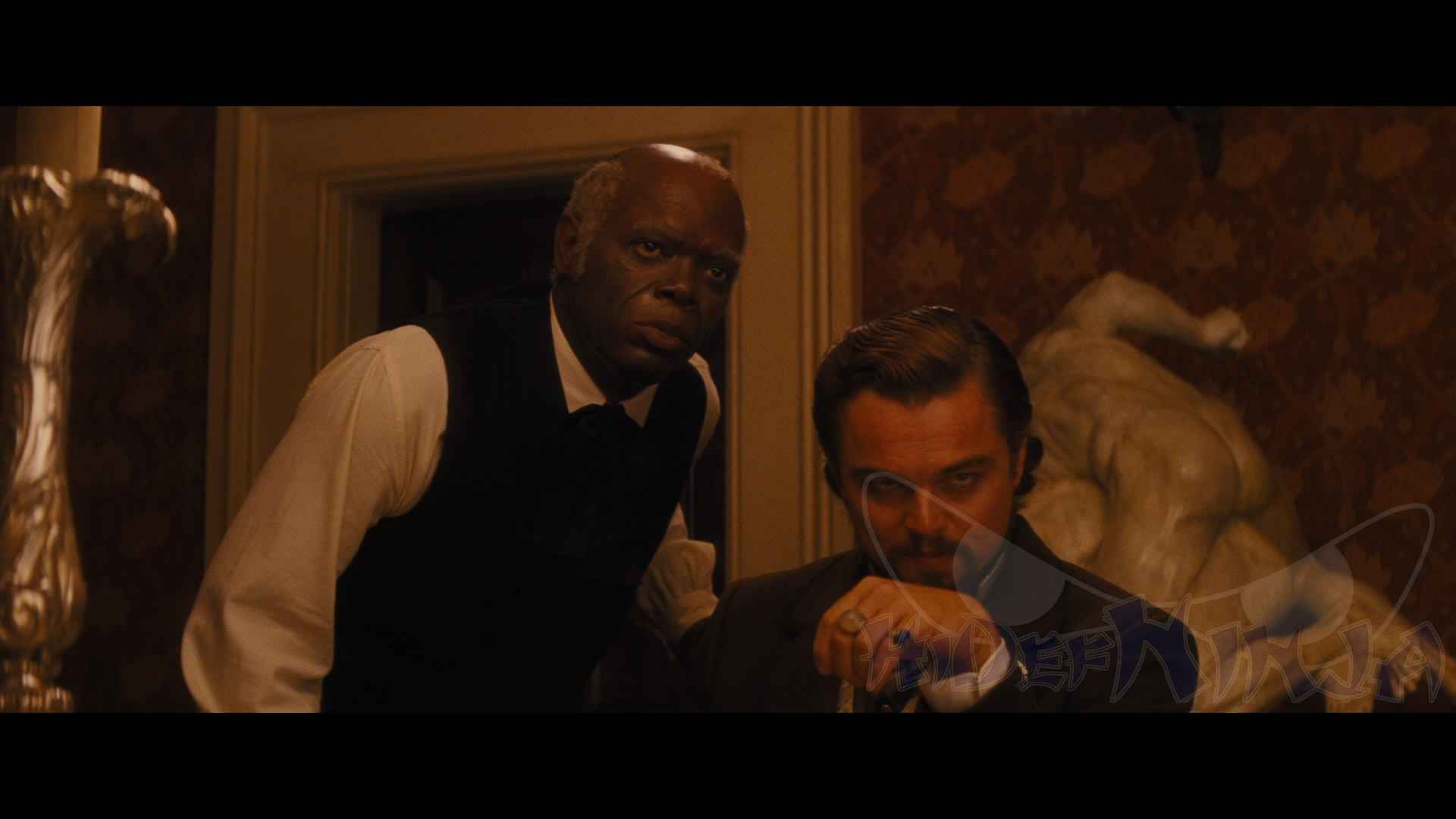 As I went on to great length above, I was pleasantly surprised with how Django turned out and loved every minute of it. It's a film that I will come back to again in the future without a doubt. The performances from the film's lead stars in nothing short of exceptional. The presentation of the film on Blu-ray is superb with some brilliant A/V quality on offer. The bonus features could be a bit more in depth but overall this purchase is highly recommended!