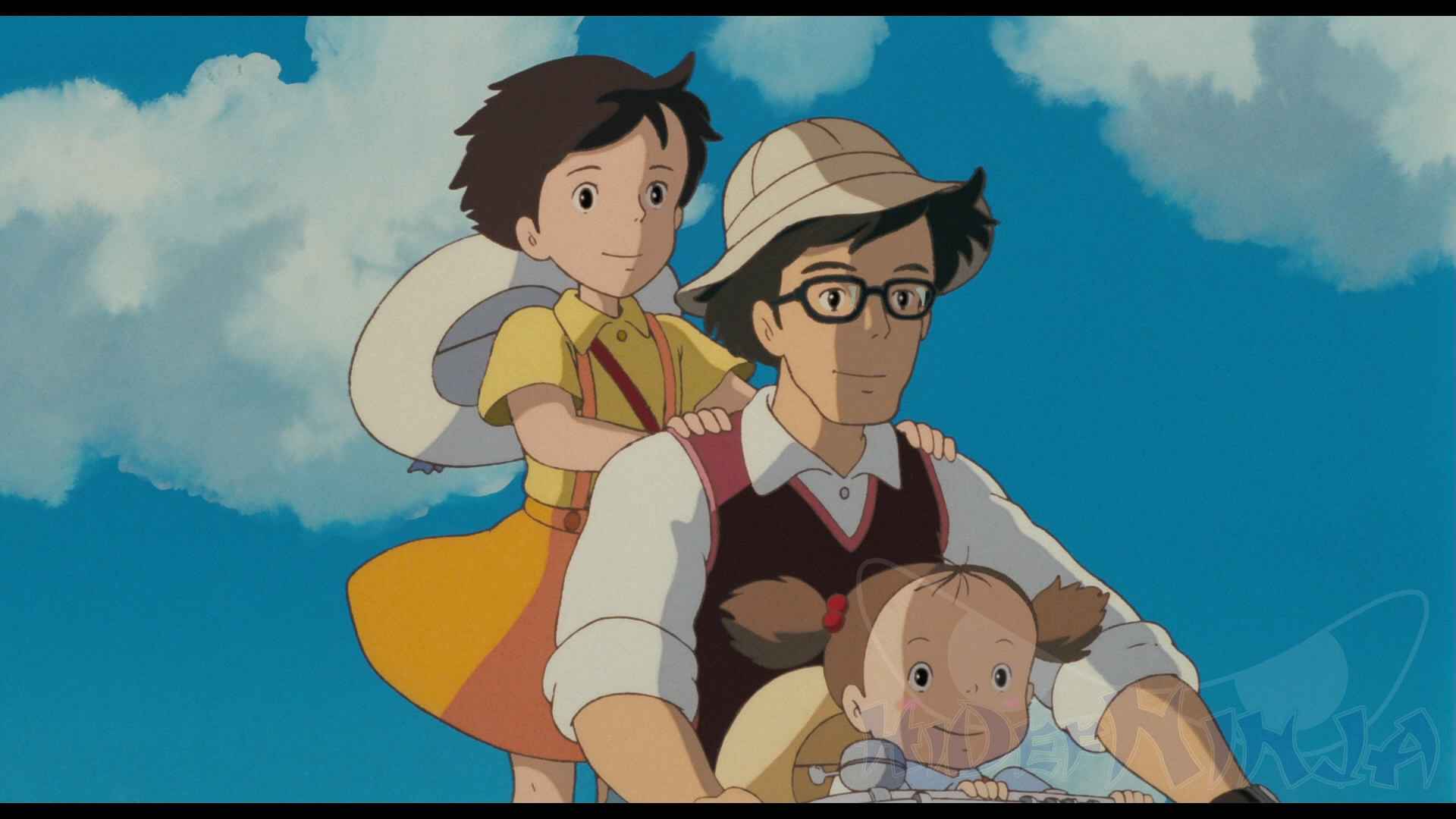 Satsuki and Mei have just moved to the countryside with their father. However, their mother has been hospitalized and has remained under medical care for some time. The girls waste no time and begin to wonder around their home and seeing some very random things. Mei, who is the youngest, begins to wonder around and accidentally ends up at the big tree in what looks to be Totoro's sanctuary. As the time passes by both Satsuki and Mei are fascinated by their newly found friends.
Out of the many Hayao Miyazaki films I'd had the pleasure to see, My Neighbor Totoro has to be one of the strangest and yet interesting look at a child's unique sense of wonder. It's the latter approach that makes My Neighbor Totoro so interesting. Right from the beginning we see how Miyazaki really focuses on the young sisters Satsuki and Mei, but he really focuses on their mannerism and how the children behave. Miyazaki captures their sense of adventure and wonder.
Once Miyazaki has set the precedence, the girls begin to wonder around and even after Totoro comes into the picture we are left to wonder. That's the magic of the film, we come close and see their naive sense of wonder and see them discover the magic that is sitting right next to them and yet we are left wondering whether or not this is all part of their imagination. As the story unfolds we come to see the tough situation their life is going through with their mom being hospitalize and the strain the family is going through that by the end of the film you must wonder about the events that just transpired in the film. The movie really finishes on a high note and re-establishes the need for families to be together.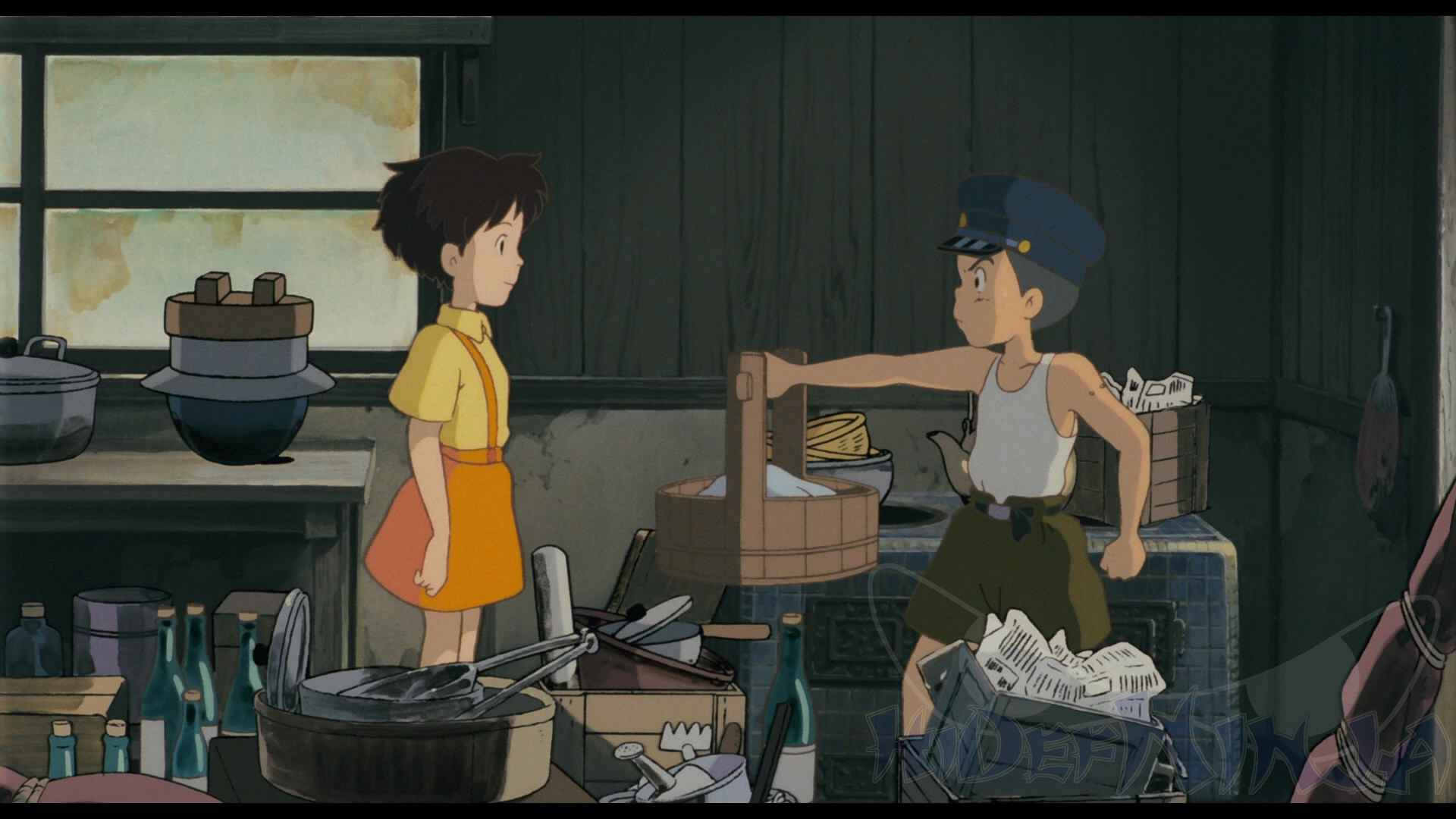 My Neighbor Totoro arrives on Blu-ray with an MPEG4-AVC encode framed at 1.85:1. Looking at this video without knowing the exact year it was released, you would never guess that it was released back in 1988. Yes, the animated film is 25 years old so it's really an outstanding level of effort to bring this title to with such high quality. The animation itself looks marvelous from beginning to end. The colors come alive frame after frame and fortunately for everyone no ringing is found. The darker scenes are well reproduced but do have some small issues. So far many will be thinking about if the film has any issues, but I am very happy to tell you that no real anomalies are found. There's no real sings of video noise or dirt on the image and perhaps the best part is that no signs of banding is visible. My Neighbor Totoro looks fantastic on Blu-ray.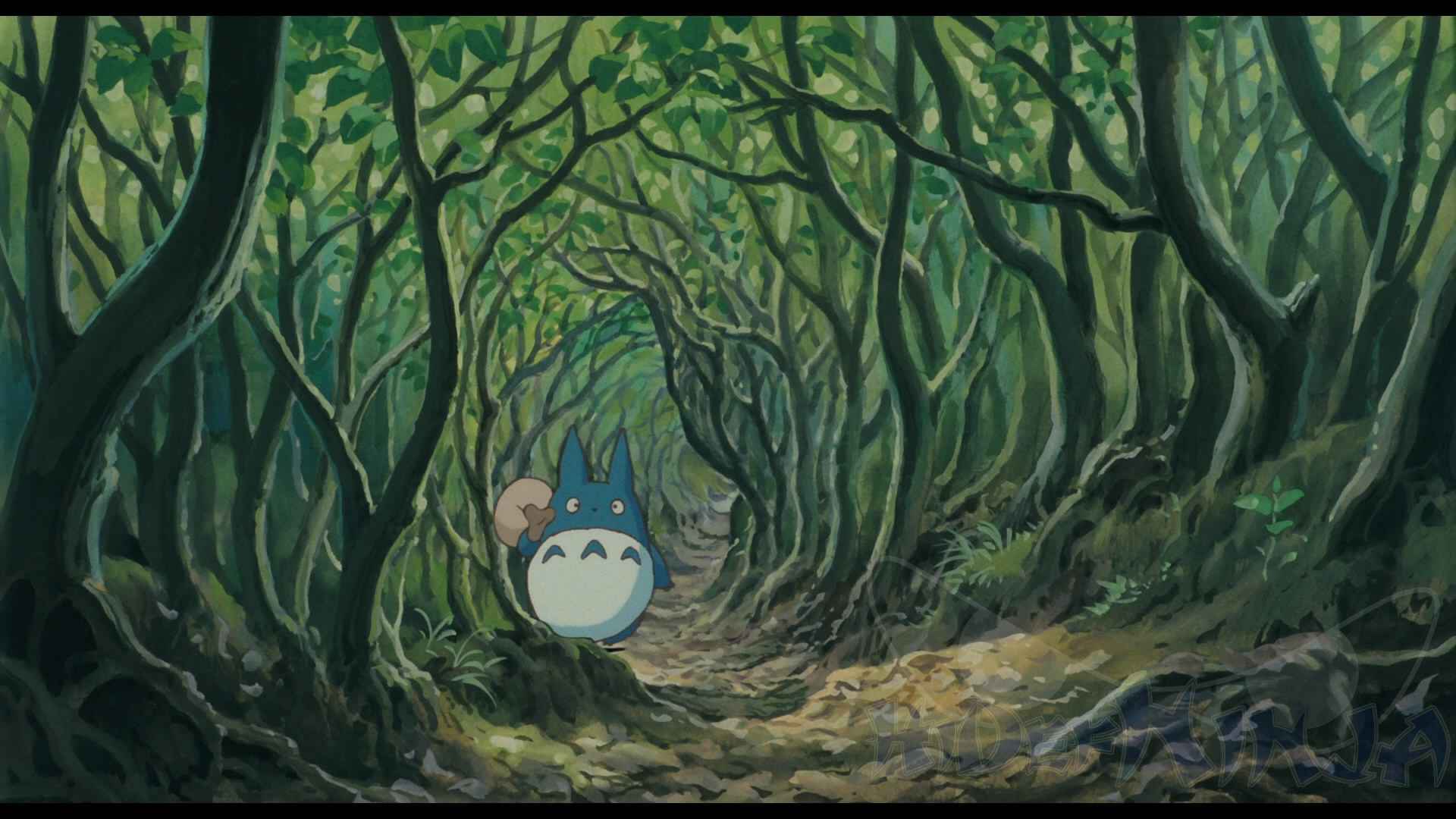 My Neighbor Totoro includes three DTS-HD 2.0 tracks Japanese, English, French. The English track contains a few familiar voices, but I couldn't get myself to keep the track as the default track. So Japanese was my first and only choice. Rest assure the English track is equally on par.
The stereo tack is limited but nevertheless of great quality. Voices are very clear throughout the film. I was pleasantly surprised by the very discreet effects and how some of the scenes really were so lively. Directionally was limited but it does a decent job. Overall, I can't complain with the track.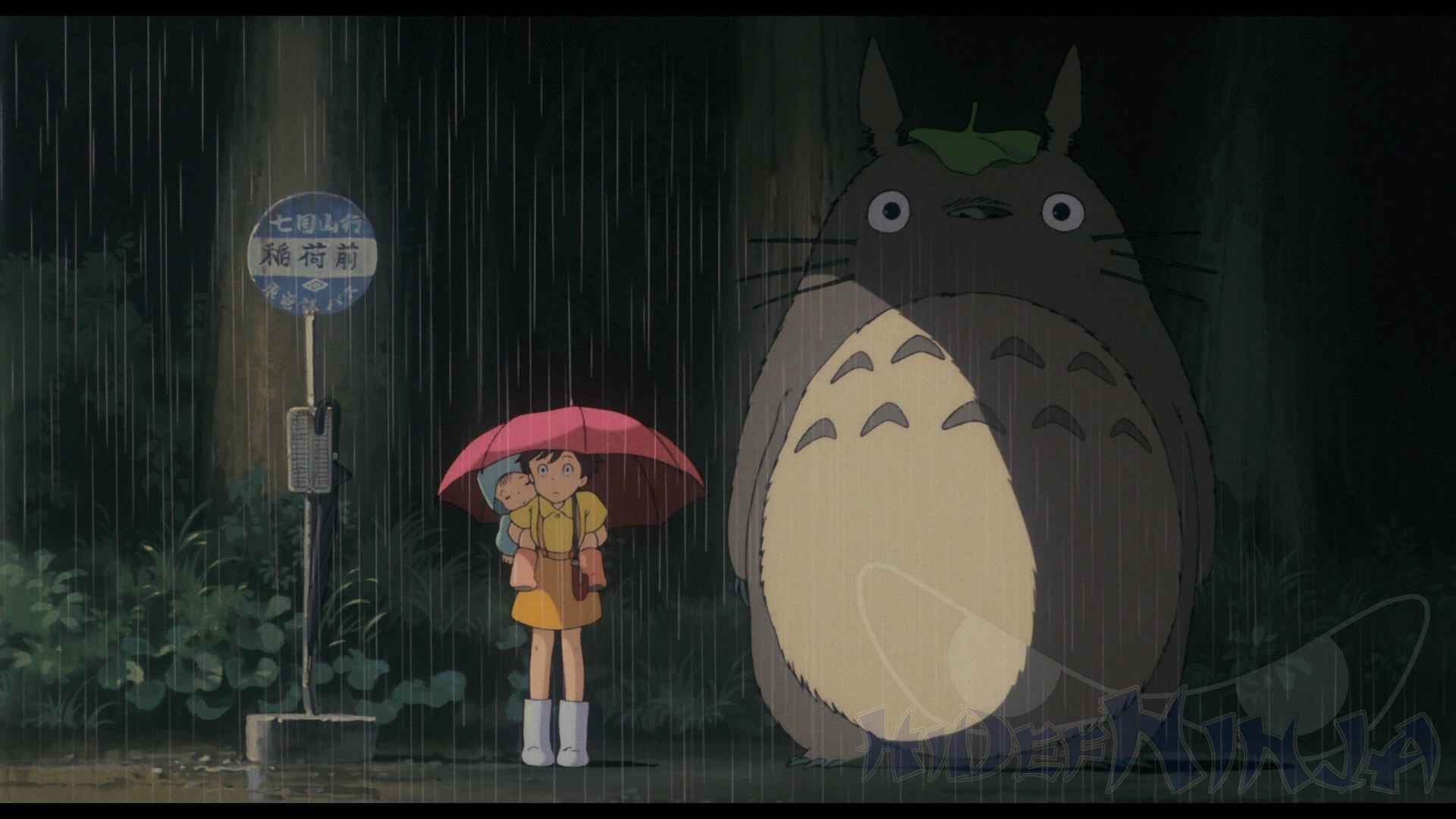 Original Japanese Storyboards
Creating My Neighbor Totoro
Creating The Characters
The Totoro Experience
Producers Perspective: Creating Ghibli
The Locations of Totoro
Scoring Miyazaki
Original Japanese Trailer
Behind The Microphone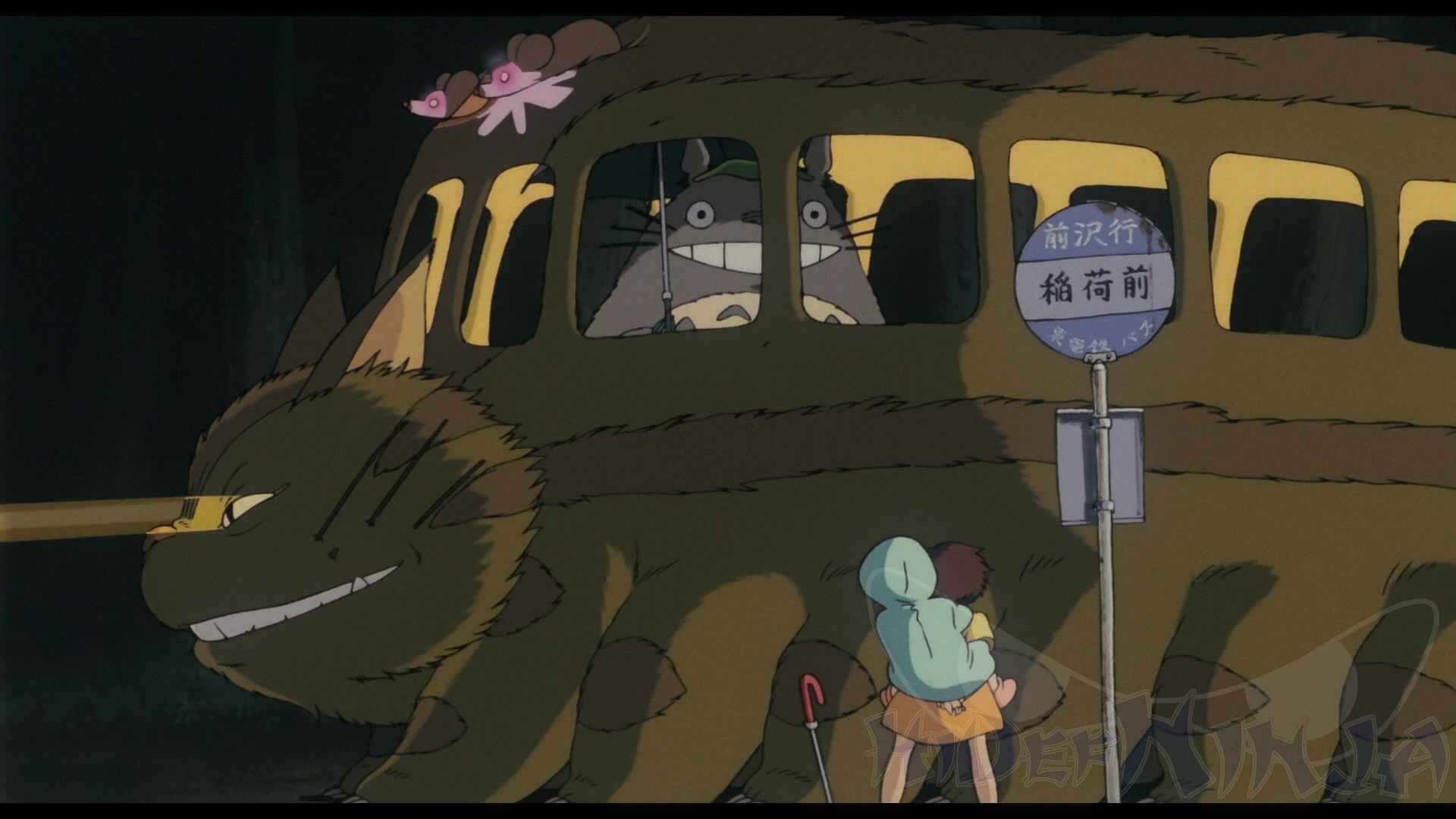 My Neighbor Totoro at first glance can be a rather confusing and weird movie, but looking at it from a different perspective we can see Miyazaki's true work at hand. The story is so well put together and we can see how the girls wonder around and discover some very magical creatures. This is truly a great film to watch. The Blu-ray looks and sounds great and is filled with plenty of supplements. Fast of Studio Ghibli should have no issues adding this title to their collection.