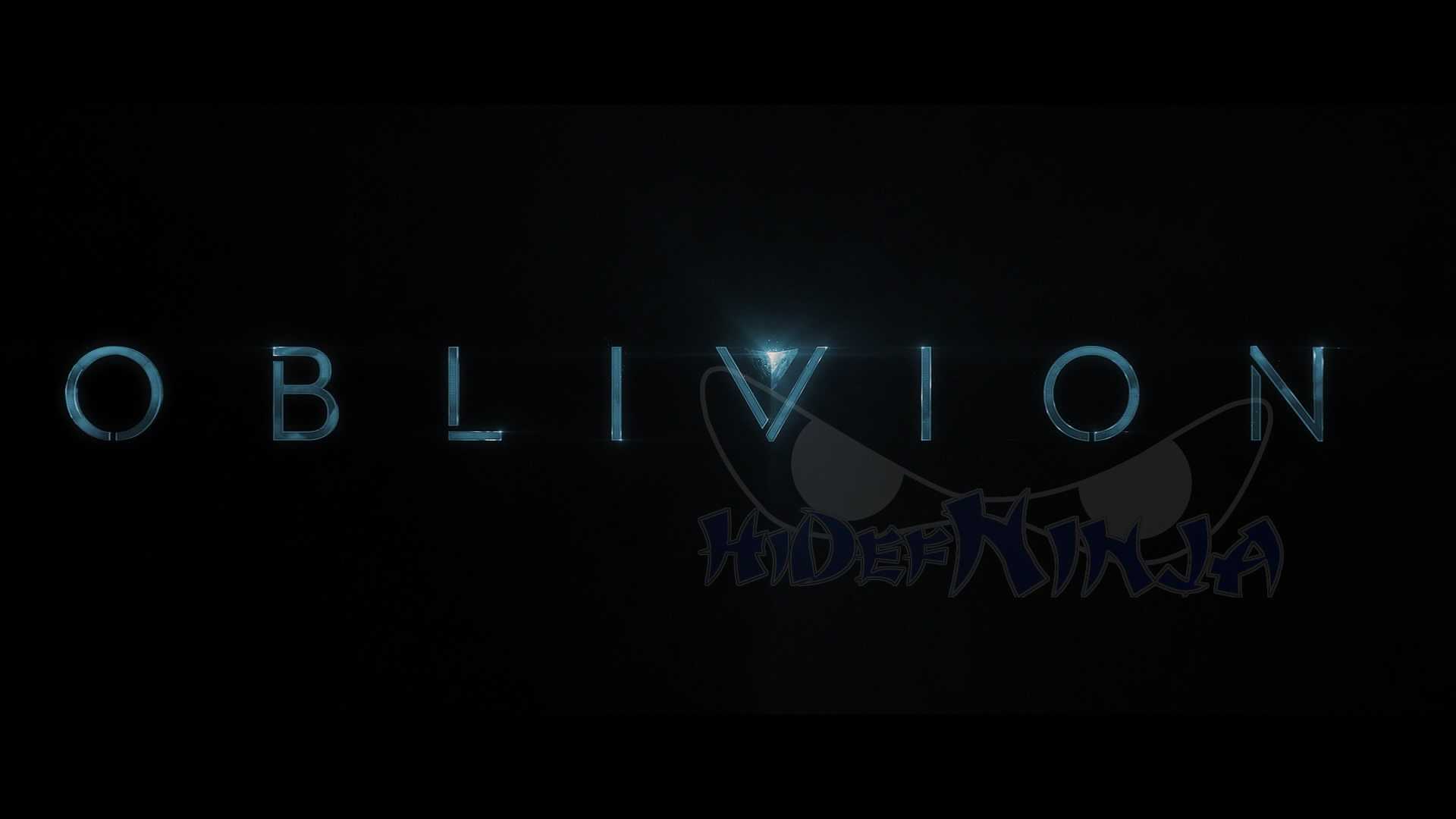 Oblivion is pure Science Fiction goodness with reference-quality audio and video.
In a year that seems overrun with plot twists – some very extremely done (Trance) and some which left us wondering why we bothered (Admission) – Oblivion takes this potentially overused device to a new level, blending the best aspects of classic Science Fiction with state of the art effects.  The home release arrives with reference-quality video and audio, along with a deep collection of supplements.
In a future ravaged ravaged by an alien invasion, a tattered and post-apocalyptic Earth is host to clean up man Jack (Tom Cruise, Mission Impossible IV: Ghost Protocol) and his partner Victoria (Andrea Riseborough, The Devil's Whore) as they seek to keep a collection of automated but deadly drones functioning while the survivors of Earth rob the planet of its remaining resources.  We're told that the survivors of the 2017 invasion have been moved to a massive space station called the Tet, while Jack braves desolate conditions and Victoria keeps Jack from the clutches of the dangerous Scavs.  These aliens represent a guerrilla force who destroyed the Moon as an invasion warm-up, and who forced the nations of the world to deploy their nuclear arsenal to repel them.  As Jack repairs one downed drone after another, he comes across a deserted football stadium where the last game ever to be played took place.  But the Scavs are gunning for him, leading to an attack in an abandoned library and robbing him of his mode of transportation.
But Jack's problems don't end there: he's been haunted by dreams that feel all too real, of a mysterious woman atop the Empire State Building; his landing at its remains are not coincidental.  As Jack's reality begins to crumble around him, he meets the human survivor Beech (Morgan Freeman, Dark Knight Trilogy), just as the mysterious woman (Olga Kurylenko, Quantum of Solace) crash lands in a space ship near Jack's location.  Faced with the possibility that  he's been working for the wrong side, Jack and Beech hatch an elaborate plan to destroy the Tet while uncovering the truth about Jack's role in the Earth's destruction.  For Jack, things will never be the same.
Written and directed by Joseph Kosinski (Tron: Legacy), Oblivion is off-the-charts eye candy of beached nuclear submarines with their arsenals spent, smashed cities, and eerily-desolate locations.  Cinematographer and fellow Legacy collaborator Claudio Miranda paints an amazing canvas here, wrapping us in stunning visuals, which include the beautiful sky-pod which Victoria and Jack call home.  But it's the script – based on a graphic novel written by Arvid Nelson – that masterfully presents some of the best twists I've seen in awhile.  There's also a nicely contemplative angle here about reality and the choices people make before kicking things into high action gear.  Most moviegoers easily confuse Science Fiction with Sci-Fi – the previous being more character development and the latter more reliant on action – neither of which in its pure form are that entertaining.  For all the snazzy special effects, Oblivion is really about a man seeking answers to his past and the results when he pushes too far to get them.  Freeman, Cruise, and Risenborough form an 'effective team' (a pun from the film), sporting terrific chemistry, with Risenborough demonstrating her looks and beauty next to the powerhouse Cruise.  She's an actress who's Hollywood star seems on the rise.
It's unfortunate that Oblivion didn't bring the Hollywood bacon, grossing just $89 million on a budget of $120.  But everything that makes a great film is there.  Kosinski's amazing mindbender will hopefully find legs in the home market, as it stands out as one of the best Science Fiction films we've seen in awhile.
Simply put, Oblivion makes an early and emphatic case for transfer of the year.  Its 1080p AVC/MPEG-4 transfer stands out in every way, offering a palette of colors and textures that should look amazing on any platform.  The 50GB single disc provides plenty of space for the film to shine, highlighting deep blacks which fade into multi layers of shadow and exteriors which are bathed in bright lights that never suffer oversaturation.  Ditto for the spot-on color scheme in interior shots of the pristine Skytower and at Jack's forest retreat, never becoming either too sparse or too cartoonish.  Above all of this is the perfect sharpness that sets Oblivion from the rest, excelling in its presentation of skin features and man-made environments.  You can see pores on Cruise's face and individual hairs on Risenborough's head; this mixes very well with Kosinski's impeccable set design, showing off instruments on Victoria's com panel and the deep caverns of Beech's hideout.  The CGI translates so well here – selling the sizzle of an Earth ravaged by war – that we actually forget what we're watching and start to drink Kosinski's Kool-Aid.  Forget the fact that some  have complained about not receiving the IMAX aspect shift (which reminded us of The Dark Knight) in the home release, but it's unnecessary.  The presentation more than makes up for it, leaving out any edge enhancement, artifacting, banding, or ringing.  In fact, I challenge anyone to find a print better than this one from the current stock of 2013 films – you won't find it, so don't even bother.
Universal delivers again in the audio department by granting Oblivion a thoroughly impressive experience.  To say this might be the best of the year (as well)  is not going too far.  At every moment, Universal demonstrates its absolute domination in audio transfers, immersing the listener into an auditory overdrive of well-placed rear effects, pervasive music, and absolutely booming LFE.  This DTS-HD Master Audio 7.1 mix pulses through a techno beat by the French electronic band M83 that reminds one of Tron: Legacy, but also uses pinpoint audio effects such as Jack's bubble ship passing across the left and right speakers.  While the front speakers are always delivering clear dialogue and stellar effects, it's the rears that work in perfect harmony and always seem to be engaged.  Sometimes studios will shift the optional '6' & '7' speakers to the front, creating too much sound up front and not enough in the rears.  Not here: there's outdoor wind, alarm beacons, birds chirping at Jack's retreat and waterfalls and other atmospheric effects that permeate this lossless track.   Everything here feels like you're actually living in this ruined time, and although this was tested in a 5.1 environment, we didn't notice a loss of clarity or any compression whatsoever.  If any of you audiophiles want a reference-quality example for your collection, this one is definitely it.
As someone who really likes a good commentary, Oblivion doesn't quite deliver the goods, but everything else about the supplements does.  Everything here is presented in HD:
Audio Commentary: A word of caution, in that Director Kosinski gives away a major spoiler within 30 seconds of the film's beginning.  Be aware of this if you plan on watching the film out of order.  As is customary with a Tom Cruise movie, the actor joins Kosinski in the same room to discuss the film's merits.  It's a solid offering, even though there's a lot of the duo reacting to things on the screen instead of talking about how they were created.  Also, just like a Cruise commentary, he spends a lot of time congratulating Kosinski for a job well done.
Deleted Scenes (4:25): Some deleted scenes are best left on the editing floor.  Those added to the Oblivion Blu-ray are worth watching.  There's Bubbleship Flyby, Stadium – Original Opening, Medkit, and The Archives, each of which explains a critical piece of the film.  I'm not sure they were needed in the film – especially Stadium – but I could see why some would have preferred them in there.  They're insightful, but I can also see how their inclusion might have slowed down the movie.
Promise of a New World – The Making of Oblivion: This part is broken down into five sections, each of which is presented below.
Destiny (11:02): This is a terrific making-of that discusses how the film began, from inside the mind of Kosinski.  We learn how a beautifully-designed graphic novel became the starting point for one of the most unique and realistically futuristic looking  films I've seen in awhile.  Among the many insights here: we learn that all the background images from the Skytower were actually rear projection screens positioned all around the set, giving everything a life-like look.
Voyage (9:31):  We turn our attention to Harper's bubble ship.  The creative team discuss its genesis, how it was constructed, and its general intricacies.  If your nerd tendencies dictate that you learn as much as possible about a film, this one is absolutely essential.
Combat (15:50): Cruise is going to get himself seriously injured one day.  This featurette shows just how dangerous movie making can be, as Cruise is involved in every aspect of the stunt work.  We learn about the challenges of shooting the desert fight  as well as the motorcycle he employs in several sequences.
Illusion (5:39):  Here, we learn how the CGI was incorporated into the 'in-camera' set and exterior shots.  There's also some nice Pre-Viz footage here that I wish could have been added as a separate feature.
Harmony (6:11.): Music makes a film, and M83 brings the noise with an impressive mix of drums, choir, orchestra, and electronics instruments.
Isolated Score: Speaking of M83, you can watch the entire film without talking or special effects.   I haven't seen this in awhile, and it's welcomed here.
UHear: Can't hear a particular scene?  This allows you to rewind 15 seconds to see subtitles before regular play continues.
Our evaluation copy came as a Blu-ray/Combo Pack which also includes a Digital Copy and UV of the film.  The attractive slipcase is embossed with the 'Oblivion' title, but there is no interior artwork.  At the time of this review, several versions were offered including a Target special edition with an artbook.  Foreign versions were offered in steelbook.  In terms of diversity and quality, the supplemental features represent the best of the year and should appeal to everyone.
Oblivion is another example of the Hollywood pull Tom Cruise still commands in assembling amazingly-creative talent.  Its superior production is matched by the best Blu-ray release of the year so far, with amazing clarity and audio.  For all the belly-aching by critics over its lack of story and their seemingly unending hatred for Cruise, Oblivion is stylish and beautifully shot, and whose story celebrates the best parts of Science Fiction films from the past 40 years. The result certainly deserves your attention. Oblivion is rated a surprising PG-13 and has a runtime of 126 minutes.
Discuss this review with fellow HDN fans on Facebook. On Twitter, follow us at @HidefNinja, and follow author Matt Cummings at @mfc90125.