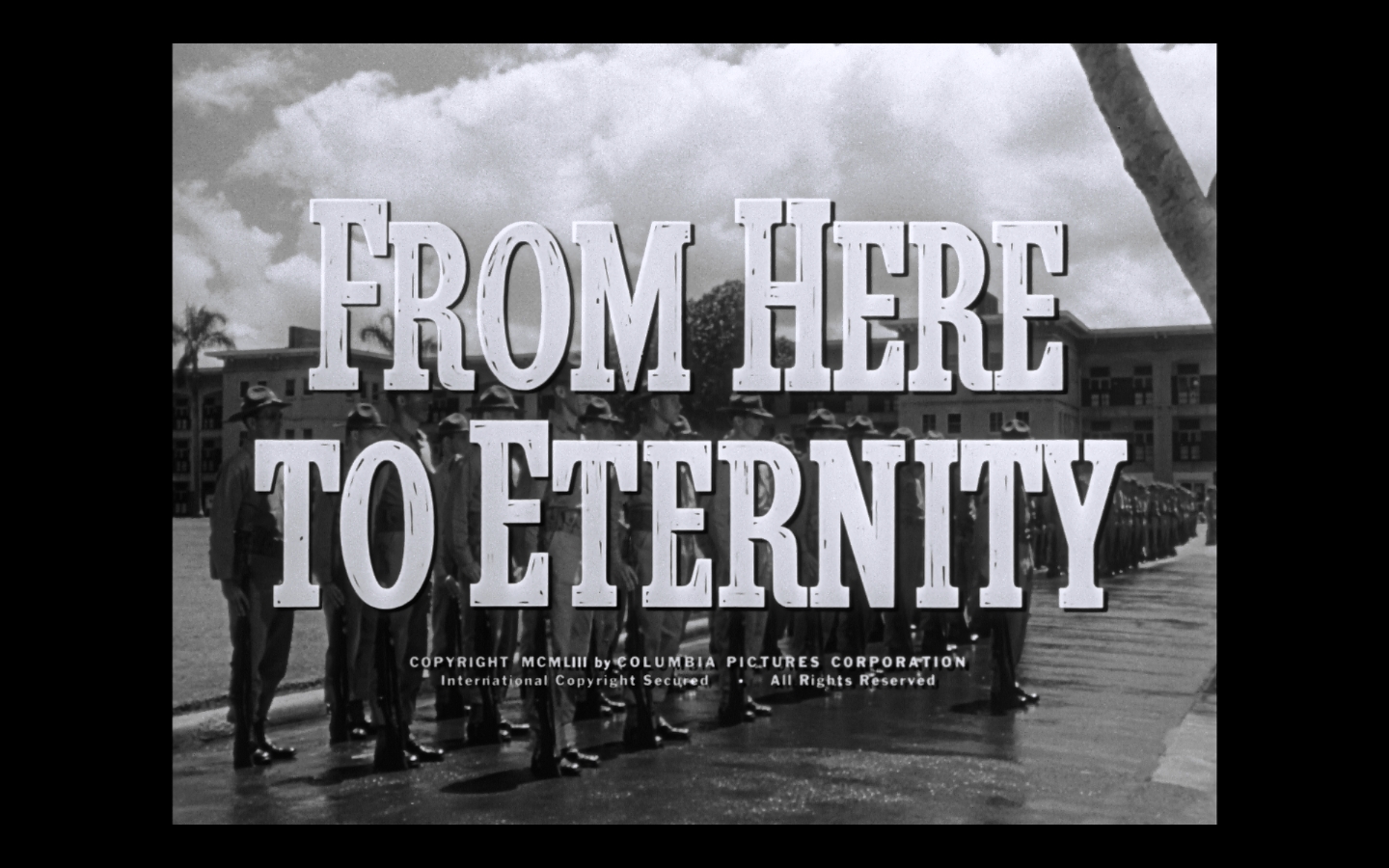 Set in Hawaii in 1941, Private Robert E Lee Prewitt is a bugler who has just transferred to the Schofield Barracks on the island of Oahu. His real talents are in boxing as he is one of the best around. So Captain Dana "Dynamite" Holmes wants him to join their boxing to team but Prewitt has sworn off the sport due to an accident while sparring. Because of his refusal, Holmes works Prewitt as hard as possible. Prewitt's friend, Private Angelo Maggio, is his only friend at the base for not wanting to fight. While this is going on, First Sergeant Milton Warden pursues a relationship with the captain's wife but through all of this, they have no idea of the impending doom as December quickly approaches.
Even for those who've never seen the movie, From Here to Eternity is one of the most recognizable movies ever and has become a classic in American cinema. This year marks the 60th anniversary for the film and it looks incredible. It's directed by the incredibly talented Fred Zinnemann and according to the extras, had some problems from start to finish including the actors who were cast. In spite of all that, the film won eight Academy Awards out of the 13 nominations, including Best Picture, Best Director, Adapted Screenplay, Best Supporting Actor for Frank Sinatra, and Supporting Actress for Donna Reed. I don't think any other actors could have the onscreen chemistry as Deborah Kerr and Burt Lancaster. The love scene with the two is one of those scenes that has been attempted to be reproduced in many films after it. I can easily say that I have highly enjoyed this movie almost as much as the first time that I watched it.
Directors and cast
Burt Lancaster
Montgomery Clift
Deborah Kerr
Donna Reed
Frank Sinatra
Ernest Borgnine
Philip Ober
Jack Warden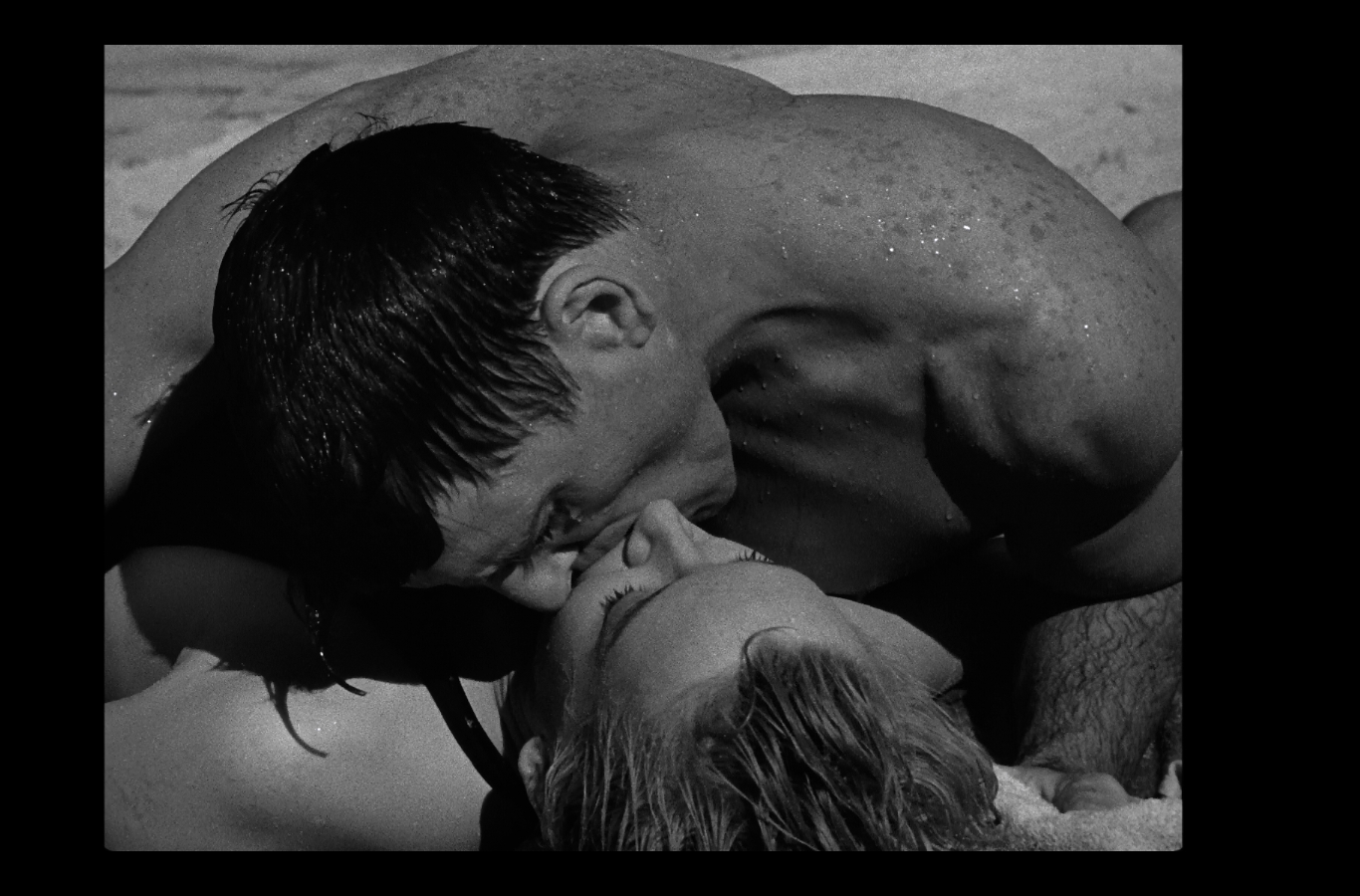 From here to Eternity has been transferred in 1080p AVC and it has never looked so clean. With the film being from 1953, it's framed in its original aspect ratio of 4×3. Like most older films, Sony's remastering of the film has restored the film to where there is a light grain and details that have probably never been seen before, the black levels are deep but there is minimal crushing and darker scenes that weren't that noticeable. I'm a sucker for watching remastered classics and these intricacies in the print show up that have probably never been seen before. It's very refreshing to see how much love has been put into the transfer of this release.
The release has the original mono track and the newly remastered DTS-HD MA 5.1 surround track which I believe was first introduced on the SuperBit DVD series. The sound has been cleaned up and brings new life to the film that well deserves. The score really utilizes the mix that spreads throughout the channels, bringing a new beauty to immerse in to the film. For the most part, the audio is very front speakers based until the attack on Pearl Harbor occurs and the channels really get their work in. This is also where the light LFE can be heard and is subtle. I'm still very impressed with the beautiful clarity in the sound being that it's now 60 years old. I think this is definitely a light audio track overall but that's the way it's intended.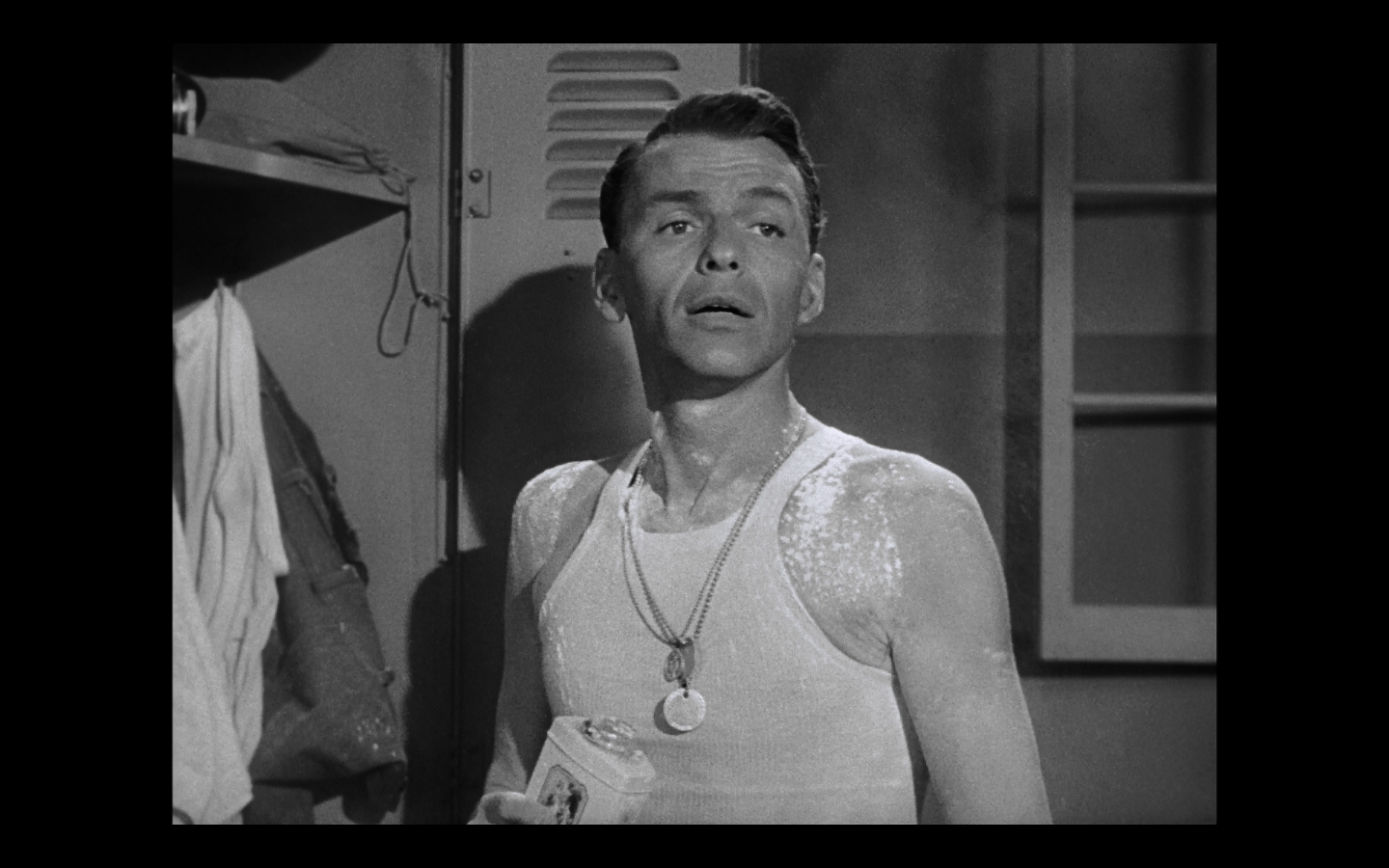 The release is loaded with extras with some footage that has been dug up out of the archives. It's very nice to see some of the old featurettes with little known info and facts.
Supplements
Eternal History: Graphics-in-Picture Track- this feature is a movie length extra that explores almost every facet of the film from production to finish. It fills most of the screen and it includes rare photos, casting issues and other points that may not be known to most.
Audio Commentary: Tim Zinnemann, Son of the director Fred Zinnemann, Tim, and Alvin Sargent go over the film and discuss almost every facet of the movie.
Making of From Here to Eternity- This featurette is a very old one discussing the casting and some of the problems they had getting the film made.
Fred Zinnemann – "As I See It":
This featurette is comprised of Zinnemann's on set footage and some discussion of some clips from the film.
Lobby Cards inside the case- The release has folded collectible lobby cards that are replicas from the original release.
Edition Ratings
not rated
Region
A
Video
1080p MPEG-4 AVC
Original aspect ratio- 1.37:1
Blu-ray's presented aspect ratio- 1.34:1
Audio
English DTS-HD Master Audio 5.1
English Dolby Digital Mono (Original audio track)
French Dolby Digital Mono
German Dolby Digital Mono
Italian Dolby Digital Mono
Japanese Dolby Digital Mono
Portuguese Dolby Digital Mono
Spanish Dolby Digital Mono
Subtitles
English
French
Spanish
Portuguese
Japanese
German, Italian
Arabic
Czech
Danish
Dutch
Finnish
Hebrew
Hindi
Korean
Mandarin (Traditional)
Norwegian
Polish
Swedish
Thai
Turkish
Discs
Single Blu-ray Disc
Packaging
The release includes the Slipcover a replica lobby cards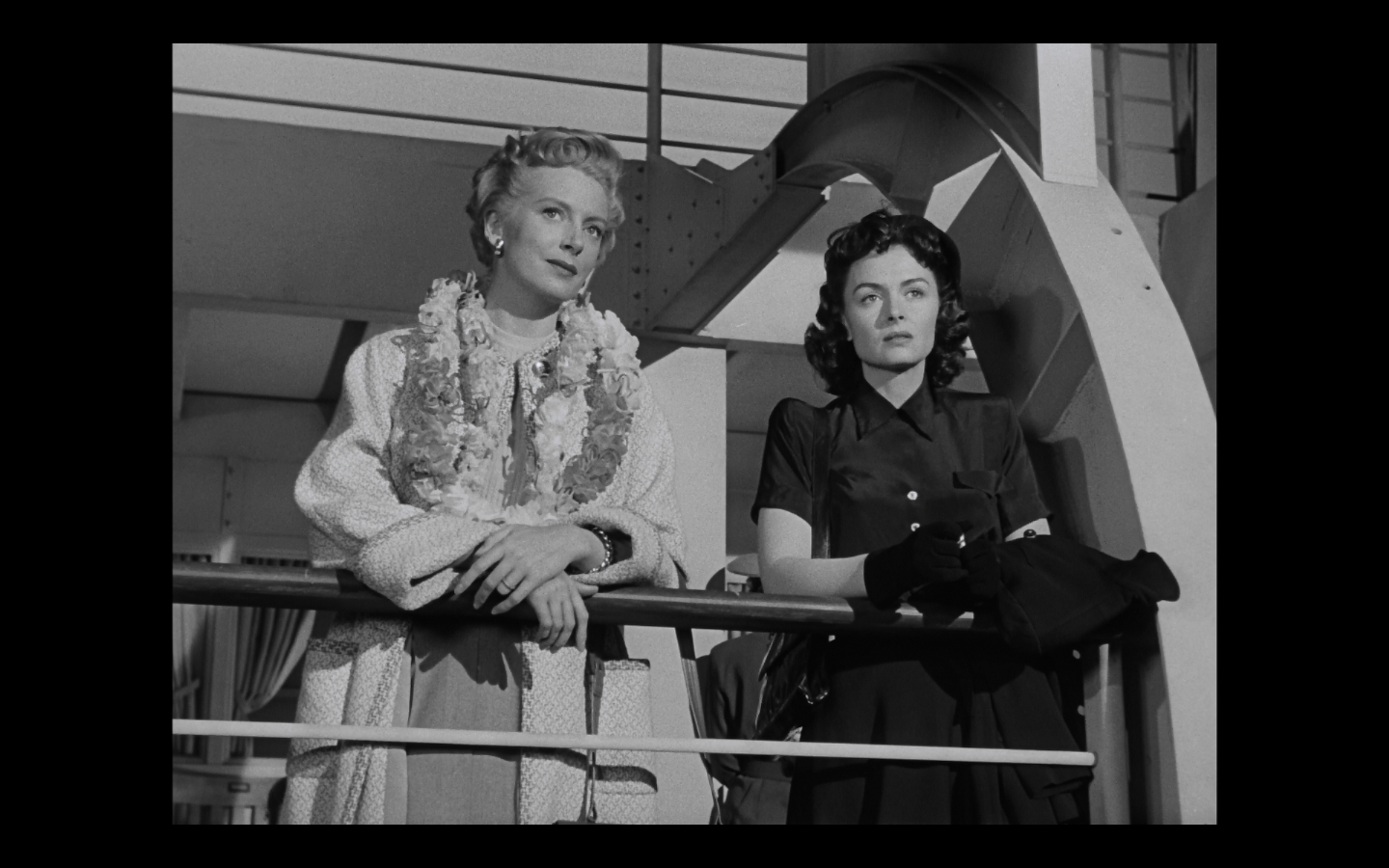 This film is a classic for a reason. The characters are bigger than life and it can entice an audience to not miss a beat. Like I said, this 60 year old movie in American cinema that has never looked and sounded so great. The film looks so clean and I'm surprised at how well Sony has done with the remaster. The rich blacks and details look incredible on this format. The minor issues are so trivial compared to the positives; I would definitely say that this release is a success. I highly recommend picking up this film and adding it to your collection. Its one for fans and film collectors alike.