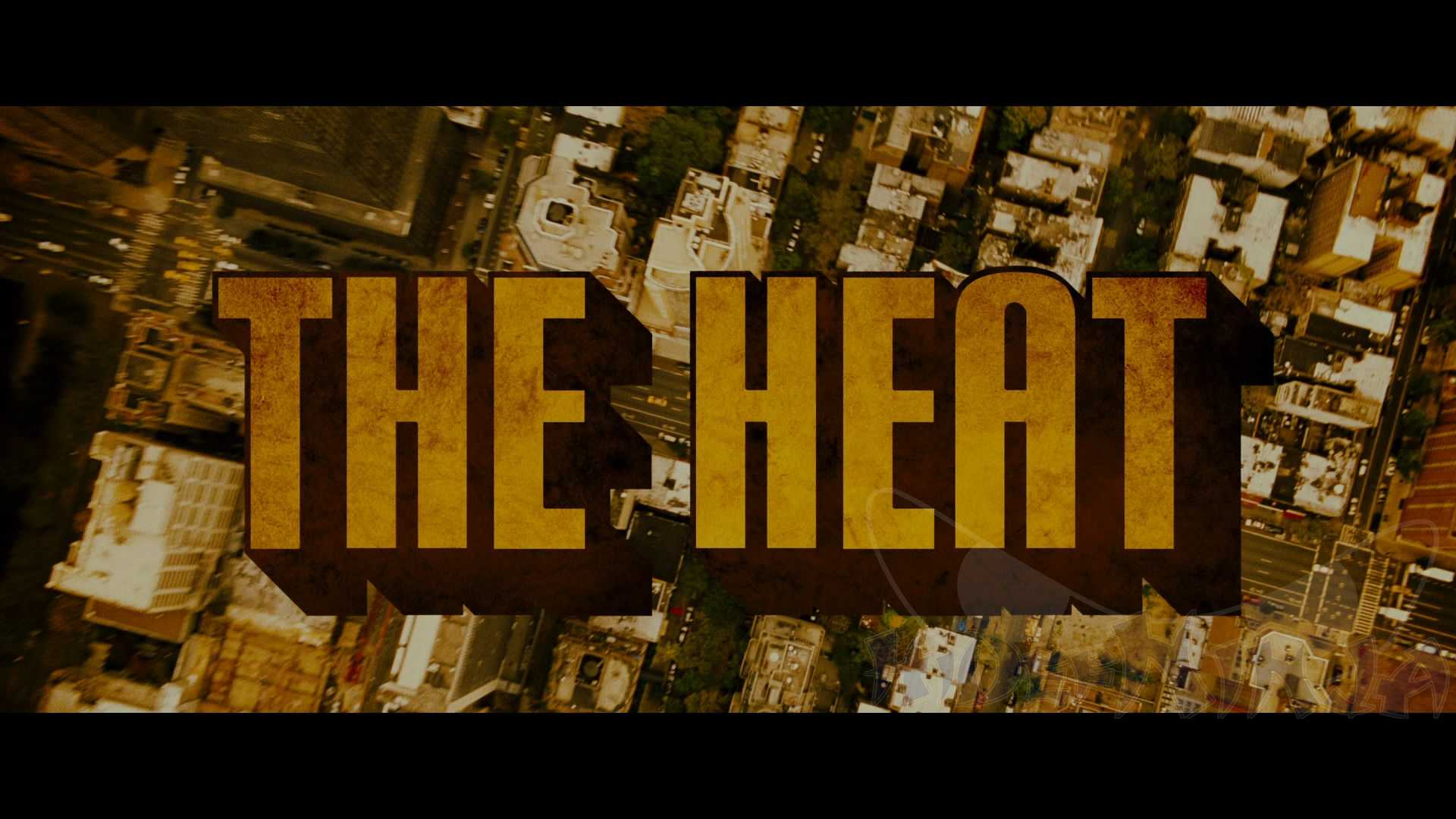 The somewhat enjoyable female buddy cop flick The Heat looks and sounds good in its home release.
The sudden resurgence of Sandra Bullock is frankly surprising.  Never known for her dramatic or comedic talents, the star of 1994's Speed seemed destined to ride off into the sunset, as critics bemoaned her meteoric rise as nothing more than right place/right time.  And while she had appeared in films throughout 2000's, none matched her early success.  Then a little film called Gravity happened, and all of a sudden the star of the forgettable Hope Floats is again a household name.  But it's The Heat, which arrives onto home video this week, that represents Bullock's official return, even if she's outmatched at every turn.
FBI Agent Sarah Ashburn (Bullock) is a no-nonsense law woman who's hoping to ride a recent drug raid to a prestigious promotion.  What she doesn't realize is that her smugness has created deep resentment from everyone around her, from the boss to the Ops team that accompanies her to the raid.  Her personal life is also a disaster, as her only friend is a fat neighborhood cat who is featured in family portraits around Asburn's home.  On the other side of the tracks is Shannon Mullins (McCarthy), a crass Boston detective in unwashed biker gear who scares her colleagues and keeps a well-stocked arsenal in her fridge.  Her family life is a dysfunctional mess, with her mother (a seriously underutilized Jane Curtin) and father keeping her at arm's distance.  Sarah and Shannon seem like peas from the same pod, as they soon hunt a drug kingpin and overall mean dude, using Mullins's street connections and Ashburn's intelligence to win the day.  Of course, the two aren't supposed to like each other, and the early plot sees them trash talking, pointing guns and middle fingers at each other, and generally carrying on until they get drunk together and later take down the baddies.
The problem with The Heat is more lost opportunity than poor execution.  Sure, there are plenty of funny skits and ad-libbing going on, with McCarthy single-handedly keeping this ship from being hopelessly lost at sea.  She is the best in the business if you want crass/overweight/socially unrefined, and Director Paul Feig (Bridesmaids) is smart to keep the cameras running while Bullock an others try to keep straight faces.  Personally, I don't like that Hollywood is pigeon-holing her like the late John Candy; she could be even funnier in cleaner vehicles, and it's a shame she's not being offered those kinds of roles yet.  But this is supposed to be Bullock's big return, and she handles it like someone who hasn't quite gotten her lines down.  Bullock never seems comfortable with Ashburn, preferring instead to play her straight up at the cost of the character.  From the commentaries, it seems clear that our creative team agree – this isn't her cup of tea, and it would be interesting to have known who Bullock beat out.
Perhaps I shouldn't try to rail on comedies like The Heat, for its comedic insanity is hilarious at times.  But, without a strong cast to compliment her, McCarthy's antics get a little old, stretching out the film about 15 minutes too long.  She's clearly the best thing here, leaving Bullock holding the bag far too often.  Something like this shouldn't be so hit and miss, and audiences shouldn't mistake the bludgeon of multiple f-bombs as an excuse to laugh.  Comedies need strong duos to carry them off, but the lack here makes The Heat a sometimes frustrating and often dull mess.
With an opening that looks like those cheesy 70's montages, we might be lead to believe that we're about to be thrust back in time ala Starsky and Hutch.  But the screen soon clears up, revealing an MPEG4/AVC transfer that looks pretty good.  Colors are natural with just a bit of grit, with browns dominating the exterior Boston scenes, and blues overtaking the FBI offices.  White skin tones look a bit pinkish, but that seems limited to outdoor shots.   Where The Heat excels is in its clarity, from Bullock's perfectly parted hair to the worn look of McCarthy's local dive bar.  As a result, shadows transition very well to black, eliminating any issue with crush that can sometimes overtake a lower-budgeted action flick.  Details on Mullins' tattered shirts and Marlan Wayans' dark suits are spot on, revealing no issues whatsoever.  Finally, we noticed no banding, aliasing, or compression artifacts of any kind.  Fox has improved their transfer process over 2013, and The Heat benefits in every way from it.
A film like The Heat doesn't necessarily need an immersive surround environment to be effective, yet its DTS-HD Master Audio 5.1 does arrest the bad guys in high style.  Starting with the forward speakers, we get the entire lossless track downmixed; although dialogue, music, and effects are merged, this doesn't effect the experience.  Disappointingly, the center channel is also a mix – I would have preferred separated dialogue here to provide a bit of a needed boost, but the overall experience is not affected by Fox's choice.  Perhaps the best part of the track lies in the surround, which pump out a constant clatter of street noise, office chatter, and music.  The LFE merely does its job, waiting like a SWAT team ready to pounce on the bad guys at a moments notice.  Although it only appears sporadically, thunderous explosions and deep bass will accentuate the soundfield at just the right times.  Unless you're watching Bad Boys, you probably don't have expectations that your surround will put out the goods for a buddy cop comedy, but The Heat does an fine job nevertheless.
The Heat boasts an array of supplements that prove Feig just let the cameras roll for hours and hours between takes.  Although there's more supplements crammed on here than I've seen this year, it's a bit of a mixed bag.  At least all of these are presented in HD:
Theatrical (1:57:04) and Unrated (2:00:20) Cuts:  Sometimes including an extended on a disc doesn't help, as it does here.  I'd only suggest watching it if you have a crush on McCarthy.
The Commentary Track In Which the Director of The Heat Talks Endlessly About The Heat:  This commentary is available only on the Unrated Version of the film, but does get into the nitty-gritty of the film, with Feig's high spirits dominating the commentary.  He talks about every aspect of production, as well as the challenges of shooting in urban Boston.
Welcome to the Bonus Features (00:27): Director Paul Feig takes what is usually a fairly dull part of supplements and turns it on its ear.  The following supplements are all introduced by Feig, who takes on a different "alter ego" (JJ Abrams, Director of Gone with the Wind).  Supplements include Mullins Family Fun (9:20), Acting Master Class (8:28), Let's Get Physical (6:31), Police Brutality (6:43), Von Bloopers (15:41), and Supporting Cast Cavalcade (7:44).
Over and Out (00:36) finds Feig still having ass gas issues.
All the Stuff We Had to Take Out but Still Think is Funny: This includes Deleted Scenes (10:12), Extended Scenes (14:45) and Alternate Scenes (3:41).  None of these were particularly needed and were smartly cut.
How The Heat Was Made (19:44): From Feig's dapper 40's/50's attire to the first reading video, this is an enjoyable making-of featurette.
Live Extras: This did not work on my player, and forced me to restart the disc.  However, pressing the UP button on my remote while this is highlighted did reveal several funny extras including Gina and Beth Welcome Reporters to the Heat Press Junket (3:02).  In Sarah and Melissa Meet Gina and Beth (2:33), Jessica Chaffin and Jamie Denbo assume their roles from the film and crack on several members of the media.  I'm not sure this qualifies as an Easter Egg, because the original feature didn't work, but it's welcomed nevertheless.
The Commentary Track In Which Melissa McCarthy and Other Great People from The Heat Talk About The Heat: This one is available only on the Theatrical Version and features Director Feig, Actor Michael McDonald, Writer Katie Dippold,  Actor Adam Ray, Producer Jesse Henderson.  If you're looking for a detailed and studious breakdown of the film, look elsewhere.  However, if you love creative people behaving really funny in a party-like affair, then watch this bad boy.
The Commentary Track In Which Some of the Mullins Family Discusses The Heat: This is available only on the Theatrical Version and features Paul Feig and four members of the Mullins Family, all of whom remain in character throughout.  Jane Curtin is really great, reminding us how little of her role was left in the cuts.  This is almost as funny as the movie itself and is highly recommended.
Attend the June 23, 2013 Premiere of The Heat at The Ziegfeld Theater in the Comfort of Your Own Home!  I don't think I've ever seen a supplement of this nature, but it's like having a laugh track along with your movie.  Audience laughter from the premiere is captured for our amusement.  Whether it makes you laugh more or on cue is up to you.
The Original Lineup from Mystery Science Theater 3000 Comments on The Heat: It's not quite the insanity of MST3K, but there are some good punchlines and commentary within.
Sneak Peak
Our evaluation copy arrived as a Blu-ray/DVD Combo with Digital Copy.  The debossed slipcase is attractive enough and there's no interior artwork.  The question you'll have to ask yourself is whether you'll want to watch this film several times to enjoy the various commentaries.  If you're reading this, it's probably already in your plans, which we love about you!
Although it was a hit in theaters, the somewhat enjoyable The Heat is good comedic fun, but nothing you'll remember or quote for friends once it's over.  Bullock feels out of her league here, compared to the great McCarthy.  The commentary tracks are the best parts of the supplements, as is Fox's very good video transfer.  You have the right to remain silent for this one, as I'd probably wait until a discounted version arrives before I'd pick it up.  The Heat is rated R and is available on Blu-ray and DVD.
Discuss this review with fellow HDN fans on Facebook. On Twitter, follow us at @HidefNinja, and follow author Matt Cummings at @mfc90125.