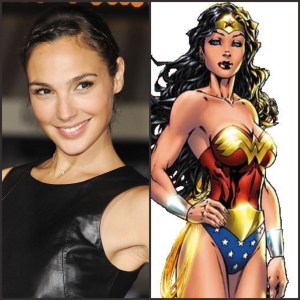 It's official: Israeli actress Gal Gadot of FAST & FURIOUS fame will be donning the red, blue and gold (presumably) as Diana Prince/Wonder Woman in Zack Snyder's sequel to MAN OF STEEL. The Superman sequel – referred to by its unofficial title of BATMAN VS. SUPERMAN – becomes an even busier film now as Gadot joins Henry Cavill as Clark Kent/Superman and Ben Affleck as Bruce Wayne/Batman. There's also the possibility of Lex Luthor appearing as a villain in the background, too.
Gadot is a relative newcomer who's really only known to fans of FAST & FURIOUS, FAST FIVE and FAST & FURIOUS 6. She beat out G.I. JOE: RETALIATION's Elodie Yung and QUANTUM OF SOLACE's Olga Kurylenko for the role (THOR's Jaimie Alexander was also a contender, though her commitments to Marvel – DC's rival – kept her out of the running).
As a fan of FAST & FURIOUS, I think that Gadot will do a fine job, though a little extra muscle mass is certainly needed (maybe she can call up her F&F co-star Dwayne 'The Rock' Johnson for some pointers). Either way you look at it, Gadot is making history as the first Wonder Woman – the most important and famous female superhero of all time – in film ever.
BATMAN VS. SUPERMAN – scheduled for July 17th, 2015 – will be directed by Snyder from a screenplay by David S. Goyer. It'll also star Amy Adams, Diane Lane and Laurence Fishburne.
Sound off with your thoughts below!
~K