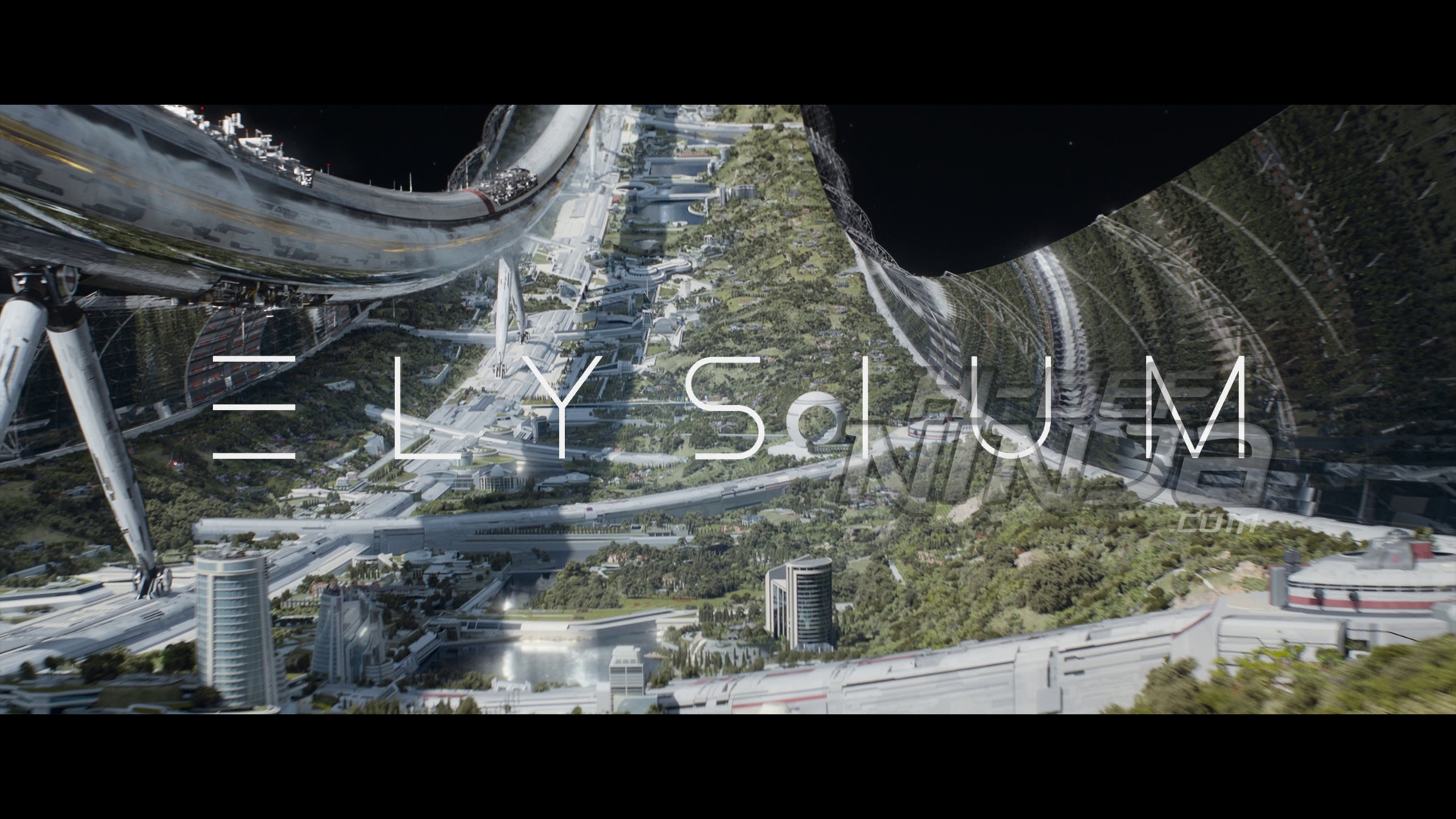 "….a perfect way to round off a year of superb Blu-ray releases."
The year is 2154, The Earth is polluted and society is suffering from overpopulation. There are two classes of people: the poor, working class who live on the surface and the ultra rich who live in the lush utopian space station named Elysium. In Elysium, every citizen enjoys a peaceful and joyous life full of riches. Elysium alone makes it a very enticing destination to the people who are still living on Earth but the most alluring benefit is the med-bay. The med-bay is a machine that is able to prevent and eradicate any health problem in a matter of minutes, including the likes of cancer. This makes it the quick solution to many Earth citizens who are suffering with disease. Illegals have made many unsuccessful attempts to land on Elysium, but no one has ever successfully been healed and made it back to Earth. This is due to the Elysian Secretary of Defense Jessica Delacourt (Jodie Foster). She is ruthless and believes that there are no limits to keeping the station secure by keeping the "illegals" where they belong.
Max Da Costa (Matt Damon) grew up as an orphan with his best friend Frey (Alice Braga), who he promised that he would take her to Elysium one day. As he got older, he became a car thief before being caught and taken to jail. He is out on parole and works a normal job on the assembly line at a company called Armadyne Corp. While at work he is accidentally exposed to a lethal dose of radiation, which leaves him with only 5 days to live. He makes a deal with his former employer Spider (Wagner Moura) to obtain information from an Elysian in exchange for a trip to Elysium to use a med-bay. Spider installs a third gen exo-suit that amplifies his strength, enough to go hand to hand with anyone, including a droid. As is turns out, Max is getting into much more than he bargained.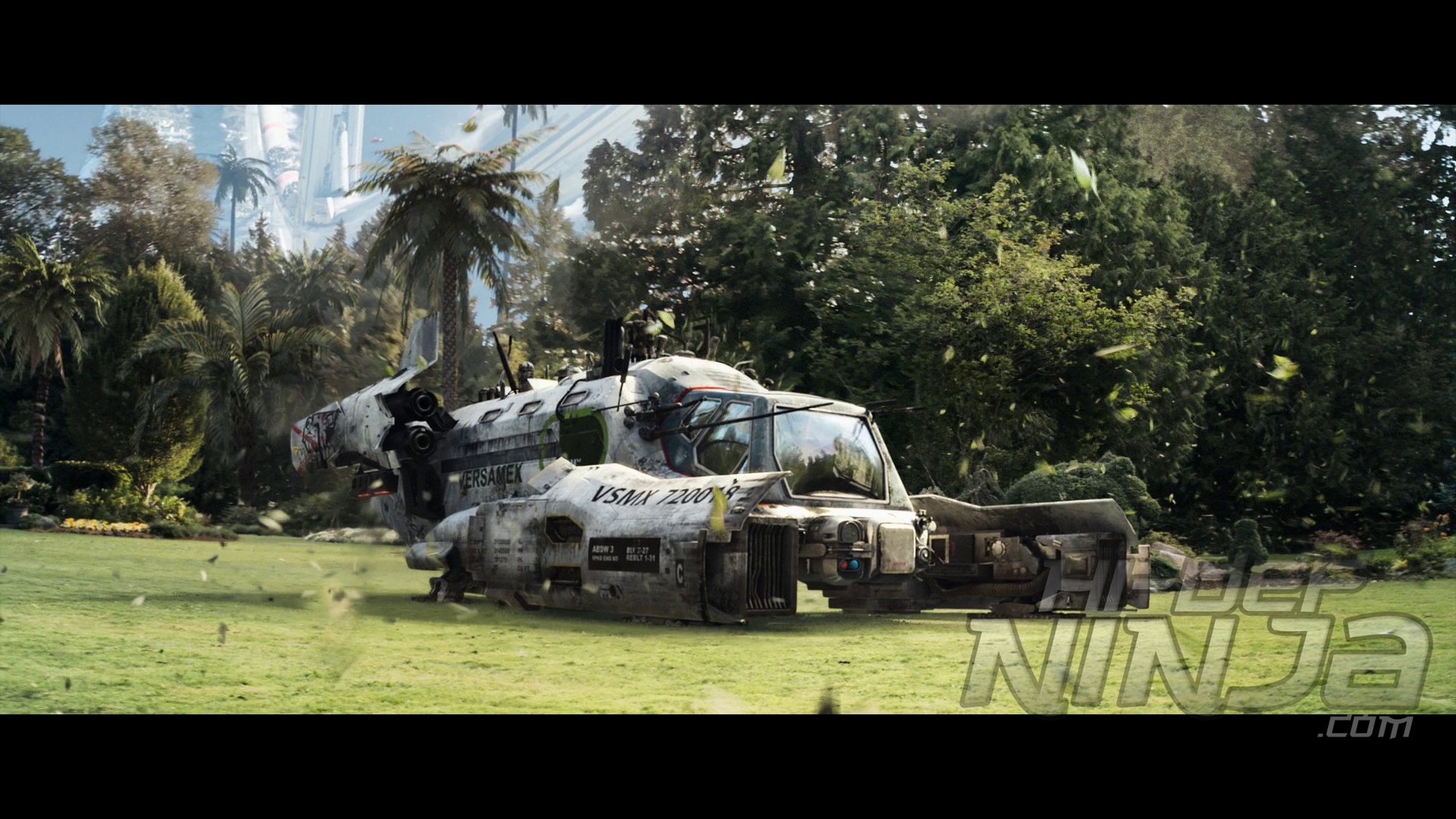 The film, like the sci-fi hit District 9, is written and directed by the amazing Neill Blomkamp. He is an amazing storyteller and a visionary director, easily making this one of the best sci-fi movies ever. He really understands that to any film there is more than just incredible special effects, there has to be a strong plot as well.
Elysium, like in Blomkamp's previous movie, makes bold socio-political statements that are deeply rooted in the film. The parallels with the real world and the movie are things like where the unauthorized ships or "immigrant shuttles" coming to Elysium are also referred to as "undocumented." This is a term that's generally used when people from other countries come to the United States without legal citizenship. These people risk their lives to make t to a world where they actually stand a chance at not just living but surviving. Once they land on the station, they're then apprehended and "deported" back to where they came from.
The entire premise of the story is similar to real issues around the world and the "caste system" still exists. There are different classes of people, where two different people can live in the same city and have completely different qualities of life. That idea is highly expressed in the film by showing how the people living on Earth have their lives governed and dictated by how much money they have or what family they are born into. As Jodi Foster said in an interview about the film, "…that this chasm between the rich and the poor is so enormous, in some ways, it's created two different planets."
In the starring role as Max is Matt Damon and I really feel that he fits in this role perfectly. He has a charming way about him that makes it easy to connect and understand that he just wants to make his life better. Damon's versatility also makes him a strong action star and completely believable in combat. Jodie Foster plays the cold-hearted Secretary of Defense Jessica Delacourt and her character is different from her typical roles. She is manipulative but I believe in her mind, she thinks what she is doing is right and the world is as it should be. The show stealer however is Sharlto Copley as Kruger. He is an insane killer who does the dirty work for the Delacourt. His portrayal of a meticulous madman is hard to imagine when thinking of the sweet and naïve Wikus from District 9. His acting never goes too over the top and I would be surprised if he doesn't get a supporting actor nod.
Cast
Matt Damon as Max Da Costa
Jodie Foster as Defense Secretary Delacourt
Sharlto Copley as Agent C.M. Kruger
Alice Braga as Frey Santiago
Diego Luna as Julio
Wagner Moura as Spider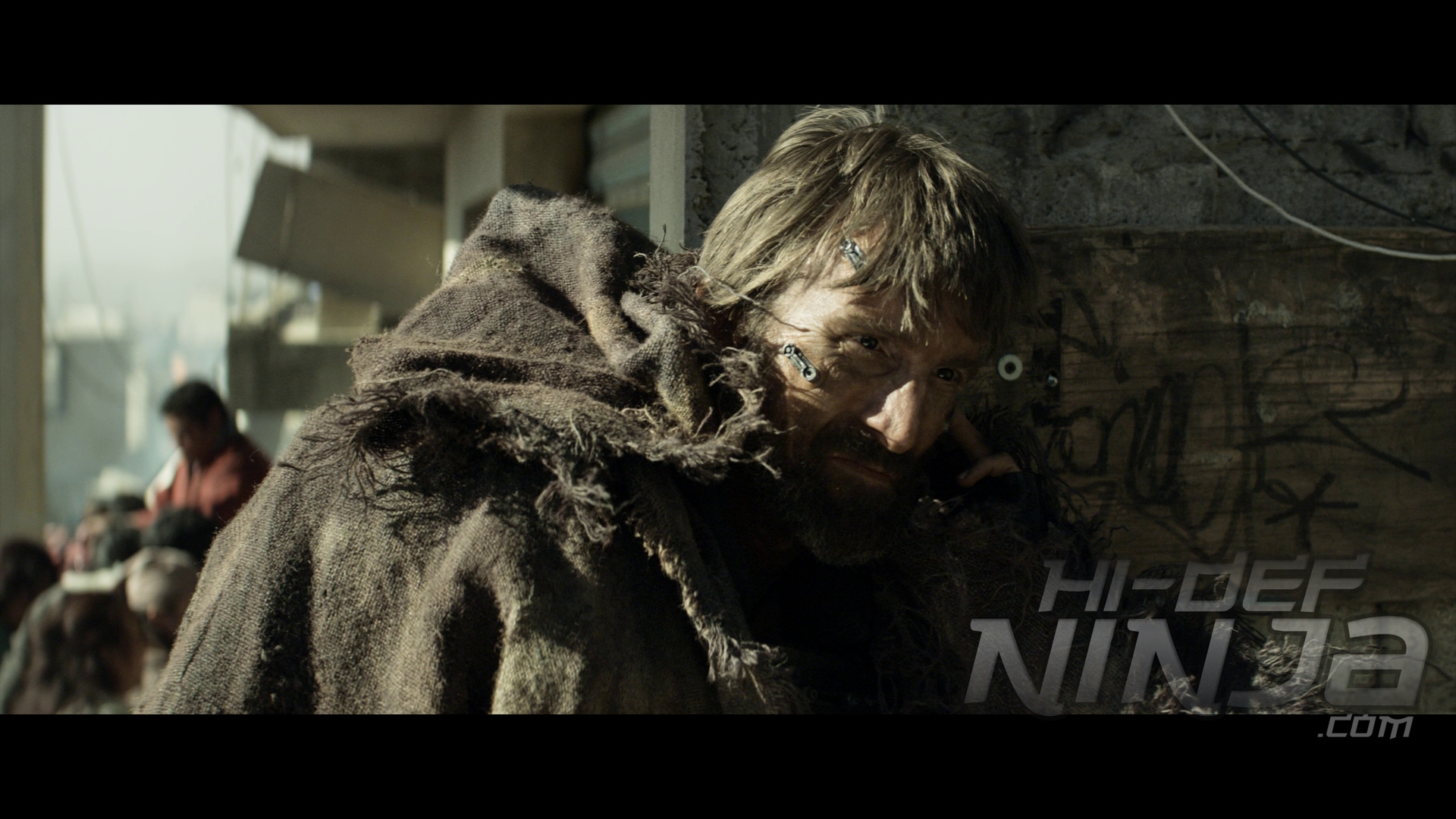 The video transfer for Elysium is in 1080p AVC and the resolution has been pushed to the limits of the format. The release is in Sony's "mastered in 4k." This means that it is encoded in the highest possible bit rate, increasing colors and the resolution. The images are clear and sharp with details in the arid, gritty wasteland of LA as well as the pristine space station. The coloring is very natural and warm, especially in the skin tones. Against the dusty backdrop, the skin tones keep separate and never get lost. Elysium is so lush and vibrant with beautiful colors but the green hues are what stand out the most. This is easily a reference-quality release with an exquisite transfer.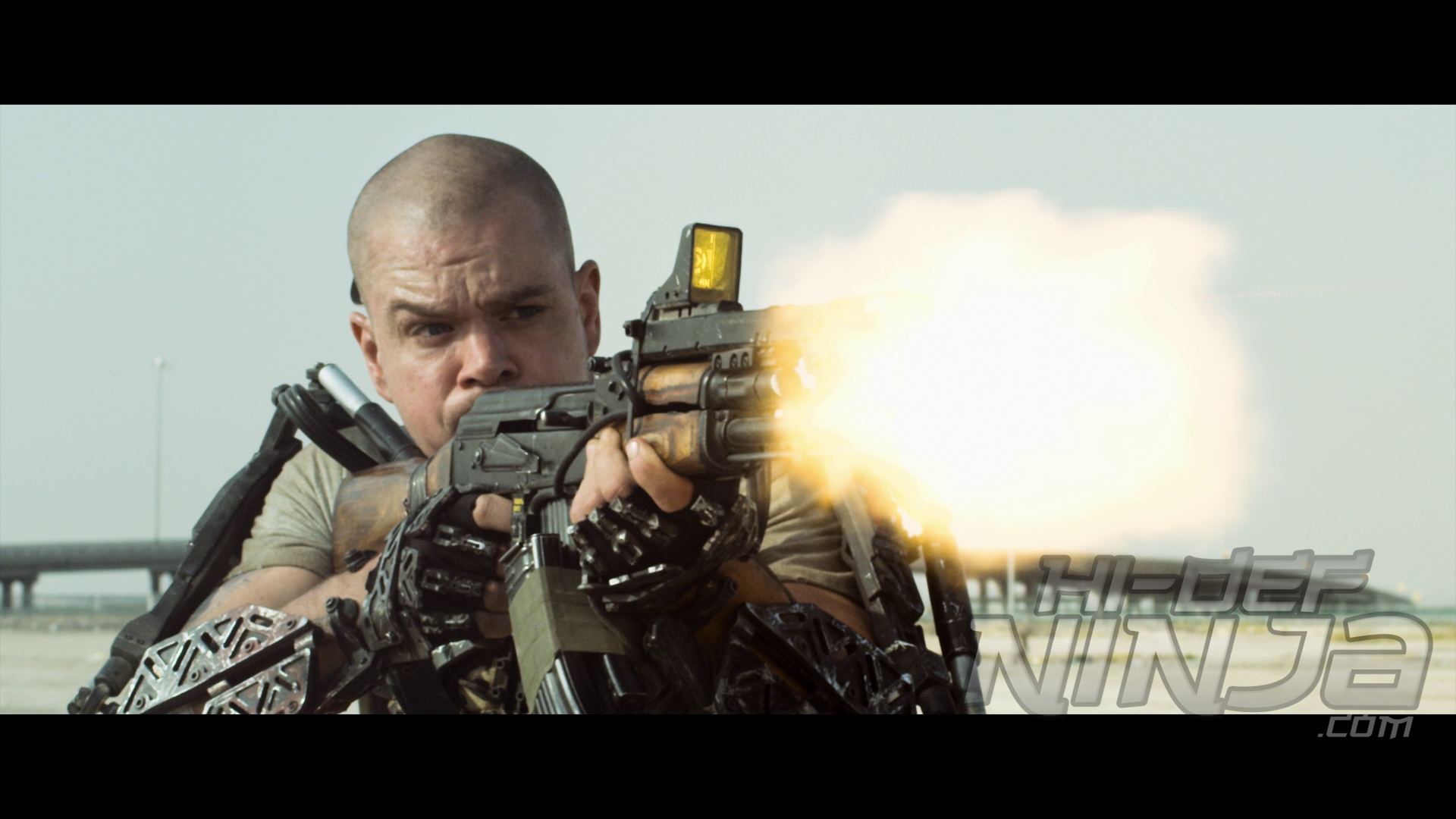 The DTS-HD Master Audio is presented in a 7.1 lossless mix that is as undeniably perfect. The encode delivers a realism that envelops you in this world and it ends up taking the experience to the next level. This is the kind of attention that Sony puts into their releases and the film deserves. Science-fiction relies not only of what you see but, just as importantly, what you can hear. The ambient sounds fill the channels and stay balanced throughout. This is present in every scene like the whirring generators on Elysium, the scenes with Max making the droids on the factory floor, and the busy, over-crowded Earth. The bass is rich and heavy at times but it's never too much or over-driven. It's solid and it makes the weapons, vehicles, and explosions have life. Like the video transfer, the audio is also reference quality.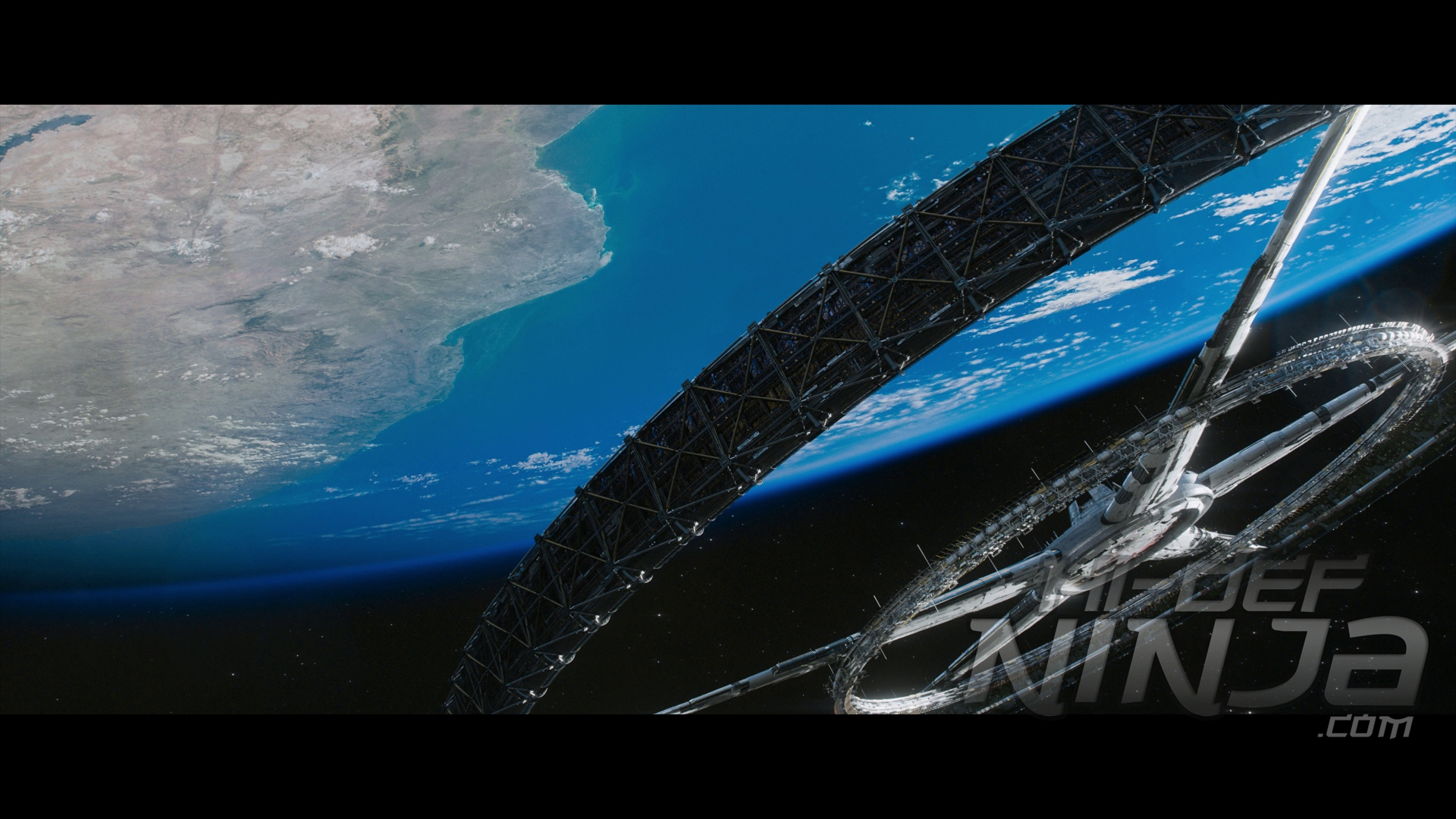 It's not usual that the standard release of a Blu-ray has this many extras on the disc and they give so much background information. All of the extras are in HD and chosen perfectly for the movie.
The Extras
-Visions of 2154: This bonus feature allows the user to interact and explore the world in 2154. It's like having an app with behind the scenes info, artwork, and clips from the film.
-Extended Scene: Kruger Wakes Up: Here is a longer scene in the movie with some alternate dialogue.
-The Journey to Elysium: This is a 3 part documentary about the film from conception to casting, as well as locations. It goes into detail of how Neill fleshes out what he wants to see on film. He creates sci-fi as if it could really be accomplished. This is how the documentary is broken down.
-Envisioning Elysium: Neill and the production designers came together to make the best possible film.
-Capturing Elysium: For the cast and crew, filming in the different locations was fun but at times but, at times, very hard. The crew also discusses how Niell is all together a different kind of director.
-Enhancing Elysium: This portion is how to sound effects were added to make the film, again, feel very real. Also discusses what integrating the sound is incredibly important to making this kind of film. There was an incredible collaboration of the photographers and sound designers. The post production scoring was carefully chosen from someone who was basically an unknown.
-Collaboration: Crafting the Performances in Elysium: The featurette explores why the actors were cast in their roles. It also interviews the cast and how they were drawn to the film before it was made after screening District 9.
-The Technology of 2154: The featurette discuses in detail how Niell's vision came to life. Almost everything was built including the droids have real versions, exoskeletons, and the futuristic weapons.
-In Support of Story: The Visual Effects of Elysium: This extra looks at how the visual effects were accomplished.
-Engineering Utopia: A Society in the Sky: This bonus discusses the contributions from Syd Mead to design the space station, Elysium.
-Previews: For upcoming Sony titles
-Old Boy
-Monuments Men
-Captain Phillips
-American Hustle
-Helix: Season 1
-Bad Country
Disc Details
Two-disc set including 1 Blu-ray Disc and 1 DVD
UltraViolet Digital Copy
Edition Ratings
Rated R
Region Code
Region Free
Video Resolution
1080p MPEG-4 AVC
Audio
English DTS-HD Master Audio 7.1
French DTS-HD Master Audio 5.1
English Dolby Digital 5.1
Spanish Dolby Digital 5.1
Subtitles
English
English SDH
French
French SDH
Spanish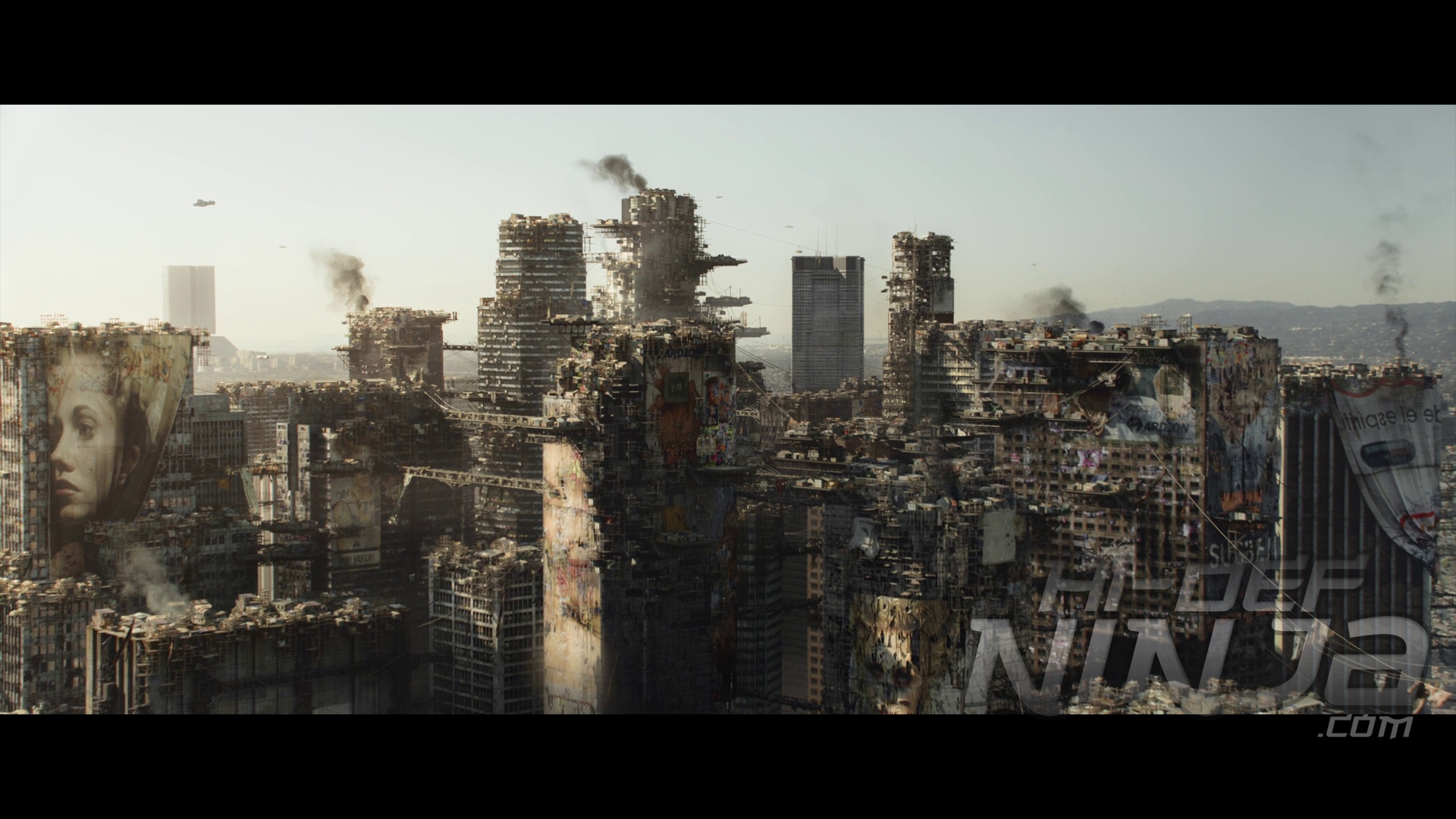 Elysium is a film that has such a strong message, metaphorically showing what is wrong with the world today. Blomkamp does an amazing job of making a movie that could easily happen by the growing rift of the social classes in the world right now. He also creates a world that, in this genre, is more science than fiction. It's an incredible film with extraordinary acting, effects of both visual and sound, and an excellent plot. Like I said, the release itself has reference-quality audio and video that is the perfect way to round off a year of superb Blu-ray releases. This is a movie that I highly recommend to anyone, whether you're a fan of the genre or not. It's more than a just a movie, it's really an experience.