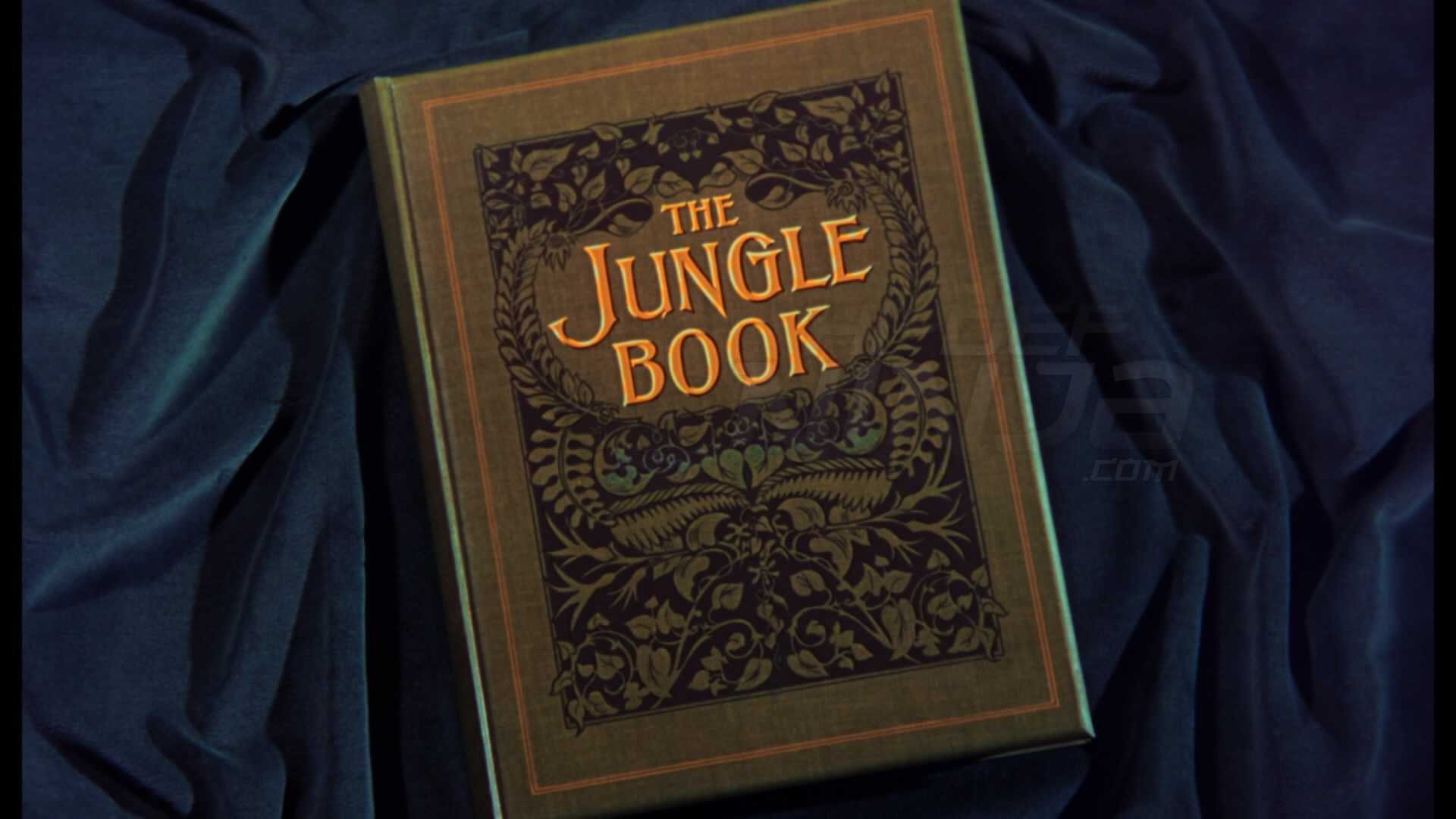 Disney's newest vault treasure The Jungle Book sees an impressive re-release.
When one lists their favorite Disney animated films, early treasures like Cinderella, Sleeping Beauty, and Winnie the Pooh quickly come to mind.  Such a list would also have to include fairly recent but no-less instant classics such as Aladdin, The Lion King and The Little Mermaid.  But most might forget 1967's The Jungle Book, the last film produced by Walt Disney himself, who died in 1966.   Luckily, thee studio has shaken off the cobwebs with a grand re-release that's simple but majestic with new supplements and a beefed-up audio track.  The question is, will general audiences buy in?
The orphan boy Mowgli (voiced by Bruce Reitherman) is found in a basket by the black panther Baheera (voiced by Phil Harris), who drops him off with a female wolf and her new cubs.  She raises Mowgli as one of her own, until the boy is 10.  It's then that the jungle animals learn of the return of the feared Bengal Tiger Shere Khan (voiced by George Sanders), whose hatred of humans and their guns has made him unstable and willing to kill them without warning.  Fearing for Mowgli's safety, Baheera volunteers to deliver him to the nearest man village.  As the two make their way back to civilization, they come across the python Kaa (voiced by Sterling Holloway), an elephant pack, and the bear Baloo (voiced by Phil Harris), who shows Mowgli how to live a care-free life.  As turmoil and tragedy face our friends, Mowgli must decide if he will join the humans or live a life of sloth with Baloo.
One of Disney's early strengths lay in strong character development, making each as much of a personal journey as a visual delight.  The trouble with The Jungle Book lies not in its superior animation, but in its story and characters, neither of which are especially memorable.  Baloo is a fun distraction and Baheera represents the film's moral center, but neither of them hold the attention of adults and certainly not of the children, who may find the politics between animals and humans to be tedious.   Several of the songs by Composer Richard B. Sherman and his brother Robert are somewhat enjoyable but won't stay with you, nor will the menagerie of jungle characters that come in and out of the story.  I hadn't seen The Jungle Book since my youth, and thus my appreciation of it had waned considerably over the years.  Upon viewing it again, I can now see where my bias has its origins.
And yet, such treatment might be unfair, considering several factors.  Its animation is stellar and holds up quite well to today's CGI – the waterfalls of the jungle look convincing, as does the studio's efforts to create 3D imagery by layering multiple cells on each other.  In addition,  Walt Disney's insistence on using eyes to emote pays off throughout The Jungle Book, as does its manner of playing one side against the other for dramatic effect.  Is it on par with characters from Cinderella or Pinocchio?  Does it draw you in the way Winnie the Pooh did for so many?  No, but the studio has proven itself over the decades, even if The Jungle Book doesn't feel that it's in the same class.  And even with this realization, it is better than more recently-produced fare by Disney Animation Studios. Films like Frozen and Wreck It Ralph have merely entertained, but they'd do well to learn the lessons which The Jungle Book do a slightly better job of telling.
The Jungle Book arrives with a brand-new AVC MPEG-4 transfer that's as pretty as anything Disney has ever produced.  In short, it maintains the original 1.75:1 Aspect Ratio while emphasizing every strength of the original print.  Color is stunning, from the bright blues of the water and flowers to the greens and brilliant yellows of the jungle flora.  Detail is also razor-sharp, such as the dark ink surrounding our characters and the sense of depth Walt Disney strove to produce throughout his films.  There's a great example of the modern studio's transfer near the end of the film involving the Beatles-esque vultures as they attempt to rescue Mowgli from the clutches of Shere Khan.  Here, a lightning storm rages in the background, throwing off light that could have wrecked the print and bled all over the landscape.  Disney solves this potential issue without losing the stunning effect of its presence, demonstrating again why they're the best in the business when it comes to restoration.  From a visual perspective, count The Jungle Book transfer as a complete success.
The Jungle Book swings in with a DTS-HD Master Audio 7.1 track that uses every bit of the original stereophonic track.  Essentially a stereo effect that moves the sound around in such a way as to mimic early surround tracks, Disney has converted it into a true surround, effectively separating things and breathing new life into it.  Be warned, however: this is still the original track, so nothing new has been added but merely cleaned up and separated.  Sound now exists with the front speakers delivering a majority of the punch, as it was in its earliest release.  That task of treating us to every aspect of the soundfield, with music, dialogue, and effects all working together seamlessly, hasn't changed.  The center channel produces the same but makes the dialogue a priority.  It's the rears where things get interesting: there, we hear music and a small amount of jungle noise including birds, wind, and water.  Sadly, there wasn't much thought back then given to environmentals, so sometimes the rears are particularly quiet, until the music returns to wake us up.  The LFE doesn't have much to do here either, again a problem with sound production at the time.  But, there is enough elephant thumping and lion roaring to keep us entertained as the Brigade arrives for comic relief.  For fans wanting to hear more of the original sound, Disney has thrown in an English Dolby Digital Mono track, complete with subtitles. Conductors Walter Sheets and George Brunz did a good job back in 1967 to bring the jungle to life, and luckily this track uses every bit of their efforts to pleasing results.
Just like their previous restorations, Disney ports over most of the DVD supplements of The Jungle Book while giving us several new perspectives in HD:
Introductions by Diane Disney Miller and Richard M. Sherman (HD): These brief introductions (1:04 and :30 respectively) by two Disney stalwarts can only be viewed separately, and feature old photos and video of the film's production.
@DisneyAnimation – Sparking Creativity (HD, 9;14): Essentially an Info-mercial about Disney Animation, we  learn about their continuing efforts to innovate by using a corporate strategy called Spark.  Not sure why it's included here, as only die-hard MouseHeads will find this of interest.
Music, Memories & Mowgli – A Conversation with Richard M. Sherman, Diane Disney Miller and Floyd Norman (HD, 9:49): We learn about the early difficulties which production experienced when the original story writer Bill Pete left the set after a blow up with Walt Disney. Luckily things got back on track, and here we learn about every aspect of production focusing on the trio's memories and tons of old photos.
Alternate Ending – Mowgli and The Hunter (HD, 8:46): Animator Raymond Percy takes us through a story treatment that was recently discovered which sheds new light on a potential ending.  This unexpected discovery would have extended the story far beyond the final scene, but it's nice to see Disney make the effort to share this with us.
I Wanna Be Just Like You – Hangin' Out at Disney's Animal Kingdom (HD, 18:25): Two young actors Blake and G tour the Orlando, Florida amusement park with several Animal Kingdom reps.  We learn how the animals are fed and see the spaces where they habitate.
Disney Intermission – Bear-E-Oke hosted by Baloo I Wanna Be Like You: Hangin' (12:47): Present now in several Disney BD releases, a series of intermission songs will play each  time you press pause on your BD player.  Doing so sparks musical tracks to appear in karaoke style.  It was a bit frustrating to see this appear each time we paused to take notes, but I suppose families will be entertained by it.
Plus all the classic bonus features included in the original DVD release (SD): There are honestly too many to discuss here, but Disney's ongoing commitment to making their Blu-rays as attractive as possible continues by porting over extra from the 2007 40th Anniversary DVD release.  It's quite impressive, but we'd like to know from our audience if the studio missed anything.
The home release contains a Blu-ray Combo Pack complete with 1 BD and 1 DVD, as well as a Digital HD Copy.  There is no interior artwork, but the embossed slipcase is very attractive.  At the time of this post, several other editions were being offered, including one with a lunchbox and another with a copy of the film's soundtrack.  All in all, this portion excels in celebrating older content right next to newer insights, most of which work very well.
We've tried to make a pretty good case about Disney's restorative acumen, but will general audiences flock to The Jungle Book?  Sure, Mouse Heads and videophiles will should this a Day One purchase, but considering that it's one of Disney's lesser-known properties, it will be interesting to see whether general moviegoers who have mostly stopped buying physical media will pay the bucks.  Regardless if you're a general fan or a Disney completist, The Jungle Book makes an admirable case for adding it to your collection.  While not the strongest of Disney's animated classics, its restoration shines in every way possible, sporting a beefed-up set of supplements and video/audio tracks that look and sound impressive in their own rights.  It's a beautiful transfer, and one that might even tempt you to revise that list of Disney classics.
Discuss this review with fellow HDN fans on Facebook. On Twitter, follow us at @HidefNinja, and follow author Matt Cummings at @mfc90125.