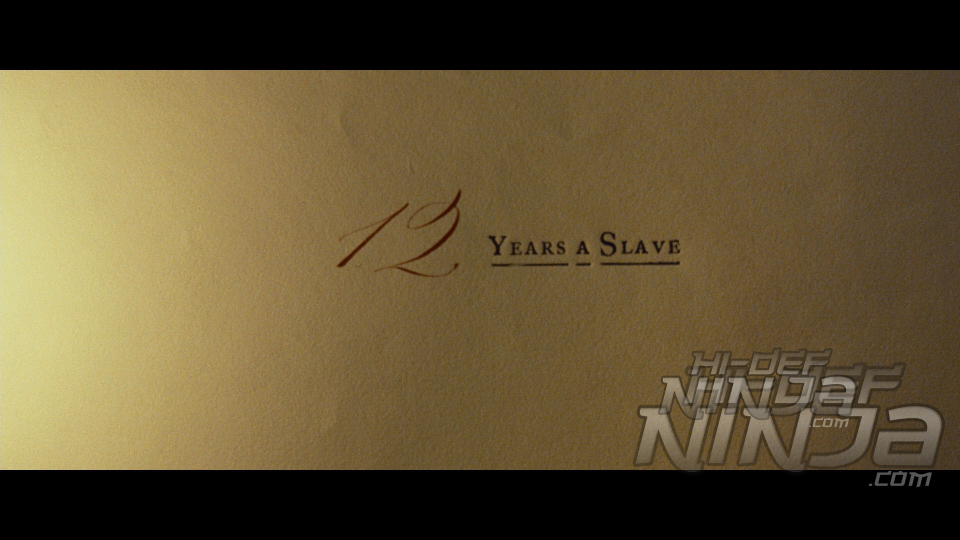 "12 Years A Slave" is based on the memoir and slave narrative of Solomon Northup which tells an incredible true story of one man's fight for survival and freedom. In the pre-Civil War United States, Solomon Northup (Ejiofor), a free black man from upstate New York, is abducted and sold into slavery. Facing cruelty personified by a malevolent slave owner, (Fassbender) as well as unexpected kindnesses, Solomon struggles not only to stay alive, but to retain his dignity. In the twelfth year of his unforgettable odyssey, Solomon's chance meeting with a Canadian abolitionist (Pitt) forever alters his life.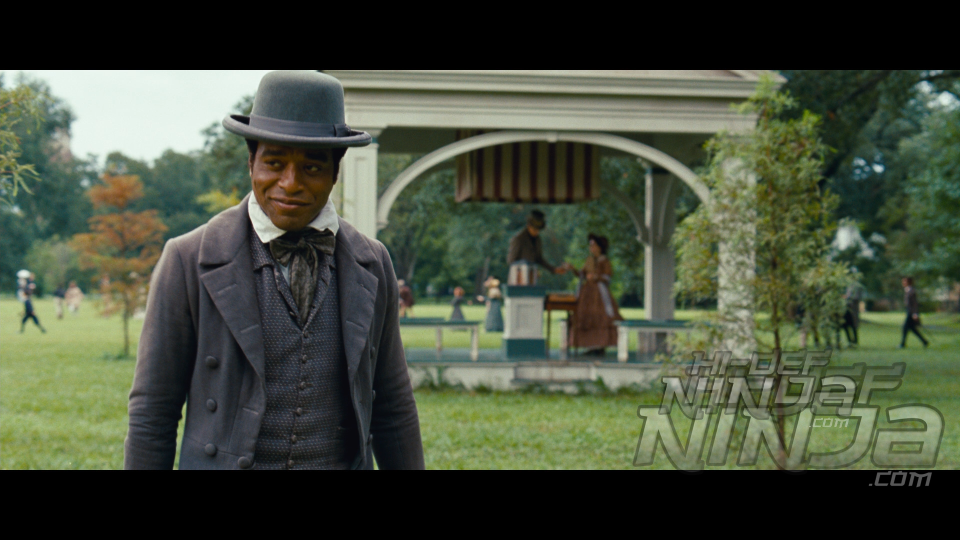 Presented in a 2.40:1 1080p AVC encode the video transfer is simply put, fantastic!
To start with I have to mention the detail, this is some of the best I've seen on a Blu-ray release yet. The detail throughout the movie is brilliant, showcasing some of the best facial and hair details I've ever seen from the scar marks from the slaves that look so real, down to the scenery and clothing details seeing every worn weave of the slave muslin fabric. There's a certain yellowy-gold hue that's been filtered onto the video, that when the sun shines through colours look simply beautiful, but at the same time almost makes you feel like you could appreciate the harshness of the weather that the slaves would sometimes have to endure. The only minor downsides to the transfer that I noticed were in the darker scenes, some detail was lost and it could be a little hard to tell what was going on and there was some slight motion blur on the faster paced scenes, however for both of these there were very few instances where this happened.
A fantastic video presentation here that has to be seen to be fully appreciated.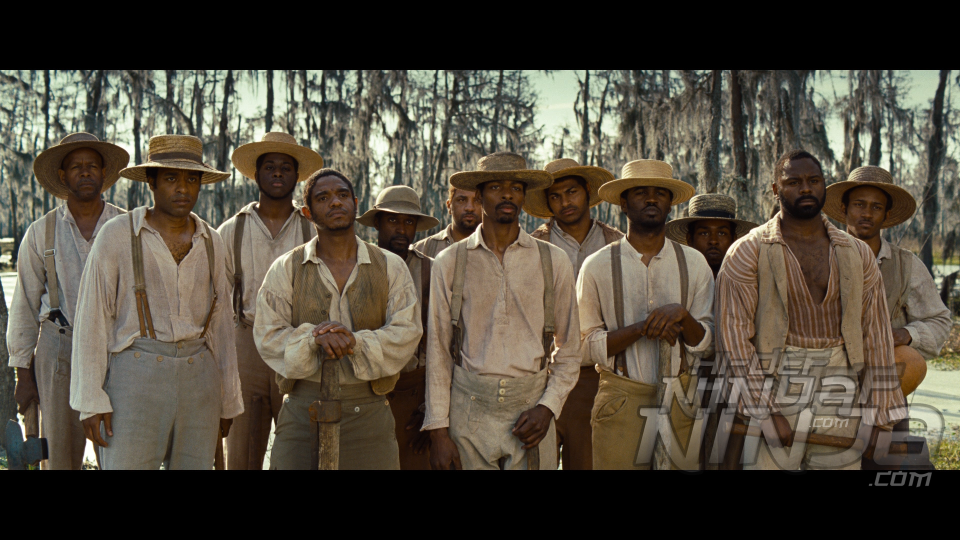 "12 Years A Slave" boasts an extremely good English DTS HD Master Audio 5.1 track.
From the off I have to say that this is a superb audio track. Dialogue is delivered clearly with great precision, and is never lost within the movie. All speakers get used to the max throughout the movie, and really engages you from the start right through to the end. Sound effects like the 'clang' of the chains to which Solomon is restrained with, to the creak and groans of the wooden boat to which Solomon is forced to travel on, right down to the almost spine tingling crack of the whip seen in a frankly horrific torture scene later on in the movie. The track really immerses you, and the excellent score by Hans Zimmer fills the surround nicely. Your sub will get a slight workout here too, but nothing too overpowering.
English subtitles are also included on the disc.
As with the video, the English DTS HD Master Audio track is almost perfect and accompanies the video perfectly.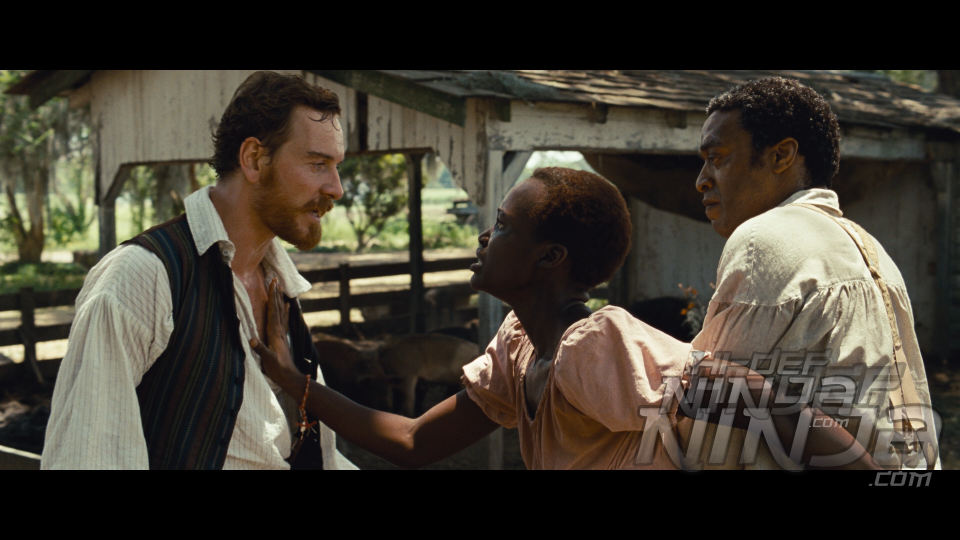 "12 Years A Slave" arrives onto Blu-ray with the following features, that mirror that of the US release.
* A Historical Portrait (HD, 41 mins) – Split into several sections (Discovering the book, Meet Solomon, Recreating an era, Portraying slavery, Legacy, Filmmaking achievement) this is a great behind the scenes documentary about the movie with some very good interviews with cast and crew from the film
* The Team (HD, 8 mins) – Looks at the cast and crew of the movie, with some more behind the scenes footage
* The Score (HD, 4 mins) – A brief featurette looking at Hans Zimmer's score for the movie
* Theatrical trailer
All in all not a bad set of extras. The only thing really missing for me as a director's audio commentary and cast audio commentary. Nevertheless, there is more than enough here to please the fans of the movie and the 'A Historical Portrait' documentary being the meat of the extras more than makes up for the absence of no commentaries.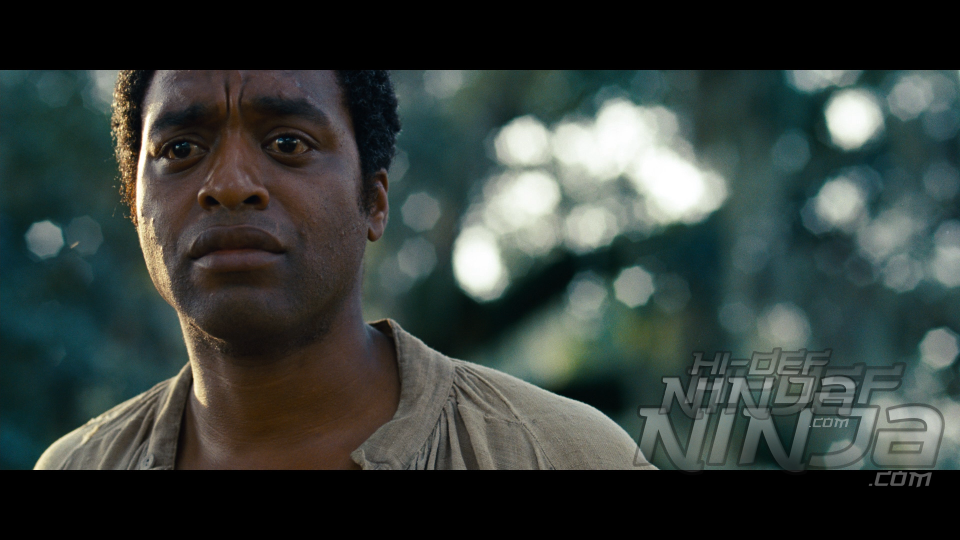 I must admit when I first started to see the TV spots for "12 Years A Slave" and when it hit the UK cinemas, this was a movie that I was in no great rush to see. It wasn't on my 'Must see' list and was one movie that I would catch if I had the time. The theatrical run came and went, as did the Oscars where this movie was nominated for nine Academy Awards and ended up winning three of them, one being the Academy Award for 'Best Motion Picture of the Year'. Seeing this, it started to pique my interest slightly and thought if I was offered the chance to review "12 Years A Slave" I wouldn't turn it down. Having this land through my letterbox it was on the movies that I made a point to watch as soon as I could as I had heard a lot of positive things about it.
I popped the disc into my Blu-ray player, sat back and watched what I personally found to be quite a harrowing experience, and whilst at times "12 Years A Slave" can be a pretty tough watch, it is without doubt a fantastic movie. Watching and experiencing Solomon Northup go from being a free man to being kidnapped and forced into slavery was certainly an experience I'll never forget watching, and see what he had to go through in order to survive, with one chance encounter with a man named Bass changed his life. The realism captured by director Steve McQueen certainly captivates you to what slaves would have experienced, and leaves a somewhat huge open pit in your stomach from the start to the very end of the movie, one torture scene in particular nearer the end of the movie is extremely hard to watch.
The cast throughout are fantastic, from Chiwetel Ejiofor's amazing performance as Soloman Northup, Benedict Cumberbatch as Master Ford, Lupita Nyong'o as Patsy (which consequently won her an Academy Award for her performance) right down to the nasty Edwin Epps played superbly by the fantastic Michael Fassbender. I honestly don't think that anyone could've done a better job than the fantastic ensemble cast here.
The 135 minute running time flew by for me, "12 Years A Slave" is by no means a fast paced movie, but you feel all the emotion felt by Solomon throughout this twleve year journey from start to finish, leaving you with a very big lump in your throat at the very end. "12 Years A Slave" is far from a pleasant experience, it's a harrowing tale of one man's fight to get back to becoming free man which is a tough watch, but an abslolutely fantastic movie that would urge all film fans to make a point of watching.
The Blu-ray features both superb video and audio presentations as well as a healthy set of extras. "12 Years A Slave" should sit proudly in any person's movie collection.
Order your copy from Amazon.co.uk