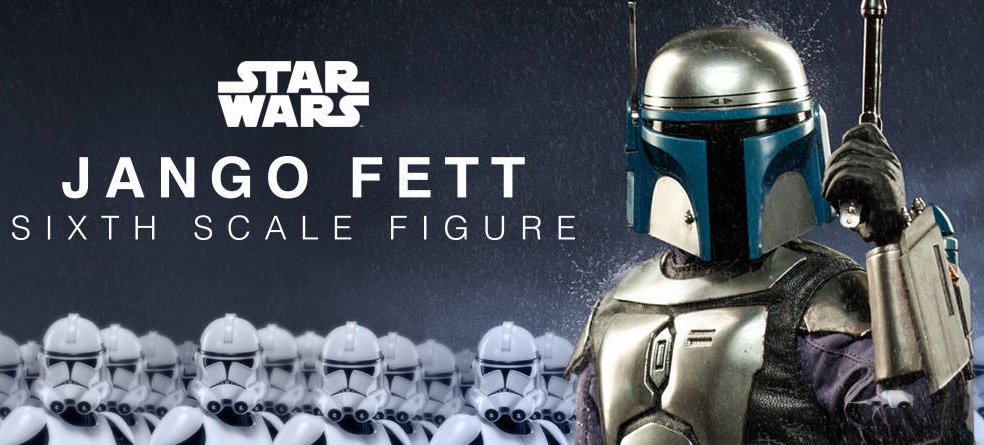 The newest addition to SideShow Collectibles Scum and Villainy collection is Jango Fett. Father to the clone army and the iconic bounty hunter Boba Fett, this Mandolorian is a 1/6 scale figure with a lot of accessories. He has his detailed flight suit and holstered belt, his poncho, and attachable smoke and fire attachments. He also comes with his polished dual pistols and an adjustable action figure stand to finish off this amazing collectible. The SideShow Exclsuive version comes with the head sculpt wearing the pilot gear. He releases around June 2015 at a cost of $219.99 USD before the taxes and shipping costs. This is one not to miss.
Order your Star Wars Jango Fett Sixth Scale Figure from SideShow Collectibles
What's in the Box?
-Fully Articulated Body
-Detailed Flight Suit
-Durasteel Armored Vest
-Durasteel Thigh, Knee, Shin and Boot Plates
-Belt with Pouches
-Dual Holster Belt
-Helmet with Articulated Range Finder
-Right and Left Detailed Gauntlets with Supply Hose Connections and Kamino Saber Dart
-Right and Left Boots
-Two (2) WESTAR-34 Blaster Pistols
-Poncho
-Merr-Sonn JT-12 Jetpack
-Z-6 Jetpack
-Right and Left Fists
-Right and Left Trigger Hands
-Right Point Hand
-Left Relaxed Hand
-Two (2) Jet Pack Flame Attachments
-Two (2) Blaster Pistol Blast Flare Attachments
-Two (2) Blaster Pistol Smoke Attachments
-Base with Deck Graphic and Optional Flight Attachment
-Portrait with pilot headgear
Product Details
License: Star Wars
Scale: Sixth Scale Figure
Manufacturer: Sideshow Collectibles
Product Size: 12″ H (304.8mm)*
Product Weight: 2.00 lbs (0.91 kg)*
Dimensional Weight: TBD
Int'l Dim. Weight: TBD
Size and weight are approximate values.
Product Sku: 21491
UPC: 747720209770

Artists:
J-Park (Sculpt)
Pia (Sculpt)
Patrick Pigott (Sculpt)
Wan Lee (Paint and Development)
Mijin Namgung (Costume)
Joe Allard (Design)
David Igo (Design)
Kevin Ellis (Development)
Jesse Lincoln (Development)
Matt Bischof (Development)
© and ™ LucasFilm Ltd.