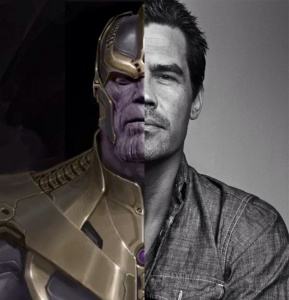 Marvel Studios has just confirmed that Josh Brolin is playing Thanos in the upcoming film, Guardians of the Galaxy (GOTG). Since he made a cameo after the credits of the movie The Avengers, it wasn't clear when he would be turning up again. It makes sense it would be in GOTG for a few reasons:
1. Member of the GOTG team Gamora is the adopted daughter of Thanos.
2. Marvel has been introducing the Infinity stones into the films and one of the biggest Thanos story arcs is The Infinity War.
3. The Collector from the after credits scene in Thor 2: The Dark World has a direct connection with Thanos in the Infinity War.
I could keep going but I don't want to ruin the films. He looks the part and a great casting choice. So expect to see this awesome character's story unfold in the upcoming films.
Guardians of the Galaxy hits theaters August 1st, 2014