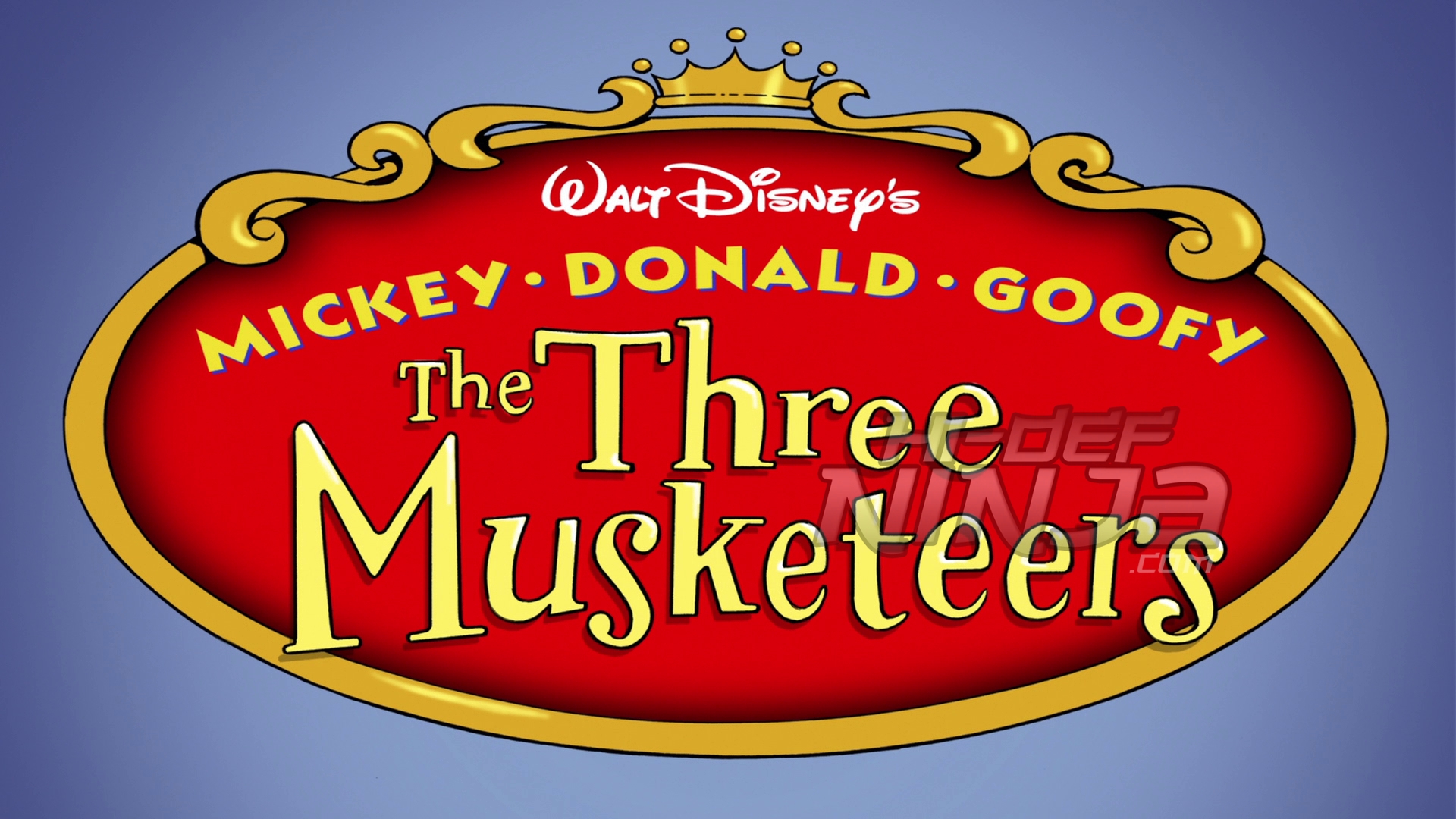 A French Turtle is the troubadour and story teller in the movie. Mickey Mouse, Donald Duck, Goofy, and Mickey's dog Pluto are our heroes in this tale. They are lowly street cleaners that get robbed but are saved buy the famous Royal Musketeers named Athos, Aramis, Porthos and D'Artagnan. They are the characters from the original tale The Three Musketeers.
Minnie Mouse is the princess of France and Daisy Duck is her best friend. All the two talk about is how Minnie wants to find true love and no suitor has yet to make her feel this way. Captain of the Musketeers and notorious disney villain is Pegleg Pete. He has a plan to kidnap the princess but she is smart enough to know that she needs constant watch from danger. So, to not mess up his plans, Pete makes Mickey, Donald, and Goofy musketeers just to protect the princess.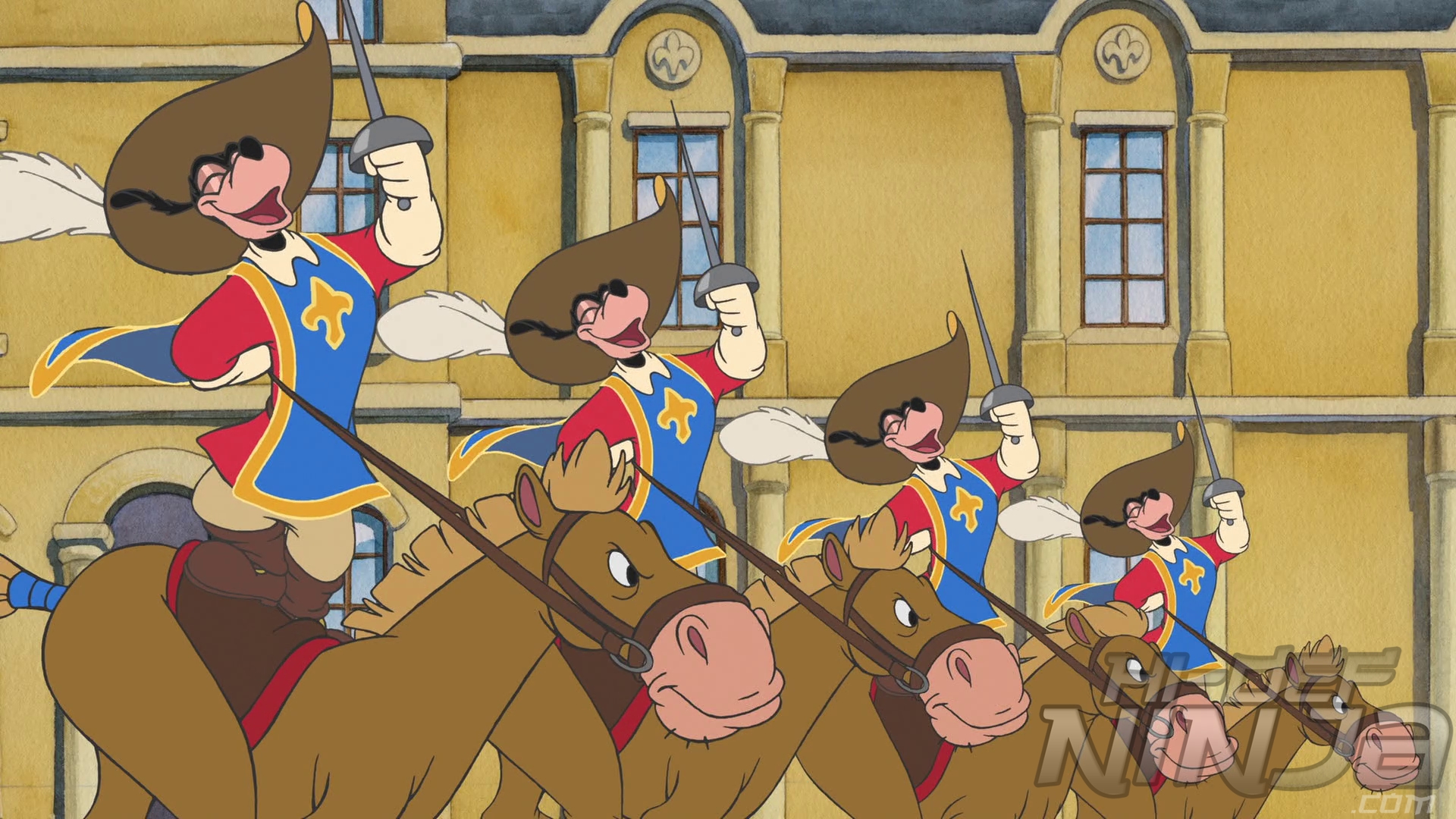 A little unknown fact: This is the first feature-length movie that Mickey, Donald, and Goofy have appeared in together. This movie was originally a direct-to-video that is based on the book The Three Musketeers by Alexandre Dumas. It has been produced by DisneyToon Studios, the smaller release animation studio that Disney uses. It is directed by Donovan Cook who has done some other films from DisneyToon Studios such as co-directing Return to Never Land. It has that Disney twist on it to work in their characters in to the story. It does have the feel of a direct to video release with less of a theatrical animated feel. There are no larger than life backgrounds or big names voicing the characters.
Voice Cast:
Wayne Allwine as Mickey Mouse
Tony Anselmo as Donald Duck
Bill Farmer as Goofy, Pluto
Russi Taylor as Minnie Mouse
Tress MacNeille as Daisy Duck
Jim Cummings as Peg Leg Pete
Rob Paulsen as Troubadour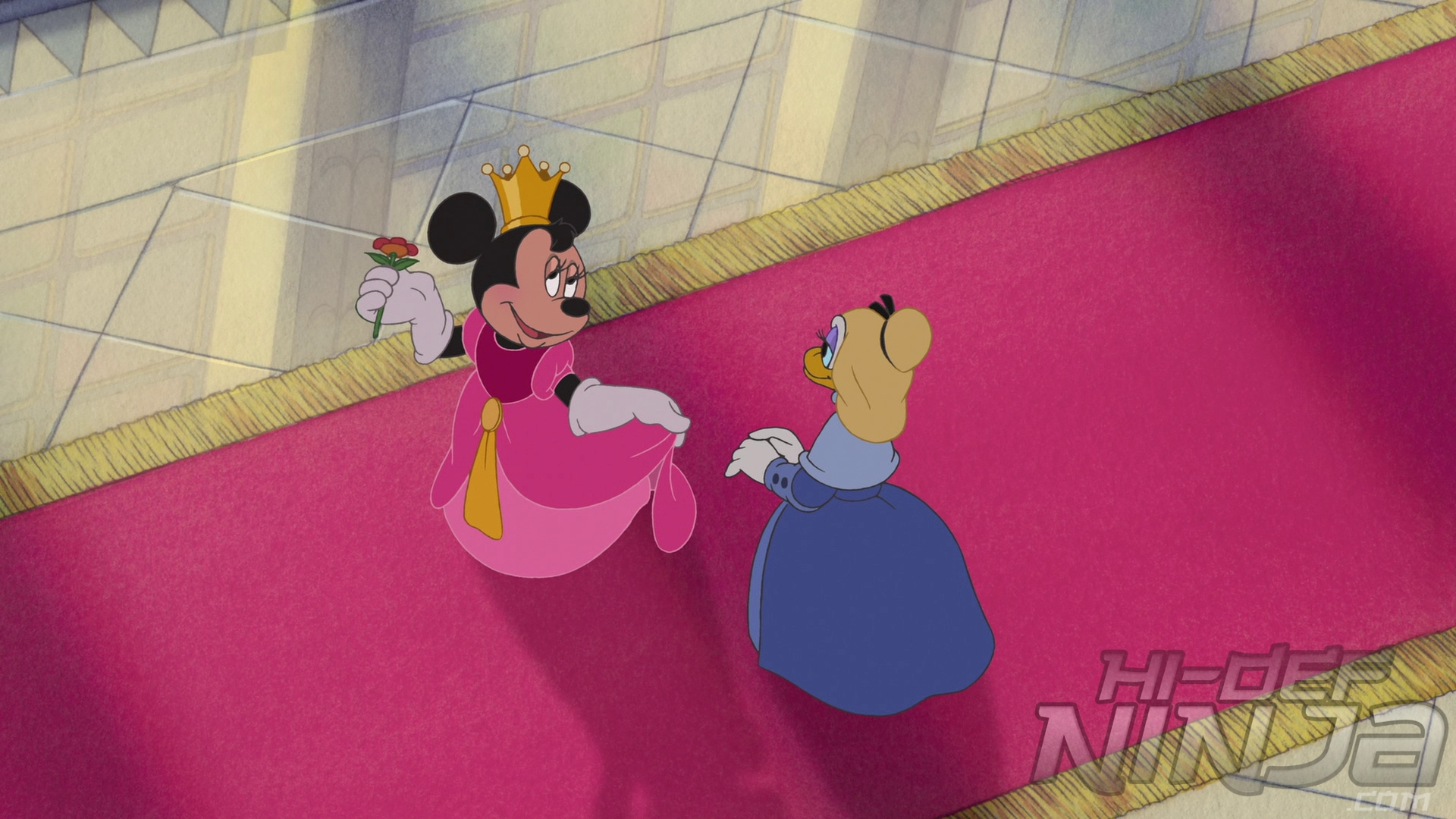 The movie has been transferred in 1080p AVC with a slightly processed look. The video is mostly clean but it does maintain that "direct to video" look. It feels like a movie that you might see on The Disney Channel and it has some contrasting and EE issues. The lines look like they are blocky and that is where the contrast looks turned up. It may also be from the bright, pastel colors that makes the transfer look like this.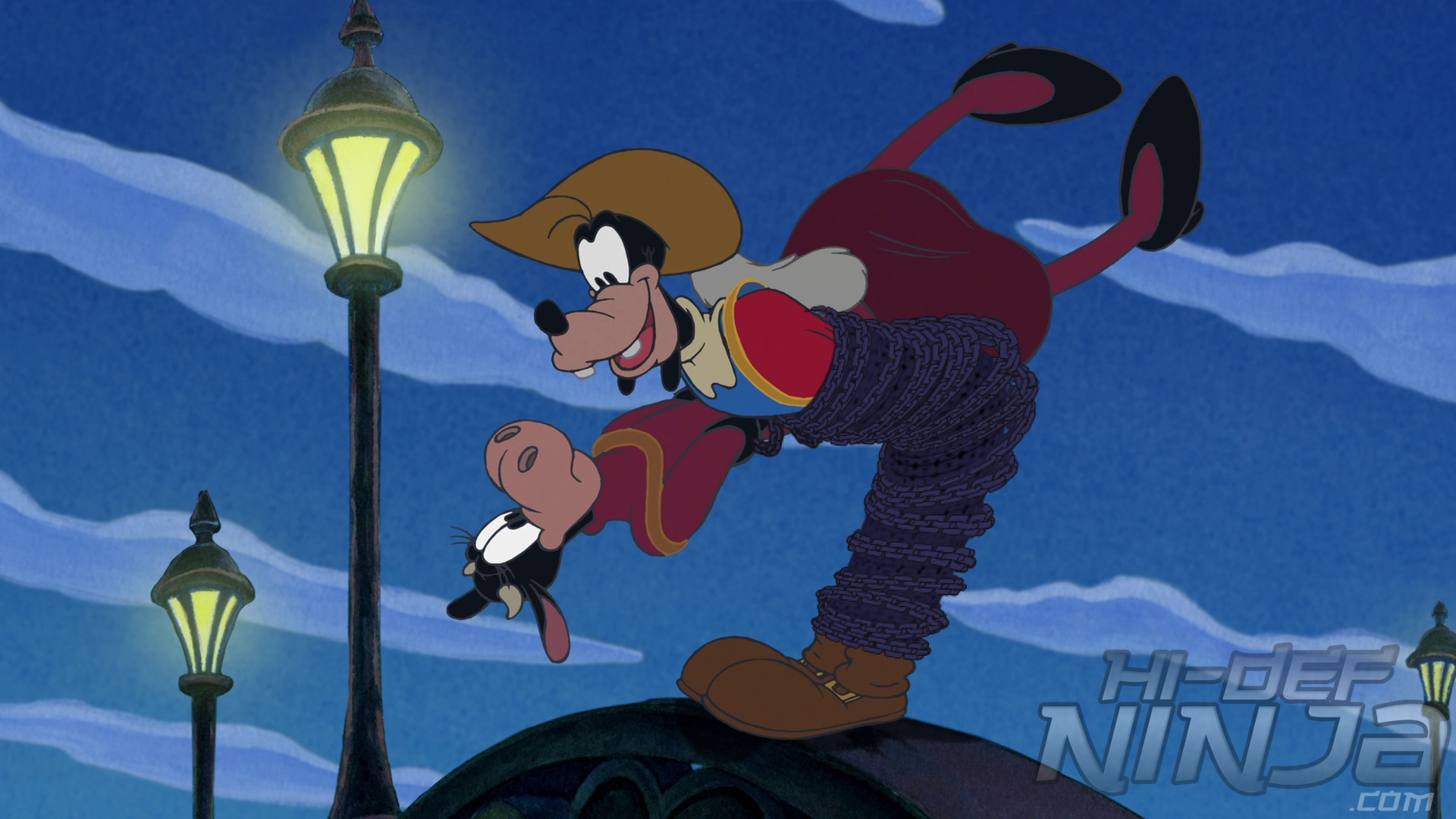 The audio mix is a DTS-HD Master Audio 5.1 that has been remixed from the original Dolby Digital track from the DVD. There are good highs for the effects and dialogue. Most of the work is in the front speakers unless there is music playing. The music uses the highs that really benefit from being mixed in the HD format. However, the LFEs are very, very light. They do come through during the music scenes but not as much as I would expect.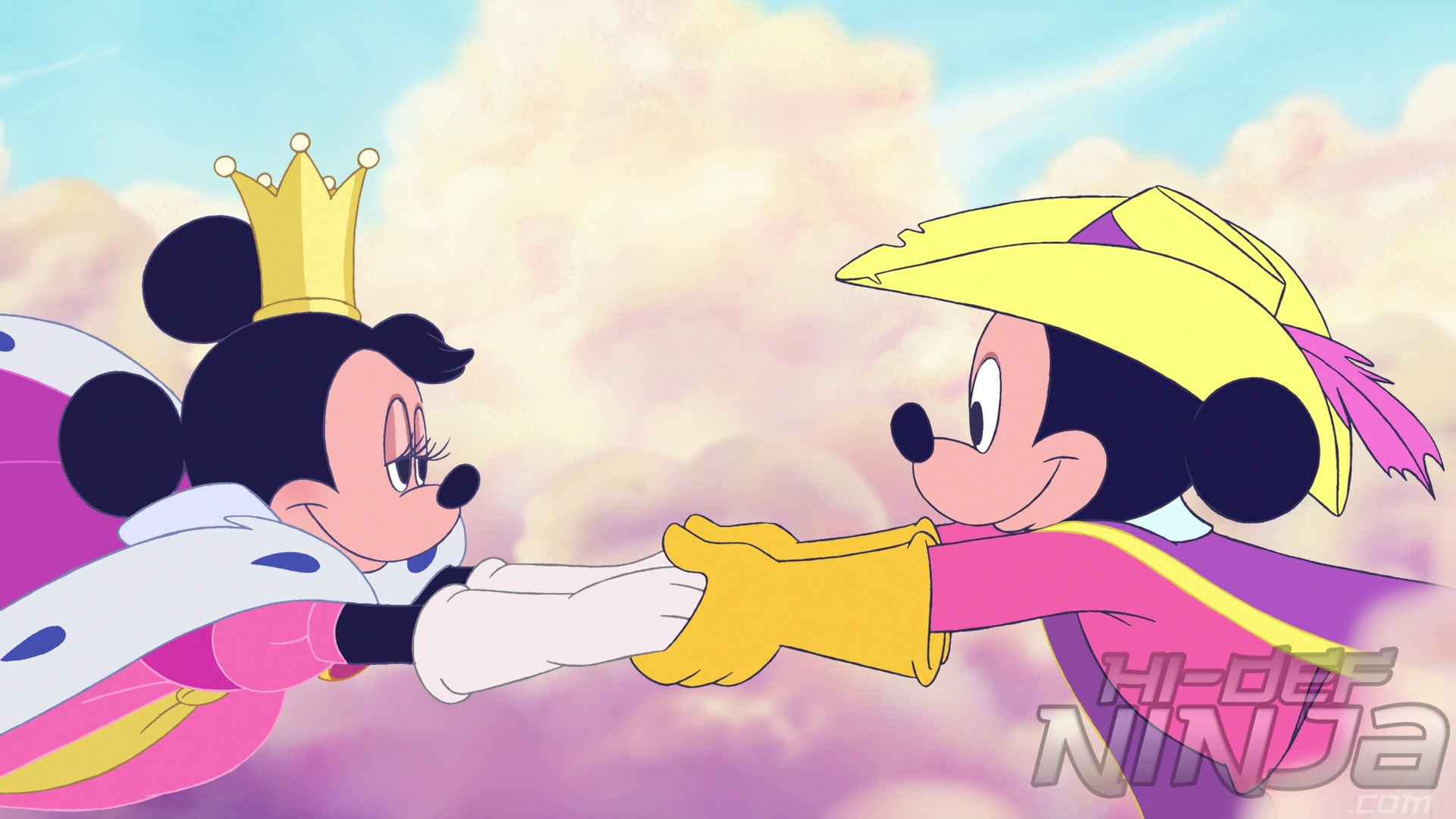 The bonus features on the release are about what is expected from what they were putting on DVDs about 10 years ago. Studios were really making sure that there were substantial features on the different releases.
Bonus Features:
-Get up and Dance: This extra is a clip of kids dancing to the songs in the movie.
-Deleted Scenes: This is a series of deleted scenes that didn't make it in to the movie.
-Cast Commentary: This clip is a commentary of the cast Mickey, Donald, Goofy, and Pete.
-Get The Scoop: This is a behind the scenes featurette in the style of a story being reported.
-Disney Song Selection: This extra takes you directly to the songs in the movie for faster playback.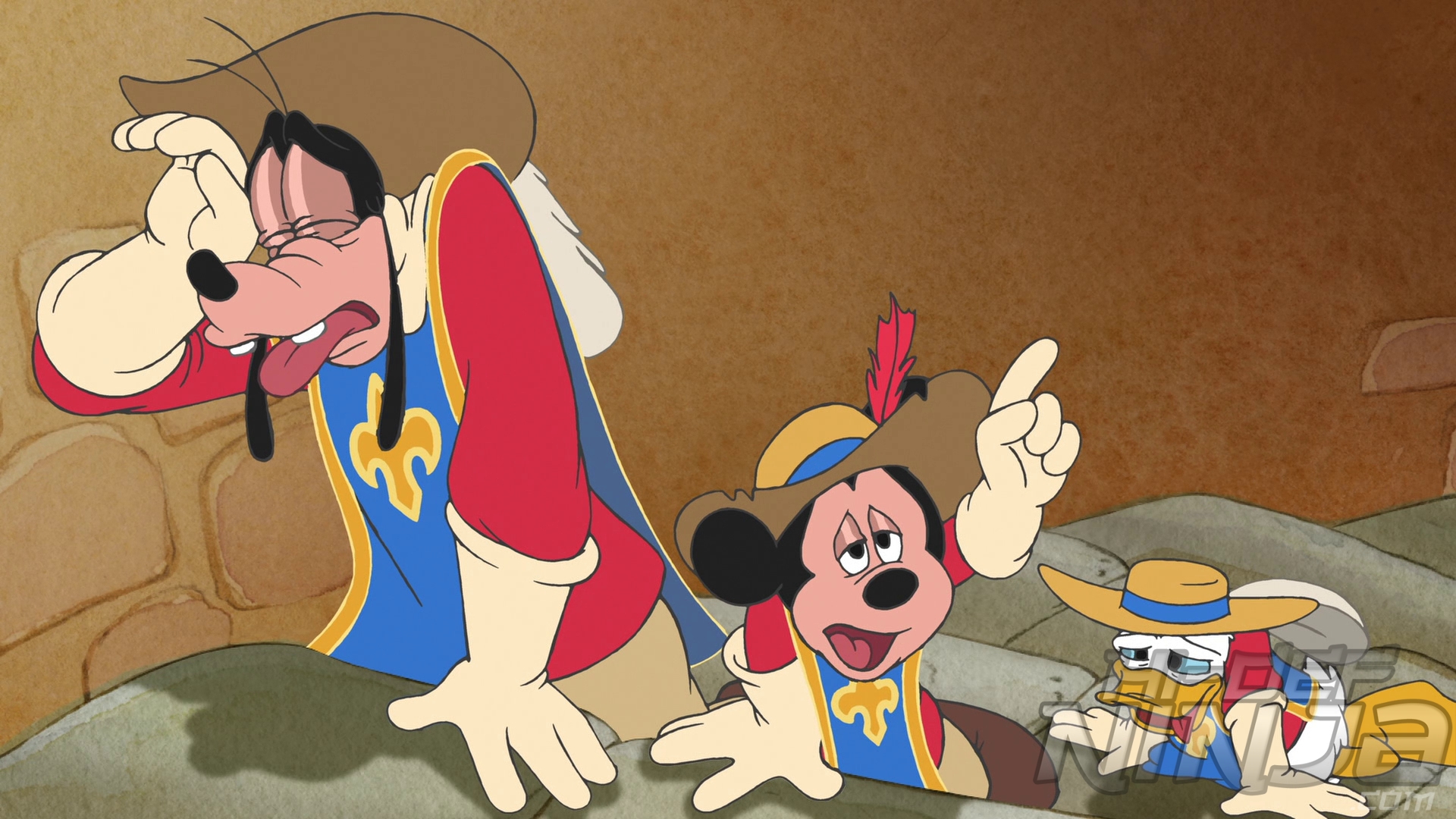 Disc Details
Two-disc set w/ 1 Blu-ray and 1 DVD
Digital copy
Edition Ratings
Rated G
Region Code
Region Free
Video Resolution
1080 P AVC MPEG-4
Aspect ratio: 1.78:1
Audio Mixes
English DTS-HD Master Audio 5.1
French Dolby Digital 5.1
Spanish Dolby Digital 5.1
Portuguese Dolby Digital 5.1
Subtitles
English
English SDH
French
Spanish
Portuguese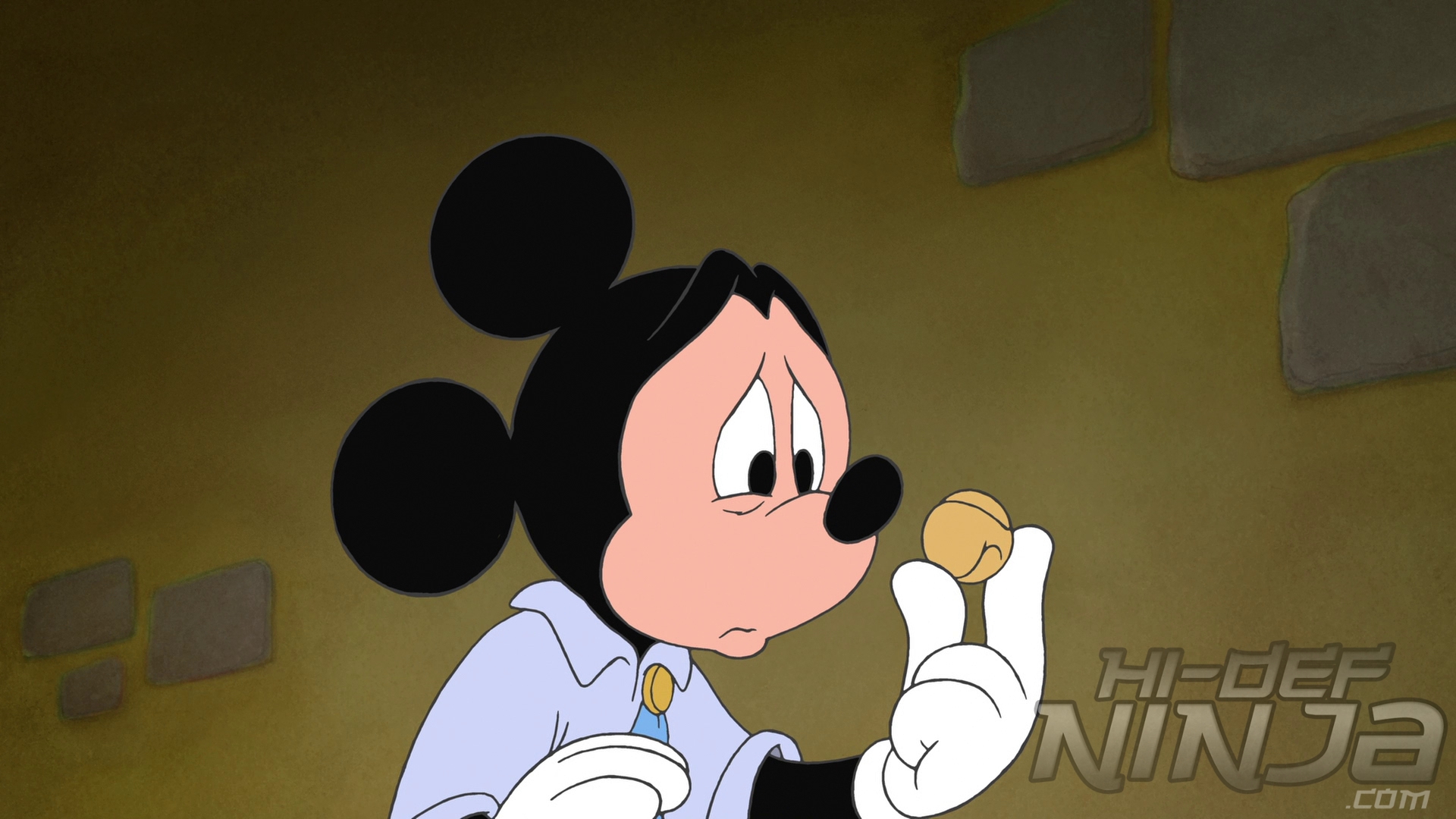 This film and the release, as a whole, is a little below average. It's a direct to video Disney movie that is definitely aimed at an audience below 10-11 years old. The extras also reflect this as well. As for the audio and video, it seems like it was a direct lateral move from the DVD to Blu-ray. One of the other issues I had with the release is that the coloring changes for the menu selection doesn't change enough to know what you are selecting. This was tested on two different TVs and, as it is a very minor issue, it made going through the menus a little frustrating. I would recommend this to Disney collectors as well as to parents with younger children to entertain them with the Disney Big three: Mickey, Donald, and Goofy.