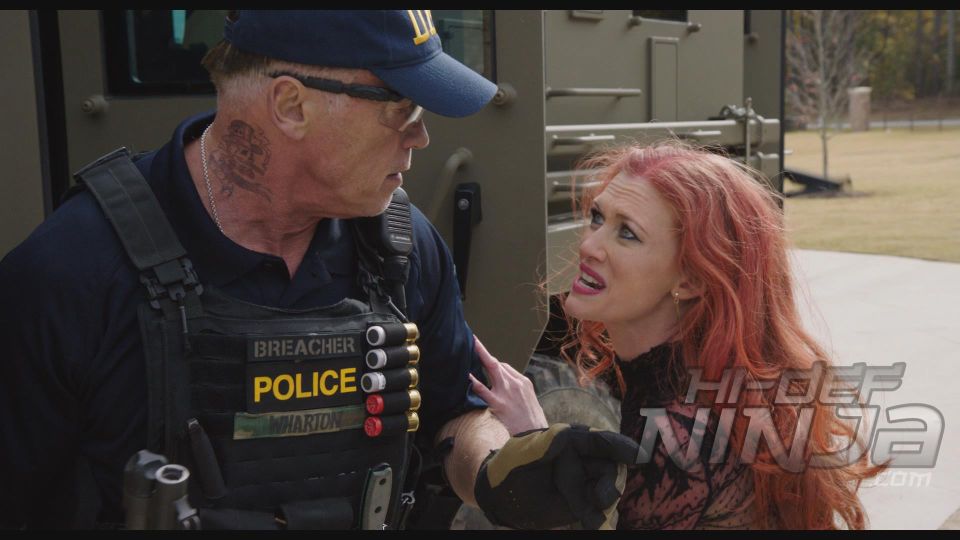 After raiding a drug cartel's mansion, John 'Breacher' Wharton and his team of rogue agents hide $10 million of the hoard for themselves. Returning to retrieve the money later, they find it's vanished… and the carnage begins. As the agents find themselves taken down one by one in increasingly sadistic and horrific ways, the race is on to find the culprit. When Breacher teams up with Caroline Brentwood, the officer assigned to investigate the murders, the team find themselves turning on each other, culminating in an explosive showdown where no one is safe – and everyone is a suspect.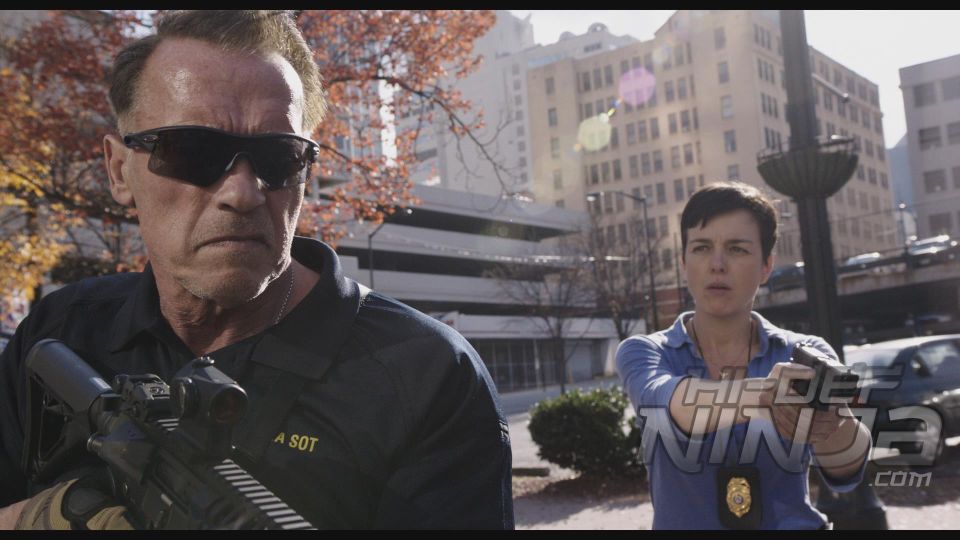 SABOTAGE arrives on Blu-ray in the UK presented with a 1080p AVC 1.85:1 video presentation.
As you would come to expect from a new movie, this looks fantastic. Visuals are superb from start to finish with details being razor sharp, clean and crisp. Facial details, whether it be Arnold's stubble, or the varying skin textures are well defined and look great as do the military/police clothing, details on the weaponry used throughout the movie also look great showing every nook and cranny possible. Colours are great throughout also, with skin tones looking natural. Black levels are also spot on, not losing any detail at any point and adding some great depth to the picture. There were no issues such as banding, motion blur or digital noise from what I could see during my viewing either.
Overall a very solid video presentation, from what you would expect of a transfer from today.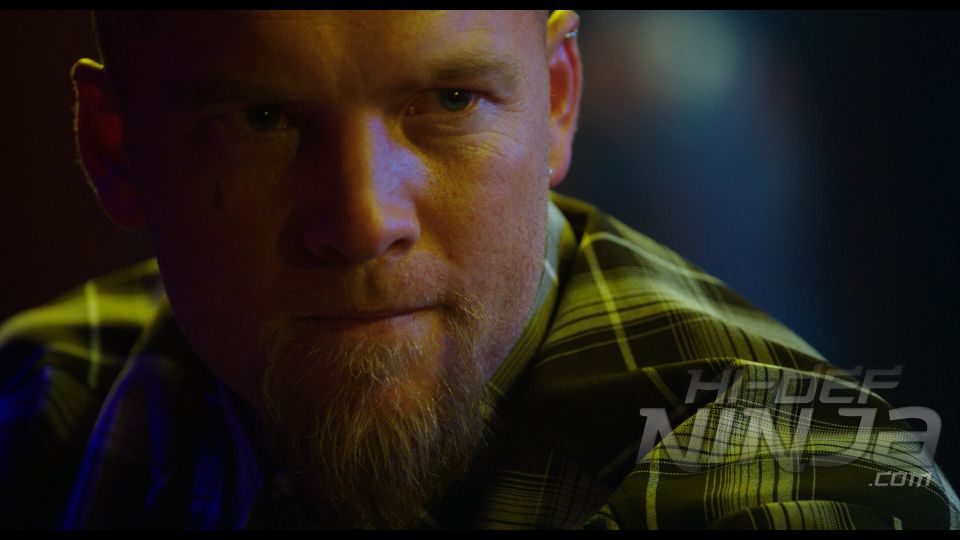 The only audio track on the disc is an English DTS HD Master Audio 5.1 track.
Whilst not perfect it is most certainly impressive. From the off we are engaged within a house party, and you feel the picture come alive thanks to the surround field used within the track. All channels are used to adequate effect, with the rears picking up the extra details here and there to draw you into the movie. Gun fire plays a major part to showcase this surround track, bullets fly from all around which helps create a good immersing experience and also gives your sub-woofer a decent workout. Gun shots, fighting and explosions fight their way out of the speakers and sub aggressively but sometimes almost feels a little muted and not as loud as you would have thought they might be. Dialogue is delivered clearly and precisely and is never lost within whatever is happening on screen at any given time.
Overall the audio track here is good, but it's not perfect. It lacks a bit of punch here and there during some of the more intense action scenes.
English hard of hearing subtitles are also included.
The UK release of SABOTAGE on Blu-ray mirrors the exact same extras that appear on the US release.
* Making SABOTAGE (HD, 9 mins) – A brief look into the making of the movie, looking at the cast, plot details, training that the cast went through and the collaboration between Arnie and director David Ayer
* Deleted Scenes (HD, 18 mins) – "Caroline Questions Joe John", "Search for Dakota", "Joe John Threatens Caroline", "Condom Flush", "Lizzy and Sugar Kidnap Civilian", "Caroline Dives for Bodies", "Dakota Case Solved" and "Caroline and Jackson Find the Money".
* Alternate Endings (HD, 11 mins) – Alternate ending no 1 "Caroline" (9 mins) and alternate ending no 2 "Breacher" (2 mins)
My usual gripes here, no director/cast commentary and very little in the way of cast and crew interviews.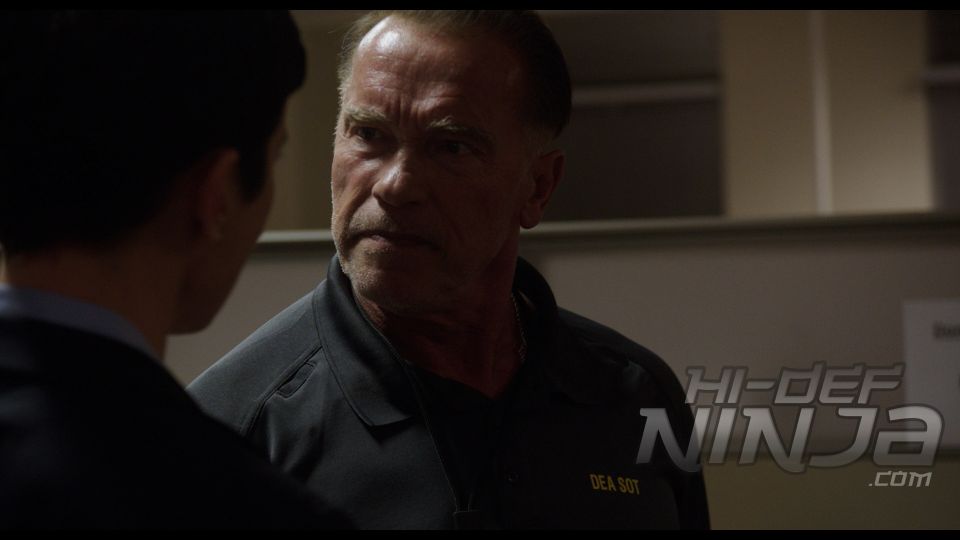 I'll make no bones about, and as I've said previously in my other reviews for anything featuring the Austrian Oak, I love anything Arnold Schwarzenegger so it goes without saying that I thoroughly enjoyed SABOTAGE. I saw it opening night at the cinema and as soon as I received this review disc it was straight into the Blu-ray player, lights off and volume turned up real loud and if anything I enjoyed it just as much as I did first time round.
I still find it hard to believe that this 'only' got a 15 rating here in the UK as it's violent; very violent! Certainly up there as one of Arnold's most violent movies. It's bloody, gory, loads of swearing and never really holds back. What surprised me the most however, is that the film is serious and gritty. There's no light heartedness, no camp-ness, no awesome Arnie one-liners, just downright dirty nitty gritty and dark. It's a different direction here from what we're used to Arnold, especially since his return to the big screen. The likes of THE LAST STAND, ESCAPE PLAN and even his cameos in THE EXPENDABLES 2 & 3 all have a comedic or light hearted edge to them, but not in SABOTAGE. You can look at David Ayer's SABOTAGE in two ways; one as a run and gun turn your brain off action flick and have a blast, or as a dark tale of a hardened, down-trodden man carrying a horrific burden. It's a big turn from the norm of what we're used to seeing Arnold in and it just goes to show, in my opinion, that he can still pull things out of the hat when needed, and is definitely his most darkest and complex film to date. It is more character driven that what we are used to seeing, rather than the standard action feasts that we used to see from the likes of Arnold, Stallone, etc.
The cast are great throughout, with all characters being developed well enough that you could believe are real life people. Arnold in the lead is great, supporting cast from the likes of Sam Worthington, Terrance Howard, Joe Manganiello, Olivia Williams and a blink-and-you'll-miss-him Josh Holloway all do a great job under the reign of David Ayer all culminating to make a great believable cast.
Arnold's return to the big screen has been hit with a lot of criticism and with people calling his movies flops at the Box Office. THE LAST STAND made around $46million worldwide, but found its market on Blu-ray/DVD sales earning over $161million! A flop in the cinema, yeah OK I'll admit that but it didn't help that it was let down by severely bad advertising! ESCAPE PLAN ended up earning over $137million worldwide at the box office; I certainly wouldn't call that a flop. SABOTAGE however didn't fare so well, earning a total of $17.5million at the worldwide box office, it was noted as the lowest ever for an Arnold Schwarzenegger movie. This was a huge shame to me as in my opinion it's one of Arnold's finest movies to date and certainly one of the better more hard edged action movies to have been released in the past few years. I often have this discussion with friends and we've come to the decision that people don't want to go to the movies anymore to watch the R-rated action movies with the 80's stars and instead choose to watch them at home on Blu-ray or DVD. I have always maintained that Arnold should've gone the Stallone route, returning with a franchise movie or two (ROCKY and RAMBO = TERMINATOR and CONAN THE BARBARIAN) and then go on to make movies like THE LAST STAND and SABOTAGE.
The only downside I would possibly say about SABOTAGE, for me at least, is that once you've seen the movie it doesn't have the replay value that a lot of Arnold's movies have. Once the 'Who done it' is out of the way you can still enjoy it as an action flick but it lacks the 'oomph' that you get on the initial viewing. However, any Arnold fan or action movie fan shouldn't have any problems in enjoying this over and over again. I know I will.
The UK Blu-ray release of SABOTAGE looks great and sounds ferocious but is unfortunately let down by a lack of extras. A must own for all Arnold and action fans.
Buy your copy from Amazon.co.uk