MILLION DOLLAR ARM arrives on the home market wanting to inspire you. Here's why it doesn't.
As the story of baseball has matured over the years, what was a white-only game has become a truly worldwide sport made up of players from all over the world. But in the feel-good MILLION DOLLAR ARM, we learn that even some parts of the world are missing representation. The results are less than satisfying.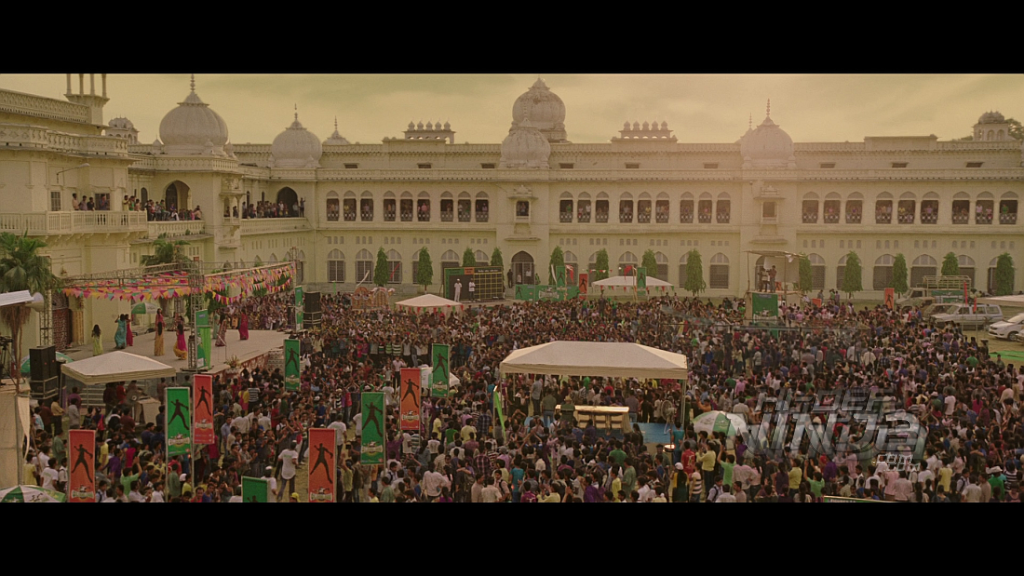 Sports agent JB Bernstein (Jon Hamm) could once sell ice to Eskimos. Another Jerry Maquire or Lee Steinberg, his slick-talking style yielding representation of former players Emmitt Smith and Barry Sanders made him a star in a league filled with them. Unfortunately, his current efforts to strike out on his own haven't produced the same results. Slouched in front of his television after a failed negotiation, JB learns that the English game of Crickett might be the last untamed resource for professional baseball players. He journeys to India to find a groundswell of support, discovering local fireballers Rinku (Suraj Sharma) and Dinesh (Madhur Mittal). But, their assimilation into US culture starts off rough, filled with various social faux pas and high expectations from pitching coach Tom House (Bill Paxton). As the boys undergo a social makeover, JB also realizes that he too needs to change if he is to remain on top, while trying to win the heart of next-door neighbor and student Brenda (Lake Bell).
MILLION tries so hard to be inspirational and critical against sports agents and the business itself that it ends up doing none of them particularly well. It's great to see Dinesh and Rinku come to America to play baseball, and it's also interesting to see how Bernstein massages the various teams while tiptoeing with strong-willed and egotistical players who expect him to produce upon their every wish. The result is an odd mix that sometimes feels shoehorned and even Frankenstein-ed for effect. Mittal and Sharma are enjoyable to watch in a very innocent way as they react to their newfound love for American food and the pressures of representing their country at the highest level. Hamm is serviceable, trading in his Don Draper suit for an LA ballcap without doing anything different with the role. He can and should be playing in more robust roles, but here he does show (at times) what he can do if given enough meat on the bone. Bell as the moral anchor is totally dispensable, failing to inhabit the role, as does Alan Arkin as a retired scout. Perhaps the best performance comes from Paxton – his Mr. Miyagi is both honest and comforting, acting as the real moral anchor for JB as he struggles to shape the due from pristine pieces of cloth into fine clothing.
We're not sure if this is director Craig Gillespie's fault for failing to get the most out of his actors or editor Tatiana S. Riegel for trying to balance competing stories. Either way, the story's conclusion develops within the first few minutes, as JB goes on both a professional and personal journey to right his fledgling company and disintegrating career. There's nothing wrong with Feel-Good, or even the idea of shuffling the pieces into something new yet familiar. It's that reshuffling that produces poor results. The Jackie Robinson biopic 42 rearranges those same pieces to brilliant effect, perhaps due to its far-superior casting. Still, MILLION doesn't use all of its assets, but it does open one's eyes to the deplorable conditions in India and the enormous pressures behind the business of today's sports.
We'd recommend watching MILLION DOLLAR ARM only after you see 42, and then only after you've seen a half-dozen other feel-good films first. You could do a lot worse, but there's certainly better fare out there.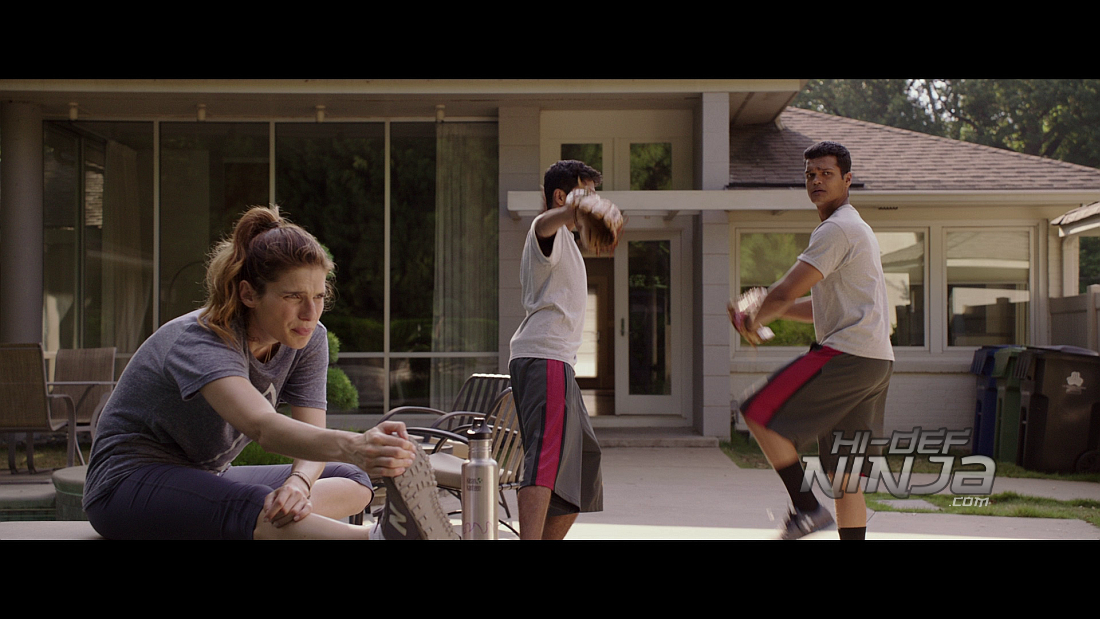 Disney's MILLION DOLLAR ARM arrives with a passable, but not exceptional, MPEG-4/AVC transfer. While this image looks clean and presentable, it just fails to pop like so many releases from the Mouse House. The film doesn't feature wide vistas or CGI-heavy backlot shooting which would require more detail, but what we do see is…passable. I guess I've come to expect so much from major releases, that anything shot with modern technology should be near reference quality. Here, colors are good but not deep, clarity is fine but missing the small details (individual hairs, unshaven stubble, wrinkles in clothing) are simply not as clear. Skintones are natural, but shadows get swallowed up in blacks and some outside shots feature slightly overexposed skies to try to show off more detail in the places that matter. Luckily, there's no aliasing, banding, or edge enhancement. At least Disney got that right.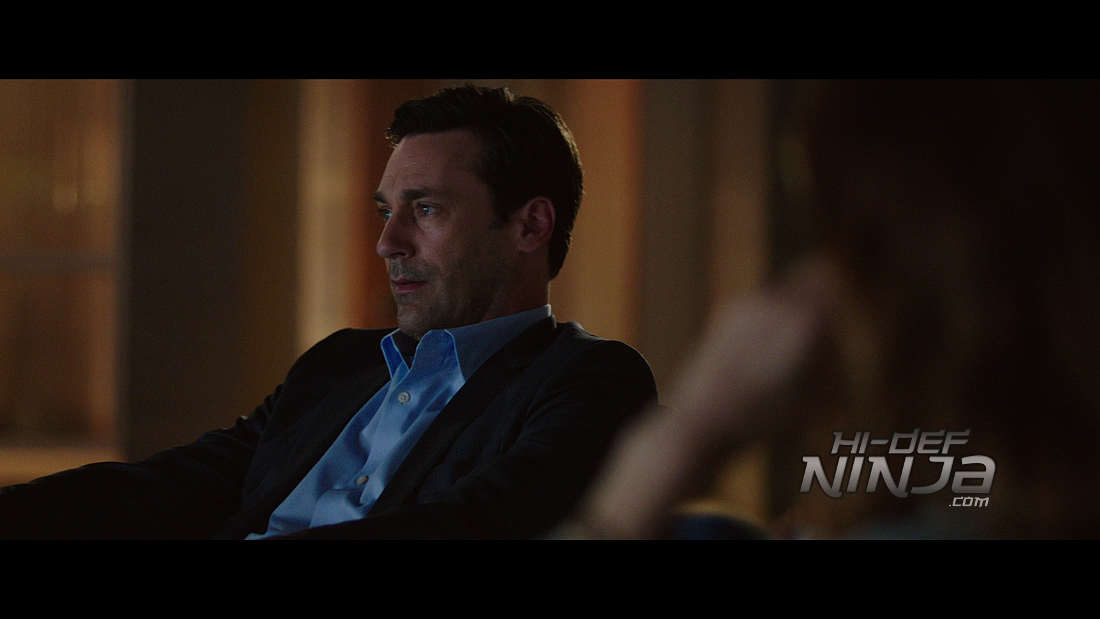 MILLION DOLLAR ARM's DTS-HD Master Audio 5.1 doesn't impress either, but does fare better than the video. Dialogue arrives from the center channel ready for the next batter, while the forwards deliver a balance of music and other sound effects. Bats crack and baseballs reach mitts with a pop, arriving sometimes to a surprise. Meanwhile, the surround field features New Deli crowd noise, chatter at JB's party, and field effects in the film's climax. It gets a solid mark, although it's worth mentioning that most major releases get at least equal treatment these days.
MILLION DOLLAR ARM contains the bare minimum of items to be considered 'supplements.' Everything is presented in HD or 1080i, an inexcusable fact for a Disney film:
Training Camp (1080i, 6:18): Mittal and Sharma discuss the science behind preparing for the the film.  We learn that the process isn't easy, as demonstrated by former minor league ballplayer Mike Ribaudo, who coached the actors and Ahmed Yusug, who trained them.  Our arm got tired just watching this.
Their Story (1080p, 2:54): A way-too-short telling of the real stories behind Dinesh and Dinesh.
Million Dollar Music by A.R. Rahman (1080p, 2:34): The composer discusses his creation of the score for the film. Again, it's all too short.
Deleted Scenes (1080i): Three scenes include JB's Problem (0:44), Sold (0:55), and I'd Take 10 Dollars (0:40).
Alternate Ending (1080i, 0:49): Nothing special or enlightening about it.
Outtakes (1080i, 2:04): Again, nothing unique or insightful to mention.
Our evaluation copy arrived as a Blu-ray with Digital HD Digital Copy. The slipcase is colorful but debossed, and there is no interior artwork. At the time of this posting, we were not aware of any special editions.
In many ways, the home release for MILLION DOLLAR ARM is as poor as the film itself.  Disney dropped the ball big time, giving us only good but not great audio and video, and the collected supplements reflect some of the worst of the year.  This is a rental opportunity at best, and even in the bargain bin, there's not much to draw someone to purchase it. I'd stay away from it until Disney decides to release more content.
MILLION DOLLAR ARM is rated PG for mild language and some suggestive content and has a runtime of 124 minutes.
Discuss this review with fellow HDN fans on Facebook. On Twitter, follow us at @HidefNinja, and follow author Matt Cummings at @mfc90125.