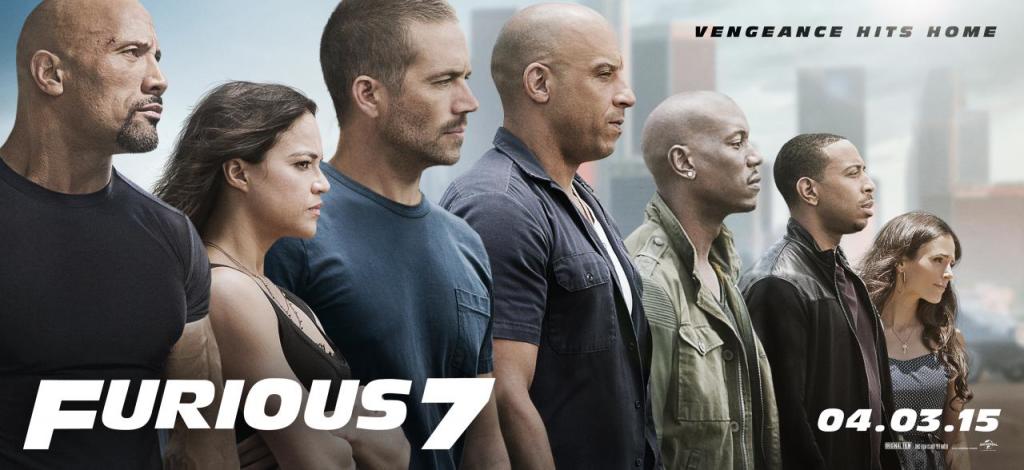 The massive FAST & FURIOUS franchise will come to a head with next year's FAST & FURIOUS 7 — which has now been retitled to a shorter FURIOUS 7. Ahead of the trailer that goes live on November 1st, Universal Pictures has released a new poster for the film with the tagline "Vengeance Hits Home" (see below).
The new film reunites Vin Diesel with Dwayne Johnson and the late Paul Walker (his scenes were completed by his brothers Caleb and Cody) as they go up against their greatest foe yet in Jason Statham's Ian Shaw. Usual horror film director James Wan (THE CONJURING, SAW) switches gears to helm the new FAST film while series regular screenwriter Chris Morgan returns to pen the script. FURIOUS 7 will also star returning cast members Michelle Rodriguez, Jordana Brewster, Tyrese Gibson, Chris "Ludacris" Bridges, Elsa Pataky and Lucas Black alongside newcomers Tony Jaa, Kurt Russell, Djimon Hounsou and Iggy Azaela.
FURIOUS 7 will speed into theaters April 3, 2015.