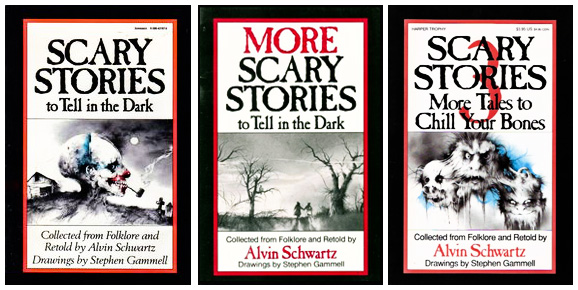 Children love scary stories. They're horrific and they'll cause nightmares for days, but there's just something about a scary story that intrigues a youthful mind. That was certainly my frame of mind when I was a child. FEAR STREET, GOOSEBUMPS, Stoker's DRACULA and Shelley's FRANKENSTEIN – I loved scary stories, whether they kept me awake for nights or not. The scariest of them all, though, was Alvin Schwartz's SCARY STORIES TO TELL IN THE DARK anthology.
A three-book series made up of dozens of short, horrifying tales, Schwartz's SCARY STORIES included stories that not only kept me up for nights, but also stuck with me throughout the years right up to adulthood. I will never forget the haunting call for 'The Big Toe' or the chilling scratching of 'The Hook'. 'Me Tie Dough-ty Walker!' may have had the silliest title of them all, but that tale is still one the creepiest stories that I've ever read to this day.
So now that you can see my love and appreciation for Schwartz's work, imagine my excitement when Deadline reported that screenwriter John August – the penman behind Tim Burton's BIG FISH, one of the best films of the last decade – was recently hired to write the script for CBS Films' upcoming big-screen adaptation.
No director has been announced yet, but considering how August usually writes films for Burton (August also wrote the screenplays for FRANKENWEENIE, DARK SHADOWS and CORPSE BRIDE), it's safe to say that the man behind BEETLEJUICE could be a sure bet – and oh, what a great choice he'd be.
Stay tuned for future news on this exciting project!