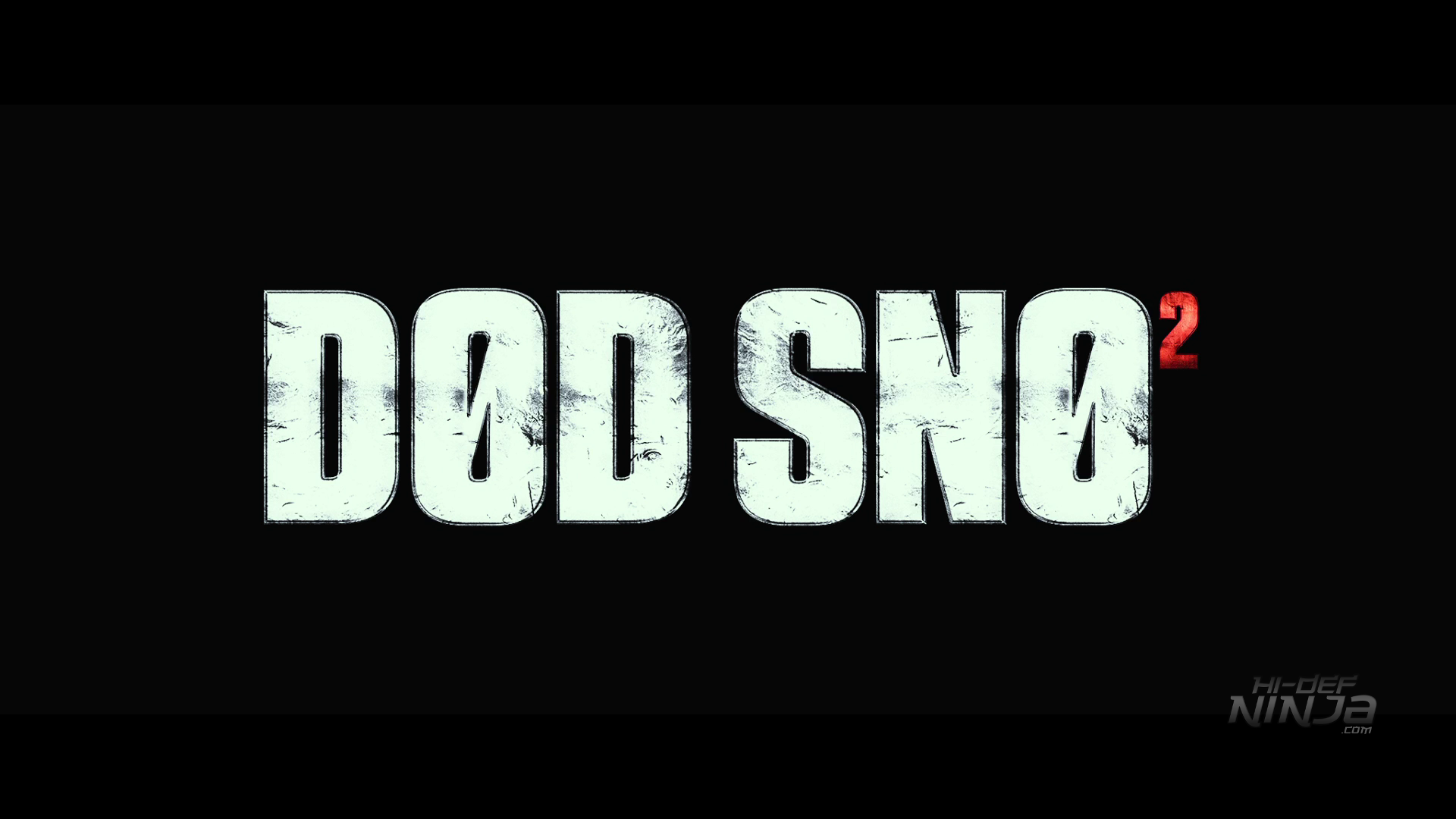 The home release for Dead Snow 2: Red vs. Dead looks and sounds good, but should you buy it?
Note: This review covers the 119-minute extended version.
The secondary home video market is littered with well-intentioned but ultimately forgettable fare. Many of our recent reviews – including Well Go USA try to break into the US market with little success; the one exception is Iron Sky, the Nazi Sci-Fi camp-fest that showed up at San Diego Comic-Con 2013. But even that only enjoyed a brief day in the sun before being clobbered by frankly better work. Well Go USA's Dead Snow 2: Red vs. Dead wants desperately to shine in that zombie sun; and even though it knows exactly what it is, I can only recommend it for rental, but not based on any glaring technical issues.
After the events of Dead Snow – in which Martin's (Vegar Hoel) friends were hacked down one by one – we pick up right where the last one left off, beginning with a brief recap.  Although the gold which the Nazis had been hunting – which created the bloodbath in the first place – is returned by Martin, the zombies seem interested in something else, spawning a new path of feasting.  Martin has other issues to deal with as well: since he was bitten, forced to saw his arm off, and crashed his car into a snow bank, he wakes up accused of killing his friends.  It's not soon after that he realizes the doctors – who thought a severed arm found in his car was his – has reattached it.  In fact, it's the appendage of the top trooper Herzog (Ørjan Gamst) in Martin's continuing nightmare.  The arm begins to 'misbehave,' murdering doctors, a kid who was promised chocolate for Martin's release, and the constable in charge of the investigation.
Luckily, the kid has given Martin some hope, in the form of the American Zombie Squad, a seemingly professional hit team who's been training for just such an occasion.  However, he has no idea that his heroes are merely three 20-somethings – Martin, Blake, and Monica (Martin Starr Ingrid Haas, and Jocelyn DeBoer) – who live in their parents' attic in America, victims of scorn, ridicule, and wedgies.  While Martin uncovers the real reason for Herzog's fascination with Norway, The Squad must stop a renewed invasion by Herzog's terrifying (and growing) Nazi army.
Dead Snow 2 has got all the trimmings of a silly, ridiculous, grotesque laugh-fest that knows exactly what it is.  Nothing is taken too seriously, unless it's to poke fun at the genre itself which isn't even the best part of this film.  It's the performances of Starr, DeBoer, and Haas as The Squad that kept the geek in me laughing throughout, with Monica quoting Star Wars films and Daniel playing a nerdish Han Solo.  Hoel is also enjoyable, never going over the top and even keeping Co-Writer Stig Frode Henriksen – who plays a clerk at a WWII museum – in line as the Nazi zombie stuff gets real.
While I've never caught the first Dead Snow and my experience with zombie media content is limited, I can see the appeal of it with that movie-going crowd. It's the kind of experience you take in, never remember afterwards, then wonder weeks later where that two hours was spent before you realize you wasted it on this. Sure, it knows that it's silly and campy and stupid, but it's just not my kind of film, nor is much of the direct-to video market. There's a reason why these things either miss out on a major release or never arrive at your local theater, but Dead still makes a pretty convincing case to give it a shot. It's also interesting that something clearly worse like Vampire Academy gets a full (but expectedly disastrous) major release, while the schlock-campy Dead made its way into only 25 theaters for a grand total of just over $38,000.
Red vs. Dead doesn't try to be anything other fun, zombie/Nazi entertainment, but I just can't see this taking off as an instant cult classic. Its easily-disposable nature isn't worth a purchase but might be a fun rental to start a night out with the guys.
Well Go USA's release for Dead Snow 2: Red vs. Dead arrives with an MPEG-4/AVC transfer that's not bad but could be better. With video editing software available for relatively cheap, almost anyone can put together a decent release.  What we get from Writer-Director Tommy Wirkola is a production that looks great in day shots (clear detail in clothing, facial features, and in man-made environments), but disappointing in night scenes (serious banding issues and crushed blacks).  Luckily, most of the film is shot in daylight, so the issue won't creep up as often.  Luckily, I noticed zero artifacting or edge enhancement.  This is my second Go Well USA review (including As the Light Goes Out) and both suffered the same video problems, something I'm sure will be resolved as the studio works out its transfers.  For now, enjoy the zombie melee.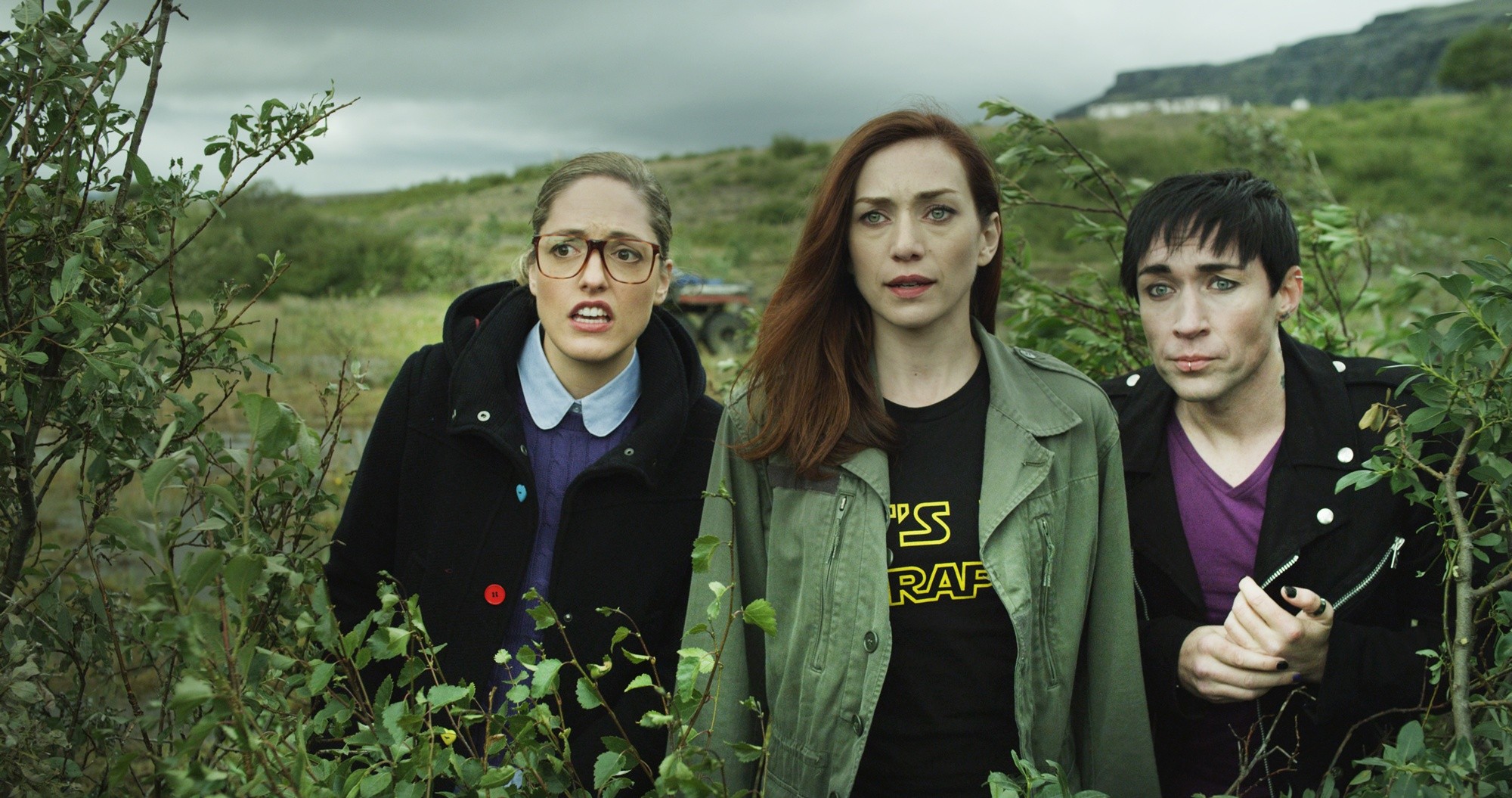 As we've discussed previously, audio transfers are much more likely to hit their mark and Dead Snow 2: Red vs. Dead's fun and immersive DTS-HD Master Audio 5.1 track hits several high marks.  The jam of their jelly – the splatter of zombie fracas – is on display throughout, whether it's a good old brain removal or the classic intestinal rollout that doubles as a gasoline line.  Dialogue is directed to the center channel, delivering clear results even if some of the Nordic actors' dialects are a bit hard to decode.  The classic horror/WWII march music by Composer Christian Wibe rings through the front and rear channels, with the LFE pulsing and pounding throughout the track.  There's just a lack of a suitable surround environment that's different than what's playing through the forwards.  But with all this track has to offer, it's a suitable exchange.
Dead Snow 2: Red vs. Dead arrives with the following supplements, all of which are presented in HD:
Død snø 2 (1:40:54): This is the International Version, which I've reviewed.
Short Film: Armen (13:59) – A powerplant worker loses his arm and struggles to adjust to life before discovering a shocking secret.
VFX Breakdown (1:53): An all-too brief look at some of the film's CGI and practical effects.
Dead Snow Comic Book (2:16)
Trailer (2:21)
Audio Commentary by Writer-Director Tommy Wirkola and Co-Writer Stig Frode Henriksen: It's a fairly fun track, with our creative team reacting to their work and eating chocolates while telling us very little about the technical aspects of the film.  Don't be looking for Christopher McQuarrie-like lens details here, and it's best to be drinking while you're listening.
Previews: The Zero Theorem, Child of God, and Riggor Mortis
For some reason Well Go USA has decided to make all supplements follow each other automatically. If you want to get back to movie or main menu, you'll have to press the appropriate button to do so. Memo to the studio: Make. It. Stop.
Our evaluation copy arrived as a single 50GB BD.  There is no interior artwork, and at the time of this posting we weren't aware of any special editions.  The slipcase is embossed and attractive.  Overall, it's a decent but minus the very good commentary, the rest is disposable.
Dead Snow 2: Red vs. Dead is hard to recommend for purchase, even though most of it is well shot and surprisingly well-acted.  For a film that knows what it is, it's a mostly one-trick pony that would probably loses most of its appeal after the first screening.  I can however strongly recommend it for rental.  Audio is great and video still shows Go Well USA needs some practice to get things just right.  For now, sit down and have a few chuckles, but don't eat while checking out this surprisingly entertaining flick.
Discuss this review with fellow HDN fans on Facebook. On Twitter, follow us at @HidefNinja, and follow author Matt Cummings at @mfc90125.