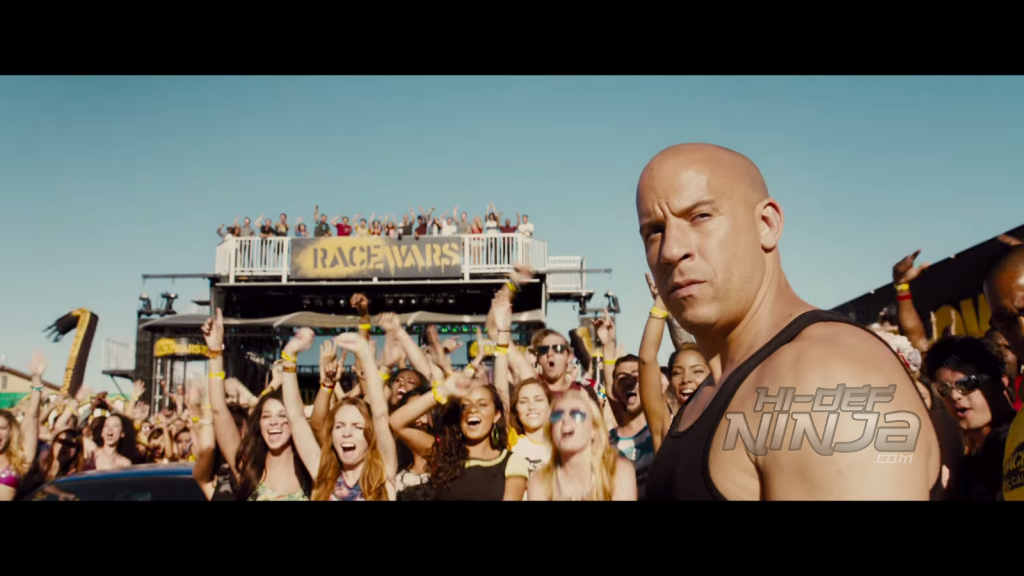 FURIOUS 7 is action/adventure accelerated to the highest possible degree. It takes every stunt sequence from the franchise thus far and wipes the floor with them. If you can do yourself the favor of pushing your logic to the side for the exhilarating 137 minutes that the film lasts, you're sure to enjoy yourself. The seventh entry in the 14-year-old series does a wonderful job of presenting an emotional, non-stop thrill ride — one that's obviously not setting out to win any Academy Awards (besides maybe in Visual Effects) — and that's what THE FAST AND THE FURIOUS has been all about since its arrival in 2001.
Before I dive into the film, I'm just going to get this out of the way: for the few who don't know, FURIOUS 7 is Paul Walker's final film. In 2013, he died during the filming of the film (off-set, but nevertheless, still tragically). With some of his scenes left incomplete at the time of his death, the producers, writer and director were left to rewrite the film to make sure it all worked out properly and respectively. Walker's brothers Cody and Caleb were brought aboard to fill in for his character of Brian O'Conner. Peter Jackson's Weta Digital then joined in to alter the stand-ins' faces to look identical to Paul Walker's face. Now, I watched FURIOUS 7 twice over its opening weekend and I can honestly tell you that when it was all said and done, I could not tell which scenes featured digital Paul Walker. I do know of one scene where it wasn't Walker playing O'Conner, but I could not tell. The visual effects imagery was flawless.
Furthermore, the farewell to both Walker and his character in this film was absolutely beautiful. Now, this may not mean much since I'm a complete marshmallow, but I definitely broke down and cried during the final tribute to Paul Walker. It was heartbreaking because even though it was taking place within a film, you could tell that these were his actual friends saying goodbye to him in real life. Vin Diesel's farewell speech was especially moving: "I used to say I live my life a quarter mile at a time and I think that's why we were brothers — because you did too. No matter where you are in this world, whether it's a quarter mile away or half way across the world, you'll always be with me. And you'll always be my brother." Everything about FURIOUS 7's farewell is beautiful and I highly recommend that, if you're a softie like me, you bring some tissues.
Now on to the rest of the film…
FURIOUS 7 introduces a new 'big bad' in Jason Statham's Deckard Shaw, the brother of FAST & FURIOUS 6's villain, Owen (Luke Evans). Shaw is ruthless and relentless as he hunts across the globe, always on the heels of Dominic Toretto (Diesel) and his team. When FF6 ended on the cliffhanger that introduced us to Statham's character, I was truly ecstatic. Statham is a real-life bad-ass, so I knew that seeing him go one-on-one against Diesel and/or Dwayne Johnson's Hobbs would be explosive… and damn, was I right.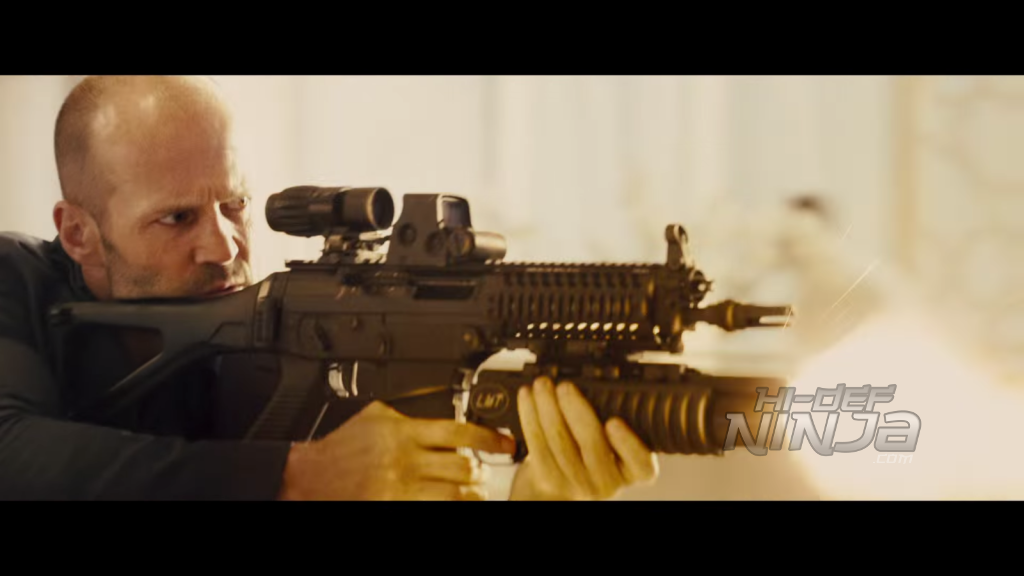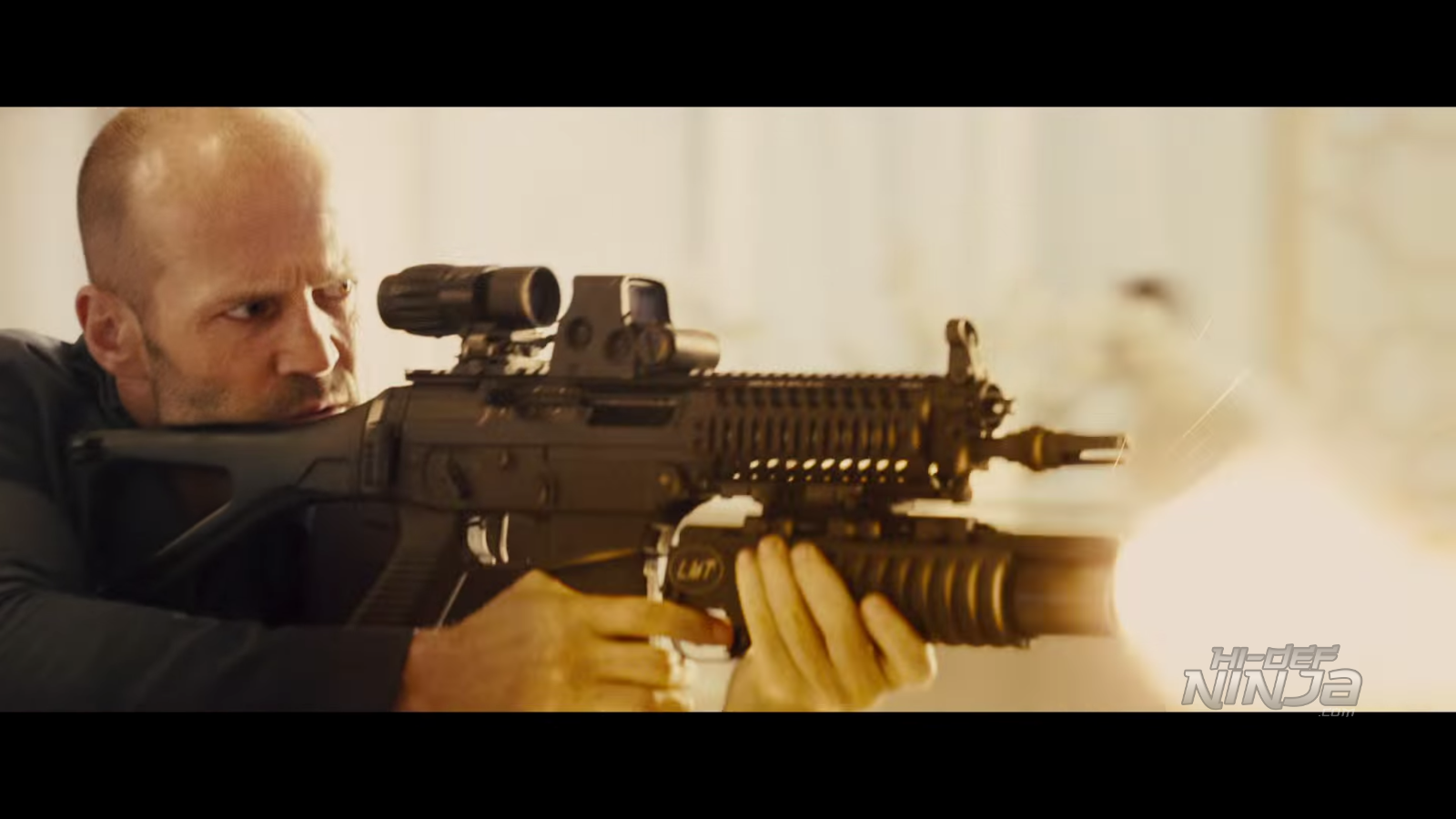 Johnson was up first against Statham and while their fight wasn't exactly original, it was still very cool to see. Apparently Johnson thought it'd be neat to throw in the Rock Bottom, his WWE finishing move (as The Rock) after Statham agreed that it'd be fun. It actually made the fight a little less believable, but it didn't cut down on the enjoyment of it whatsoever. Statham was on JIMMY KIMMEL LIVE recently and said that fight choreography is extremely important to get down because if someone like Johnson actually drills you in the face for real, you'd be dead. I thought that was good for a laugh because Johnson looks like an absolute beast in this film. If Marvel wanted a live-action Hulk (who makes somewhat of a cameo in FURIOUS 7), they wouldn't have to look much further than Dwayne Johnson (and yes, I know… too late, DC got him first).
It was Diesel's encounters with Statham that really pushed me over the edge, though. The excitement of seeing those two guys onscreen together was the same feeling that I receive when watching a major superhero film. The final battle of FURIOUS 7 is absolutely epic — like something straight out of a samurai film, except only on steroids. I won't spoil anything, but I will say that it was great to see Statham going up against real forces of nature unlike the actors he usually plays off of in films such as THE EXPENDABLES.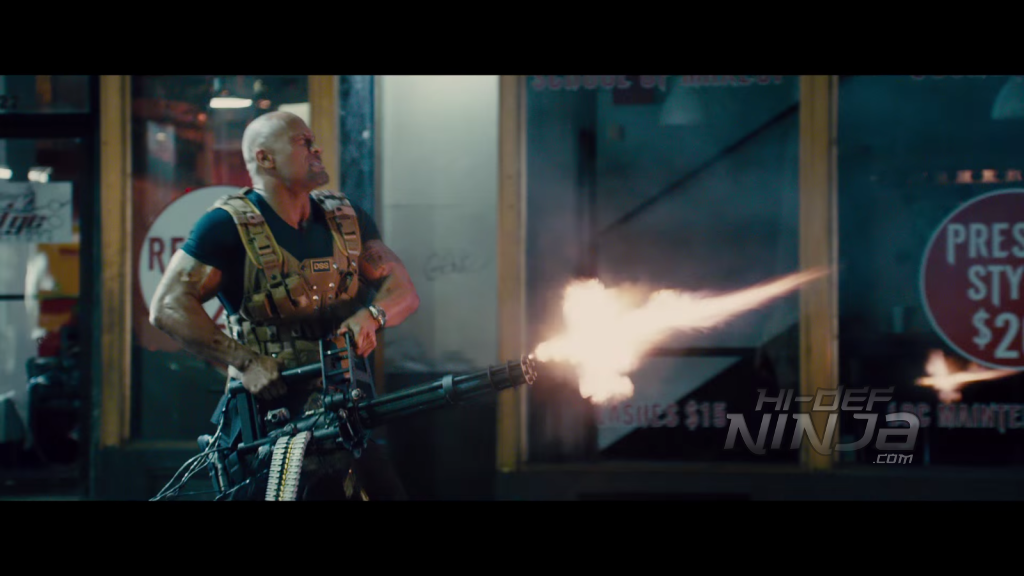 The awesome bouts never ended there, though. Seeing Michelle Rodriguez go up against UFC champ Ronda Rousey was quite exciting. I won't say that Rousey's a great actress (she's really not), but for the sake of the fight, she definitely brought a great challenge to Rodriguez' Letty. Walker's hand-to-hand smackdowns with Tony Jaa (who was great here in his first Hollywood film) were quite off-the-charts, too. If there's one thing for certain, it's that FURIOUS 7 knows how to give the audience some great one-on-one fight scenes.
With those major pluses out of the way, I'm going to get to one of my disappointments with the film. With this entry being the first FAST & FURIOUS to spin out of THE FAST AND THE FURIOUS: TOKYO DRIFT, I was rather excited to see the inclusion of Lucas Black's character Sean Boswell from the third film. It's safe to say that his inclusion was practically non-existent. He was only featured in one very small scene and then never seen or heard from again. I suppose it makes sense… his character was only a teenager in the third film, after all. Nevertheless, I actually did enjoy the third film and was hoping to see a little more from its lead character in this new instalment.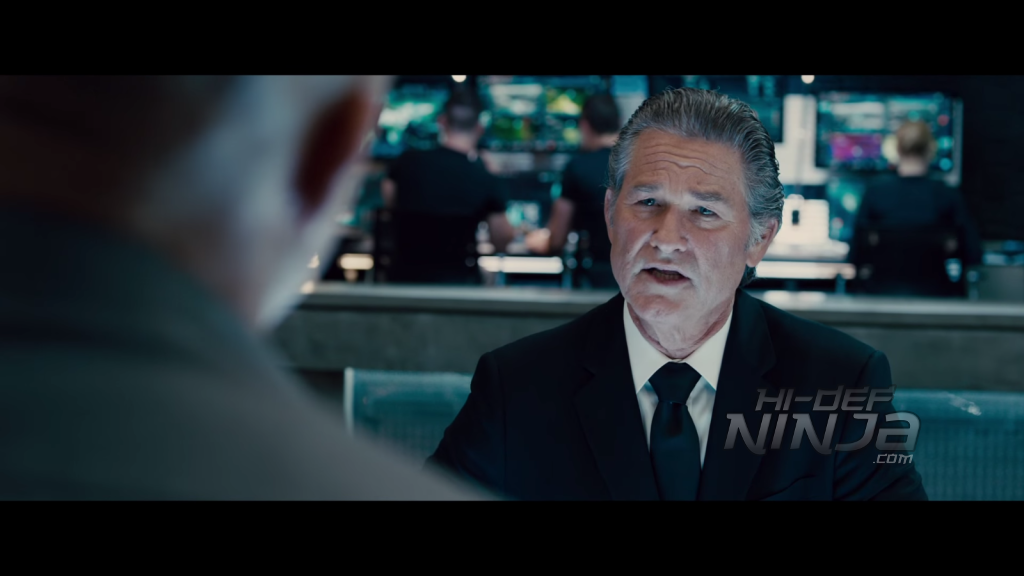 Another character that I wish I could've seen more of was Elsa Pataky's Elena. Ever since her introduction in FAST FIVE, I've really enjoyed the character. Elena is good and she's pure and she shines through amongst all the hell that breaks loose in each film. I really loved her chemistry here with Johnson's Hobbs and I truly hope to see more of her in future films. Hell, even if the FAST films take a different route in the future (I'm assuming they'll continue since it's looking like FAST & FURIOUS will become Universal's first billion-dollar series), I'd definitely be down with a Hobbs/Elena spin-off film.
On a good note, FURIOUS 7 did introduce us to another excellent female character — one that's sure to stick around — in the hacker Ramsey, played by GAME OF THRONES' Nathalie Emmanuel. We were also introduced to 'Mr. Nobody', portrayed to perfection by the always-great Kurt Russell. Diesel recently said that the FAST films will be heading to New York and that Russell's character will play a big part, so I'm definitely looking forward to that. I've loved Russell ever since I first watched CAPTAIN RON as a kid. The man's a legend. Rounding out the newbies was Djimon Hounsou as the terrorist Jakande. He was a rather one-dimensional villain; good for what he was meant for, but the only villain I wanted to see or cared about was Statham's Deckard Shaw.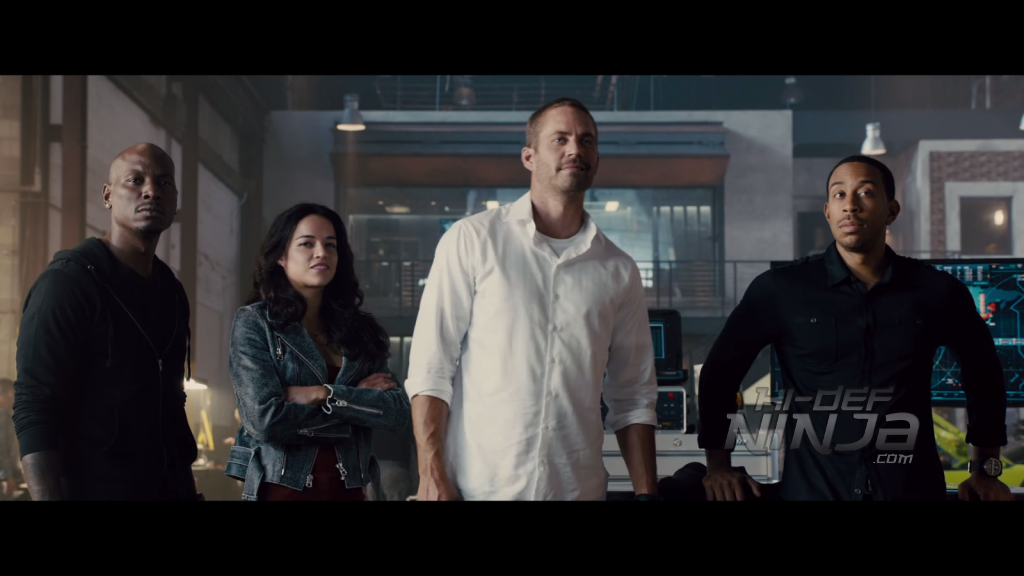 On the returning front, all of the original cast members brought their A-game. Diesel was awesome as Toretto (as usual), Walker kicked butt as O'Conner, and Tyrese Gibson and Ludacris were hilarious as Roman and Tej, respectively. The chemistry between those two gives the FAST films some much-needed lightheartedness and I always enjoy seeing them together. Jordana Brewster returned as O'Conner's love, Mia — the heart and soul of 'the family'. Her scenes with Walker really broke my heart; you could hear the real pain in her voice when she spoke to him at times. Director James Wan later revealed that Brewster took Walker's passing very hard and that she had difficulty playing off of his character when it wasn't him there. I've always loved seeing Jordana Brewster in films — I will forever love her role in THE FACULTY — so it's sad to realize that this film was also (most likely) a goodbye to her character in the series.
Truth be told, the standout in FURIOUS 7 was Michelle Rodriguez. Her character Letty was absolutely tortured (emotionally) throughout the film and Rodriguez knocked it out of the park. I really, really enjoyed her performance here. Letty has always been a character that I didn't really care about in the FAST films, but everything changed here for me. In one scene later on in the film, Letty has an emotional breakdown over a certain event and I really felt for her. Not only that, but Rodriguez often comes across as this bad-ass, take-no-crap-from-anyone woman in her roles, but she portrayed a beautiful sensitivity here and it just really hit home for me. Phenomenal work and I can't wait to see what she brings to the table in the future.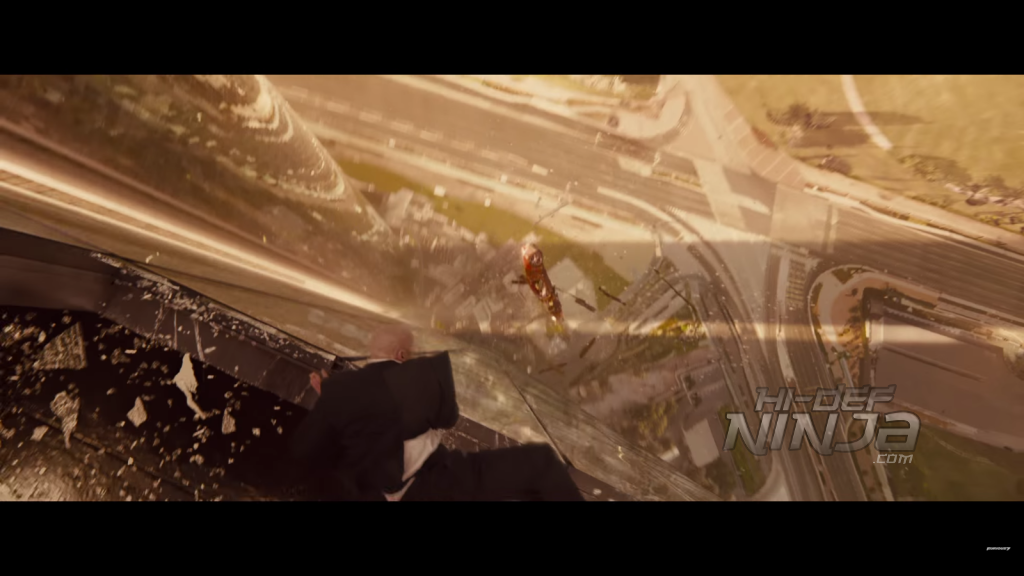 FURIOUS 7 also marks the return of screenwriter Chris Morgan who's been penning the series since the third instalment. Making their debut, however, is Wan — who replaces the director of the previous four films, Justin Lin. Wan definitely brings a new perspective to the table… which isn't surprising considering how his past directorial efforts included popular horror flicks SAW, INSIDIOUS 1 and 2, and THE CONJURING. What was surprising was Universal's decision to go with Wan as Lin's replacement, though I must say, Wan proved that he was more than capable for the job. His directing alongside Morgan's words lead to a FAST & FURIOUS that was different, yet still felt familiar.
Honestly, my problem comes in the form of the cinematography for the most part. FURIOUS 7 featured two cinematographers: the returning Stephen F. Windon who's been with the franchise since TOKYO DRIFT, and newcomer Marc Spicer. The camerawork used for a majority of the film feels very much like the previous films, so I'm sure that the majority of FURIOUS 7 was lead by Windon. It's the fight sequences that felt different and off at times, though, and while I'm uncertain, this could've been where Spicer came into play. During the fight sequences starring Tony Jaa, the quick, flip-flopping camerawork worked quite well. However, when it came time for the battles starring the more 'brutish' individuals, I really disliked the angles chosen. For example, during the fight between Johnson and Statham, Johnson is kicked backwards over a chair. The chair falls to the ground, Johnson rolling with it. During this shot, the camera flips and rolls with Johnson. While this may've been used to add excitement, I truly found that it added nothing but nauseation. In these cases, I would've definitely preferred a more traditional camera angle. That's just a small complaint, though, because FURIOUS 7 got almost everything right.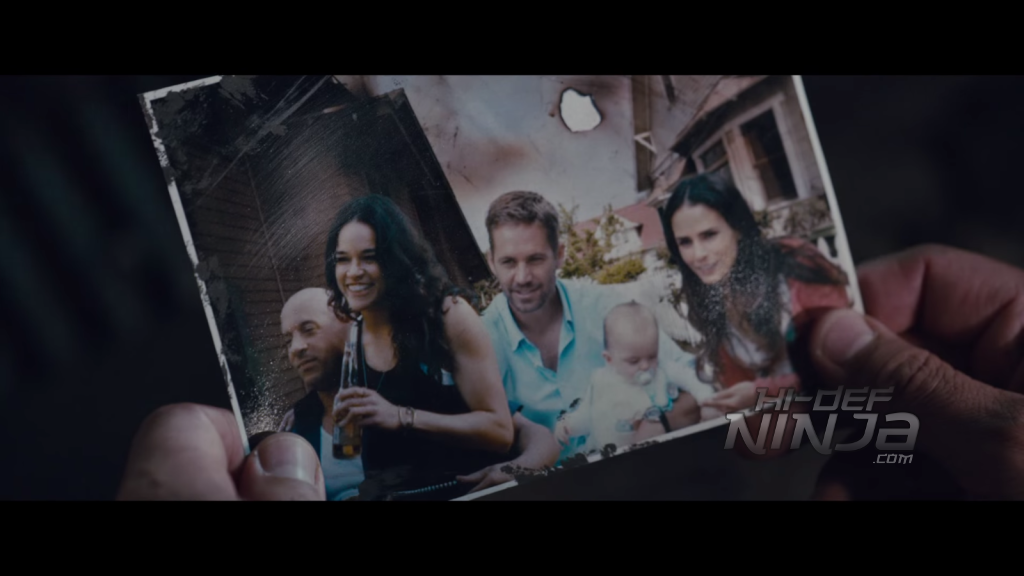 Essentially, I grew into adulthood alongside THE FAST AND THE FURIOUS films. When I was at the age to think that I was right about everything, I learnt the true importance of family because of the FAST films. Sure, they're full of mindless, over-the-top-ridiculous action sequences (more so now then when they started), but if you look deep under the series' coat of paint, they're really more than just that. The underlying tone of family and love is one that I wish more people would recognize. The Internet is so full of FAST & FURIOUS haters and I truly think most of those people are the ones that only look at the surface and not what's underneath.
FURIOUS 7 is not a perfect film; I still rank FAST FIVE as my personal favorite F&F film. It's damn exciting, though; a throwback to the action films of the '80s and '90s — though one that's definitely deeper in meaning. The film's slogan is 'One Last Ride' and while I'm sure there will be more FAST & FURIOUS films, I feel like this is a final ride. It's a beautiful closure to Paul Walker's career and life, but it's also the beginning to a new era for the films. As Roman says in the film, "Everything will be different now."