Welcome to the third edition of the Hi-Def Ninja community exclusive column, Ninjas Chat! This month, Martin (AKA pmartin252) and I discuss Blu-ray Digibooks. I've always been a fan of book-bound Blu-ray editions, so I thought that chatting about them with HDN's resident Digibook guru would be the way to go!
——————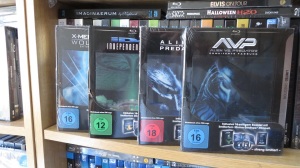 1) What do you look for in a Digibook (e.g. what's your favourite features)?
MARTIN: I like to see lots of pages with interesting facts about the movie… trivia cast, crew, director information. The more pages, the better. Something that I find very annoying is those so-called Digi "books" with three or four sheets making just six or eight "pages". Photos are obviously good, particularly well-researched images — not just grabs from the movie itself — but behind-the-scenes photos, etc., provided they are legible given the small size of "standard" Digibook, then storyboards and other sketches used to put together the film are pretty good.
From the point of view of the construction of the book, proper plastic holders for the disc are important, though they are sometimes misused to make a thicker volume, possibly to trick potential buyers into thinking they are getting something more substantial for their money. The cheaper cardboard disc holders as used quite a lot by Fox tend not to be very substantial, and are very prone to wear and tear. Some studio releases in the recent past have had a lot of thought put into the finished product. The gloss finish and embossing (and debossing) used on some of the titles is particularly nice to see, as is the metallic effect finish. The inclusion of a lenticular print on the Digi itself or a slipcase such as on the U.S. THE DARK KNIGHT RISES release always makes it extra enticing!
Unlike quite a lot of Digibook collectors, I really like Mediabooks. In my experience, people are against them because they are not "standard" size. The truth is that there is not really a standard for Digibook sizes; they vary slightly in height, thickness and to some extent, even width. Some don't like them because they are accustomed to the "awesome world of SteelBooks". They say that Digibooks are "G2" and Mediabooks are "G1". I don't believe Digi and Mediabooks should be ring-fenced into those categories. Some collectors seem obsessed with linking the taller book releases with DVD cases, which I think is a little bizarre. I can understand the worry that they take up a little more shelf space in height, but it is only about an inch, and if done correctly, the taller pages can allow for better content layout on the pages.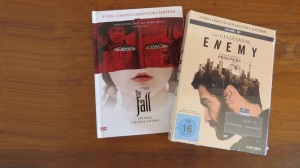 I feel that the Austrian horror releases are to be commended for providing popular movies of that genre as Mediabooks for collectors, especially with the limited numbers of copies they produce. However, I'm not really a fan of the current practise of producing two or three different covers for the same release, sometimes with extremely poor artwork and a pitiful number of pages inside. These seem to be just an example of cashing in on peoples urge to collect — especially younger people.
To finish this question, on a high note after that downer, I think it is great that Warner seems to be getting back into Digibooks — at least in Europe — with the new INTERSTELLAR release due soon. I would love to see them continue with the great back-catalogue titles which they started back in 2009, and continued until the start of 2014.
KEN: My answer will be a little shorter, but to me, a book is something that you read. So with that said, I obviously prefer my Digibooks to be in English as it's the only language that I speak or read. I also like the smaller Digibooks — as Martin said, the G2 ones. I guess I'm one of the bizarre ones. Once the DVD generation concluded and I went to Blu-ray, I wanted all my Blu-rays to be the same size amongst my collection. While I do own some releases that are larger than the standard G2 size that's expected from Blu-rays, I definitely prefer my regular-sized Digibooks.
I also like it when Digibooks come with slipcovers. They're a bit of a rarity, but when a slipcovered Digi does appear, I'm usually going for it. My BATMAN BEGINS and THE DARK KNIGHT Digibooks from the Czech Republic came with some nice translucent slipcovers and last year's UK Digibook for X-MEN: DAYS OF FUTURE PAST was absolutely stunning! Great photos within a Digibook are always nice, too, as is a proper plastic disc tray.
2) What's your favourite Digibook of all time?
MARTIN: This is quite difficult; there are so many that I really like! The German Fox Cineditions were short-lived, but beautifully executed examples of how a good quality Digibook should be. They featured lenticular covers, j-cards, a reasonable number of pages and a card mounted film cell from the movie — all-in-all, very nice examples.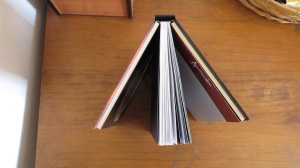 The Warner releases were consistently very good — a standard size which is quite important for some collectors. Special mention must go to the French Mediabook release of APOCALYPSE NOW. That incredible tome is a real book… 100 pages! Three discs with APOCALYPSE NOW, APOCALYPSE NOW REDUX, and HEARTS OF DARKNESS, plus extras. Shame it was never released in English.
The Spanish Cameo Mediabook releases — which like Warner, seem to have dried up now — are also personal favourites of mine. I particularly like Almodovar's THE SKIN I LIVE IN and Woody Allen's MIDNIGHT IN PARIS. They have interesting text and photos and are great movies to boot! I have to mention the German Capelight Mediabooks, also. They feature a good number of glossy pages, excellent photographs and (German) text. Favourites include the now out-of-print THE FALL and the most recent release, ENEMY.
My choice of overall favourite may come as a bit of a surprise: it's the 2010 German Universal Digibook for the animated film 9. It has a lenticular-faced slipcase and is in landscape format with 120 pages, beautiful artwork from the film plus some text in German. To me, it is a perfect example of what makes a quality Digibook.
KEN: My favourite Digibook of all-time would probably be one that I've never seen in person, but as for the ones that I do own… probably the U.S. release of 300. It has a gorgeous shine to it, plus it's embossed. That level of quality is rarely seen on Digibooks these days. I love both of the limited edition, lenticular-carded Digibooks that FUNimation released for ATTACK ON TITAN, too. It's unfortunate that less Digibooks are being created these days in favour of NEO Packs and Digipacks.
3) Why do you collect Digibooks? What attracts you to them?
MARTIN: I suppose I like the idea of having something physical to read about the movie and although a booklet within the amaray case of a Collector's Edition is nice, having a proper bound book is better. Also, they look much nicer on the bookshelf of course!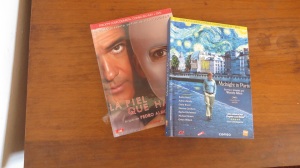 KEN: Like Martin said, a Digibook on a shelf just looks much nicer than a regular amaray case. Being that I've been a collector of comics, graphic novels and books nearly my entire life, I just find myself immediately attracted to a Digibook. I've owned Digibooks of films that I didn't even care for just because they were such nice-looking releases. I also find that if a Digibook is slightly dented, my OCD doesn't go into overdrive like it would over a SteelBook release. (Laughs)
4) Which studio and country do you think are putting out the best Digibooks at the moment?
MARTIN: At the moment, it seems to me that there is a bit of a lull in Digibook releases in general. Warner led the way, of course, but until the announcement of the new INTERSTELLAR Digi, they seemed to have all but abandoned the format. Cameo in Spain, after such a promising start, have given up. Fox stop and start all the time, except in France for some strange reason. The Austrian distributors seem to be churning out the Limited Edition "blood & guts" titles with very variable result — for example, as I mentioned previously, poorly designed covers, few pages, etc.
Capelight from Germany are set to release a whole batch of new titles through this year. I really do admire their Mediabooks, so I would plump for that company as my current favourite.
KEN: Honestly, my Digibook purchasing has slowed down to almost zero. Like I said earlier, 99.9% of the time, I'll only buy a Digibook if it's in English. Being that the U.S., Canada and UK have rarely been releasing Digibooks, I've rarely been purchasing them. I do think that Warner and Universal release the best Digibooks, though… whenever that happens.
5) Does the language inside a Digibook matter to you?
MARTIN: Not if the Digibook is particularly attractive and well designed. I have several in my collection which do not contain any English audio or subs. A few of them admittedly are Spanish releases — which I do speak — but if I really like the film, I will just buy the vanilla version to watch, and if possible, store inside the Digibook.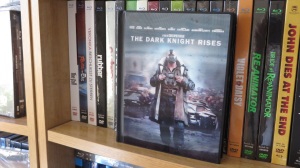 KEN: Absolutely. I like pictures as much as the next person, but I can also find most pictures on the Internet… or see them in motion within the film itself. The text means the world to me. I'm an aspiring filmmaker myself, so if I can read notes on the production of a film, that's awesome! The only time that I'll dabble with a non-English Digibook is if its for a franchise that I adore (e.g. ALIEN, JURASSIC PARK, KING KONG, etc.)
6) Which upcoming release are you most excited for?
MARTIN: INTERSTELLAR would be an important one – I love sci-fi! As mentioned previously, the new releases this year from Capelight should be very good. Also, any future additions to the Studio Ghibli Collectors Editions from Spain will hopefully be as good as the first three batches!
KEN: I really don't have any Digibooks on my radar at the moment. INTERSTELLAR looks great, but I ended up just getting the U.S./Canadian NEO Pack from Walmart due to budgeting. There's a couple Mediabooks that I'm currently looking at — RIDDICK and SAVAGED — but I'm debating whether I want to spend the cash on a larger Digibook that I can't read. There's a new JURASSIC PARK TRILOGY Digibook coming out, too, so I'm looking forward to checking that out.
7) What's at the top of your Digibook wish list?
MARTIN: I've often mentioned in these forums that my favourite movie of all time is THIS ISLAND EARTH. I absolutely love that B-movie gem from 1955 starring Jeff Morrow and Faith Domergue. I know Universal has an HD transfer of the movie… clips from it were used in the 1996 film MYSTERY SCIENCE THEATER 3000: THE MOVIE. Unfortunately, Universal have not seem fit to give THIS ISLAND EARTH a full Blu-ray release. Even a "made on demand" copy would be something! A Digibook of that movie would be absolutely amazing. It could feature info on sci-fi of the 1950s, other Universal films of the genre, and of course, the usual filmographies of the actors, director, etc. plus some of the many behind-the-scene photos that are available. Although sci-fi is really my thing, and there are certainly many other sci-fi films I'd like to see as Digis.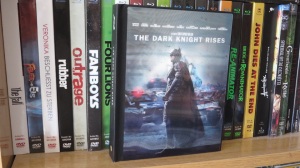 Another movie which I again think deserves at least a Blu-ray — but better still as a Digibook release — is EMPEROR OF THE NORTH. This one had Lee Marvin, Ernest Borgnine and Keith Carradine. I really like the film and think it would make for an interesting Digi with info about the hobos that travelled around the U.S. by train during The Great Depression. I'd love to see this one on Blu-ray, though I suspect that the 1970s film stock may not shape up too well in HD.
KEN: Oh, man… I've been waiting patiently for WHAT'S EATING GILBERT GRAPE on Blu-ray. If it arrived within the form of a Digibook, I'd be one happy guy. Same goes for THE ABYSS. There's a lot of great monster flicks that I'd love to see as Digibooks, too. THE THING 1982, GODZILLA 1954, THE MIST, THE DESCENT… at least I have JAWS to tie me over for now.
8) The final question is a loaded-gun question. Why do you think Digibooks have had trouble taking off in the market compared to other special editions such as SteelBooks?
MARTIN: Arrrgghhhhh! This is like the worst-ever question in a school history exam! (Laughs)
I do have some theories, though, so here it goes…
I think that done properly, these things are pretty expensive to produce. Unlike a SteelBook where you choose a tasty (hopefully) piece of artwork for the front cover, and others for the back (no text, of course!) and inside, you are pretty much there. You can then just bung in the discs that you are probably going to include in the collector's edition, or possibly just a bog-standard single disc. Job done.
For a good quality Digibook, you have the time and expense of having the book properly authored, the images passed for copyright, the production of the Digibook itself. When a company does this "on the cheap" with very few or no pages of text at all, purchasers very quickly become disenchanted. Fox has been guilty of this with its pretty poor 12-page editions in the U.S.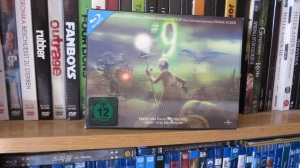 There are exceptions to this, however. The Austrian publishers, as I mentioned previously, seem to have cornered the market in the "slasher" Mediabooks. I think they have been pretty clever (cynical, perhaps?) in that the books themselves are poorly produced (in my opinion), but because, A) fans of that genre seem to be willing to purchase them, and B) seem to like the "multiple cover/very limited edition" phenomenon, actually sell very well.
Warner started the Digibook format, but seem to have become bogged down with the release of purely classic titles from their library, resulting in overproduction and unsold copies. I'm hoping that if this new INTERSTELLAR release in Europe proves popular, they will do a lot more of these in the future. It's interesting that they don't seem to be doing a North American version — maybe they think that this format is more of a European thing. I recall that when Target started their Disney Digibooks series, there were complaints from some customers that the discs and the book were in the same package. Subsequent releases were with a separate book.
Certainly Germany, France, Austria and Spain have, to varying degrees, continued with their own Digi and Mediabook releases. In the far east, Japan, Korea and even China are producing some titles. The Czech Republic have even been caught dipping its toe in to the Digibook pool in 2014. So, there is hope for those territories.
I really do hope that there are more Digibooks published all around the world, but I suppose only time will tell.
KEN: Yeah… what Martin said. (Laughs) Really, though, he pretty much nailed it. Lots of filmgoers who aren't collectors become turned off by having a book with the disc inside of it. A lot of time, money and resources goes into properly putting together a Digibook, too. That's probably why Warner has turned their back on North America as far as Digibook releases go. If you look at Europe and Asia, their Blu-rays are very collector-friendly. Digibooks, SteelBooks, slipcovers and boxes… massive collector sets… Blu-ray collectors on those sides of the world are very lucky. Over here in North America, though, we're either paying crazy import costs or being stuck with a rather plain-Jane amaray release that may come with a slipcover. It's rather unfortunate.
——————
Thank you to Martin for participating in this month's 'Ninjas Chat… Digibooks!'
If you're a member and you'd like to take part in a future edition of this column, please keep your eyes on the forum. An announcement for the fourth edition will be coming soon!
'Ninjas Chat' logo created and designed by Jake Doyle (AKA HDN community member Snollygoster). Photos provided by Martin.