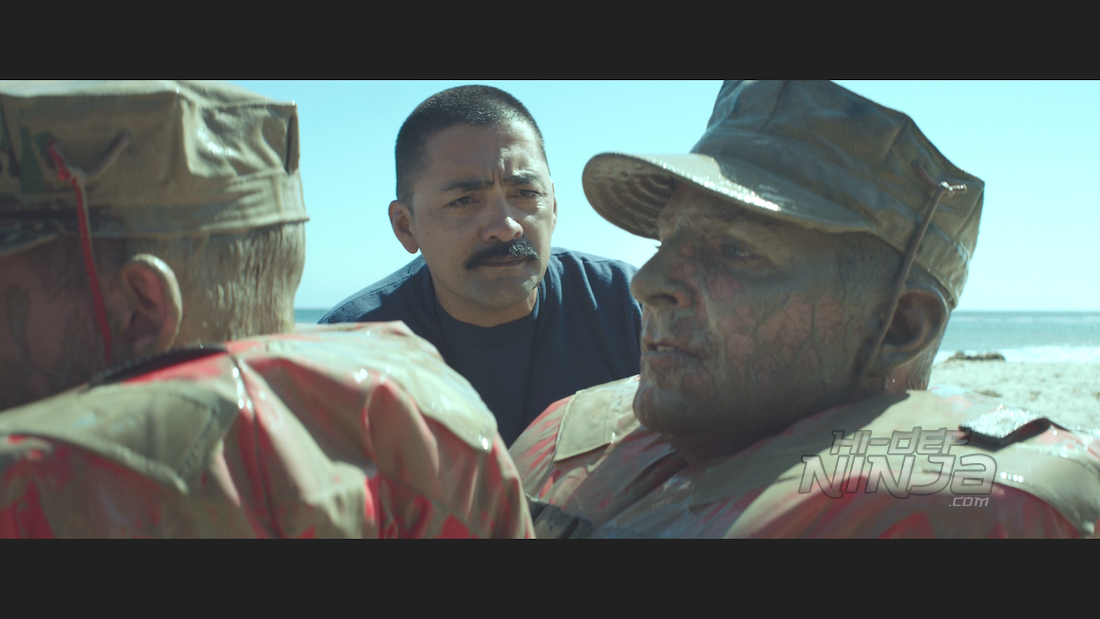 When Chris Kyle was a child, his father taught him how to hunt deer. After making his first kill, Chris was so excited that he laid his rifle in the dirt and made his father unhappy. He scolded him and said, "You don't ever leave your rifle in the dirt!" What he was doing was teaching him some values of respecting his weapon. He grew up religious and it was evident from his family attending church and his father speaking in scripture. Some time later, Chris and his younger brother Jeff are at the family dinner table after Chris beat up a kid at school. Their father said to them, "There are three types of people in this world: the sheep, the wolf, and the sheep-dog. We aren't raising any wolves in this house." Jeff told their dad that Chris was only defending him. His father said that Chris knows his place in the world. Chris is the sheep-dog, the protector.
When they are older, he and Jeff tried to become rodeo cowboys, but this was more for them to pass the time. He joins the Navy after seeing the '98 US Embassy bombing. He has such determination that the only natural progression for him is to become a Navy SEAL sniper. After completing his training, he meets his future wife Taya. At first, she is resistant to his Texas charm, but it gets to a point where their love for each other is clearly there. On their wedding day, Chris receives his deployment orders and knew he was headed to the middle east.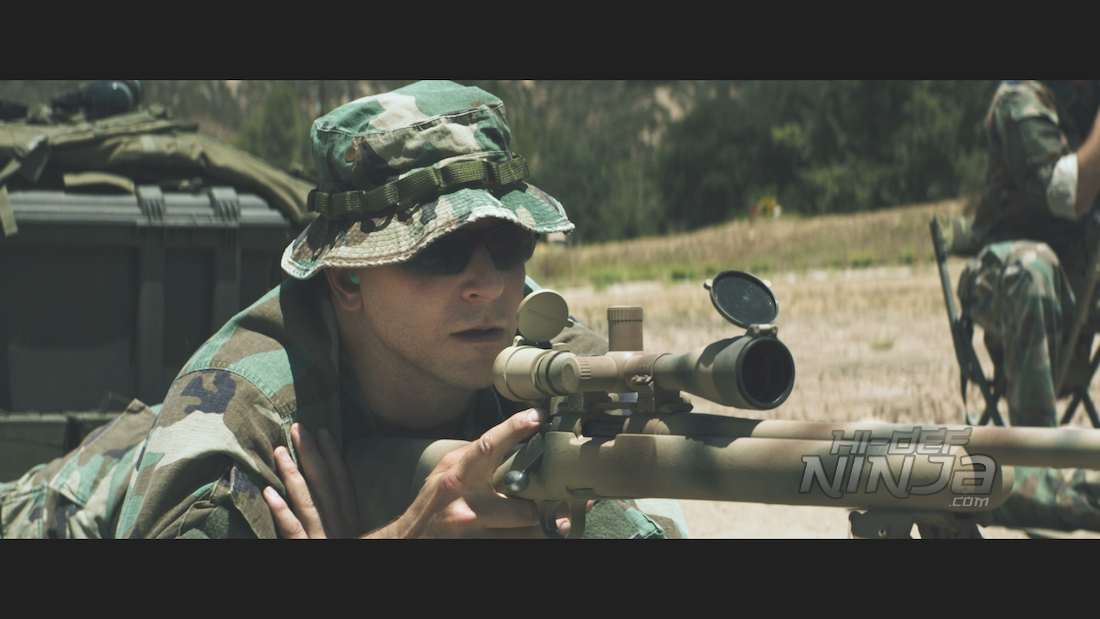 AMERICAN SNIPER is directed by Clint Eastwood and based on the true story of Chris Kyle's life. The film won the Academy Award for Best Achievement in Sound Editing and was also nominated for Best Picture. This is the 35th feature film that Clint has directed and with the way that he directs, you can feel his style throughout the movie. His style is to make the focal point on the characters and their interactions with each other.
Bradley Cooper and Sienna Miller have excellent on-screen chemistry, but not in just the love scenes. They play well off of each other in the good times and the bad. Emotions run high and raw as they try to understand what the other one is feeling. Bradley Cooper does such an incredible job and pays tribute to this American Hero. This one role was very demanding in a lot of ways: Cooper had to change physically and bulk up, but he also has to change with the character. He had to transform from a man with a big heart to a man that is a little more closed off for the sake of his wife and family. From what the real Taya said in the extras, he captured the spirit of Kyle from his mannerisms to his Texas accent.
The trailers and promotional material made the movie seem like it was going to be a gritty war film and, to be fair, there are a lot of war scenes that are gritty. However, you have to have those action, fighting scenes to get across the real message that Eastwood was trying to relay: this is an anti-war film. It shows that no matter how strong a person is, post traumatic stress disorder (PTSD) can hit you without warning. Kyle had so much happen to him that it sent him into a slow and heavy internal downward spiral. He also internalized too much and it built up to the brim until he was able to help people in other ways.
Chris Kyle went from a man doing a job to a person who couldn't express himself to anyone but the people who have had first hand experience with battle. He ended up being so good at being a sniper that he became the deadliest marksman in U.S. military history with 255 kills during his four tours in Iraq.
AMERICAN SNIPER is a story that is not only inspirational, but also to show how war can make a person lose himself without warning. It shows the price our soldiers pay to protect us and our freedoms. I enjoyed it immensely not only because it is a superb movie, but because of its message. This movie should be seen by anyone who has had first hand experience with these issues or maybe even knows someone with PTSD. It is simply an incredible film.
Cast
Bradley Cooper as Chris Kyle
Sienna Miller as Taya Renae Kyle
Max Charles as Colton Kyle
Luke Grimes as Marc Lee
Kyle Gallner as Goat-Winston
Sam Jaeger as Captain Martens
Jake McDorman as Ryan "Biggles" Job
Cory Hardrict as 'D' / Dandridge
Navid Negahban as Sheikh Al-Obodi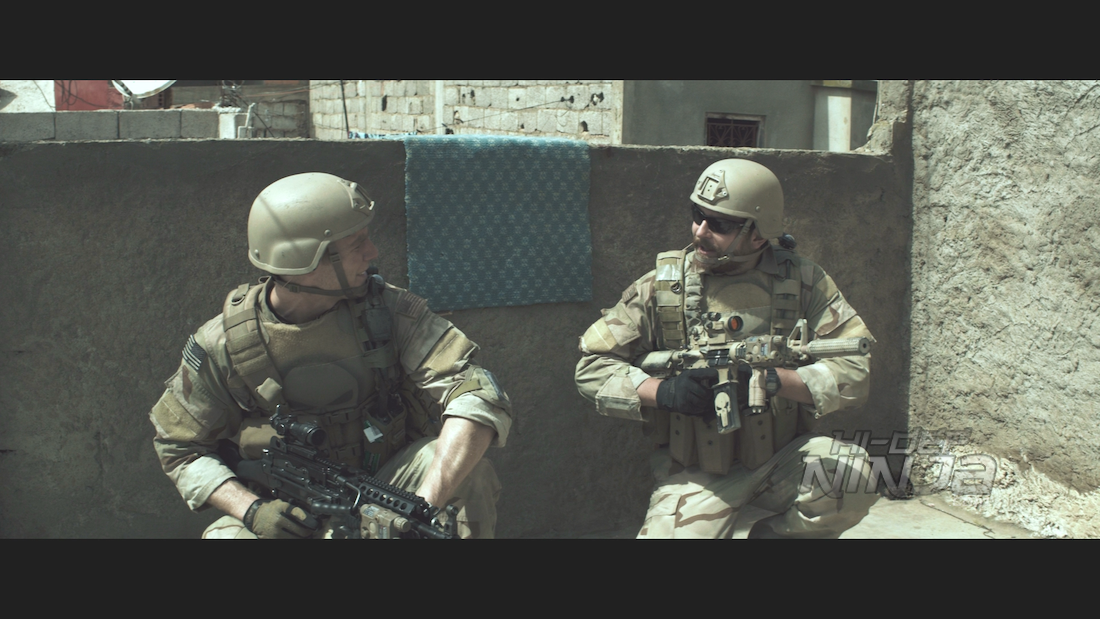 This Blu-ray has a clean transfer and looks as beautiful as it did in the theaters. It is a 1080p AVC encode and authored with care. The coloring looks natural and when brighter colors are on screen, they really pop. The skin tones also look natural under the beating sun in the middle east, white details showing the dirt and grime the soldiers tend to have on their faces when working. The blacks are deep and inky throughout the movie, but especially in the night scenes. They don't completely swallow up the image in the foreground and still maintain details in the shot. For most of the movie, the contrasting is excellent, but there are a few small scenes where there is a tiny loss of detail.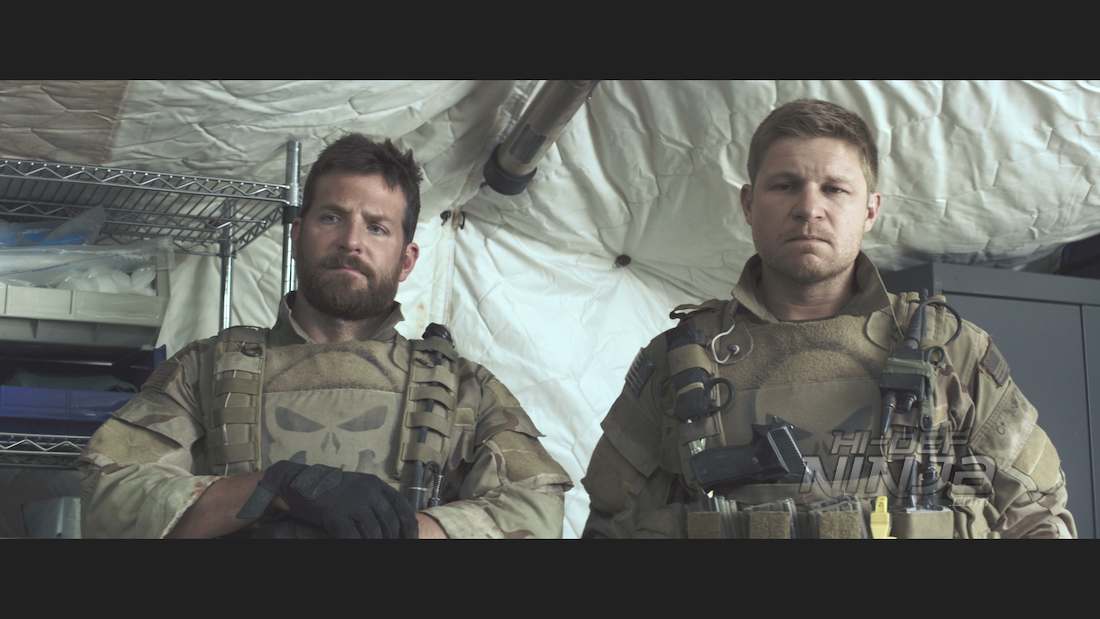 As I mentioned earlier, the movie won for Best Sound Editing at the Academy Awards and the superior sound definitely carried over to the Blu-ray release. The audio is a Dolby Atmos 7.1 mix and it sounds amazing. It is one of the most immersive racks that I have ever heard on Blu-ray. There are relevant ambient sounds, bullets whizzing everywhere, the easily distinguishable sound of bullet shells expelling from the weapons and more. The movement in the sound field is also quite impressive, making the experience feel like you're on a lawn chair in the middle of a skirmish. The mix can be easily called reference and it is exactly what the release deserves.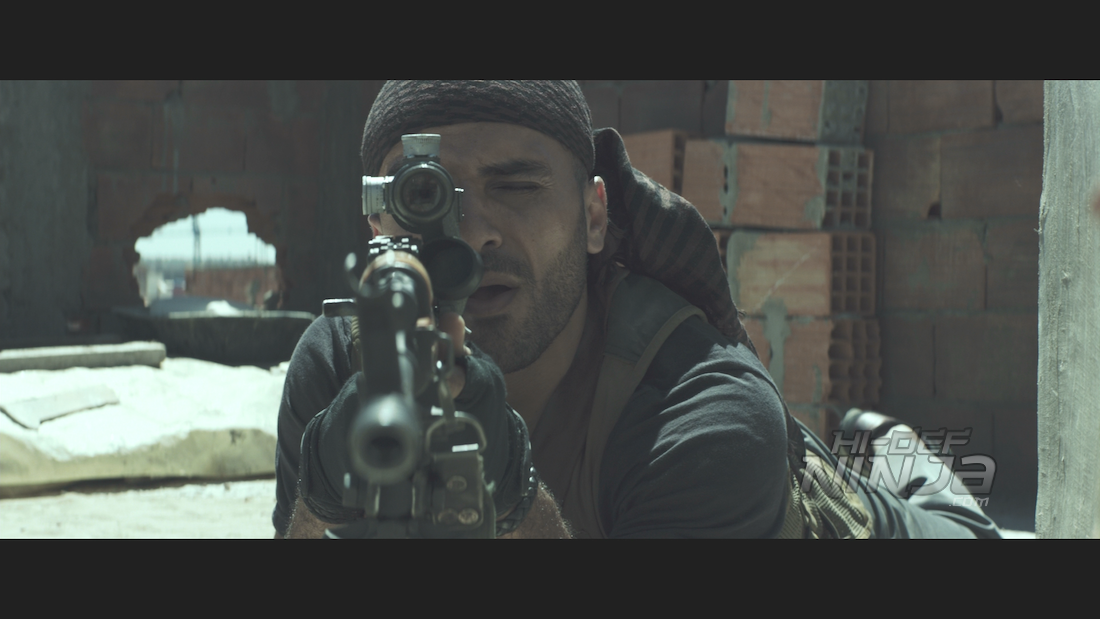 The extras on the disc may be few, but the information in each bonus feature give so much insight as to the many obstacles that were beaten to make the movie.
Bonus Features:
– One Soldier's Story: The Journey of AMERICAN SNIPER: This featurette goes over how the filmmakers met Chris Kyle and what they decided to do to make the movie. Everyone involved talks about how the movie was already rolling before Chris' murder and how it changed the entire movie from the original draft. This is an informative extra that practically goes over as much information as possible.
– The Making of AMERICAN SNIPER: This featurette is also about making the movie, but almost like a promo video with the comments from critics. It is almost a supplemental to the first featurette.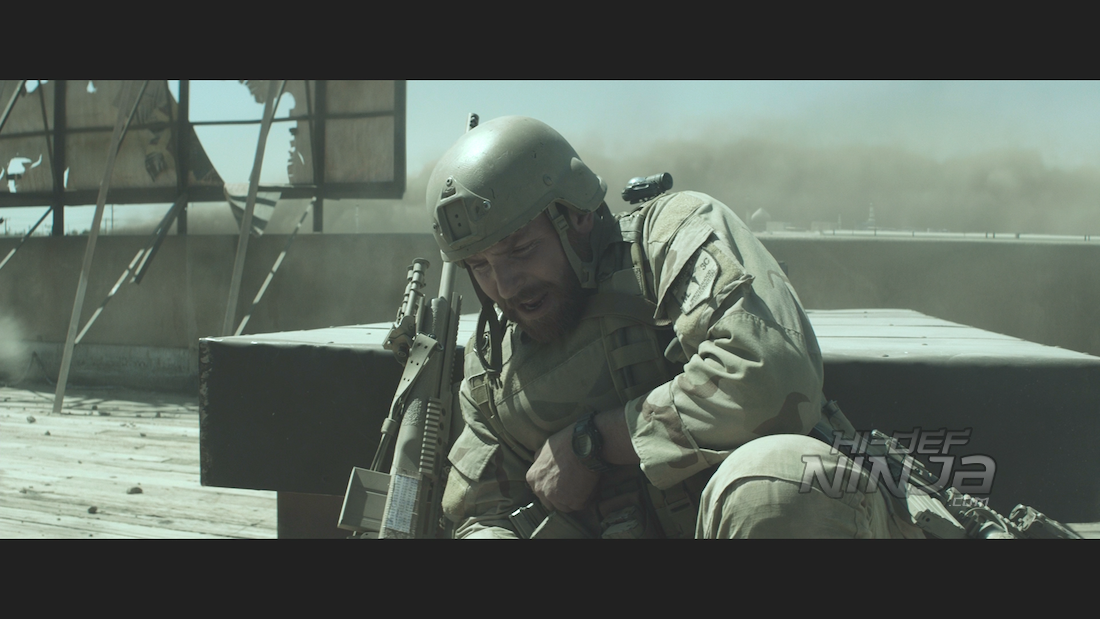 Disc Details
2-Disc set 1 Blu-ray and 1 DVD
Digital Copy
Running Time
134 mins
Edition Ratings
Rated R
Region Coding
Region Free
Video Resolution
1080 p AVC MPEG-4
Aspect ratio: 2.40:1
Audio Mixes
English Dolby Atmos 7.1
Spanish Dolby Digital 5.1
French Dolby Digital 7.1
Subtitles
English SDH
French
Spanish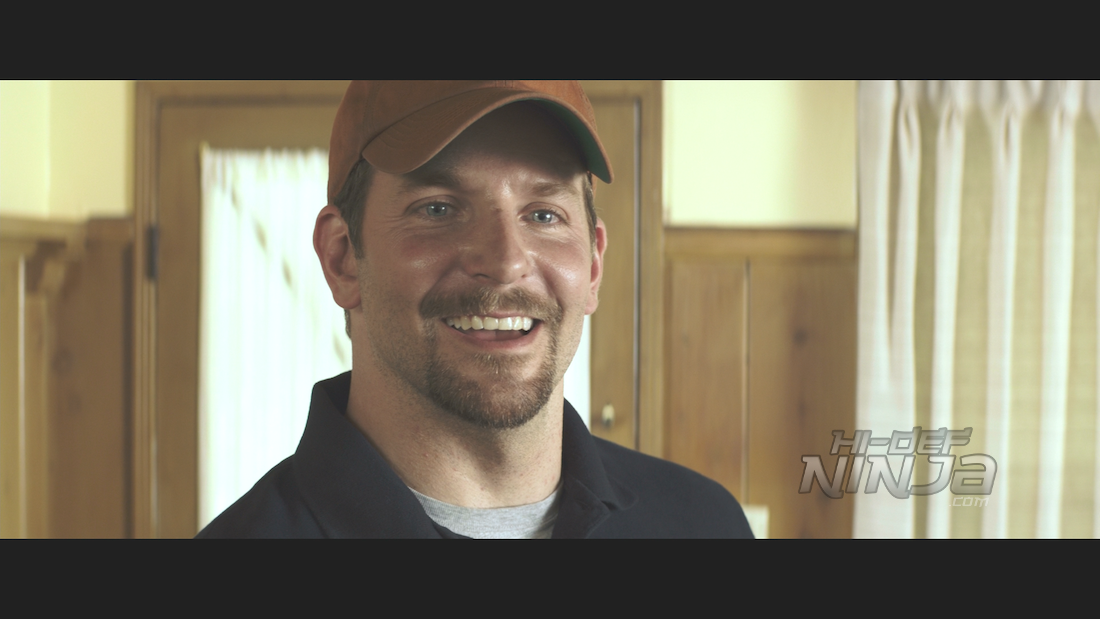 Not since PLATOON or THE DEER HUNTER has a war movie stretched further than just the gun-fire like AMERICAN SNIPER. It is a film that definitely satisfies a wide variety of viewers from the war-junkies to people who enjoy true stories. Also, Clint Eastwood has made an exquisite movie, showing that the director puts his all into his movies. He is one of the few people out there working that are from old Hollywood and you can see his decades of experience here. Warner has released an excellently done Blu-ray in both the audio and video. Even though there are only two extras, they are about 30-minutes long a piece and have excellent information about the making of the film. This release is easily a buy for anyone; I highly recommend it.