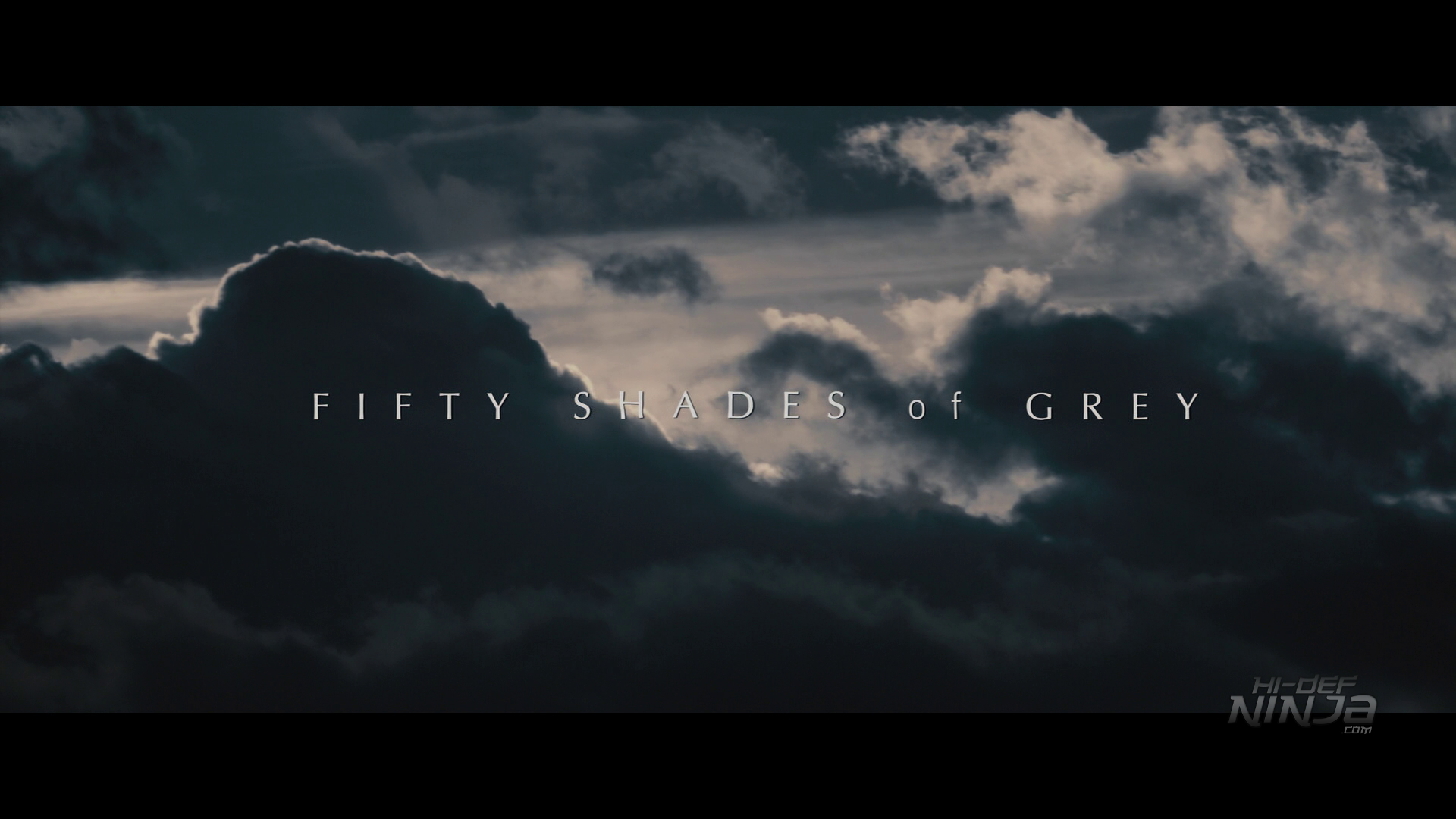 Should the kinky FIFTY SHADES OF GREY dominate your wallet for purchase?  
As someone who appreciates a sexy thriller or kinky comedy, I was worried from the start about FIFTY SHADES OF GREY.  A love story bound together with scenes of BDSM didn't seem like a winning formula even when Author E.L. James put pen to paper and made it a worldwide sensation.  Unfortunately, the film adaption is a Red Room mess, bogged down by terrible performances and shoddy direction.  Its arrival onto Blu-ray reminds us that a stellar audio and video transfer just isn't enough when a story this bad is unleashed.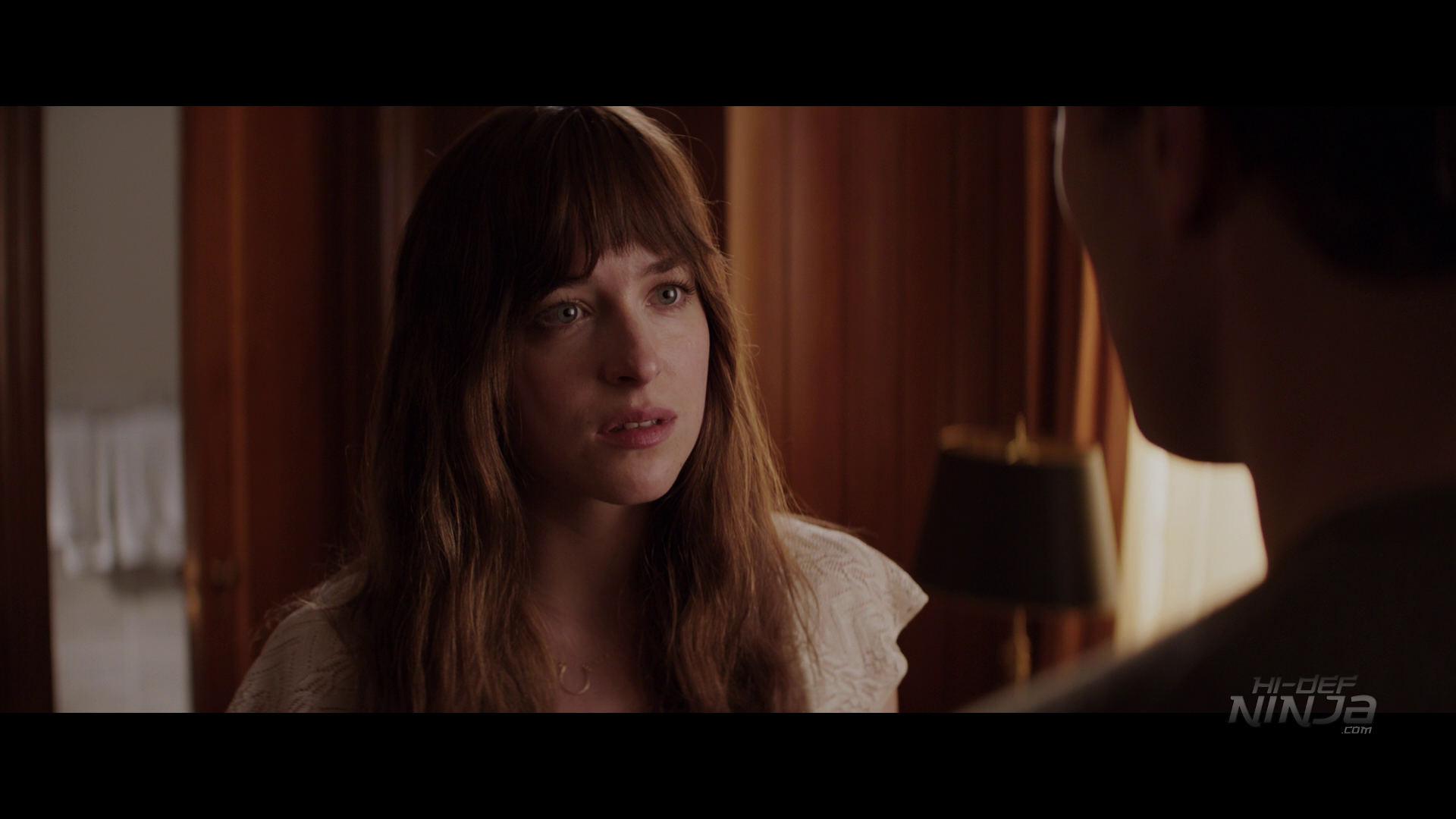 Christian Grey (Jamie Dornan) has a problem: the billionaire loves BDSM.  But the 15 other slaves he's tried to recruit haven't worked out, until the virgin Anastasia Steele (Dakota Johnson) arrives after the two meet for a college newspaper interview.  The frumpy Steele is the perfect alternative for dashing Grey, and with an instant spark between them, Steele agrees to be slave #16 in the Red Room of Pain.  After losing her virginity, Steele enters a world of sexual submission with the damaged Grey pushing her 'soft limits' until they break.  But as Grey's personality – and dark past – begin to emerge, Steele finds herself conflicted between the man she now loves and his violent sexual fetishes.
To be clear, FIFTY SHADES is a disaster from the moment Director Sam Taylor-Johnson's escapade begins.  It almost proudly displays its failure like the writing on a bathroom wall declaring someone's sexual prowess or lack thereof.  Her actors seem ill-equipped to handle the circus-like atmosphere that became the shoot, with neither Johnson nor Dornan allowed to break down the nuances of their characters.  Their performances feel like a first script read rather than a well-choreographed and rehearsed dance. There are moments where everything locks into place, such as when the two are negotiating their slave contract at a formal meeting (in which she's reading off activities and devices I can't mention here).  The rest of the non-sexy time is tedious and entirely forced, missing multiple opportunities for our characters to create the depth which this borefest desperately needed.
The usually solid Max Martini is relegated to playing a thinly-constructed chauffeur for Grey, his presence acheiving nothing that a stand-in actor couldn't do.  Marcia Gay Harden's appearance as Grey's mother is non-existent, as if her story is more set up for FIFTY SHADES DARKER.  After watching the Supplements in which both Johnson spoke about their discomfort in shooting the sex scenes, it's entirely understandable why two sets of re-shoots were ordered, although it's impossible to tell where those were inserted.  What's clear is that none of the coldness between Johnson and Dornan was resolved.
I'll also be clear in stating that the source material by E.L. James is some of the poorest-written words featured on a piece of paper.  The script by Kelly Marcel is slavishly supportive of it, although it does replace Ana's 12-year-old dialogue in the book with a much stronger woman.  What James and Marcel never get past is that only truly desperate women would ever sign on to Grey's proposal, exposing a major flaw in the story that's never addressed.  This version of Anastasia is not this, nor is she needing a room over her head due to a lack of money or work. It makes her willingness to play Grey's games feel completely disingenuous, as if she's made drunk by his power and money without realizing what signing on truly means. The transition between her being deflowered and the entering the Red Room is so sudden that it's impossible to imagine any sane person allowing it.  Steele deserves better, but instead chooses the bad boy, not because he's cool or whose kink offers a deeper sexual experience, but because he is bad. Fail.
Although there is a longer cut included with the release, it does nothing to amp up the story or the sex.  It's frankly too long to begin with, with Editor Lisa Gunning allowing Taylor-Johnson too much rambling room.  There's Steele's unnecessary relationship with her roommate (Eloise Mumford) and a series of poorly-shot scenes of Grey's helicopter and glider that were done better in THE THOMAS CROWN AFFAIR.  There should be a richness to Grey's lifestyle, but none of that makes its way into the props or set.  Dornan, the second choice for Grey, never aspires to his insanely-effectively performance in THE FALL, relegated here to uttering some of the worst dialogue imaginable.  He also never gets to let it loose in The Red Room like he should/needed to; what we get is slow R&B dreck while Grey enforces his will onto the don't-know-any-better Steele.
But more importantly, FIFTY SHADES misses a golden opportunity to kick down the door on sexual taboo. In a time when fashion and the media encourage women to dress in thigh-high boots and vinyl, and even act like hookers, FIFTY SHADES fails to push the conversation about the loosening up of our world-famously rigid sexual standards. It furthers the notion that sexual dominance/submission are a dysfunction that only messed-up people enjoy.  For fans of CRASH, 9 1/2 WEEKS, and BASIC INSTINCT, this one never approaches these classics, feeling like a cheap and toned-down episode of Cinemax At Night.  And while those movies centered around messed up people getting off on extreme kink, they set the tone for everything modern film does with sex.  FIFTY SHADES could have joined them by taking bold steps to show every crack and crevice of our actors and every inappropriate scene in the book.  That would have at least kept our attention.  Instead, it's over two hours of barley passable soft-core bondage and a relationship that never feels genuine.  Perhaps that's not the point of the book either, but its execution is just as poor.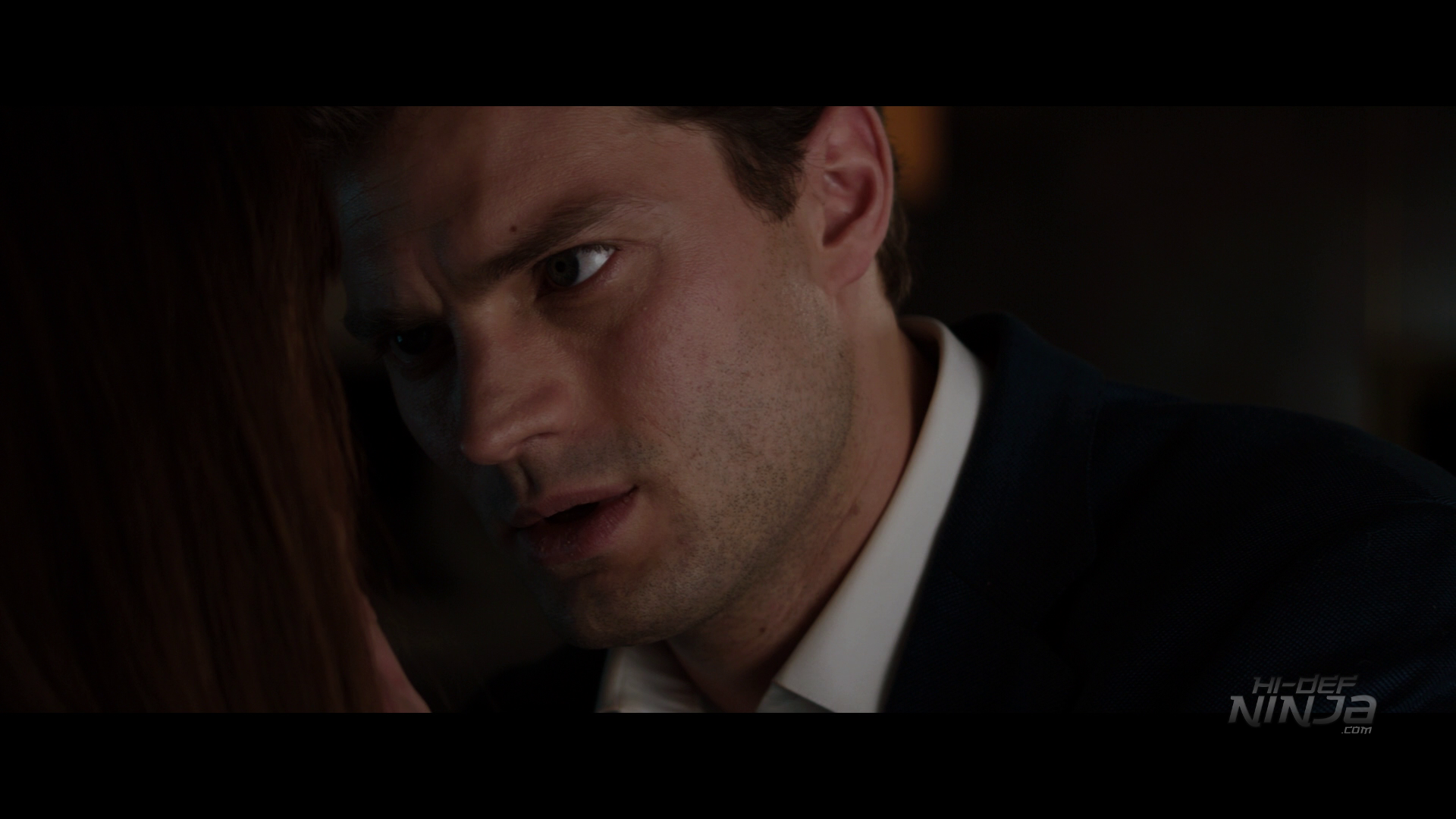 FIFTY SHADES OF GREY is presented by Universal with a spot-on MPEG-4/AVC transfer that is pretty and sharp.  It fares much better than it did in the theaters, with the color amped up a bit and some of DP Shamus McGarvey's blurriness minimized.  Colors are warm and inviting, revealing a Red Room that looks truly sumptuous.  Universal goes a long way to show just how inappropriate Steele is compared to Grey, with Johnson's skintone looking far more realistic than it probably should.  Still, it does give off an authentic appearance, contrasting Grey's nearly perfect chiseled face.  His toys are sharply identified, with individual wear marks of leather showing up, along with terrific detail in his four-poster bed.  Blacks are inky, while shadows transition into black with consistent success.  There is also zero aliasing or banding here, leading me to believe the boys at Universal were far more successful in this field than the film itself.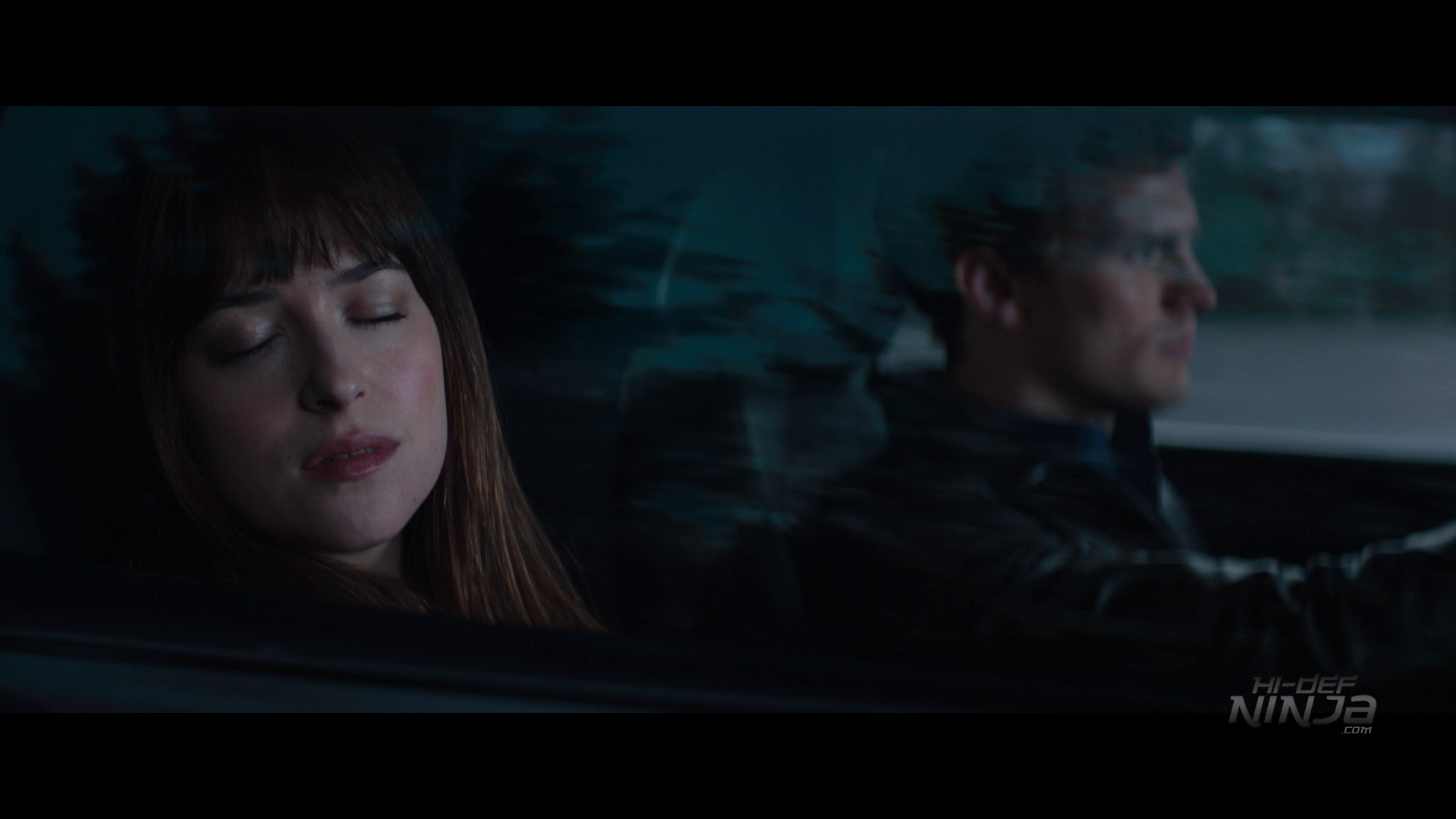 Known for their acumen in audio transfers, Universal delivers a DTS-HD Master Audio 5.1 that is clear and easy to hear, but never distinguishes itself from the crowd.  Dialogue dominates here, with not much on the palette for the listener.  When such needs are requested, the track delivers, immersing us in selected crowd noise and other atmospherics.  Whip sounds are punctuated by the LFE, which also delivers that slow R&B groove, while dialogue is separated from the rest of the noise in the center channel.  I always prefer this type of transfer, rather than simply turning up the dialogue and allowing the center to house other effects.  Again, the surrounds do their work when called, but its absence could have been solved in the home release by adding more effects after the fact.  A film like this could have used a bit more realism, and the audio could have played a greater part.  In the end, it's a good but not impressive experience.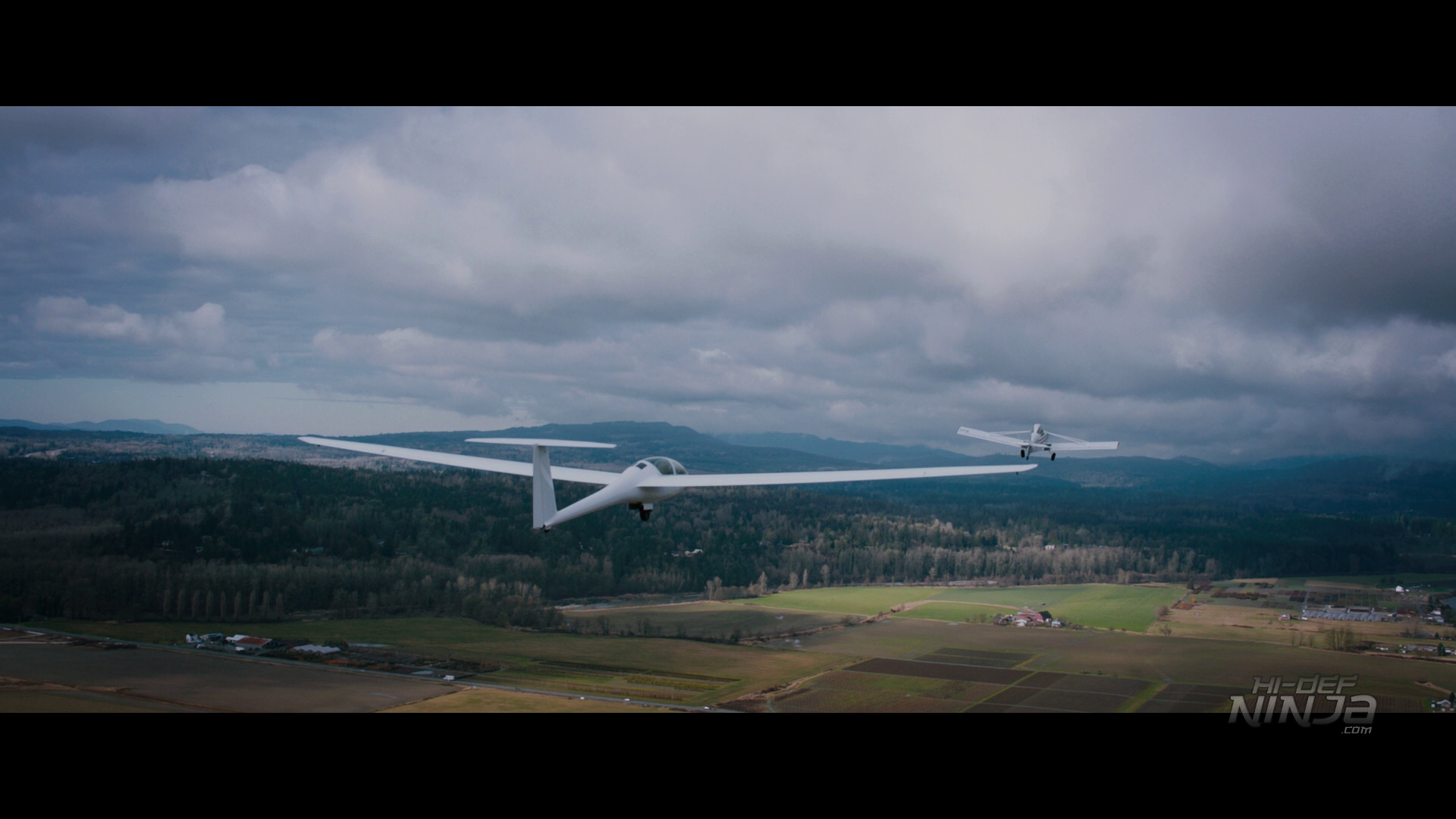 FIFTY SHADES OF GREY is presented by Universal in two versions: the original Theatrical (02.05.19) and the Unrated Version (02.08.29).  Both feature the DTS-HD Master Audio 5.1 audio track I mentioned above.  In terms of the pure supplements, it's clear that from the moment you open them, one gets the sense that shooting the film was awkward and uncomfortable.  There's a ton of standard EPX character bios and "We loved making this movie" bits, all of which are presented in HD:
Tease of Fifty Shades Darker (0:29): We are presented with a special preview of FIFTY SHADES DARKER.
The World of Fifty Shades Darker: This is a series of character and physical space profiles featuring the cast and crew.  Sections include Christian Grey Profile (2:46), Jamie Dornan Profile (2:29), Christian's Apartment (8:25), Christian's Wardrobe (3:22), A Rich Man's Toys (2:49), All About Anna (2:18), Dakota Johnson Profile (2:51), Ana's World (4:55), Ana's Wardrobe (3:46), Eloise Mumford (2:05), Max Martini (1:34), Marcia Gay Harden (1:58), Luke Grimes (1:37), Jennifer Ehle (1:54), Victor Rasuk (1:44), and Rita Ora (1:46).
Behind the Shades (19:28):  Cast and crew (including Producer/Writer E.L. James, Dakota Johnson, Producer Dana Brunetti, and Director Sam Taylor-Johnson) discuss the origins of the film, how the themes made their way into the script, and shooting the explicit scenes.
E.L. James & Fifty Shades (5:45):  E.L. James discusses why she created the story of FIFTY SHADES, along with the themes behind Anatasia and Christian's relationship.
Fifty Shades: The Pleasure of Pain (8:42): BDSM Consultant Liam Helmer and members of the cast and crew discuss several elements of BDSM, as well as the 'Hermes' look of Christian's bondage toys.
Christian's Apartment (25:12): This is a 360-degree experience, whereby the viewer can select a portion of the room to see studio photos of the actors standing and interacting with the various props and sets.  It's an interesting presentation, and perhaps the most interesting of the collection.  Spaces include Living Room, Dining Room, Piano, Kitchen, Foyer, Christian Bedroom, Christian Bathroom, Anastasia Bedroom, and Red Room.
Music Videos: Skylar Grey – I Know You (5:05), and The Weekend – Earned It (4:40)
Behind the Scenes of Earned It (4:49): This is a behind-the-scenes feature of shooting The Weekend's music video by Director Sam Taylor-Johnson.
Our evaluation copy arrived as a Blu-ray/DVD Combo with Digital HD.  The slipcase is raised and there is no interior artwork.  At the time of this posting, we were aware of alternate versions at Best Buy (SteelBook) Walmart (Digibook), and Target (Journal/Pen set).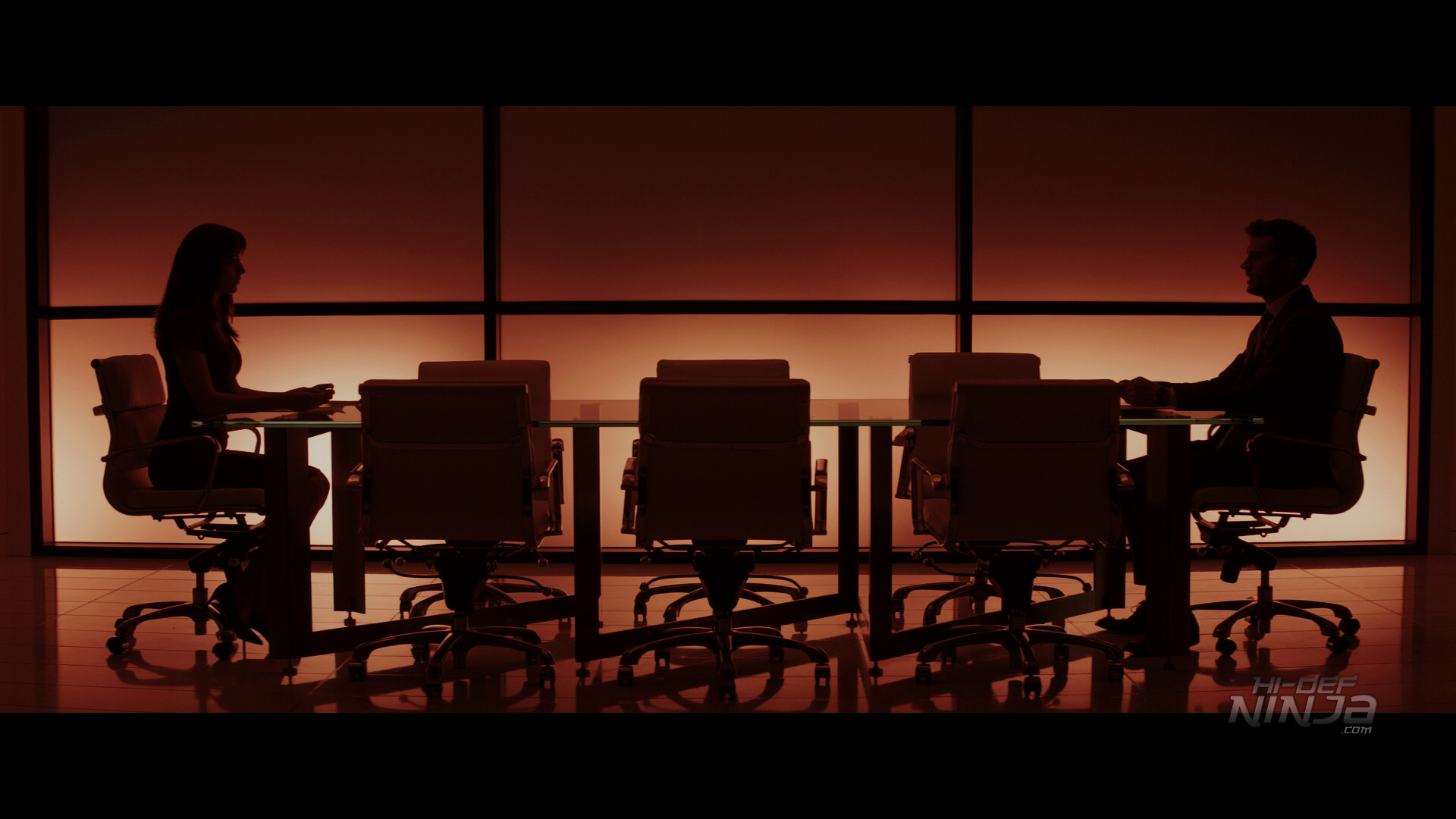 FIFTY SHADES OF GREY misses the point about sexual dominance with poor direction, a wooden cast, and a runtime that was long to begin with before the Unrated Edition arrived.  With Taylor-Johnson's unceremonious dismissal after the film unceremoniously disappeared in four weeks, and news that James' husband is writing the script for the follow-up, it's unlikely we're going to see this franchise become what the public wants to see.  The Blu-ray features good audio and video, but the supplements aren't that appealing after watching them once, so it's advised to pursue this as a rental before committing to purchase.  In a time when so many of our sexual standards are undergoing sea changes, FIFTY SHADES does nothing to direct that conversation in any meaningful way.
FIFTY SHADES OF GREY is rated R for strong sexual content including dialogue, some unusual behavior and graphic nudity, and for language and has a runtime of 125 minutes (theatrical) and 128 minutes (unrated).
Discuss this review with fellow HDN fans on Facebook. On Twitter, follow us at @HiDefNinja, and follow author Matt Cummings at @mfc90125.