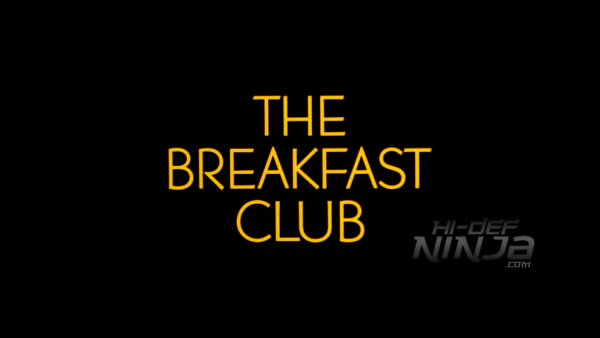 From writer/director John Hughes, THE BREAKFAST CLUB is an iconic portrait of 1980s American high school life. When Saturday detention started, they were simply the Jock, the Princess, the Brain, the Criminal and the Basket Case, but by that afternoon, they had become closer than any of them could  have imagined.

As the synopsis describes, this really is a perfect snapshot of an era that I'm sure many wish they could return to. THE BREAKFAST CLUB really does invoke feelings of nostalgia that sometimes make the heart ache. Eight hours is all it takes for these five teenagers to really get to know one another. All in detention for different reasons, their common bond is that both society and their parents just don't understand them, or seek to do so.
One of the 'Brat Pack' movies that were prevalent throughout the 80s, THE BREAKFAST CLUB stands as probably one of the better known movies of this ilk. Judd Nelson has never been better than he is as Bender, and there is a reason he is called out in Kevin Smith's DOGMA. Anthony Michael Hall is sweet as the naive Brian Johnson, who talks of the effect of how the pressure and expectations people have of him affect him. Ally Sheedy and Molly Ringwald kind of dropped off the scene at the end of the 80s, and it's not hard to see why. They are passable as actors here, but never display the charisma that would carry them into a long career. Emilio Estevez is also good as the Jock, Clark, but again you can see why he kind of disappeared behind the camera rather than remain in front of it.
The supporting cast do a fine job, and Paul Gleason as the hard-as-nails teacher Vernon, is particularly memorable, and the music, with the great 'Don't You' by Simple Minds, is brilliant. What is great here about the script and performances is how well John Hughes really gets across each person's struggles, insecurities, fears and general sadness that they feel inside. For anyone that has ever felt like that, there is someone in this movie you will probably identify with. There are many reasons why this film has stood the test of time and now that this movie gets a 30th Anniversary release, you'll get to see exactly what they are.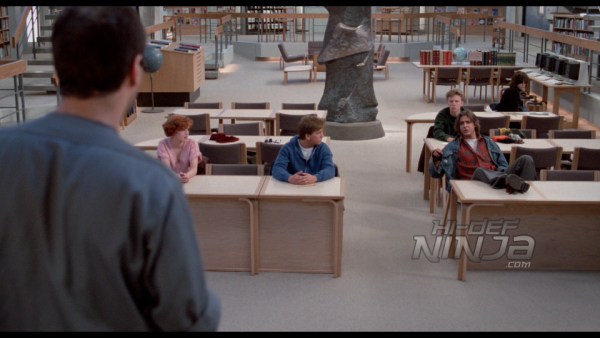 The picture is presented in a MPEG-4 AVC (32.00 Mbps) 1080p transfer in a 1.85:1 aspect ratio and is very clear, but not without some minor issues. There is slight instances of DNR, particularly at the beginning scenes inside the library. Also noticeable was some slight edge enhancement when Bender is setting alight to his boot. Other than that, I saw no problems and have to say Universal has put together a swell package that would do the late, great John Hughes proud.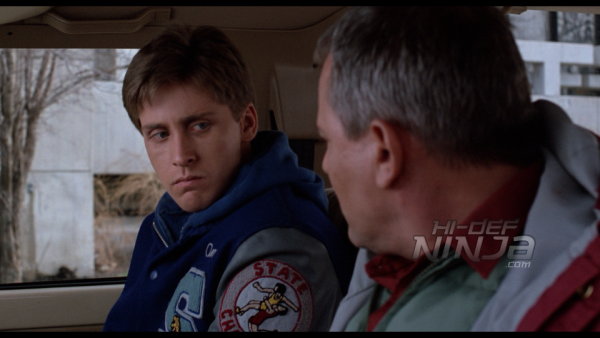 The audio is presented in a lossless DTS 5.1 HD audio track (48khz, 24-bit). At the moment, I am watching it on a standard 2.0 stereo set up. With the volume at around 24, the sound is crisp enough that the dialogue doesn't sound at all tiny and the music jumps from the speakers.

First up, there is a trivia track that you can play alongside the movie. It gives you little bits of information about the making of the movie and what went on. There's also a 12-part documentary titled 'Sincerely Yours' which runs for 51 mins and 25 seconds and offers plenty of info on each character and the influence the movie had on other movies of that era. There is also a small feature detailing the origins of the Brat Pack and how the term came about, which runs for 5 mins 31 seconds. Plus a theatrical trailer and an audio commentary by Judd Nelson and Anthony Michael Hall.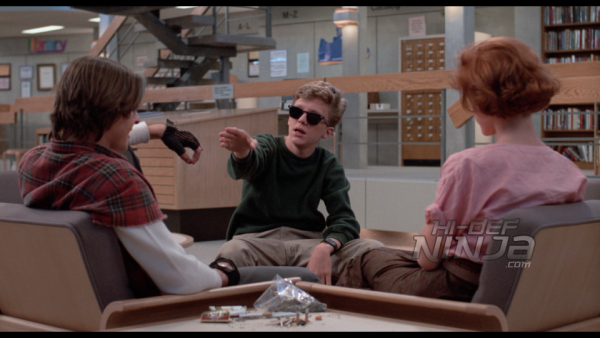 Fans will definitely not be disappointed with the package that Universal have put together. It covers everything you need to know about this iconic movie and is presented beautifully. This is a film that you will definitely revisit time and time again and is surely as definitive a version as you'll ever need. Sublime.