When I first screened IRON MAN 3 in the theaters, I instantly fell in love with the MARK 38 named IGOR.  He is big, intimidating, and, at the time, was the biggest suit you could get in a figure.  He is made by Hot Toys and I purchased him from Sideshow Collectibles.  He is a part of the Movie Masterpiece Series and The House Party Protocol.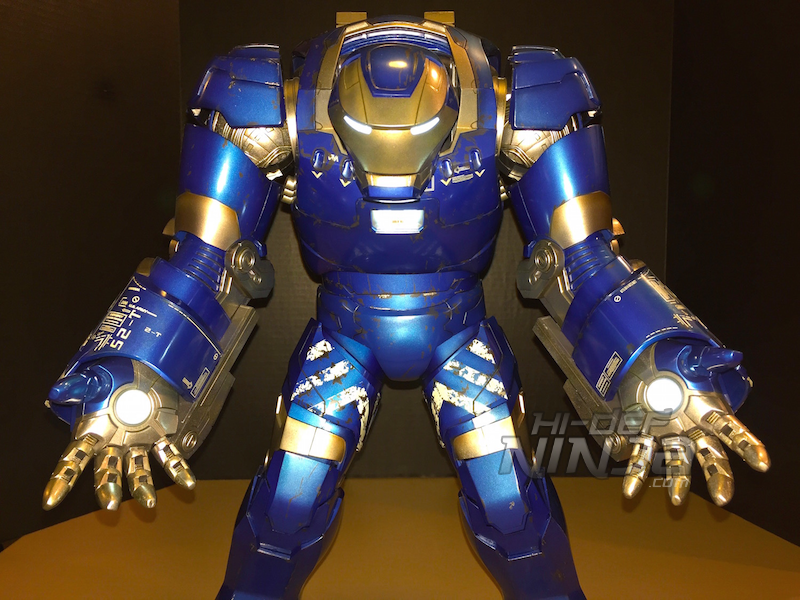 He stands at an impressive 16.5" and is colored blue with silver.  Covering his entire body are "construction" logos and warning signs because he is made to be a moving forklift.  Not only can he stand fairly tall, but also squats in anticipation of lifting whatever Tony Stark would want him to.  On his back are moving latches that run up his spine and above his head are the actual lifting points that are able to moved up or down. These were used in the movie when he lifted the cargo container during the fight against the Extremis enemies.  With the larger section over his shoulders, he looks like he has a hump on his back, hence his name IGOR.  Makes sense right?  He also has moving parts on his arm that are the "fork" part of the forklift.
IGOR has full articulation in both his arms and legs that click to hold whatever movement you make with the appendages.  It's a nice touch because of how massive he is, I made the assumption that he would have a tough time holding some of the poses I put him in.  He only comes with the one set of hands, but they are the type with articulating fingers so he can point, make peace signs or give The Mandarin the finger before a quick punch to the face.   His head swivels to suit having him stand upright or in the IGOR slouch.
Let me just say that this IGOR figure is awesome.  He towers over the other figures in my collectibles case and rounds it off nicely.  He is Hulkbuster's blue, older brother and costs half as much.  Like I said, he's fully posable and no detail has been overlooked.  This is yet another success from Hot Toys from The House Party Protocol, bringing the fans cool, different armors to add to any collectible collection. Any questions? Chime in below and I'll answer any that you have for me.
Here is shot of him next to Hot Toys' The Mechanic who stands at 12″ tall to show the size difference
(Note: These are not the clothes The Mechanic comes with.)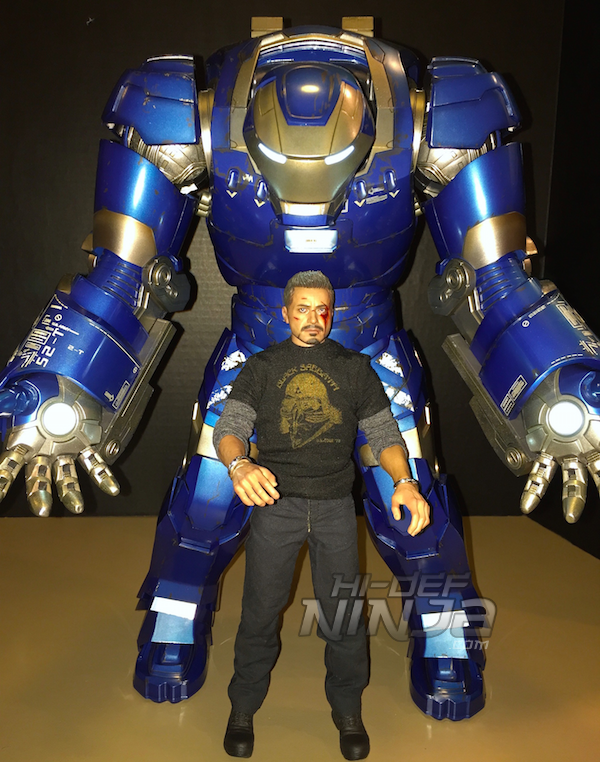 Order Your Hot Toys Iron Man Igor Mark XXXVIII Marvel Collectible Figure from Sideshow Collectibles
What's in the Box?
-Authentic likeness of Igor (Mark XXXVIII), the Heavy Lifting Suit, in Iron Man 3
-Approximately 43 cm tall
-Over 25 points of articulation
-Special features on armor:
-Blue, silver and white colored painting with distress effect on armor
-Fully deployed flaps at the back of the armor
-LED-lighted eyes and rectangular-shaped RT on chest (white light, battery operated)
-One (1) pair of palms with improved articulation, movable fingers and light-up repulsors (white light, battery operated)