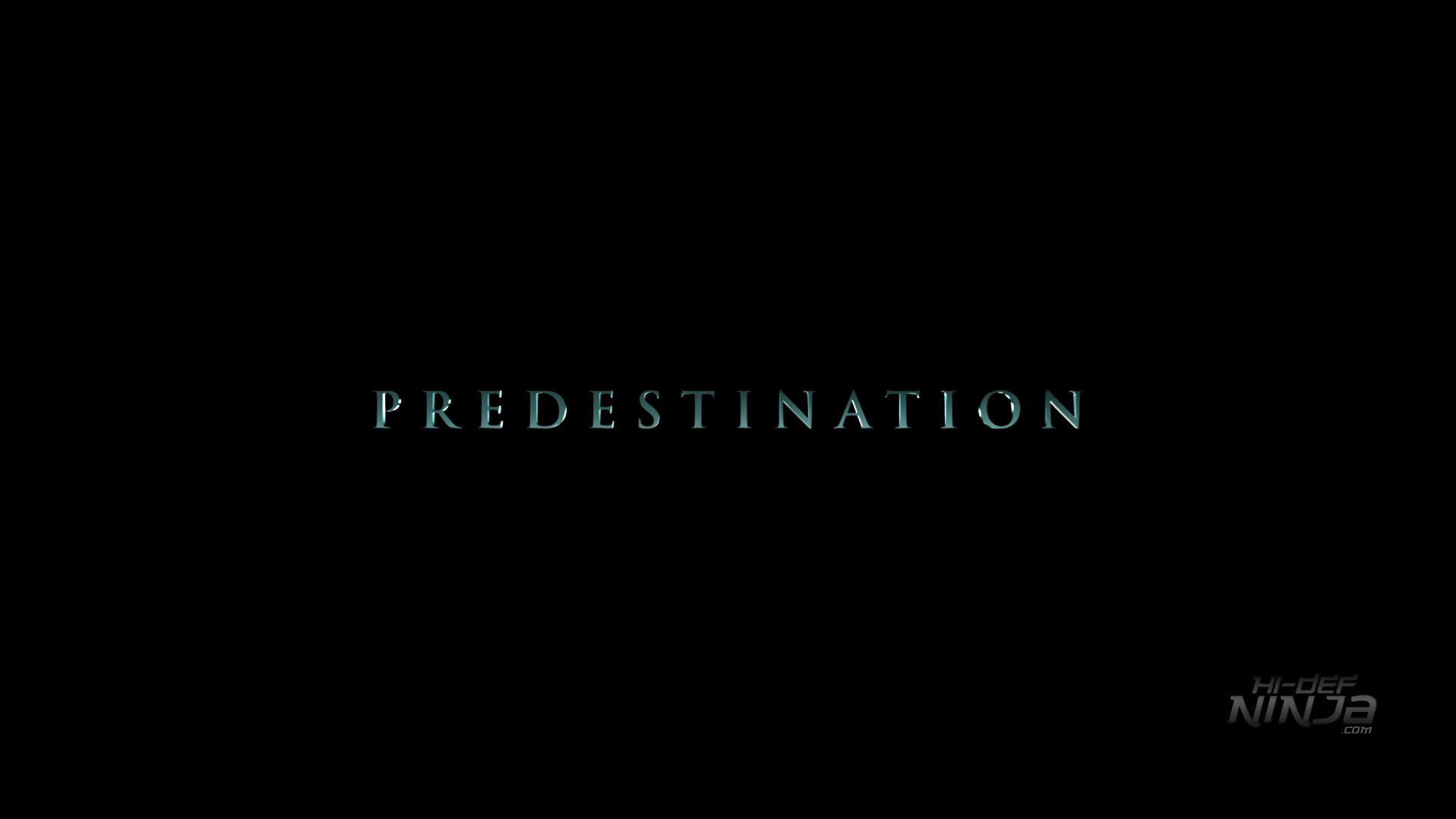 The home release of the trippy PREDESTINATION will wrap your mind with its great picture and audio.
Actor Ethan Hawke is one of the most productive in Hollywood, with no less than seven films coming out in 2015 alone.  Some might question whether all of his choices were solid ones, but with the trippy PREDESTINATION, Hawke proves that he made the right decision.  Its arrival onto Blu-ray gives us a chance to enjoy a truly unique piece of cinematic art.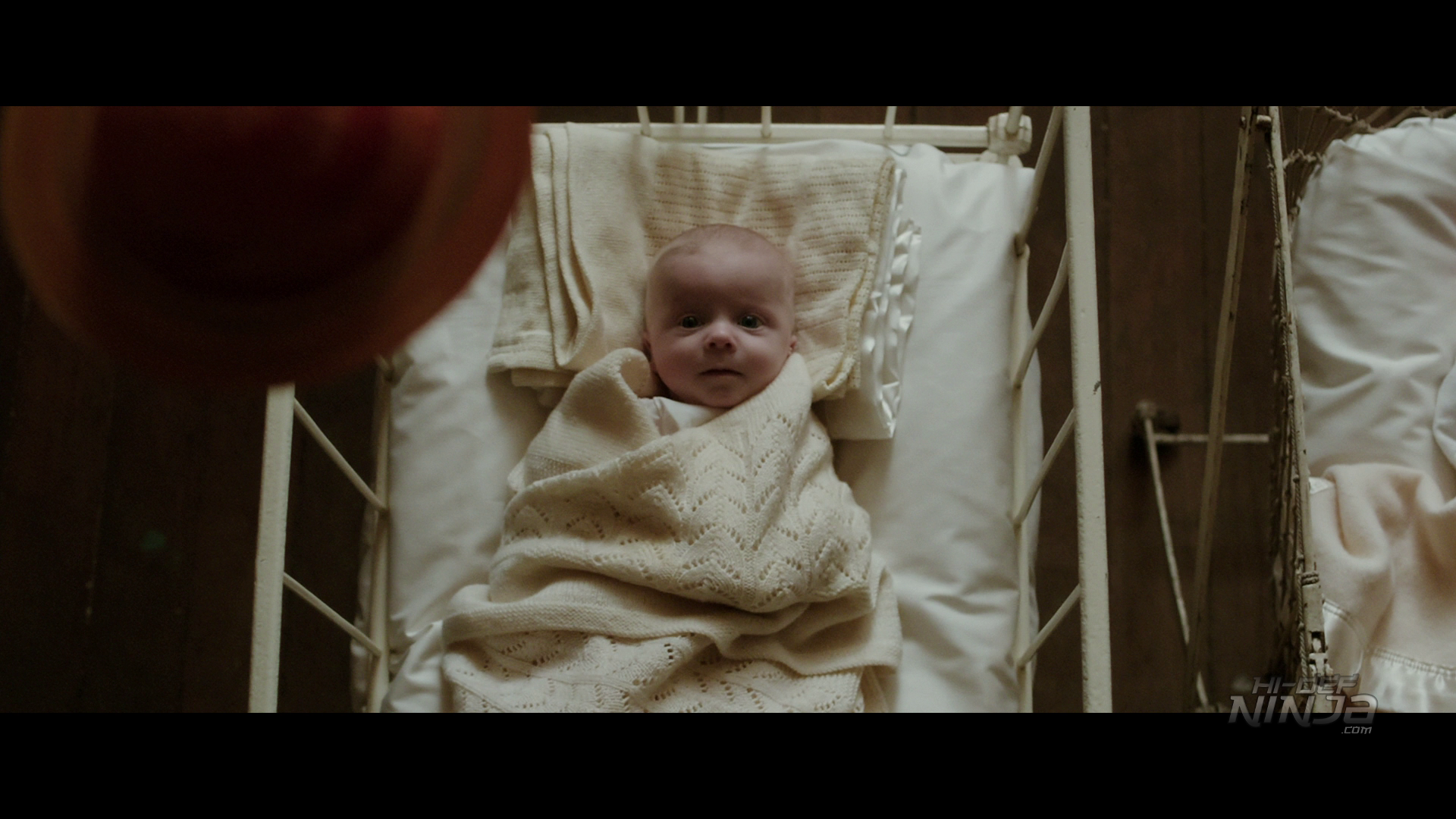 With PREDESTINATION, I've had to forgo my standard writing formula, because telling you everything that happens would shortchange the tremendous reveals which occur throughout. Suffice it to say that the plot revolves around a time traveler (Hawke) who is pursuing a fictional terrorist labeled "The Fizzle Bomber" who intends on killing thousands of New Yorkers in 1975. As he settles in to a bar-tending gig while tracking down the bomber, he meets an odd journalist (Sarah Snook) who imparts to him the amazing tale of his life. When the barkeep's true identity is revealed, he must decide whether to offer the journalist the job of a lifetime, while ensuring that The Fizzle Bomber is caught before he can unleash his terrible plan on an unsuspecting city.
Expertly shot by the Spierig Brothers Michael and Peter, PREDESTINATION is based on the short story All You Zombies by Author Robert Heinlein. It's not an exact copy of the 1959 classic, but the Spierigs masterfully convert it, wrapping deep character development around perhaps the most preposterous storyline in recent memory. I know that my plot synopsis seems pretty straight-forward, but believe me when I say that it only scratches the surface. There's layers upon layers of storytelling: intimate yet disturbing, dark yet hopeful. And yet it couldn't be sold to studios, much in the same way that director Zack Snyder was challenged with the brilliant WATCHMEN.
But PREDESTINATION is a whole other business: it's a head trip of the first order, blending the small footprint of an independent film with slick production values to make it one of the best Science-Fiction films ever made. It so expertly tells its tale that you'll at once start to wonder where this film begins and ends, only to find yourself open-mouthed at each of the twisty roads in which the Spierigs take us. None of those are done for shock's sake: they're all part of the plan to keep you guessing, while educating us how true time travel would most likely work. It's truly the question of the chicken or the egg, with the answer being the rooster.
And yet, it's not something you could watch more than once, as its reveals are best viewed with as little knowledge of them as possible. That doesn't mean you should stay away from it. In fact, PREDESTINATION wildly succeeds, solidly establishing its universe and the rules of the time travel paradox, features excellent casting, and is beautifully shot and edited. Snook confidently handles the multiple roles she's given, establishing a quick rapport with Hawke, and centering herself in the various look-back sequences as a victim who truly has no control over her destiny. DP Ben Nott's solid cinematography creates different looking worlds of the 40's-70's, Editor Matt Villa keeps the meandering to a minimum, while Composer Peter Spierig (yes, the same one) creates the perfect moody, dark environment.
Hawke has proven himself to be a solid asset throughout the years, even if some of his recent choices (THE GETAWAY) weren't always the best. Here, he plays the barkeep with both a level of warmth and full knowledge that his are the steps of time itself, dependent upon his complicity to not only root out The Fizzle Bomber but to secure his place in history. Is there a price to pay when you do change your past? What is the real nature of time and humans' place in it? PREDESTINATION doesn't try to answer every question, but it still makes for a powerful story that will have you asking questions you might not have asked since INTERSTELLAR.
I can understand those who will emerge from PREDESTINATION with a sickening feeling: it's clearly not for everyone, and the level of perverse disgust you might feel while watching it might be SOP for a film of this type. But the Spierigs have done an amazing job in adapting one of the most difficult Science-Fiction stories ever written. Whether you agree or not with the final result will be part of the fun of debriefing it.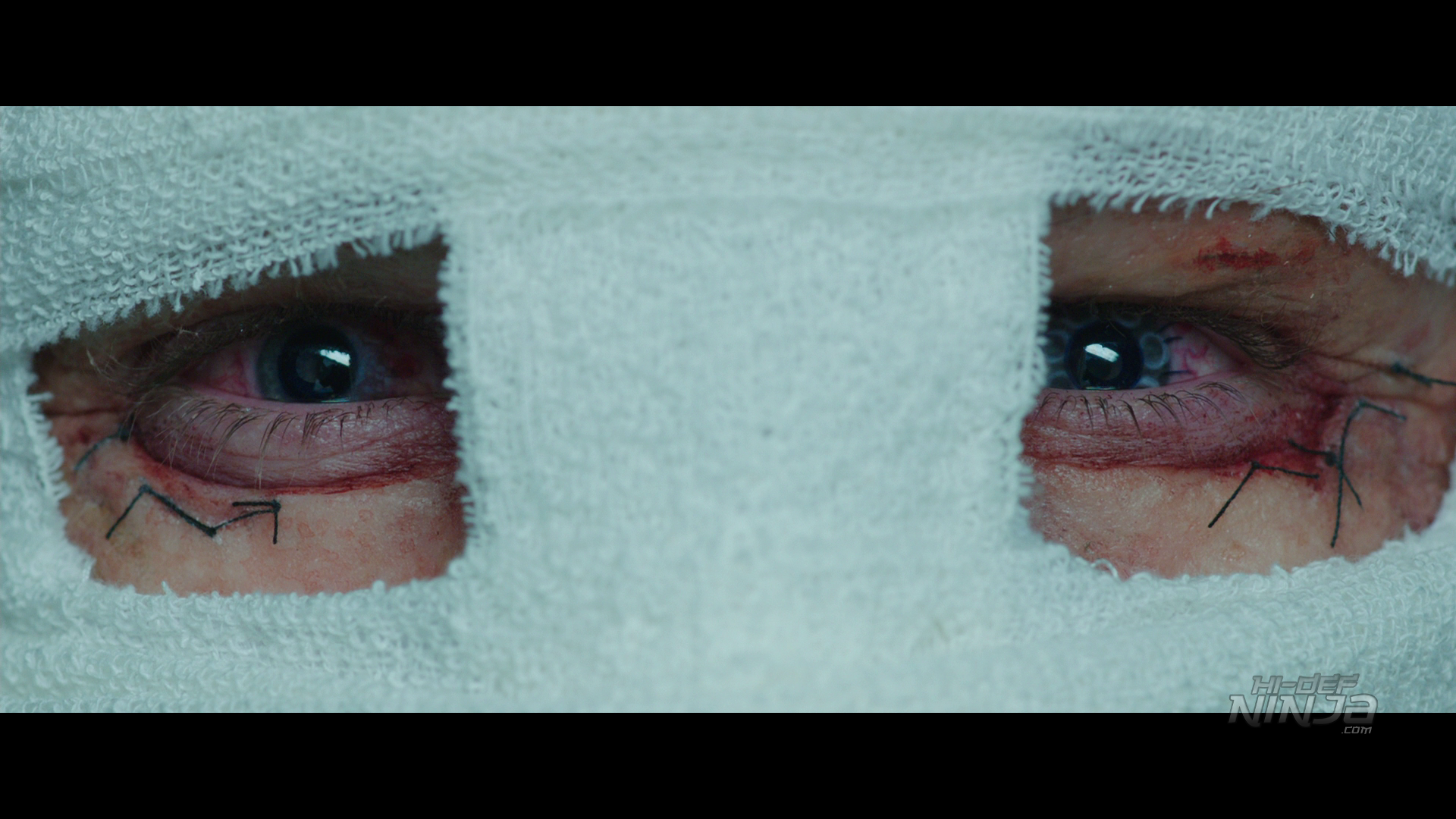 Sony Pictures' PREDESTINATION arrives with a gorgeous MPEG-4 AVC transfer that shows off every corner of this universe with solid results. With smaller pictures like this, we sometimes see overexposed skies or dimly-lit interiors, with features getting lost in a sea of black. Not here: everything shows up in the smallest detail, from Hawke's mustache and the scars on John's face to the perfectly-apportioned sets and stellar wardrobes. Everything looks authentic, as if we've stepped into each of these time periods as real and functioning places. Colors are rich without being oversaturated, showing up in the bold lipstick of the Cleveland Adoption employee or the wild blue/white suits at Space Corps. The Spierig Brothers created a clear delineation between the warmer environments of the bar and earlier eras to the colder 'future' of 1985, and Sony's transfer celebrates that. Blacks reveal deep transitions to shadows, especially in the deeper corners of the bar. For such a small release as this Australian picture, Sony has given PREDESTINATION a grand release.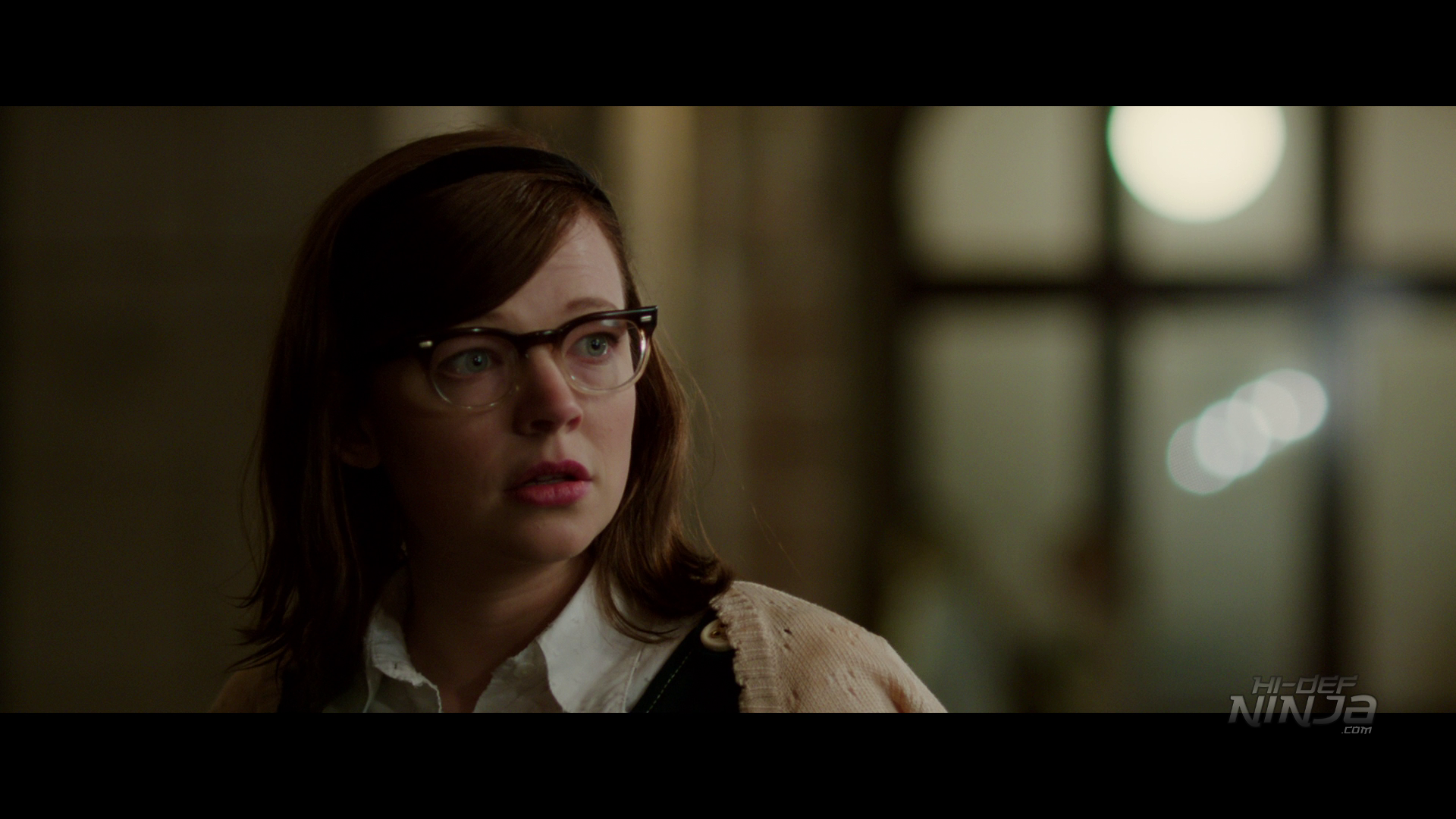 If there's one area of concern, it's in Sony's very good (but not great) DTS-HD Master Audio 5.1 transfer. Don't get me wrong, the lossless soundtrack is solid in many places, starting with the center channel, which tunes down the music and sound effects for clear dialogue – you'll get used to Hawke's mumbling after awhile. The left/right channels process transitions well, working with the LFE during shootouts and other related events. The trouble lies in the nearly-absent surrounds. There's a lack of crowd noise, glasses clinking in the bar, and not a lot of outdoor sounds where there should be plenty. But everything else is so clearly experienced – and the story doesn't require a ton of ambiance anyways – that it's hard to mark it down too far.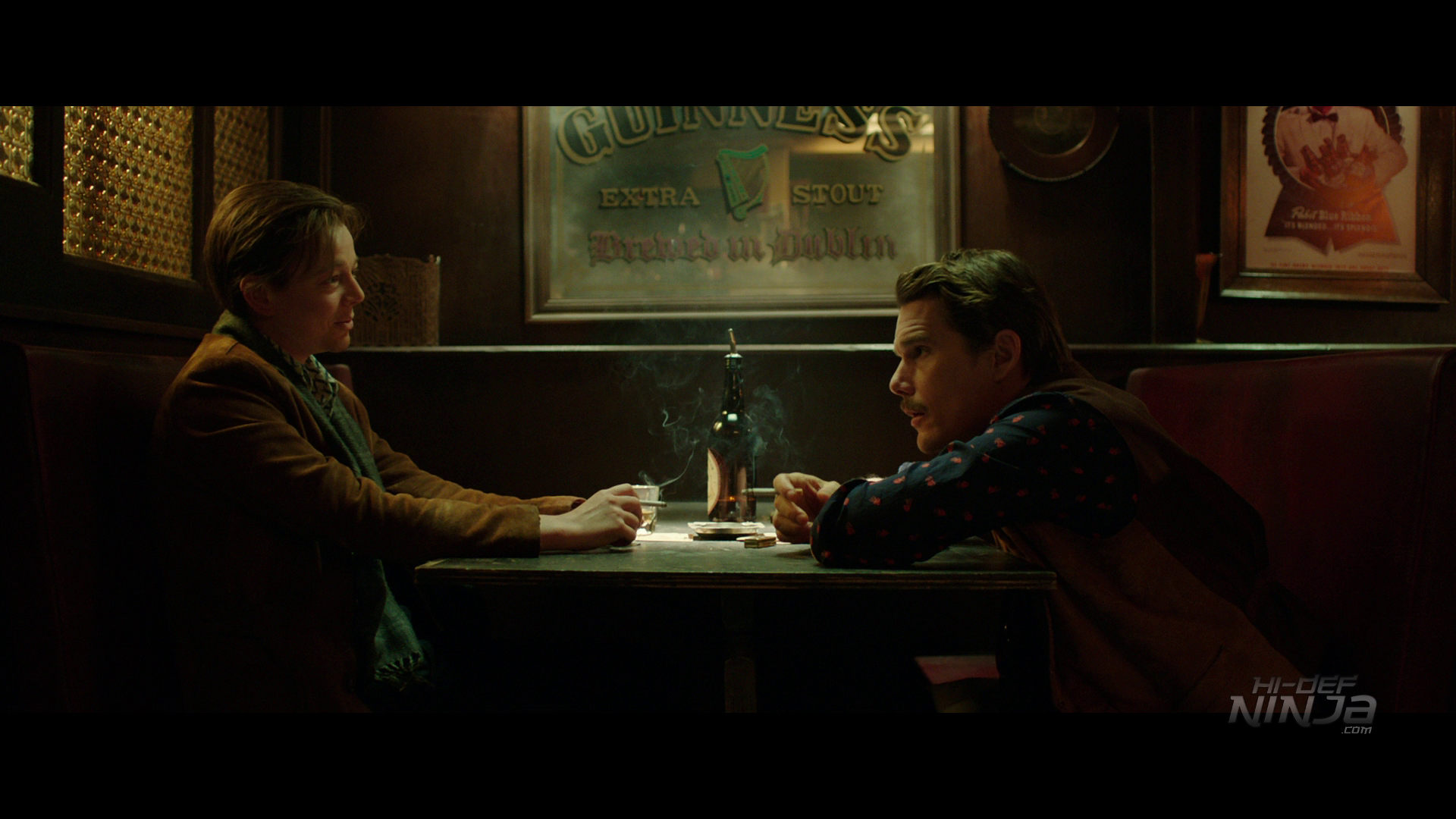 Like the film itself, Sony Pictures' release of PREDESTINATION arrives with a collection of extras that throws my well-manicured grading system out the door. Typically, a release that misses a director's commentary or a DVD/Digital Copy gets instantly marked down – if a director isn't bold enough to give us their thoughts, why should one reward them? Yet the behind-the-scenes featurettes included are so insightful that I'm awarding some of those points back. Everything is presented in HD, with all of them worth your time:
Bloopers (1:37)
A Journey Through Time (4:33): This is your basic EPX where the cast and crew discuss the movie and its various cinematic styles, with plenty of behind-the-scenes shots. It's a good place to start once you've seen the movie.
All You Zombies – Bringing Predestination to Life: A richly rewarding series of 11 featurettes that covers every aspect of the film. You pretty much get a director's commentary without the Spierig Brothers sitting with us through the film. The most comprehensive discussion I've seen in years includes Introduction (3:47), Casting (5:13), Pre-Production (18:08), Principal Photography Week 1 (8:24), Principal Photography Week 2 (8:45), Principal Photography Week 3 (4:14), Principal Photography Week 4 (6:35) Principal Photography Week 5 (8:20), Principal Photography Week 6 (5:20), Post Production (5:30), and Conclusion (2:50).
Previews: The nearly-unending titles include Home Sweet Hell, and No Good Deed.
Sony's release does not arrive with a slipcase or any interior art, and the single 50GB BD is the only disc in the EcoAmaray case.  You'll have to decide if such omissions bother you.  At the time of this posting, we were unaware of any special editions.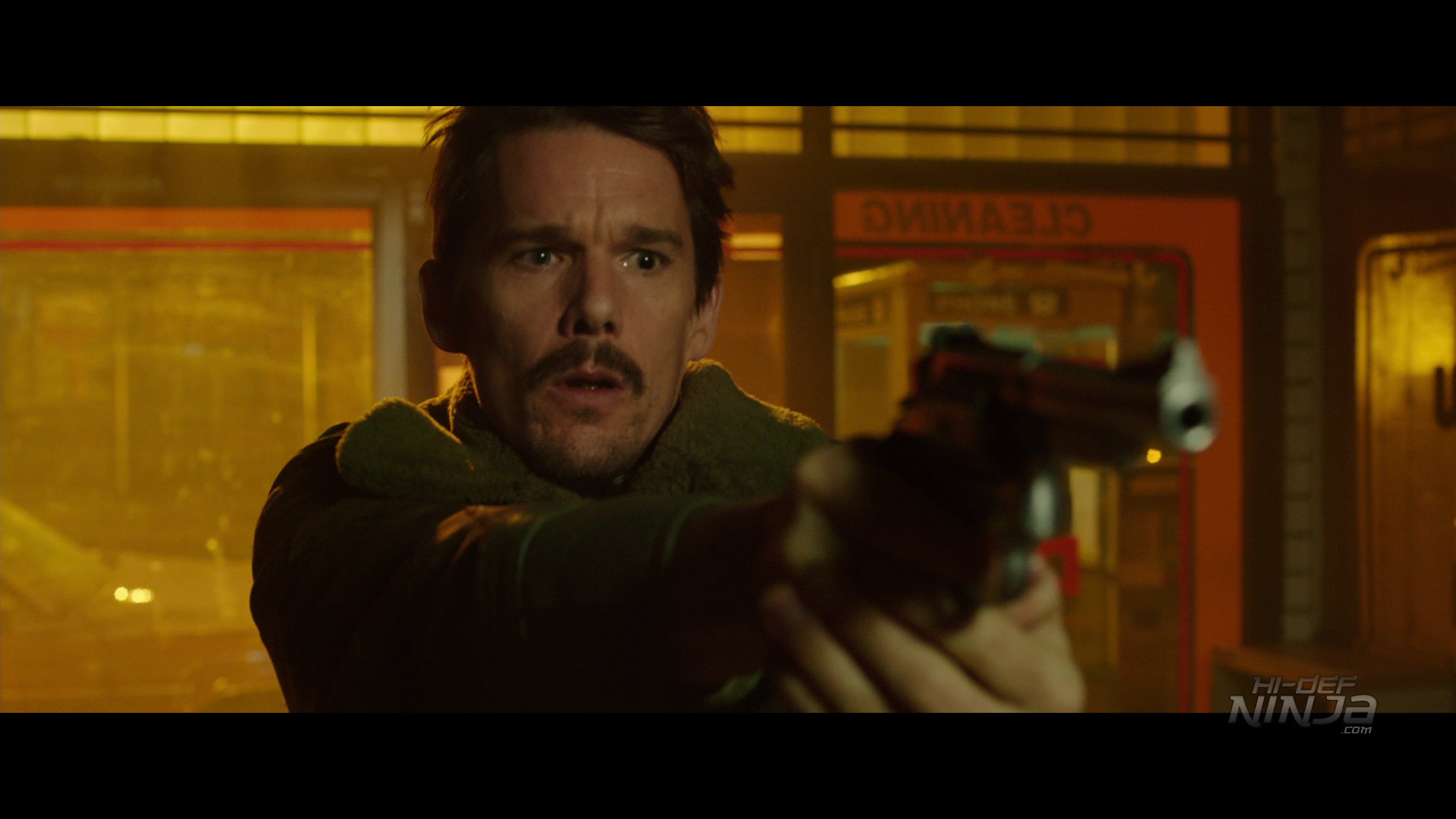 Bolstered by great performances and a terrific mind-bending experience, PREDESTINATION is definitely not for some viewers. Its brazen attitude about gender mixed with paradoxical time travel makes it a compelling – if sadly singular – viewing experience, but what a trip you'll go on if you're brave enough to do so. Sony's home release features great video, good audio, an insightful set of supplements, and is highly recommended for purchase.
Discuss this review with fellow HDN fans on Facebook. On Twitter, follow us at @HidefNinja, and follow author Matt Cummings at @mfc90125.