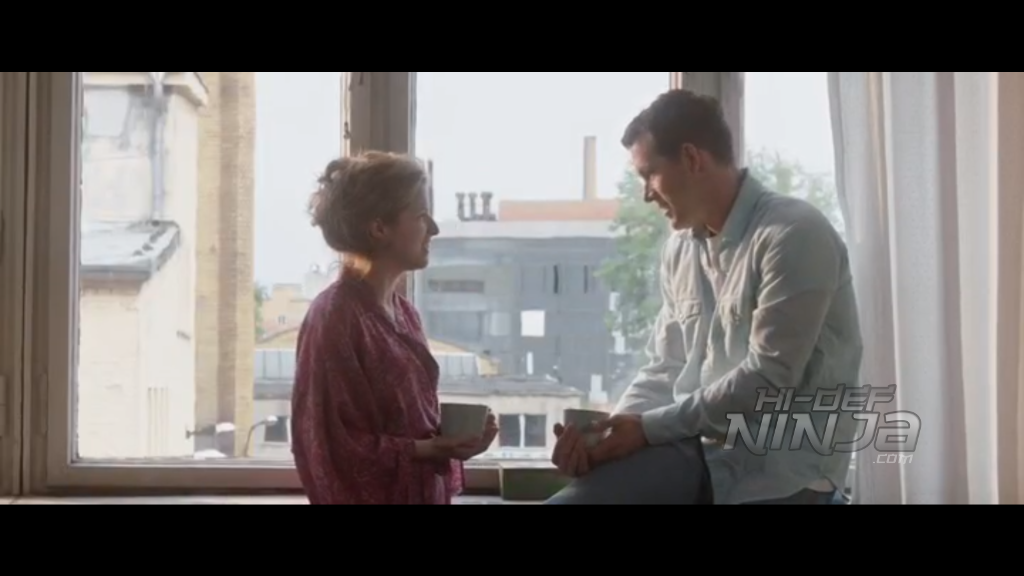 The Voices is directed by Marjane Satrapi, the Iranian author and filmmaker best known for the Academy Award nominated animated film Persepolis (2007). Ryan Reynolds stars as a troubled, med-addicted factory worker driven to murder by his talking pets, a psychopathic cat called Mr. Whiskers and Bosco, his peace-loving dog. Reynolds also voices both of the animals, while Jacki Weaver, Gemma Arterton and Anna Kendrick play the women unfortunate enough to cross his path.
When one night he accidentally kills Fiona, Jerry hastily covers his tracks, under the strict advice of the subversive Mr. Whiskers. But Jerry is already beyond the reach of his well-meaning psychiatrist Dr. Warren (Jacki Weaver) and things are also looking bad for Lisa, who has taken a shine to Jerry. Despite Bosco trying to keep Jerry on the straight and narrow, Mr. Whiskers seems to be the loudest voice in Jerry's head and soon events have spiralled and salvation is all Jerry can hope for.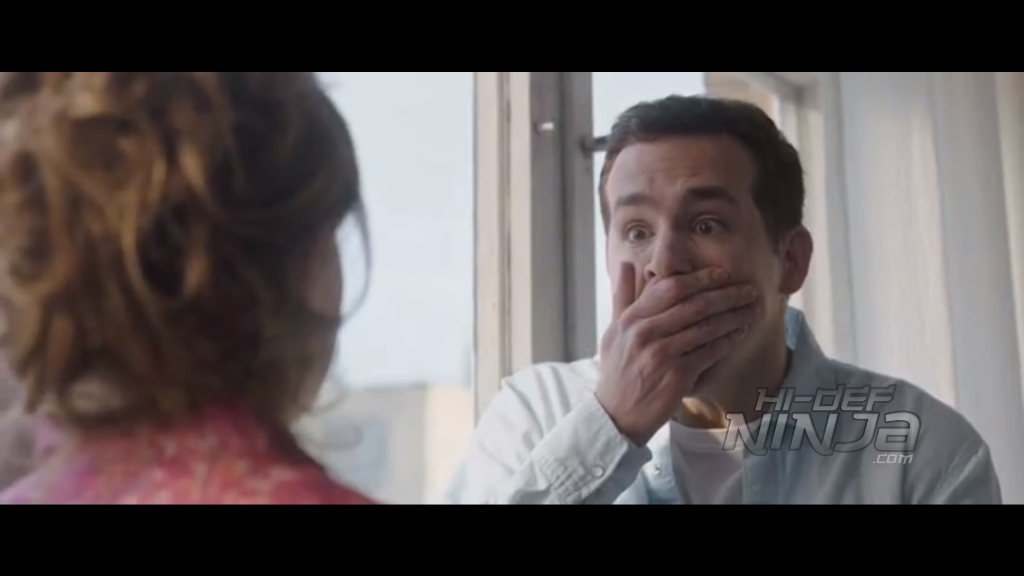 Presented in a 1080p 2.35:1 AVC encode, the picture quality is great and pretty much everything you would come to look for in a newly released title.
Details are fantastic, from facial detail in close ups and hair lines to creases in clothing. The fine hair lines on the animals is a great indication to point out how good the detail is here. Also, colours really pop off the screen. You'll notice a lot of pink throughout the movie, and this real bright neon colour really jumps out at you, especially when it's set against its sometimes grey/blue colour palette. Blood is a real deep red that comes across great on screen also.
A lot of the movie is placed in dark or dimly lit settings, so black levels are used to a maximum. No detail is lost here, image stability was fine and I saw no notice of digital noise being produced because of it. Details and colours remain sharp throughout culminating in a very good transfer for this Blu-ray release.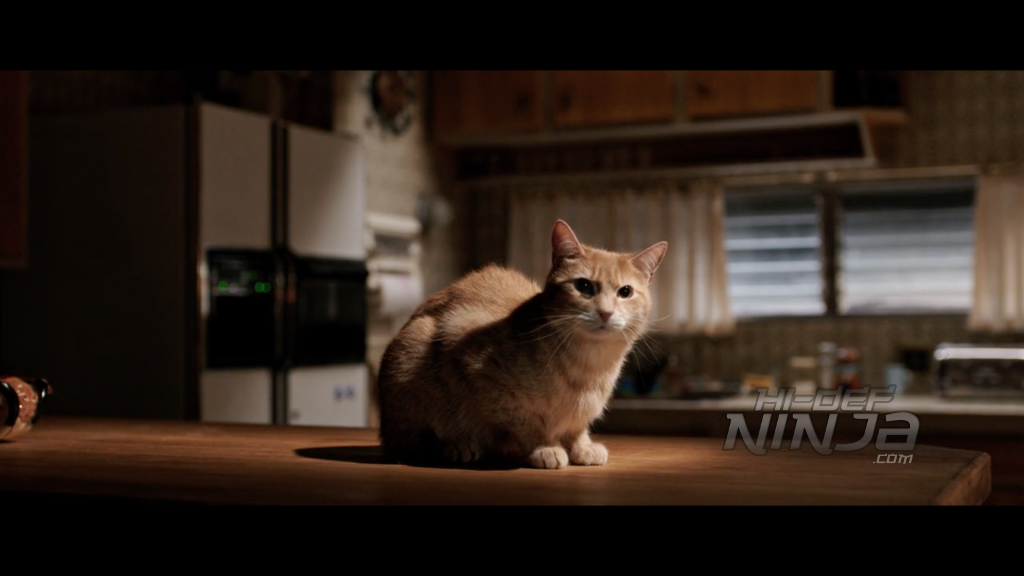 The only audio option on the disc is an excellent DTS-HD Master Audio 5.1 track.
All speakers are used to full effect throughout the movie, creating some wonderful immersing experiences. For example, during a thunderstorm the rainfall fills the rear speakers with thunder booming from your sub-woofer. The movie opens and ends with some rather upbeat music, and it's here with the music that the track really comes to life. Dialogue is delivered cleanly, precisely and with great clarity and bounces from speaker to speaker, again only adding to the great use of surround sound.
English subtitles for the hard of hearing are also included.
The UK Blu-ray release comes with an array of various bonus material, and differs in quite a way when compared to the existing US Blu-ray release
* Interviews (21 mins) – Interviews with various cast members on their experience of making the movie
* Scare Prank (4 mins) – Footage of a prank where a 'head' is placed inside a mock fridge in the middle of a UK shopping centre, recording peoples reactions
* Deleted Scenes (11 mins)
* Extended Scenes (4 mins)
* Pet Voice Recording (4 mins) – Ryan Reynolds shows how he recorded the voices for the animals in the movie
* Behind the Scenes (10 mins)
* Animatics (24 mins)
The only real substantial bonus missing really is a directors and/or cast commentary.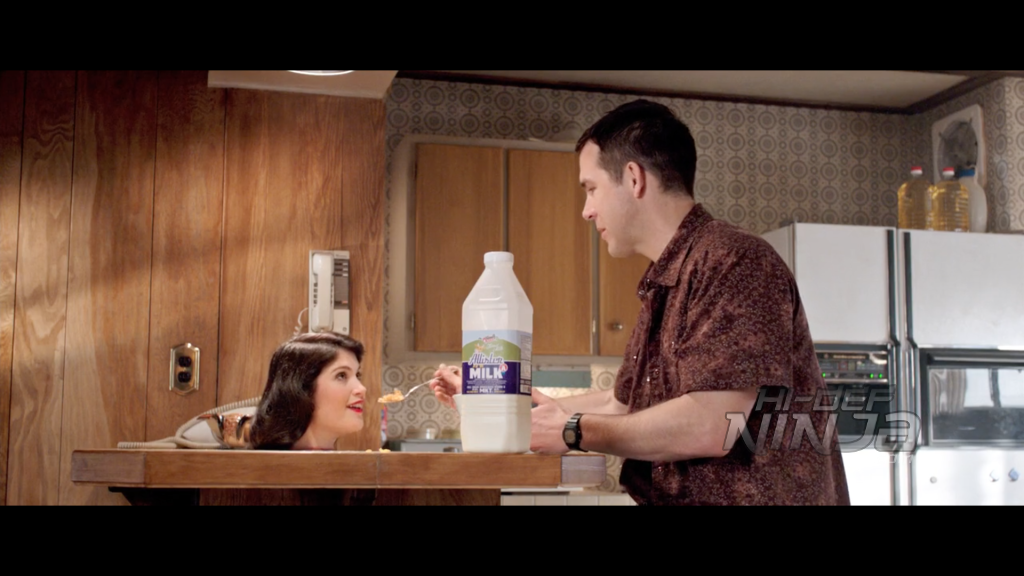 Going into THE VOICES I did not really know what to expect. The movie had a very limited theatrical run in the UK, kind of a blink and you miss it situation and didn't seem to have much press surrounding it. When the trailer hit online, I knew it was a movie that I wanted to sit down and watch.
When this arrived through my letterbox I instantly stuck it in the Blu-ray player and sat down to watch the movie. Running at just over 90 minutes, it certainly does not outstay its welcome. Ryan Reynolds is great as 'Jerry', the guy who is clearly mentally unstable and ill, fighting against the voices that he hears; in the form of 'Bosco' and 'Mr Whiskers'; Jerry's dog and cat respectively (both of whom are also voiced by Ryan Reynolds). Also heading up the cast are Gemma Arterton as 'Fiona' and Anna Kendrick as 'Lisa'. Both of these unsuspecting victims of 'Jerry' are great, although I did find Gemma Arterton a little 'too' British, but when you realise it's how 'Jerry' perceives her to be it does make sense. If I had to try and categorise the movie, I would outright say it's a pure black comedy. But then at the same time, it's also a quite disturbing horror movie. If it wasn't for 'Bosco' and 'Mr Whiskers' who do provide from comedic relief, THE VOICES would be an out for out horror movie. There is plenty of blood and gore, which will please the horror lovers out there and likewise there are some truly unnerving moments, most notably when we see 'Lisa' meet her maker. That genuinely made me feel uncomfortable for a few seconds. Without Reynolds leading the cast I don't think the movie would've been as 'good' or should I say disturbingly dark, as it is. Reynolds makes 'Jerry' the character his own, someone who you actually like, even when he's doing things that are simply wrong right up until the quite sombre ending of the movie, which is then completely flipped on it's head….. Jesus and Ryan Reynolds having a sing-song anyone?
Overall I enjoyed (if that's the right word to use) THE VOICES and is one I will happily keep in my collection that certainly has some re-watch value to it. If you want to see THE VOICES, try going in knowing as little as you can. A fine Blu-ray release sporting a great audio and visual package, as well as a healthy array of extras. RECOMMENDED!
Buy your copy on Blu-ray from Amazon.co.uk or order the exclusive Blu-ray Steelbook from Zavvi.com