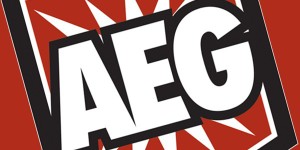 For me my favorite company and therefore my favorite experience at Gen Con is AEG's Big Game Night. Their games run from light 10-30 minutes to more intense 60-90 minutes, but by far and large they create the most games I find entertaining and therefore I wanted to spend a few minutes letting you know of some amazing games they have
At Gen Con Alderac Entertainment Group (AEG) hosts a four hour gaming extravaganza called Big Game Night, a very popular event usually selling out quickly where you can go from table to table and play all of their games and at the end of the night you are treated to a sweet Swag Bag. For the second year in a row I went into Big Game night with high expectations and was happy I did it again, though I did end up owning two of the five games in the swag bag.
At game night I was able to demo their newest releases and some old ones I had missed; including:
Dark Seas – A tile-based game, where you try to become the most notorious pirate of the seas
Game of Crowns – Where players takes control of one of the nine noble houses. During the game, players can exchange cards and favors through diplomatic relations, or directly attack opponents through warfare in order to take what they want
Junta – A game of power, intrigue, money and revolution in a fictional banana republic. It is everything but nice: The players lie, betray each other, embezzle, and assassinate the members of the other families to transfer millions of Pesos of foreign aid money to their bank accounts – which are conveniently located in Switzerland
Seventh Hero – Players take turns choosing whether to recruit the hero or pass. The player who has six of the seven heroes immediately wins the game
Rumpelstiltskin – You and a friend take the roles of fey folk who have decided to engage in a name guessing contest
Patronize – A trick-taking game, but one in which the decision to act or pass is a key strategic choice
The Swag Bag included a Gen Con Exclusive board for their Trains game, an Exclusive Lost Legacy game, Munchkin Loot Letter, Seventh Hero, and Junta, which is not officially out yet.
After Big Game Night, I ended up at the AEG booth to pick up a few games and I spoke with Todd Rowland, Marketing Director at AEG, about some upcoming games like Dice City and Epic PVP which they worked on with Fun to 11. I also had the pleasure of playing Valley of the Kings: Afterlife a new stand alone and expansion to Valley of the Kings with both the games creator Tom Cleaver and the CEO John Zinser which was really cool, especially after winning! After purchasing VotK I had my copy signed, which was a very cool experience.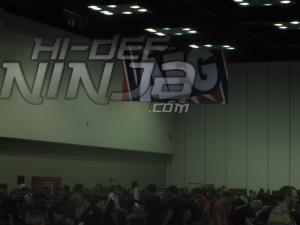 All in all I hate to sound preachy but I am a fan and I suggest you all check out their products. As the say 'We Make Fun!"
Here's a picture of my current AEG game collection!