Gen Con is the original, longest-running, best-attended, gaming convention in the world!
Featuring hundreds of game companies, award-winning authors and artists, costumed attendees, more than 15,000 events, a Family Fun Pavilion, and the debut of exciting new games, Gen Con truly is The Best Four Days in Gaming™!
This convention gains in popularity every year and set a new attendance record over 190,000 turnstile attendance and with a unique attendance of over 60,000 people. This year, for the second time, I visited Indiana for the Gen Con gaming convention. There are many ways to experience this convention from just walking the exhibit floor and demoing games and doing a few ticketed events — which is what I did — to entering gaming tournaments, to playing in ticketed events, or even just ignoring all of that and spending your con doing True Dungeon. Another fun aspect of the show is, if I may borrow the term from SDCC, 'the campus.'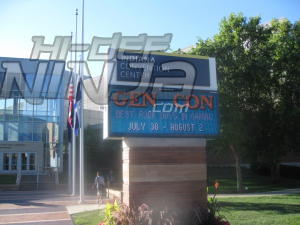 Some highlights:
Gaming:
This is first and foremost a gaming convention. The newest games usually make their appearance here. Each booth on the show floor is usually demoing their games both new and old, or if you want a closer look at a game companies, run events for their games and you can get into a ticketed event to play a specific game and if you really want a challenge, you can enter tournaments.
There are tournaments for a majority of games from Yu-Gi-Oh and Magic the Gathering to My Little Pony, Pokemon, and everything in between.
Some of the highlights for me was picking up Mysterium from Asmodee which was an early release and was limited to 100 copies a day; obtaining a slew of new games from AEG including Dark Seas, Game of Crowns, Patronize, Rumpelstiltskin, and Vally of the Kings: Afterlife; and then picking up random games from Coup: Rebellion by Indie Boards and Cards, Sheriff of Nottingham by Arcane Wonders and Dead Man's Draw by Mayday Games.
Show floor:
Many of the biggest companies as well as a large amount of independent and even one man operations are on the show floor with their product looking to get you into their booth and show you their latest games. A full list can be found on the Gen Con website, but some of my favorites and highlights include: AEG, Paizo, Iello, Mayday, Mayfair, Asmodee, Fantasy Flight Games, Upper Deck, Z-Man Games, Cryptozoic, Indie Boards and Cards, Fez-O-Rama, CoolstuffInc., etc.
I was slightly disappointed to see that some publishers were selling games at full retail price without any extras or promos, when coolstuffinc was on the show floor selling the same games for a discounted price. If you are buying on the show floor, make sure the items you are buying direct are either cheaper or come with extras, and you can negotiate! That said, some of the more unique booths selling their product were good to stop at, smaller companies with new games, Fez-O-Rama selling fine embroided fez's which is where I picked up my favorite non-game item, a Phoenix Fez, cosplay gear, dice sellers, and unique items are always good places to visit.
My new Fez!
True Dungeon:
True Dungeon is a d20 variant that allows players to experience their D&D adventure within a life-size, walk-through dungeon environment. Not a LARP, True Dungeon instead focuses on problem solving, teamwork and tactics while providing exciting sets and interactive props. Players may find themselves creeping down a dark passageway and entering a long-forgotten crypt. After dispatching a lurking guardian, the players may have to solve a cryptic puzzle or find a secret door in order to gain a wondrous treasure chest. This might be a chest that might hold a shocking surprise if opened without care. It takes two hours to explore the dungeon, and teams of ten players need only bring their imagination and quick wit. – True Dungeon.com
This year I had my first True Dungeon Experience and went with the Puzzle oriented 'Into the Underdark' experience and it was fun for a newcomer. The puzzles required thinking and teamwork and the combat was manageable for first timers. I did have some critiques about our last room, but overall it was a good experience.
Hickman's Killer Breakfast:
Tracy Hickman author of the Dragonlance novels runs your weak D&D character through his special dungeon making sure your character does indeed perish.
AND NOTE: there is no actual breakfast at Hickman's killer breakfast so if you were expecting food you just died!
Art Show:
For nearly three decades, the Gen Con Art Show has showcased some of the most prestigious and influential artists in the fantasy, sci-fi, comics, horror and gaming genres. This year, the Art Show included international artists from as far away as Brazil and the United Kingdom. Art lovers will find that the Art Show is the place to purchase art from some of your favorite artists, add to your collection, and discover amazing new artists. – Gencon.com
I spent about three to four hours on Friday walking the art show area and if I had an extra $2,000, this is where I would have spent my money. If you find yourself at Gen Con, give this area its due!
'The Campus'
There is a lot going on around the convention center. All of the local restaurants get into the gaming spirit. Outside of the convention center, there are a myriad of things to do and Gen Con does take over downtown Indiana from food trucks set up right outside the convention center each day with some great food for lunch and dinner to restaurants having themed menus and hotels opening up their lobbies and meeting spaces to everything from seminars to regular attendees having to pick up games of what they bought on the show floor. Truly after the convention floor closes, the gaming does not stop.