Around this time last year, Marvel's GUARDIANS OF THE GALAXY was the biggest film in the country and a phenomenon that no one saw hitting as big as it did.  Hot Toys has released most of the team in 1/6-scale figures in their Movie Masterpiece Series. At the time of publication, the available figures are Star-Lord, Gamora, Rocket Raccoon and Groot.
Star-Lord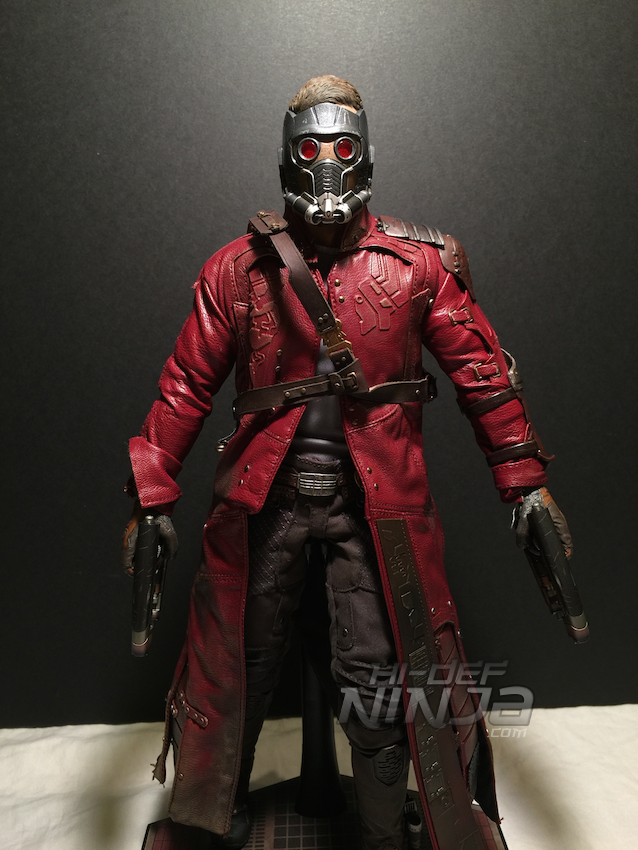 The figure for the outlaw Peter Quill has been made in the likeness of the scene on Morag where he was singing and dancing to Redbone's "Come and Get Your Love".  He has a long, red Raveger trench coat that is frayed and shredded at the bottom to show some wear to make it more realistic.  The coat also has some flexible metal in the frayed ends to be able to show movement in certain positions from swirling to a coat's natural flow while walking.  The coat allows a lot of free-flowing motion and it is very accurate with the leatherwork.  The leather is stressed with embossing that creates very cool, detailed designs that may have been overlooked on screen or even at first glance.
He has a decent amount of accessories including his two quad-blasters that are made to fit in each hand or mirrored and not simply two of the same weapon (see the photos to understand). He also has his cassette player that is very important to him.  I understand Hot Toys not getting the license for the Sony-branded Walkman to match the one in the movie, but the purple color with black headphones looks a little off.  I will admit, it looks better than not having it at all, but it is still very different from the film.
The orb that comes with the standard version of Star-Lord is the one later on in the movie to recapture the Infinity Stone.  The Sideshow Exclusive comes with the cuffs he was in while being processed in the Kyln and the actual metallic-looking orb he stole from Morag contain the stone.
As for the head sculpts, there is one made in Chris Pratt's likeness and it looks excellent.  I will say I feel like his head is a bit wider than the real actor, but it still has incredible detailing.  The other is the helmeted version with his mask covering his face.  The eyes are red and light up with the battery powered LEDs with the switch located on a removable plate on the back of the head.  Ultimately, I'm very happy with the way that the figure turned out.
Order your Hot Toys Marvel Star-Lord Sixth Scale Figure from Sideshow Collectibles
______________________________________________________________________________________________
Gamora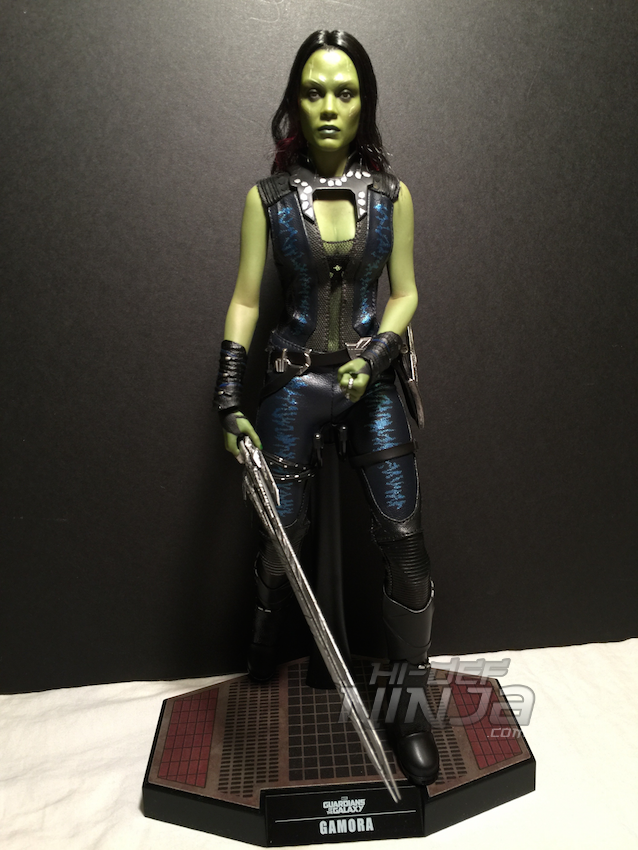 Gamora is the adopted daughter of The Mad Titan Thanos and one of the most elegant warriors in the galaxy.  First off, the head sculpt is one of the most accurate that I own and my collection is becoming fairly extensive.  She is made in the likeness of Zoë Saldana and there have been some photos that it makes it hard to tell which is the collectible and which is the actress.
The figure is one of the few that Hot Toys has made with the latex coverings on the arms to make it appear more like real skin and not see the elbow joints.  A common issue that I have heard about with the arms is that if you leave them in certain positions or move them too abruptly, the latex can discolor and tear. If this happens, there is no repairing the arms at all.  I have seen first hand the discoloration bit but, thankfully, not the tearing.  I make sure not to leave the arms in the positions that Hot Toys has warned consumers about in the manual to avoid this.
Her clothing is highly detailed from head to toe in all black with shimmery blue accents.  It's the outfit that she is wearing on Xandar while waiting for Star-Lord outside of the broker shop.  She comes with a few sets of hands and two swords: one short to fit in her holster and a long one for combat poses.  The short one for her holster fits a bit awkwardly but once it is in there, it's in there.
This figure has the synthetic doll hair that is about shoulder length and can be styled unlike the typical solid hair that a figure like Thor or The Winter Soldier would come with. As for her skin tone, it is a bit muted compared to how it looked on Xandar but it is still a solid green. Her scars/implant sites stand out and follow the contours of her face. She looks awesome and the likeness is uncanny.
Order your Hot Toys Marvel Gamora Sixth Scale Figure from SideShow Collectibles
______________________________________________________________________________________________
Rocket Raccoon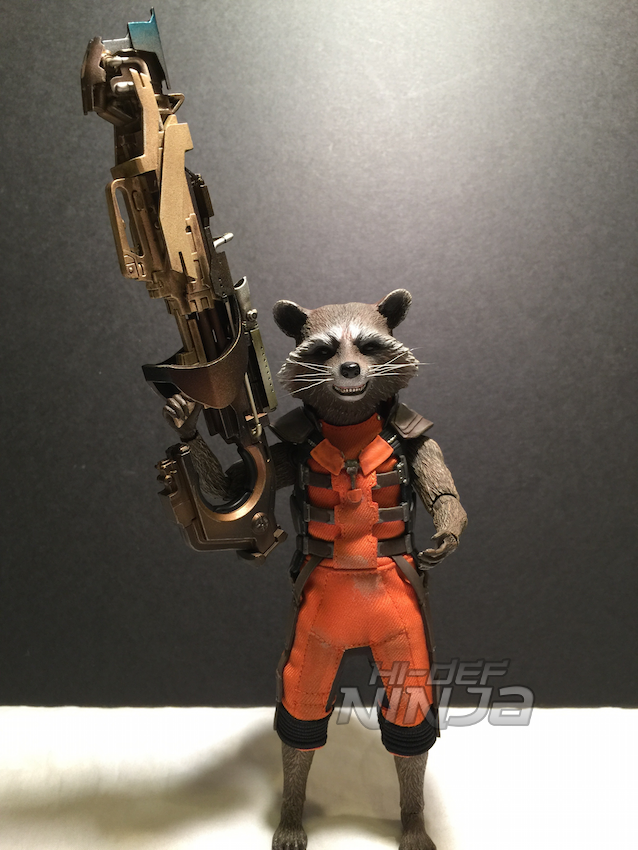 The Rocket Raccoon is easily the smallest Hot Toys figure I own (but I know the Ant-man figure will beat that without breaking a sweat).  He is a little dude with a big attitude and even though they came as a set, I'm going to review him separately from Groot.  Rocket stands at 6.3" tall and is dressed in the orange suit from when we first see him on Xandar, catching Quill. His outfit also has some marks of distress, making him not look shiny and pristine. He has his pack on his back that would cover where his implants would be.
His tail can be moved to balance him better when he is not attached to the stand. With fully articulating feet and His tail can be moved to balance him better when he is not attached to the stand. With fully articulating feet and hands, he can pretty much be put in any pose you can think of.  He comes with three pairs of palms and has his signature huge rifle.  The intricacies on the gun look like it was shrunk down from a full sized version perfectly.
He does have a stand that matches his teammates with the reddish grate but with a clear plastic pole he attaches to.  His whiskers are a bit different from the prototype photos with a little more body to them but they can still be "groomed." I'm honestly impressed with the way he came out because he looks excellent.
Order your Hot Toys Marvel Rocket Sixth Scale Figure from SideShow Collectibles
______________________________________________________________________________________________
Groot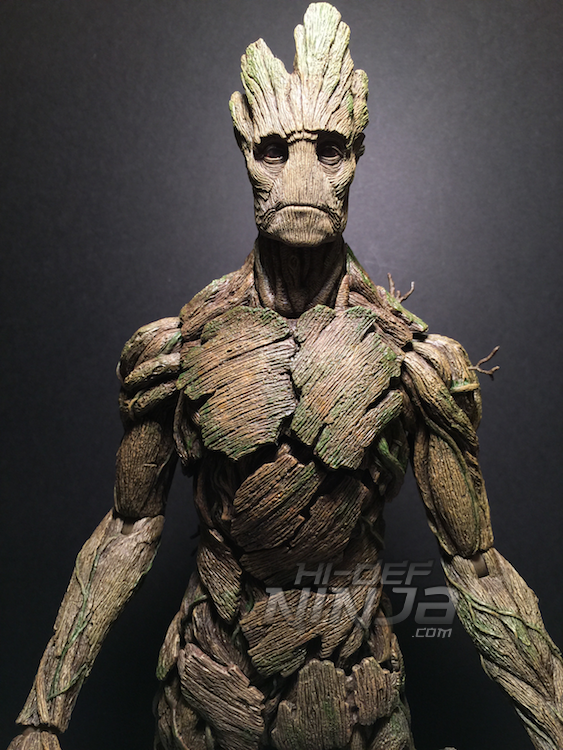 Groot is the biggest Guardian of them all and he is awesome.  He literally has tree trunks for legs, long arms and ginormous hands.  He stands at a colossal 15.35" tall but he looks to scale with the other figures.
His body sculpt is so spot on and accurate that even some of the joints are made to be blended in with his body. I am so impressed with how detailed he looks on every inch of his body and how it looks organic.
He has his "normal" facial expression and regular hands.  The Sideshow Exclusive version comes with the angry facial expression and curled claw-like hands that when they are on, he looks like he is bellowing out "I AM GROOT!".  Honestly, I would feel like something was missing if I didn't get the Exclusive items for him.  He would feel less versatile without being able to make the fighting pose. The Exclusive edition also comes with a 1/6 scale "baby Groot" that fits perfectly in Rocket's hands. It is as detailed as it should be for his size and is in mid dance.
I had zero issues with the figures themselves of either Rocket or Groot but then the stands came into play.  They both come with these metal clamps that run along the plastic posts that are in the stands.  They are adjustable with a small screwdriver (which is not included) to figure out what kind of height you'd like for the figures.  But the real issue is that the clamps are so tight that I needed pliers to open them a bit to move them to my desired position. I was so afraid that I was going to break either the clamp or the post on the stand but I finally got them to about where I liked them.  They also came with a third smaller clamp for posing Rocket on Groot's back like in the Kyln.
Order your Hot Toys Marvel Groot Sixth Scale Figure from SideShow Collectibles
Order your Hot Toys Marvel Rocket and Groot Sixth Scale Figure Set from SideShow Collectibles
______________________________________________________________________________________________
All four of these figures are simply awesome.  I really don't know what else to say about them except that they really capture the feel of the film.  These figures further prove that Hot Toys is getting better with every release. Sure, the prices are rising but so is the quality and that to me is an even trade.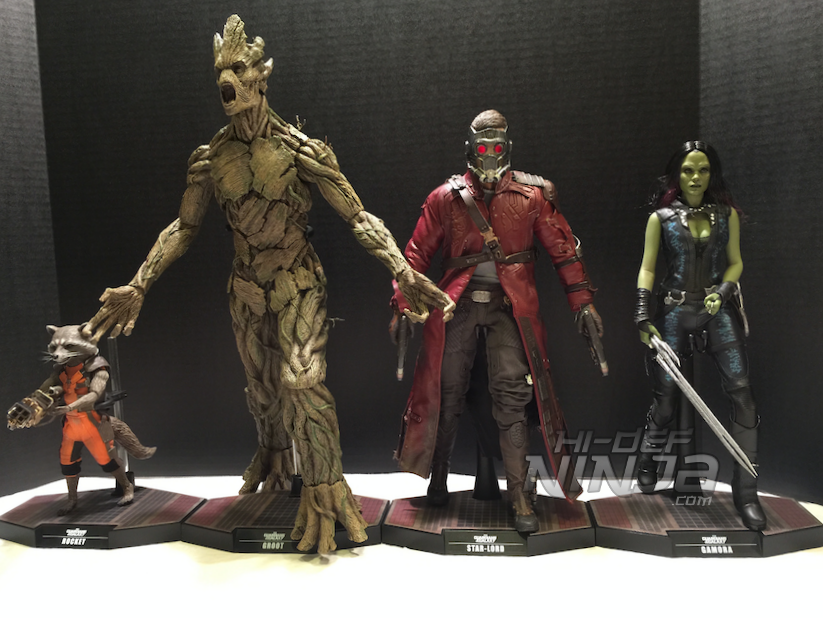 Overall, I'm incredibly impressed with the quality and care that Hot Toys has out into these figures.  The team looks great but they still need to release Drax the Destroyer. He has been teased and some updates have been shown but there is no official word yet.  Without him, the set does feel a bit incomplete but I won't let it take away from what they already have released.
______________________________________________________________________________________________
Details on each figure:
Star-Lord
What's in the Box?

The Star-Lord Sixth Scale Figure specially features:
Newly developed head sculpt with authentic and detailed likeness of Chris Pratt as Star-Lord in Guardians of the Galaxy
Movie-accurate facial expression with detailed wrinkles, skin texture and beard
Interchangeable masked head sculpt with LED light-up function (red light; battery operated)
Body with over 30 points of articulations
Approximately 31 cm tall

Five (5) pieces of interchangeable gloved palms including:
– One (1) pair of fists
– One (1) pair of palms for holding guns
– One (1) right palm for holding orb
Each piece of head sculpt is specially hand-painted

Costume:
One (1) light blue tee
One (1) red long coat with distressed effect
One (1) pair of gray pants
One (1) pair of brownish red boots with boosters

Weapons:
Two (2) guns

Accessories:
One (1) sling pack
One (1) portable audio cassette player with headset
One (1) realistic plasma orb
Figure stand with Star-Lord nameplate and the movie logo
**Battery included for collectible figure. Button cells are required.
Gamora
What's in the Box?
The Gamora Sixth Scale Figure specially features:

Authentic and detailed likeness of Zoe Saldana as Gamora in Guardians of the Galaxy
Newly sculpted head with movie-accurate facial expression
Black and purplish-red real fabric hair implantation
Green-colored face and body with over 28 points of articulations
Approximately 28 cm tall
Three (3) pairs of interchangeable palms including:
– One (1) pair of fists
– One (1) pair of palms for holding a sword
– One (1) pair of relaxed palms
Each piece of head sculpt is specially hand-painted

Costume:
One (1) leather-like suit with upper body nettings and blue colored patterns
One (1) pair of black boots
One (1) black belt with holster and silver colored accessories

Weapons:
One (1) fully extended sword
One (1) folded up sword

Accessory:
Figure stand with Gamora nameplate and the movie logo
Rocket Raccoon and Groot
What's in the Box?
The Rocket Sixth Scale Figure specially features:
Authentic and detailed likeness of Rocket in Marvel's Guardians of the Galaxy
Movie-accurate facial expression with detailed fur texture
Body with over 17 points of articulation
Approximately 16 cm tall
Three (3) pairs of interchangeable palms including:
– One (1) pair of relaxed palms
– One (1) pair of fists
– One (1) pair of palms for holding rifle

Costume:
One (1) orange and dark grey space suit

Weapon:
One (1) rifle

Accessory:
Figure stand with Rocket nameplate and the movie logo
The Groot Sixth Scale Figure specially features:
Authentic and detailed likeness of Groot in Marvel's Guardians of the Galaxy
Movie-accurate facial expression with detailed tree texture
Unique body with over 15 points of articulations
Approximately 39 cm tall
Five (5) pieces of interchangeable palms including:
– One (1) pair of relaxed palms
– One (1) open left palm with real-like glow effect
– One (1) pair of partially clenched palms (exclusively for collectible set)
Interchangeable angry expression face (exclusively for collectible set)

Accessory:
Figure stand with Groot nameplate and the movie logo