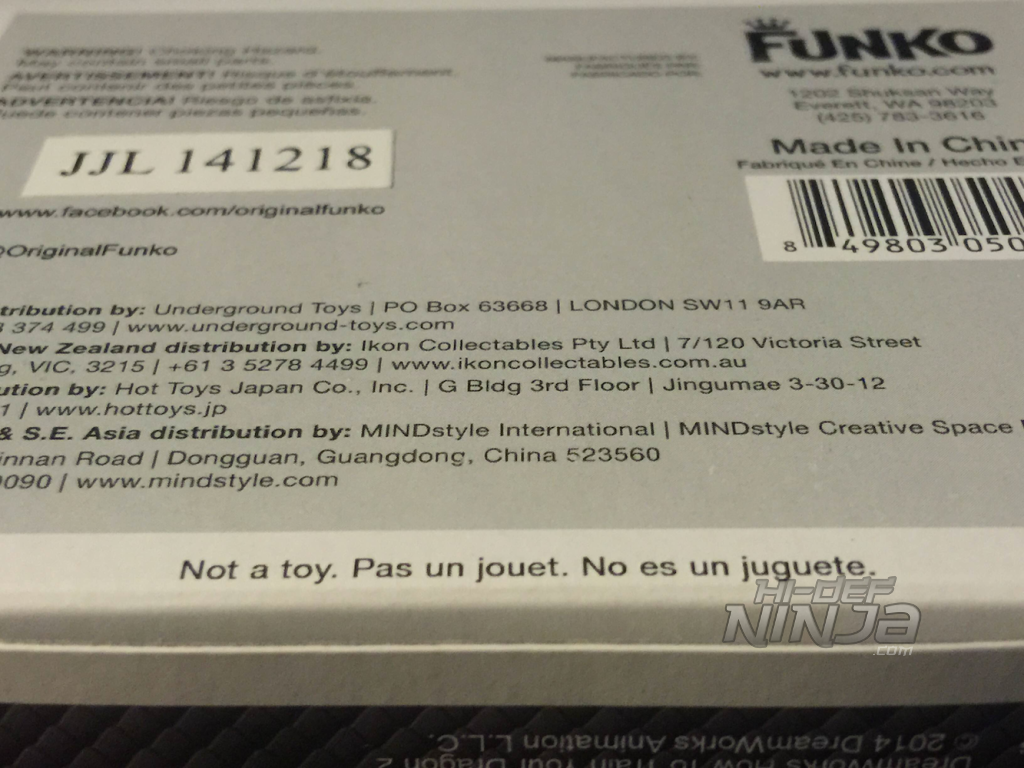 Funko brand collectibles have become exceedingly popular in the last few years.  They [Funko] have come to be so prominent that Funko is now a household name.  Originally, Funko dealt exclusively in bobble-head figures, but they have since made their name in four-inch vinyl figures stylized to represent characters from various divisions of pop culture.  Funko designs, sculpts and manufactures a plethora of different lines of collectibles and toys alike.  Their most popular and extensive series to date, by far, is their POP! Vinyl line.  In 2015 alone, Funko has announced almost two dozen new licenses that they have acquired that will be converted into waves of POP! Vinyls by the end of the year.  In addition, they have also proclaimed over one-hundred new additions to existing waves.  This is undeniably Funko's single-most ambitious year for Funko and POP! Vinyls.  In just five short years, Funko has managed to establish a vast array of collectors all around the globe.  Undoubtedly, the majority of their collector base is devoted to the POP! Vinyl series.  Funko has built this mass of loyal customers so efficiently that they are now the #1 stylized vinyl collectible company on the planet.  To keep up with their increasingly high demand for POP!s, Funko has had to alter their methods in ways that many collectors are dissatisfied with. They have increased supply almost exponentially, limited exclusivity in their San Diego Comic Convention [SDCC] – amongst other – exclusive POP! Vinyls, and have re-released a disturbing number of their 'retired' POP!s. Funko calls themselves a 'collectibles company', but then maximize supply to meet – and sometimes exceed – demand.  In the past, other collectible companies have taken similar routes. For them, the decisions to do so have been the beginning of the end.
For any company that is in the business of selling a particular product, the supply of said product is to expand (or contract) in direct proportion to the demand of that product.  It is a simple, yet vital, axiom of basic economics. However, when you are in the business of limited editions (e.g. collectibles), the bulk of your repeat buyers (e.g. collectors) is almost solely based on your product's exclusivity.  Following the concept of supply and demand is not the preeminent approach in terms of achieving long-term success. Over the past year, Funko has greatly increased their POP! Vinyl production. They have done so not only in the number of different POP!s created, but also in the quantity of each figure's production run.  There are many steadfastly loyal collectors who are disgruntled by this.  Funko is taxed with the strenuous task of running a business and trying to comply with the ideal of supply and demand to the perfect extent for their business. This includes (but is not limited to) unveiling new product and attempting to appeal to the "new customer".  With that being said, as the world's premiere vinyl collectible company, Funko is also charged with the responsibility of upholding loyalty to their extensive, longstanding and unabating collector base. While that is a very fine line to cross, it seems that Funko has embraced the over-stepping of that boundary and is not the least bit concerned with the consequences of doing so.
Funko originally unleashed its POP! Vinyl line at the San Diego Comic Convention [SDCC] in 2010 with only four distinct figures. In a 2015 interview with Hot Topic, Brian Mariotti (CEO Funko) states that they now – as of early 2015 – have between 2000-3000 unique POP! Vinyl sculpts.  SDCC is an extremely significant occasion for Funko and their POP! Vinyls.  Not only was it the venue of their genesis, but it is also one of the two most crucial annual events for Funko and POP! collectors alike.  Every year prior to the convention, Funko has revealed their line of exclusive POP!s that can only be acquired by SDCC attendees. Albeit, in the last two years, the latter has not been the case. During both the 2014 and 2015 conventions, collectors were able to obtain quite a few of the exclusives outside of the convention.  In 2015 during Funko's usual pre-SDCC POP! Vinyl exclusive announcements, there were an astoundingly large number of exclusives publicized.  There were fifty-three POP! Vinyls and two POP! Rides (includes a POP! Vinyl and vehicle) announced amongst exclusives from Funko's other series of collectibles.  They also divulged that a substantial portion of those exclusives would be readily available from retailers around the world, both online and in store.  In the U.S. alone, over 60% of these select POP!s were accessible at major retail locations.  After the worldwide market was allotted their share, only a small handful were truly exclusive to the San Diego Comic Con.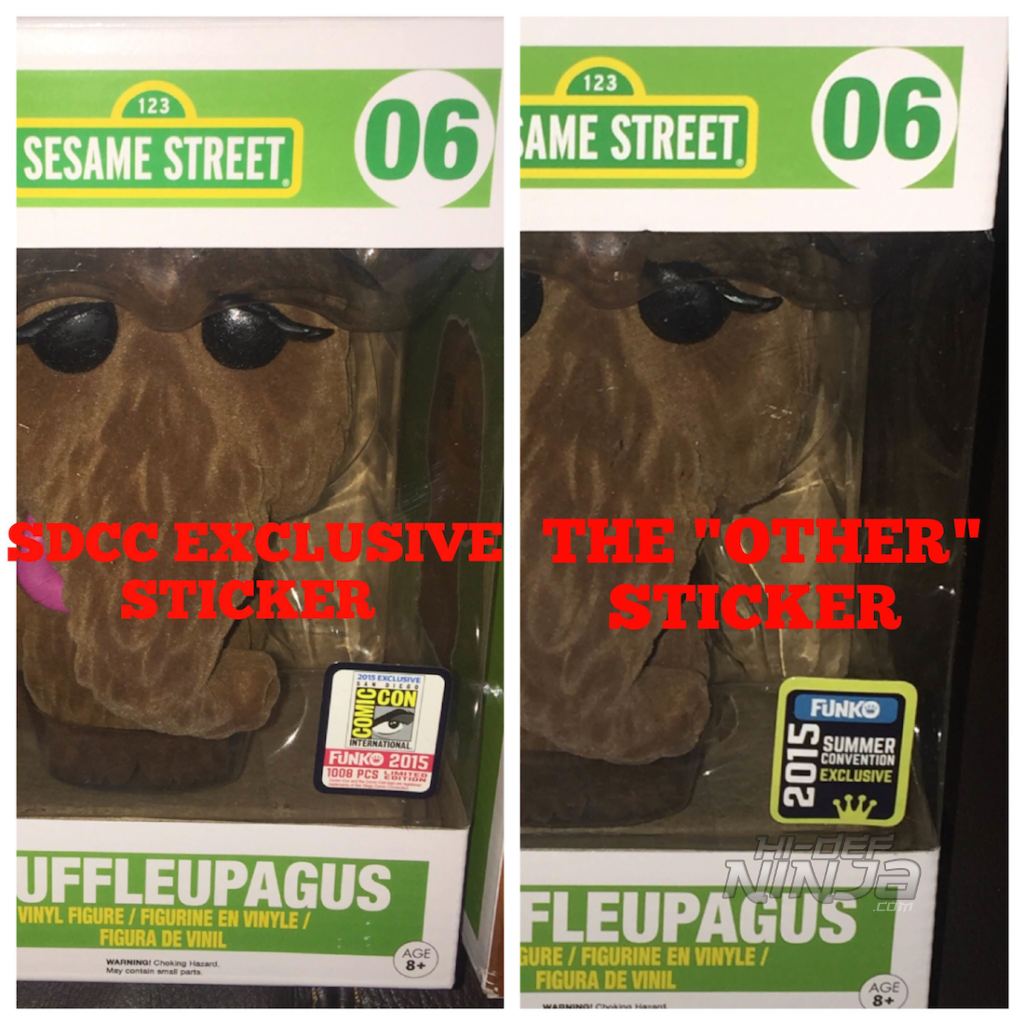 Even though collectors were able to acquire the "exclusives" independent of SDCC, there was a fundamental variation between those secured at the convention and those purchased elsewhere.  SDCC exclusive POP! Vinyls have always come with a sticker on the window of their box that is unique to that year's convention. The POP!s obtained from outside of the convention either come with a different sticker or no sticker at all.  Basically, aside from that small handful of genuine exclusive figures, the SDCC side of the hobby has become one of sticker collecting.  This has led to a depletion of integrity in the hobby that has attained a couple different perspectives from collectors.  To some people, that SDCC exclusive sticker means everything and they are willing to do whatever it takes to get them.  The bulk of Funko's dedicated patrons have settled for the "lesser" sticker or no sticker at all. Taking this route saves those collectors money and/or time and agony.  Finally, the remainder of their consumers are so irritated with this new modus operandi that they have stopped concerning themselves with the exclusives and, to an extent, the hobby altogether.  Between the startling increase in SDCC exclusives released, and allowing those not attending the convention to acquire them; Funko has alienated their collectors, causing disinterest in a large portion of that population.
As in the aforementioned, Funko POP! Vinyl figures have massively swelled in global popularity in just the last couple of years.  It is because of the prior lack of interest that collectors in countries outside of the U.S. weren't capable of procuring a lot of the older POP!s that are no longer being manufactured.  Until a little over a year ago, Funko would annually select (usually 5-10) POP! Vinyls that would never be produced again. They were aptly referred to as "retired".  In the spring of 2014 – to everyone's surprise – popcultcha.com (toy, collectible and major Funko POP! retailer out of Australia) listed a few retired POP!s on their website for preorder.  With no initial explanation from either Funko or Popcultcha, the preliminary standpoint of collectors was split between two opinions.  A fraction of collectors (mainly those that were more contemporary) were very eager and enthusiastic to be given the chance to add these elusive figures to their collections. However, the remainder of the collectors – Funko's most faithful and devoted – were perturbed to the utmost.  Later on, it was revealed that Popcultcha had advocated for those countries who had previously been left out of distribution of those older, retired POP!s.  At that time, it appeared as if Funko was being diplomatic and just throwing Popcultcha a proverbial bone.  Since then, however, Funko has continually allowed the re-release of retired POP! Vinyl figures to foreign retailers. They have done this so many times that they have changed their phraseology from "retired" to "discontinued". At the time of the change in nomenclature, Funko claimed that no longer would any POP! ever be permanently out of production.  These continued measures have unintentionally stifled the market.  Which in turn, has hindered the hobby as a whole.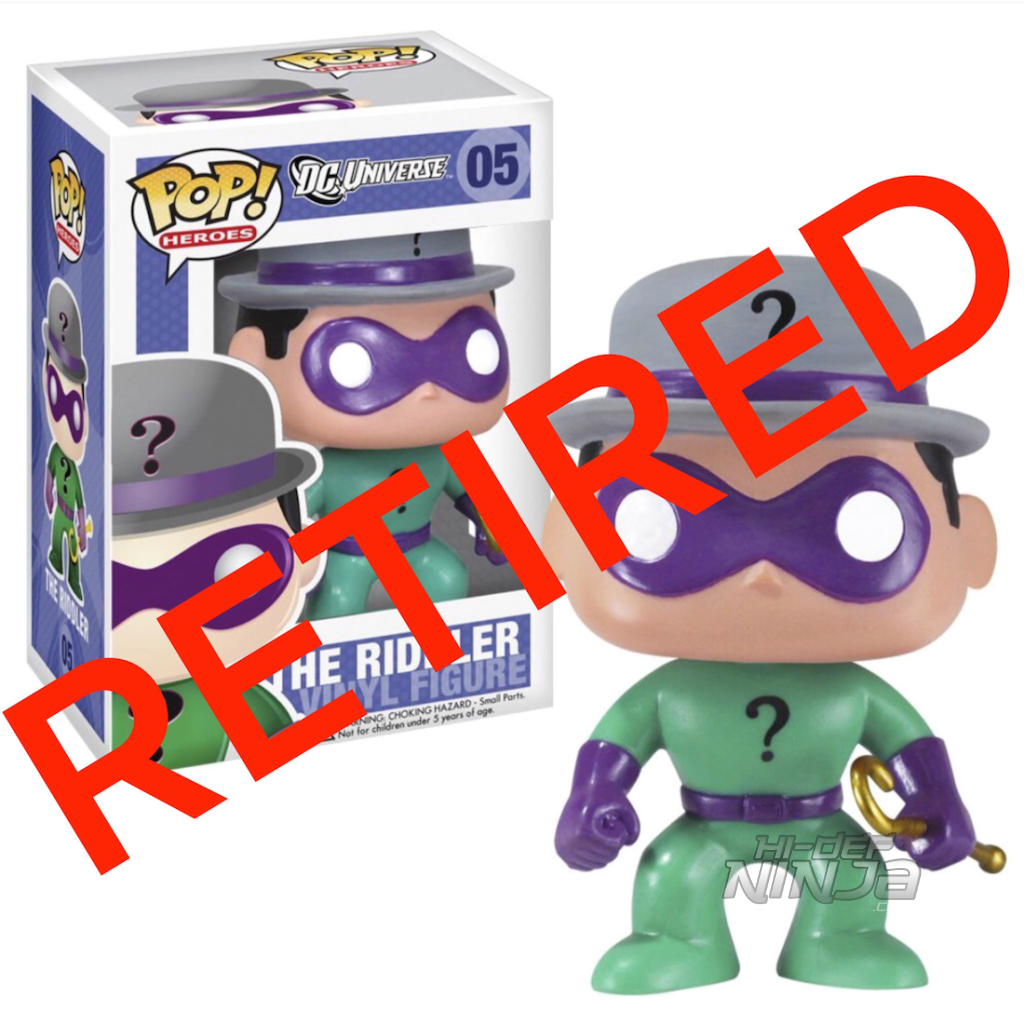 Everyone handles fame and fortune in their own way(s).  For a retailer, the plan for success first includes gaining popularity.  From there, the idea is to sell as much as possible while simultaneously retaining and, if possible, continuing to build on that popularity. For a collectibles company (e.g. Funko), this is a daunting task, as is survival in general.  Often times, if a collectibles company even gets to its peak, they plunge straight to their death.  Look at baseball cards for instance. Nowadays, they are barely worth the paper that they are printed on.  Beanie Babies are extinct in the collector's market.  Even comic books saw a long, drawn out depression at one point in which no one was sure if they would make it out alive.  For Funko, walking that utterly fine line between whether to continue production expansion or remain faithful to their collectors is arduous, to say the least.  Thus far, Funko has obviously made some impressive decisions that have backed their advancement to the #1 spot.  Nevertheless, they are in a venture based at least 90% on exclusivity.  At some point, they have to stop "biting the hand that has fed them" for the last five years.  They desperately need to avoid marginalizing those loyal customers that got them where they are today.  Continuing to flood the market, limiting that all-important exclusivity and releasing POP! Vinyl figures that they claimed would never be released again will ensure two things…Funko's eventual decline and, ultimately, Funko's demise.