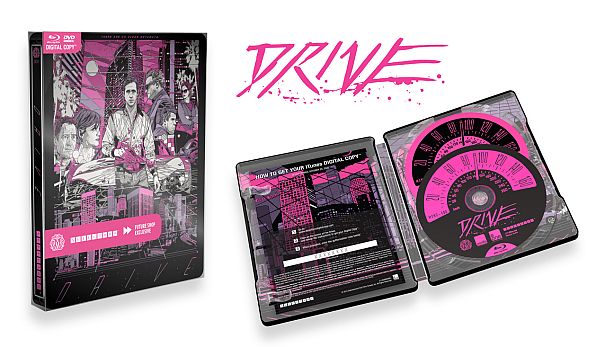 Ahead of this weekend's MondoCon in Austin, Texas, I was given the opportunity to chat with the Sales and Marketing Director of Scanavo Americas, Nick Coughlan, for a few minutes regarding the Mondo x SteelBook series and what surprises we can expect during the convention. Needless to say, the conversation was quite informative.
——
HI-DEF NINJA: The Mondo x SteelBook line has definitely taken physical media collecting to a whole new level. I guess the first obvious question would be whether Mondo approached you (Scanavo) or if it was vice versa?
NICK COUGHLAN: I got connected with them in 2013 and like most people, I loved almost everything that they put out. Originally we just figured that we were in the same kind of collectibles space, so we should stay connected even though there were no plans to do anything specific. We chatted for months and months about how we'd love to find a way to work together, but it wasn't easy because of licensing, studio ownership, etc. All we really knew was that we wanted to find a way to make going to the store to buy movies on any given Tuesday as exciting as possible — like it used to be! We couldn't quite figure it out, but just for our own enjoyment, we made some one-off prototypes for ourselves. They ended up looking so good that we showed them to the corresponding studios in Canada and here we are. Without the great support of E1 and Mongrel Media as well as Best Buy, we'd probably still be kicking rocks trying to figure out how to do this. We have them to thank, as well as all of our new partners on the program like Universal, Elevation Pictures, Lionsgate, Capelight and Target. At the heart of all of these businesses are a core people who 'get it' when it comes to collectors.


HDN: With ten Mondo x SteelBook titles already released and at least another five to come by the end of 2015, it's been a pretty great first year for this partnership. Where do you see it going in 2016?
NC: If fans want them, we'll keep making them… it's that simple. And I hope they do because making prototypes is really expensive and as a consumer myself, I want to add more of them to my shelf at home. [Smiles] There's a chance that we could come back and produce some variant editions of already released titles, but most importantly, we want to keep growing the collection with movies we're really passionate about and maintain the quality of the overall package with great creative (that's a given from Mondo) as well as disc artwork, awesome metal treatments, etc. The thing I want most in 2016 is to improve availability so that they aren't always locked in one territory — this is more difficult than it sounds, but we're making good progress.
HDN: I'd assume that working with such gorgeous art can be a pleasure yet also quite daunting. When Mondo sends over the artwork, what's the general reaction around the office?
NC: The air leaves the room. Seeing new artwork like TOTAL RECALL from JC Richard or NIGHTCRAWLER from Jay come together over 4-5 weeks is incredible and inspiring for everyone in the office.
HDN: Up until now, the studios onboard with this line have been sparse with only eOne, Mongrel and Universal giving the greenlight. Has it been a difficult chore so far bringing studios onboard?
NC: Most people we talk to like what we're doing. Some want to be early adopters and others want to see how the first dozen or so pan out before they make a decision. No one has said, "No way, never going to happen!" so I'm hopeful that we can partner with every studio at one point or another. As consumers, it really doesn't matter to most of us which studio owns the right to which particular movie. I think part of reaching the goal of making driving to the store on any given Tuesday to buy movies as exciting as possible is helping the studios to work together for the greater good — that's kind of at the core of the Mondo x SteelBook® program and it lets us put DRIVE, PAN'S LABYRINTH and THE THING together in the same series — that's never been done before. You'll see Lionsgate, Elevation Pictures and Capelight Pictures join in during the next 3-4 months.
HDN: Has Scanavo found that their fan base has grown at all since teaming up with Mondo?
NC: Yeah, I think there were some Mondo fans that didn't know what a SteelBook was and the opposite is true as well. That's whats so great about collaborations. When I was at SDCC in July, I met so many Mondo and comic book fans at the booth who would look at the SteelBook display and ask 3-4 questions before understanding what these things were. What is it? Is it a book? Is the movie in there? I guess that's because seeing them at the Mondo booth was kind of out of context compared to seeing them on the shelf at Best Buy or Target.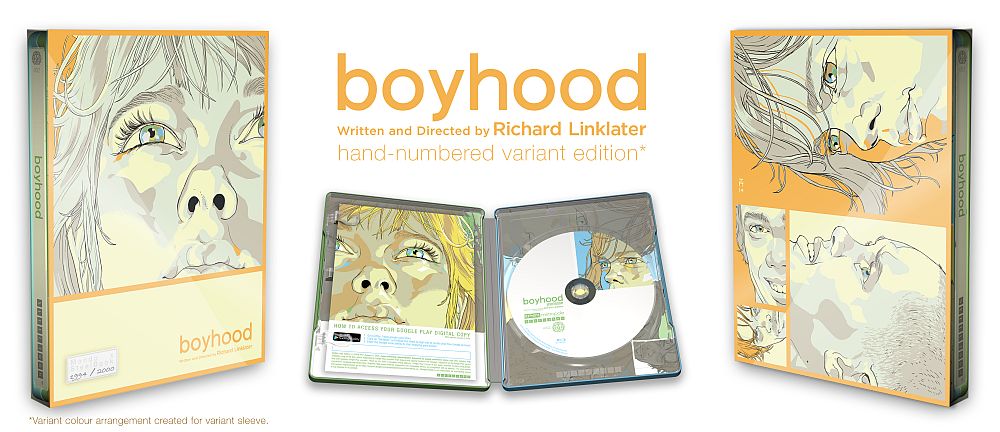 HDN: Have you had the opportunity to speak to any of the artists that have worked on the line's artwork? If so, have they given you any feedback?
NC: Yeah, for sure. Jay (Shaw; Mondo Creative Director) and I talk alot — by the way, if you haven't seen #012 NIGHTCRAWLER yet, I can't emphasize how insanely beautiful this SteelBook edition is going to be. Anyone lucky enough to be in Austin for MondoCon next week can see samples of it at the Mondo and Hi-Def Ninja booths. I've spoken to some directly and most of the time Jay looks after all the creative direction with the artists. The overwhelming feedback from all of them is that they like to be as involved as possible with making the best possible edition. For example, Martin Ansin made us a beautiful interior and discs for LOOPER while Tomer made us a beautiful variant colour scheme for our BOYHOOD variant. Jock opened up his archive for EX MACHINA and created almost invisible extra details like the textures we used on that PAN'S LABYRINTH. I remember the day I saw what I thought was the final proof for PAN'S LABYRINTH. My creative Marcin insisted it wasn't finished. Between he and Jock, they cooked up what became that sticky, grimy texture that you can feel when you hold the case. It's really a case of Mondo and the artists driving all of the effort for the art itself and having a ton of faith in how we execute that on metal. The more titles we do, the better each side of the collaboration understands the other and the better the editions have become.
HDN: The release of DRIVE was a pretty monumental event. What was the environment like around Scanavo during the weeks leading up to #000's release?
NC: The lead up was really suspenseful because we loved it, but we didn't have a guarantee that consumers would. I remember the studio told me that they had to make the decision with their hearts because based on the economics, volumes, etc., doing the project with us didn't make sense at first — it was a little out of the norm. Later in the day that the pre-order went live, based on the feedback from fans and Andrew at Future Shop (zerox39), the studio called me and said, "What do you want to do next?" That felt pretty great. I hadn't even thought about it beforehand, but LOOPER just came gushing out of me.
HDN: Out of the ten SteelBooks already released (plus three variants), which Mondo x SteelBook has been your personal favourite so far?
NC: Everytime we're working on one, we end up saying, "Oh wow, this is going to be the best one yet…" Then we laugh because we say that everytime. You just get so involved in whatever you're working on at that moment. Right now, my head is stuck in BOONDOCK SAINTS. Becky Cloonan has made something really special for us and we can't wait to show it. My all-time favourite movie is THE THING, so that one is a bit special for me. I think John (Wreck) will have some signed versions at the booth for MondoCon, right?
HDN: Yeah. They'll be used for give-aways during MondoCon and Halloween Fest. It's definitely very exciting. Speaking of which, MondoCon is just around the corner. Other than Hi-Def Ninja flashing off all the SteelBooks humanly possible, can we expect any surprises during the event?

NC: We have an announcement planned and I'll have the final proofs for those titles available to see at the Mondo or Hi-Def Ninja booths, along with some cards we made to promote and mark at the event. Also, you'll be able to get a first look at the NIGHTCRAWLER and TOTAL RECALL SteelBook editions at a display in the Mondo booth.
HDN: Lastly, what would your dream Mondo x SteelBook release be?
NC: I've already checked some dream releases off my list. [Laughs] I dunno — THE GOONIES? Or STAND BY ME? Most of all, I'd like to see the collection continue to grow. It would be nice to be celebrating #100 at some point in the next few years [Smiles]
——
A huge thank you to Nick for taking the time to chat to HDN and for giving us a look behind the scenes of this brilliant partnership between Scanavo and Mondo. And to everyone reading, stay tuned… there's plenty more Mondo x SteelBook news coming this week!