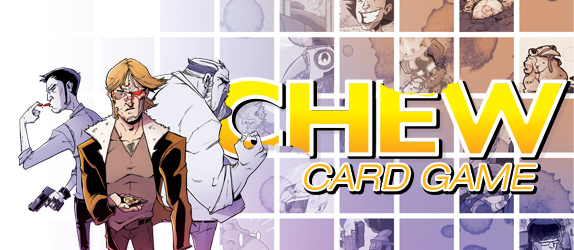 Game Description:
Welcome to the FDA. As a Food and Drug Administration agent, it's your job to investigate food-related crimes. From deep-fried fingers to murdered mascots, you'll need to enlist help from the likes of Tony Chu, Mason Savoy, Poyo, and more in a fast-paced, high-laughs, take-that card game designed by Kevin Wilson (Arkham Horror, X-Files, Descent). In CHEW: Cases of the FDA, you'll work to solve a case pulled straight from the pages of the Eisner Award-winning comic series. Whether it's finding clues, recruiting allies with amazing food-related super powers, or sabotaging your opponents, each round you'll work to close the book on your particular investigation before your opponents can swoop in and steal your spot as the top-food-cop in town. And the best part? The box is chockfull of CHOGS (Half-chicken, half-frogs, all-adorable)! – from IDW
Plays: 2-5 players
Play Time: 30 minutes (once you are familiar with the game)
Recommended Age: 12 and up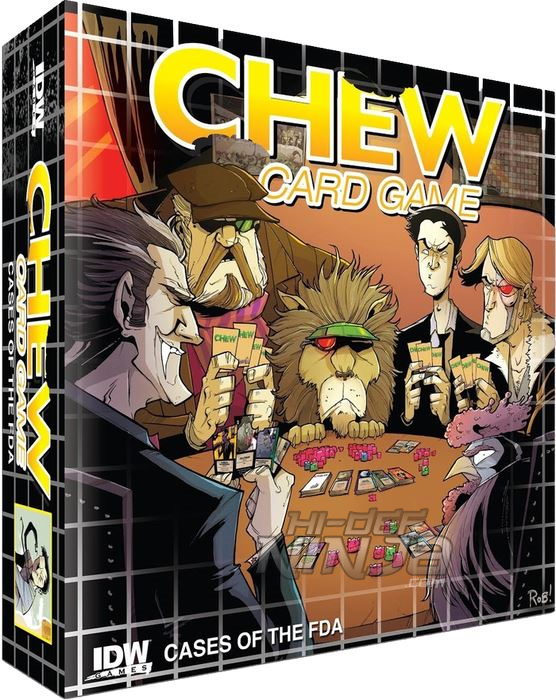 Gameplay:
Without getting into every detail, the game is split into three phases: requisitions, investigations, and connections. Your goal is to connect your crime with your culprit.
The first phase is fairly straightforward: take three in any combo of chogs (in game currency) or investigation cards (cards played during the investigation phase). There are some modifiers to this with previously played investigation cards (partner cards) that may allow you to take extra chogs or investigation cards.
The second phase — investigation phase — is where things get a bit longer. During this phase, you can play as many investigation cards as you want and that you can afford. Remember those chogs? Well, some cards cost chogs in order for you to play them. There are a few types of investigation cards: Partners (which stay in front of you and give you extra abilities), Bad Guys (which you play on other players to block them from making connections until they pay up the required chog cost), pains in the ass (which you play on other players, giving them negative points), and just regular investigation cards that have various effects.
Once this is done, you move on to the third phase: the connection phase. This is the phase that matters in terms of winning. You are allowed to make one connection automatically and then possibly more based on investigation cards previously played.
So how do you make connections and win? Well each card has a color running along the side of it. In order to make a connection, you just need to match the colors. There are wilds as well as cards that can be used for more than one color. Each connection has a point value (anywhere from 2-6) and once all of your connections minus pain in the ass cards add up to 20 or more, you are allowed to 'solve' your case provided the color last connection card played matches the color of your final card.
Thoughts:
I played this game a few times this weekend at a party. Overall, it received a warm reception and people enjoyed it as it was fast and easy to pick up. The first game did last a bit longer than the 30 minutes stated, but I was teaching four others and it was a party! We felt it was complex enough to keep us interested and was fun to mess with other players' crime scenes. Plus, who doesn't just want to steal chogs?!
I played a few times with various player configurations. While the game can be played from 2 to 5 players, I would recommend an ideal game size of 3 or 4 players. In a 2-player game, you can only target your opponent and with the gameplay, it can become a bit of luck which cards you get. Where as in a 5-player game, the investigation phase can get a little long and once your turn is done, you can end up sitting for a few minutes. I would recommend the play group size of this to 3 or 4 players, though by no means is five a bad experience.
My game testers liked the decisions on chogs versus investigation cards as well as decisions to play certain investigation cards and making sure you do it in the right order, though they would like there to be better distinction of the clue and investigation cards and I personally would like to see an expansion or modifier where instead of paying the bank chogs for bad guys, you pay the player that put the bad guys on you.
Final Thoughts:
A fun, repayable game that packs light and is quick to learn.
Rating: 3.5 out of 5 Chogs!