From the imagination of Steven Spielberg, The Goonies plunges a band of small heroes into a swashbuckling surprise-around-every corner quest beyond their wildest dreams!
Following a mysterious treasure map into a spectacular underground realm of twisting passages, outrageous booby-traps and a long-lost pirate ship full of golden doubloons, the kids race to stay one step ahead of a family of bumbling bad guys…. and a mild mannered monster with a face only a mother could love.
Directed by Richard Donner and starring Sean Astin, Josh Brolin, Corey Feldman, Martha Plimpton, Kerri Green, Robert Davi, Joe Pantoliano, Anne Ramsey, Lupe Ontiveros and Mary Ellen Trainor, The Goonies is a film that still delights the young and the young at heart.
The Goonies has always been a favourite in this household. A Saturday morning type of adventure with a sprinkling of Spielberg magic caters for all ages with plenty of laughs, heart and excitement so it was a joy to sit down and revisit this classic Spielberg romp. Starring plenty of my favourite on screen actors (some in the first roles as well) like Sean Astin, Corey Feldman, Robert Davi and Josh Brolin, the onscreen chemistry between all the Goonies makes you feel like you're one of them. The relationship between Chunk and Sloth in particular is always a winner and will have your heart strings being pulled towards the finale. It's a shame that they couldn't capture that magic for the much discussed sequel but with what we have, it's perfect as it is. One of the things I noticed is how harsh the film did come across in certain scenes. Considering we've been having to suffer a censored version of the film since 1985 (up unto mid 2000 where the film was finally released uncut with the more intense scenes and profanity restored, the Blu-ray is uncut as well), it shows how movie making has changed over the years and is now a bit tamer for family viewing.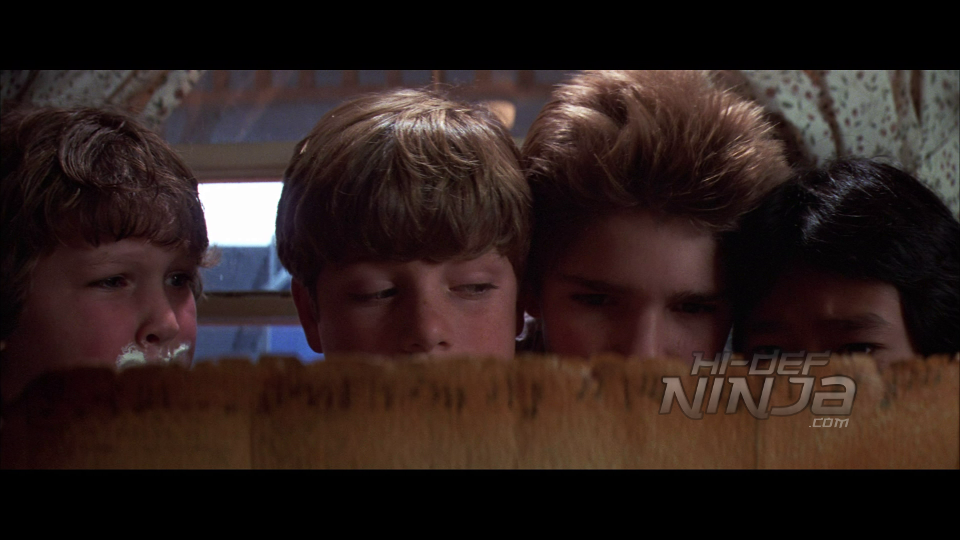 The Goonies arrived on Blu-ray with a VC1 1080/24p transfer that preserves the film's original 2.35:1 aspect ratio. Originally filmed on anamorphic 35mm, the visuals on display here are a bit dated for the HD format. There are a handful of scenes that look a bit soft but this is due to the technical limitations of the Panavision anamorphic format. There does also seem to be some very mild filtering applied as well since some scenes do look a little 'clean' compared to others. Gain was on display in the other scenes locking in the finer details though which gives it a nice filmic look. On the upside though, the film is quite colourful throughout and there were no other digital tinkering like edge enhancement observed. It would be nice if Warner did a fresh scan of this sometime soon instead of recycling the same outdated disc. It's worth noting that the actual feature film takes up less than half of the 50GB disc. It's around 19GB in total which is fairly small considering. The version with the video popup is encoded separately on the disc and takes up about 22GB of the disc space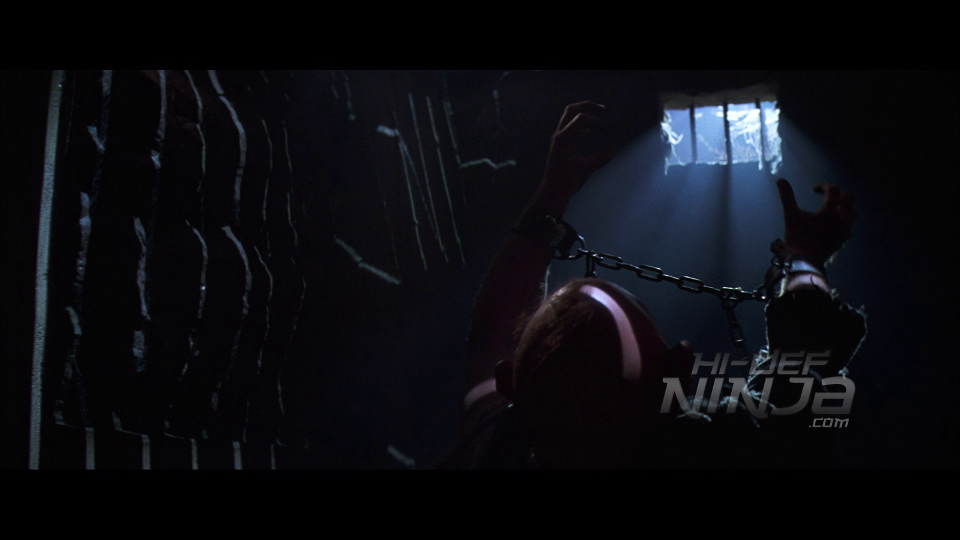 ;
The Goonies comes equipped with an English Dolby TrueHD 5.1 audio mix (be careful because the film defaults to the lossy Dolby Digital 5.1 mix when it automatically starts playing). Original mixed in Dolby Stereo for its 35mm engagements (six track stereo for its 70mm presentations), the mix on offer here was quite delightful throughout. It's not exactly a surround sound extravaganza since most of the action is in the front stage but the surround channels do kick in from time to time to add a bit of atmosphere or one of the stronger panning effects. LFE was nicely used as well! Giving a bit of punch to some of One Eyed Willy's booby traps, it gave the film a really nice touch and a real cinematic quality.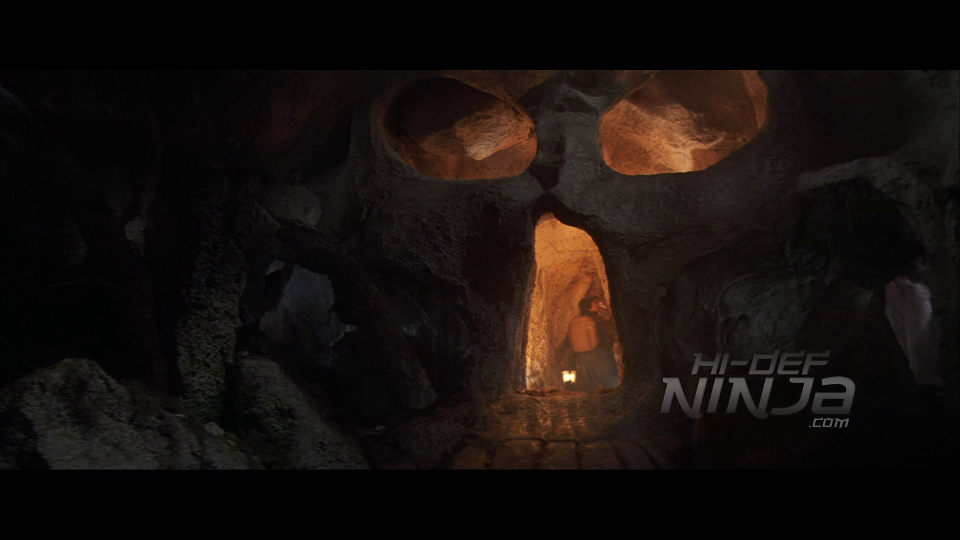 Commentary – Featuring director Richard Donner, actors Jonathan Ke Quan, Corey Feldman, Sean Astin, Kerri Green, Martha Plimpton, Jeff Cohen, and Josh Brolin.
Hidden Treasures – a pop-up video featuring the director and cast will display whilst listening to the audio commentary
The Making of The Goonies – A vintage 1985 promotional featurette featuring brief interviews and B-roll footage
Deleted Scenes – A small selection of deleted scenes (which are present in the extended TV broadcast version if you every caught it)
Music Video – Cindi Lauper's absolutely brilliant full length (12 mins) video for "The Goonies R Good Enough"
Trailer – Rounding the disc off is the original theatrical trailer
In the Box
Storyboards – a small envelope which contains 10 replica storyboards
Booklet – A pretty thick booklet which looks at the story and making of the film in great detail. Should be a good item for bedtime reading!
Empire Magazine – A reprint of the Empire magazine reunion article (please note this is really tucked away inside the package. I didn't even know it was there until a few days later)
Ultraviolet Digital Copy – For those movie fans who like their movies on the go, a redeemable code is included inside the package
The Goonies is certainly a classic family adventure film there is no doubt about that. The current Blu-ray release (which keeps getting recycled) is a bit outdated now (and fairly cheap if you shop around) and could do with a fresh scan and new retrospective bonus features in my humble opinion. This 30th Anniversary package does give the fans something new with a pretty chunky booklet about the history of the film but it's still shy of a bit of swag that was included in the American release (A board game….. which wouldn't be missed in all honesty). So it's a bit of a win and a loss for fans. But regardless of what's included, it's a bonafide family adventure film that certainly deserves a place in any collection and remember that Goonies never say die……