Back in 2001, Tom Cruise was in a place that put him between traditional action films that he is still currently making and the more dramatic and obscure projects that he was able to sell on his name. Vanilla Sky comes after Eyes Wide Shut, Magnolia and Mission: Impossible 2, but before Minority Report and all the high profile action films following his couch-jumping incident. Essentially, this was Cruise at the top of his game in a film that was quite weird and still seen with mixed thoughts from most. Now Cameron Crowe's most obscure features is on Blu-ray for many to either revisit or checkout for the first time.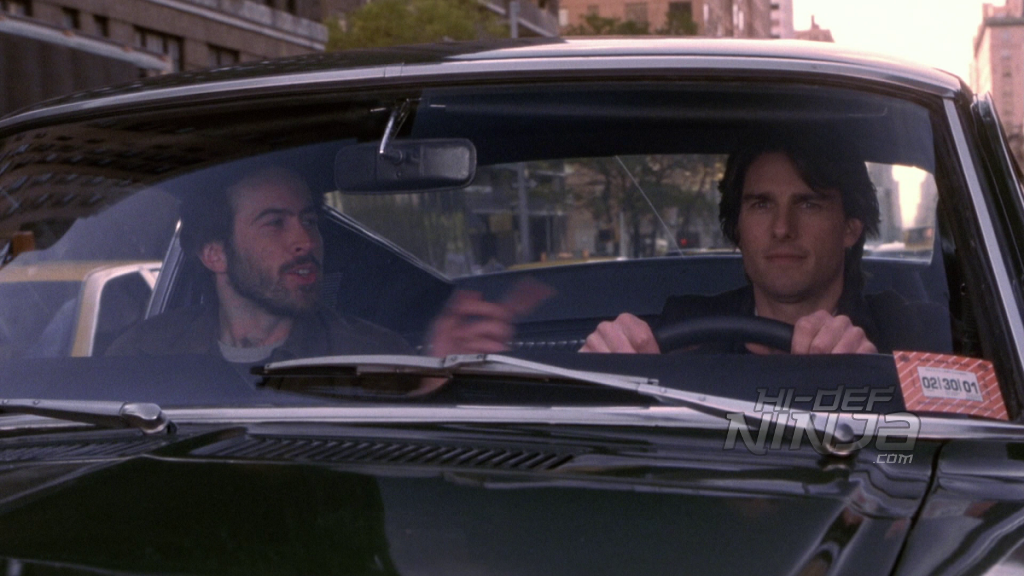 Personally, I have always been a big fan of Vanilla Sky. Considered a "remix" by Crowe of Alejandro Amenabar's 1997 film Abre Los Ojos, this is a film that takes the original's trippy premise and applies it to the world Tom Cruise. In this film, Cruise plays a very pointed version of his persona as if he were some sort of wealthy business owner, instead of an actor. Cruise's character, David Ames, is likable and friendly enough, but also not taken seriously by those who are on the board in his company.
A number of things happen to turn this film on its head. The first is his introduction to Sofia (Penelope Cruz). David finds himself instantly in love with this woman, following an all-night conversation with her on his birthday. The next thing is an unfortunate encounter with Julie Gianni (Cameron Diaz, in one of her best performances), a former lover of David's. This encounter rocks David's world and the film then goes into overdrive in an attempt to mess with the viewer in terms of what is going on in David's reality.
One wouldn't think describing a Cameron Crowe film would be so difficult (until Aloha was released), but Vanilla Sky has all the elements of a Crowe film, just pushed through a filter that is designed to disorient the viewer and have them question what is going on, rather than the nature of the relationships, which worked for films like Say Anything… and Jerry Maguire.  Because this film is deliberately puzzling though, it is understandable not to have gotten so much joy from how things go down.
Given the genre twists that take place in this film, it is also understandable to know why the film did not get the warmest reception, despite those who still hold it up high. I can understand it, but I admire the chances this film takes and I really like the performances. Cruise is really good here, as he is really tasked with holding a lot of weight on top of his somewhat limited shoulders. Cruise has never been an actor with a ton of range, but he does what he is capable of very well, which certainly shows here, in a film that challenges his image in a very interesting way.
Additionally, the supporting cast is stellar. I stated Diaz is probably at her best. Cruz is reprising her part from the original and this is maybe her best English-language performance. Jason Lee gets to have fun and it is nice to know Cameron Crowe got along with Lee well enough in Almost Famous to bring him back for more here. Lastly, Kurt Russell is huge for this film and he applies such a great warmth that allows this film to have the sort of emotional connection you need, in the midst of reality comprehension shifting and loyalties to David coming into question.
Production-wise, there are some neat tricks employed by Crowe to make this film work, as it features more visual effects than you would think and some key sequences that rely on creative filmmaking from his crew. The movie is a bit on the long side, but editing work is solid, when it comes to grafting a narrative flow on top of a storyline that takes some big twists and turns.
Lastly, the soundtrack is excellent. Nancy Wilson composes some great themes for the film, the track list is excellent, and the Academy Award nominated title song by Paul McCartney is wonderful. Vanilla Sky has been one of my favorite soundtracks for years, so having the film on Blu-ray is a great way to once again here these songs in a certain context.
While not perfect, there is a lot I have always admired by Vanilla Sky, with its ambition in particular being a standout aspect. It may be difficult to get a film like this made today, but Tom Cruise was at a great point in his career where he could get this film made and I like that. I like the chance he took and I am a big fan of this trippy story.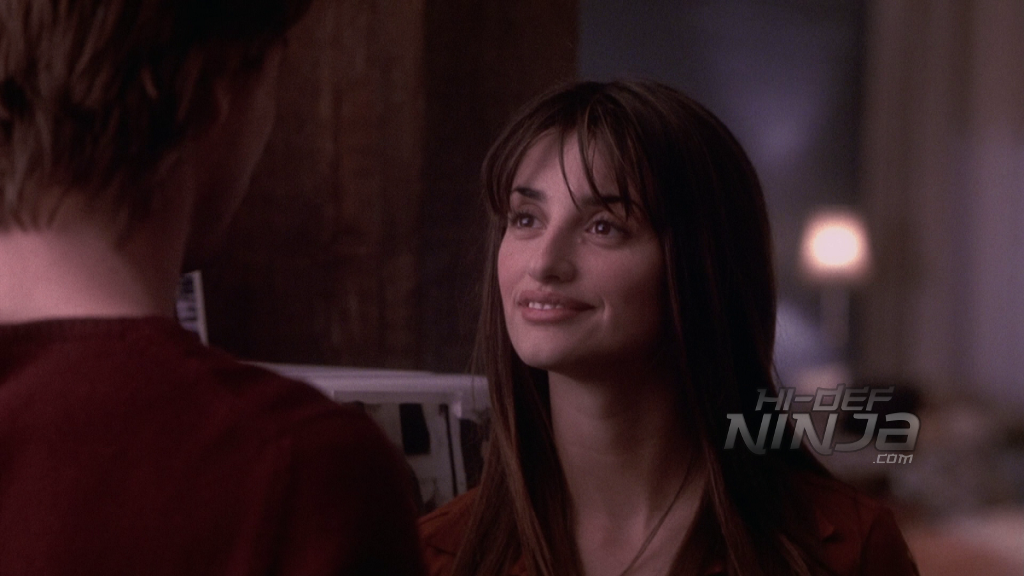 After a year of delays, Vanilla Sky arrives on Blu-ray with a pretty solid 1080p, AVC-encoded transfer. As Crowe did a lot to ensure a quality release, the film looks pretty good. Being shot on film back in 2001, there is not much of a reason to expect a bad-looking motion picture, but Vanilla Sky is not a top notch release either. It is more than fine, as we get to see a film that plays a lot of narrative tricks, which are reflected in the cinematography, but the picture looks notably soft. That said, interiors and certain settings play well thanks to strong black level balance and good facial texture work. Overall, it is fine, just not absolutely amazing as some may have hoped.
The lossless DTS-HD audio track is great. The wonderful soundtrack is represented in the best of ways and dialogue is loud and clear. This is something I more or less expected, but it is great to hear this film in action, and to get a load of a well-handled mix. The balance is spot on, which is especially notable in places where the soundtrack suddenly overtakes the dialogue and sound effects taking place in the film. Really, this is pretty much the way Vanilla Sky was meant to be heard.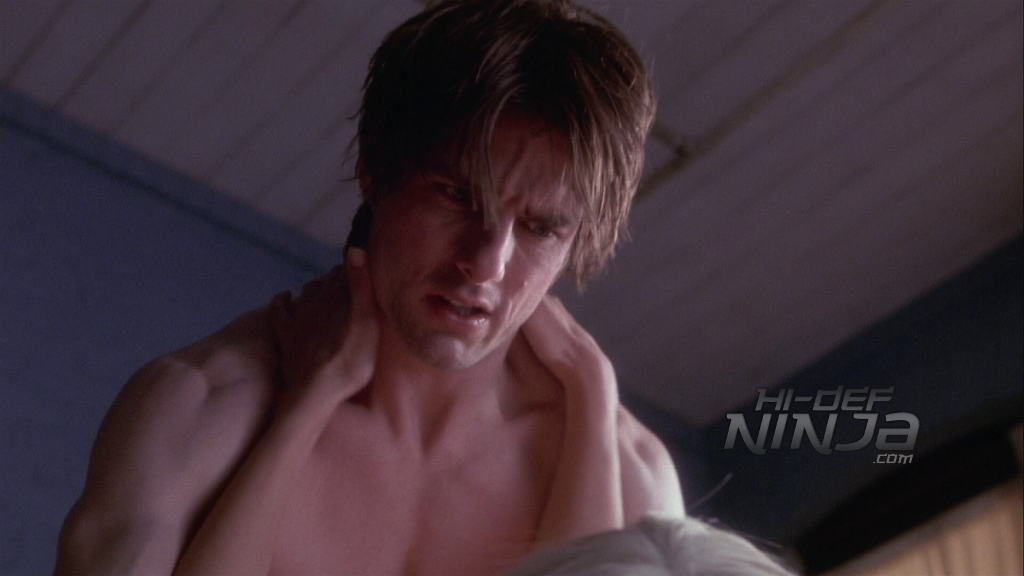 There were delays of release of this Blu-ray for a reason and that is because Cameron Crowe wanted to be sure he could add all the extra's he wanted to this new release of the film. That said, there were already a lot of solid extras on the first edition, so you really have plenty to enjoy.
Features Include:
Alternate Ending – The most notable extra is this entirely different ending to this film, which features a similar conclusion, but arrives there in a different manner. It is easy to see why the theatrical ending was used, but this was an interesting thing to finally see. What is great is how the film can seamlessly branch into this alternate ending, by selecting that option at the beginning. The new ending begins around the 1:50:00 mark and you can even here a newly recorded section of the audio commentary by Crowe, who goes into why it was changed.
Commentary with Cameron Crowe and Composer Nancy Wilson – Crowe provides great commentary tracks and this one is pretty fantastic. Nancy Wilson speaks a little too and there is even a bit of talk from Tom Cruise via phone.
Deleted Scenes (with optional commentary by Cameron Crowe) – About 30 minutes of material here. Some is old and some are never-before-seen deleted scenes.
Mask Test (with optional commentary by Cameron Crowe) – A look at the process of finding the mask that has a big impact on the film.
Kurt Russell Single Take (with optional commentary by Cameron Crowe) – This is a great look at one big scene from Kurt Russell, unedited. You can see his process and how compelling the guy can be at trying to find what works.
Prelude To A Dream – An introduction to behind-the scenes of the film.
Hitting It Hard – A look at the film's press tour.
An Interview with Paul McCartney
Gag Reel
Music Video for "Afrika/Shox" by Leftfield/Afrika Bambataa
Photo Gallery with Audio Introduction by Photographer Neal Preston
Theatrical Trailers
Credits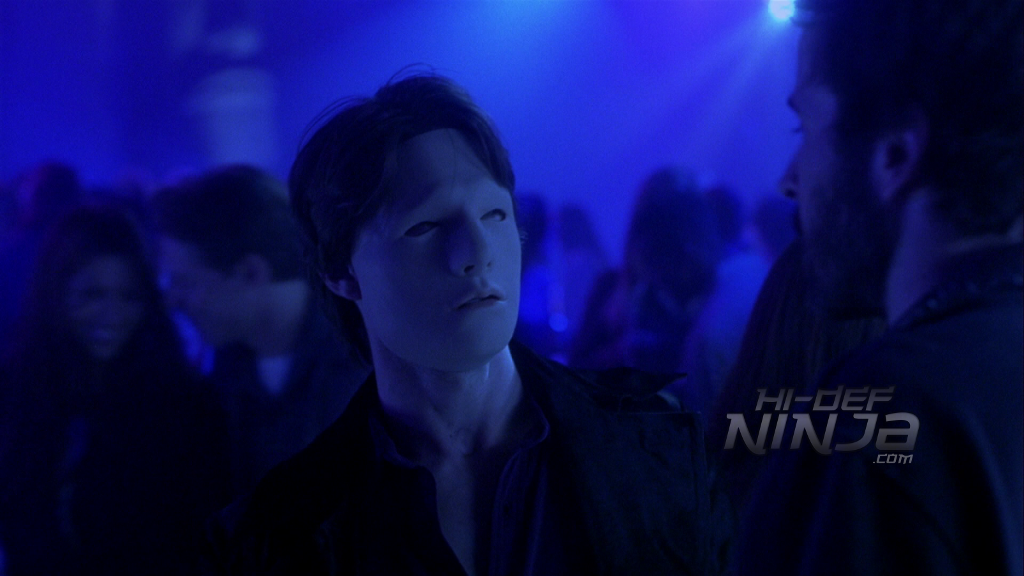 I am aware I am one of the bigger champions of Vanilla Sky out there, but there is a lot to be said for a film like this and how solid it is, when considering when it came out, the big names involved, and what it gets right. Sure, the narrative complexity may have been handled better by a filmmaker more adverse to a film of this nature, but Crowe basically had a chance to experiment and it hits far more than it misses. The Blu-ray is also quite stellar. The video is decent, but the audio is great and the new extras are fantastic. Seek out this release if you can and enjoy what you can get out of it.