Following my reports on the new sets in the Ninjago line announced prior to the New York Toy Fair and my report from the show held at the Javits Center in February, I was able to obtain from Lego a review set of Misfortune's Keep (70605) which I have now painstakingly built, brick-by-brick, just to give you a review.
Comprised of 754 pieces, the set includes seven mini-figures (I've included the monkey in my count) and three ships (Misfortune's Keep, a pirate jet, and Lloyd's jet) which is more than enough to let you to recreate scenes from the NINJAGO: Masters of Spinjitzu TV show.
Put any Lego in front of me and I'll happily build it, so of course I enjoyed building this set. What's most fun for me is seeing the progression from random pieces to a completed set and I have to give the Lego set designers credit for continually improving the build of each set. Overall, I enjoyed building the set and the 750 pieces kept me busy.
Features:
Lloyd's jet, while a nice ship, does not contain the most features, but has one neat one: a winch controlled by a rotor on the top that can raise and lower a rope for Jay. On a side note, Jay and Kai both have two ninja swords each which slide into sheaths on their back; a neat part.
Misfortune's Keep, however, is packed full of goodies and details: the sides of the ship open up to expose firing canons, a slide on the top shoots disks, and a lever on the top will rotate the engines which also feature spinning rotors.
Launching from the launchpad of Misfortune's Keep is also the pirate jet, which, while the smallest ship in the set, still manages to include some nice features including flappable wings, a spinning rotor, and mini projectiles.
Conclusions:
Overall, build time for me was 2:40, however, I was taking my time building it and I'm sure I could shave some time off if I was fast-building. At 754 pieces, Misfortune's Keep is one of the larger sets in the series and the largest NINJAGO set released in 2016. All-in-all, Lego has packed a lot into the set from the many projectiles to the lowering winch on Lloyd's jet, and the rotating engines with spinning propellers. Priced at $79.95, it may put a dent in your wallet, but what you get is worth it.
Mike's Favorite Feature:
Almost upon opening the first bag, I found my favorite feature: Monkey Wretch. I mean, really, can anything beat a monkey holding a gun and a hammer?!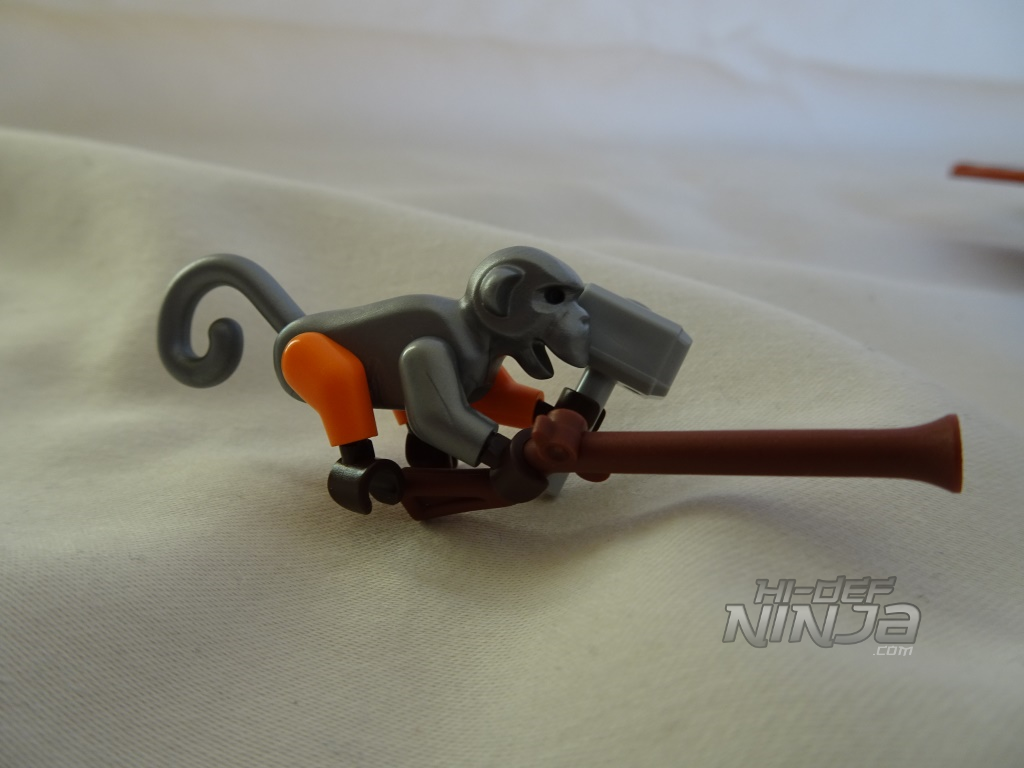 Discuss all NINJAGO sets here and be sure to head out to the official NINJAGO Lego site here where you can learn more of the line and buy all the great NINJAGO sets.
Overall Rating: 4 NINJAGO Stars
Oh, and for reference, this is my elaborate building area: