The much-anticipated fourth volume of RWBY arrives on October 22nd, but before that happens, Rooster Teeth and Cinedigm want fans to relive the action, excitement, and drama of the first three volumes — collectively known as the 'Beacon' arc — by releasing the first-ever Blu-ray SteelBook for the globally acclaimed, award-winning animated series.
Following the success of their first collaboration, the RED VS. BLUE: THE CHORUS TRILOGY SteelBook, Rooster Teeth Animation and Scanavo have once again worked closely together to create a truly stunning package that features new artwork for the cover, interior, and discs.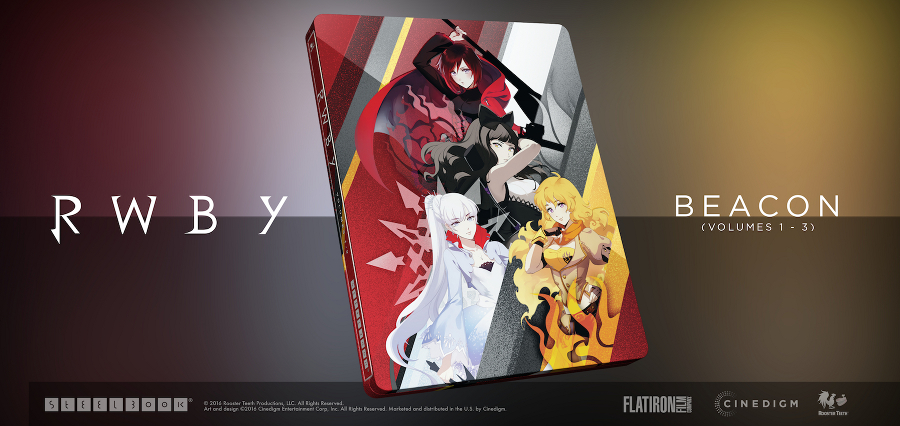 Official RWBY Synopsis:
A young hero, an exalted heiress, a troubled rogue, and a party girl… These are the four members of RWBY, a team brought together and trained for the sole purpose of combating the rampant evils that plague the fantastic world of Remnant. 
RWBY focuses on 15-year old Ruby Rose, a young girl who has just been accepted to Beacon Academy.  This ancient school was founded to train the monster-slayers known as Huntsmen and Huntresses.  However, Ruby will not be alone.  Upon arriving at Beacon, she is promptly paired with Weiss Schnee, Blake Belladonna, and Yang Xiao Long.  If these four girls want to graduate, they'll have to learn to work together both on the battlefield and in the classroom.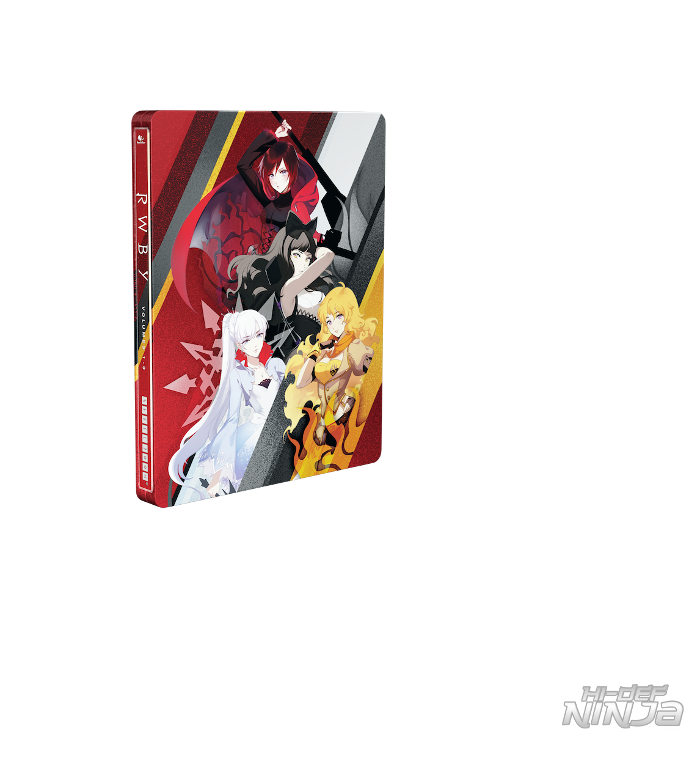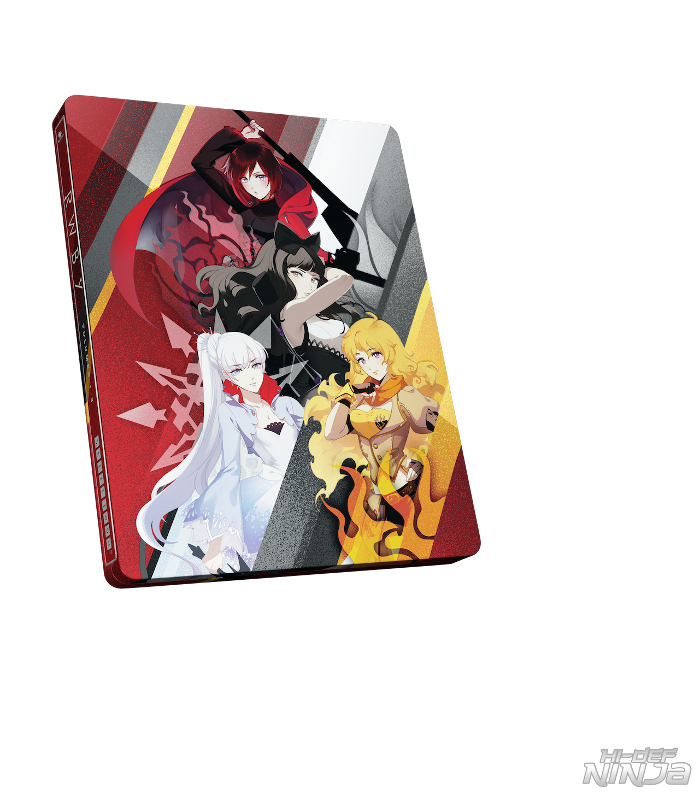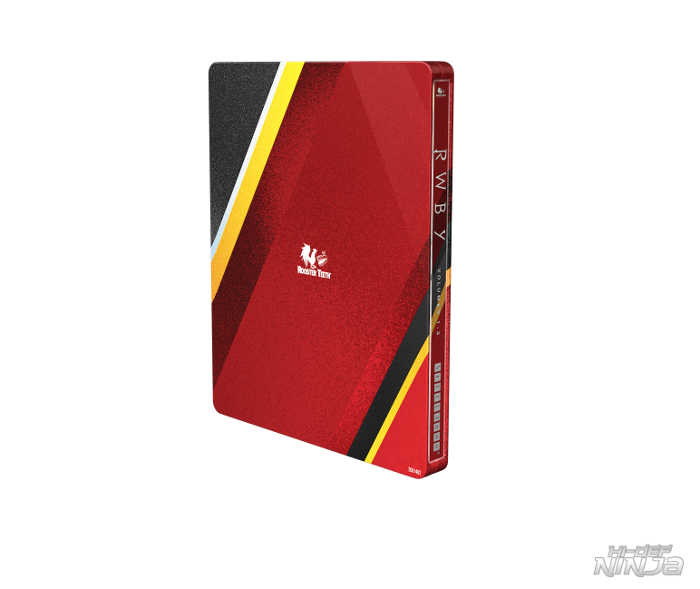 "Rooster Teeth has been very excited to work with Cinedigm and Scanavo to design a RWBY SteelBook® that collects the first three volumes in one place. Whether you've been a fan all along or are just now starting to watch RWBY, you're going to want this beautiful edition gracing your shelves."

– Gray G. Haddock, Head of Rooster Teeth Animation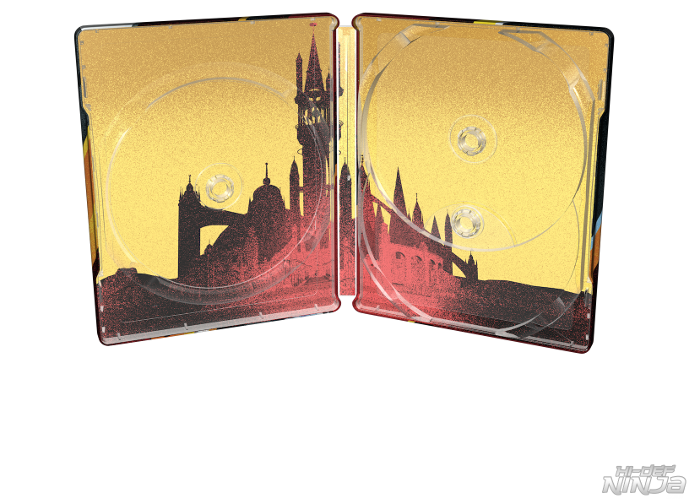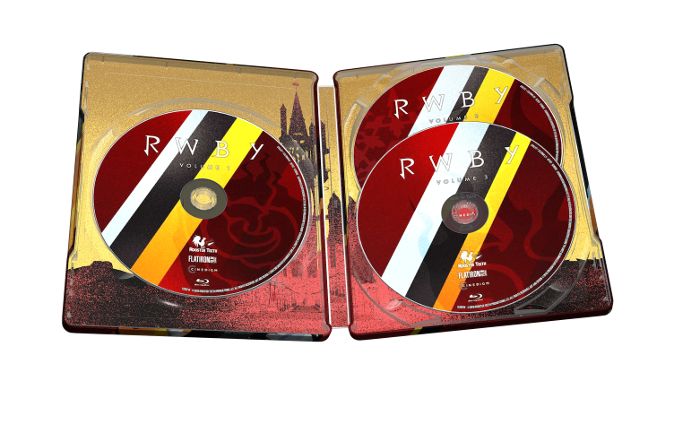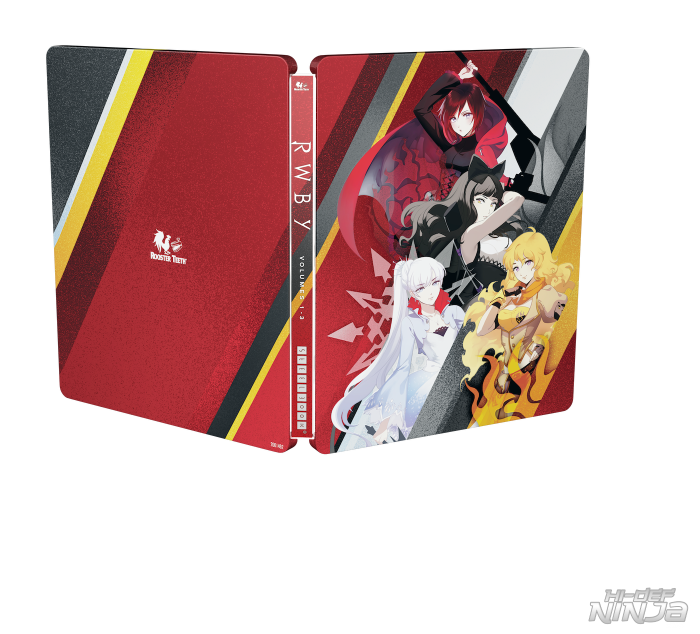 "We love creating artwork for Rooster Teeth because everything they do is for their fans, and that aligns perfectly with our own passion. Designing the RWBY: BEACON SteelBook® case meant creating something beautiful to give back to the fans of the show. We are very proud of the work, and can't wait to see in in the hands of the fans."

– Marcin Pogorzelski, SteelBook® Division Senior Creative of Scanavo North America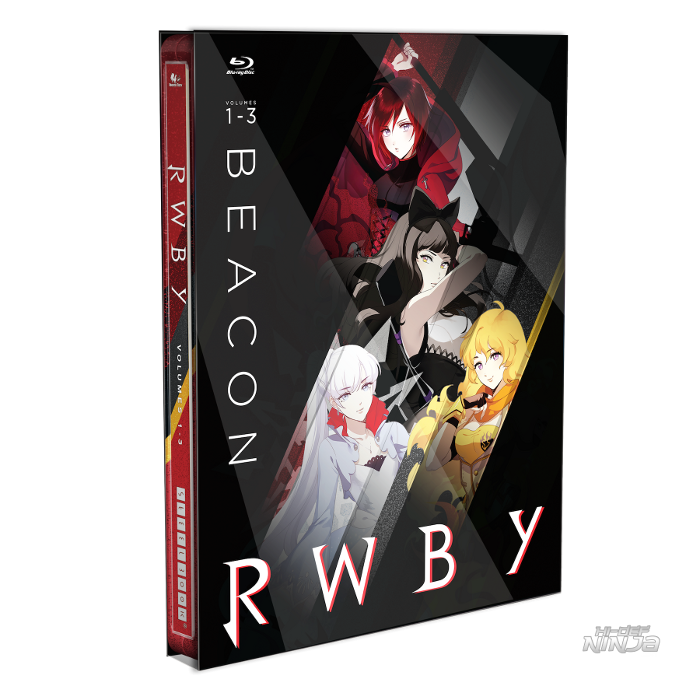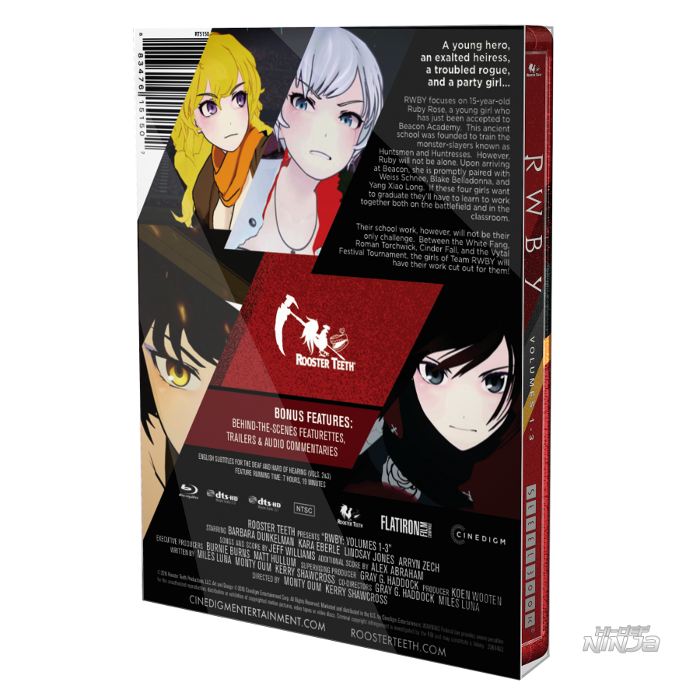 The 3-disc, limited edition RWBY: BEACON Blu-ray SteelBook will also come with a plastic slipcover that will not only protect the case, but also add to the highly-detailed artwork — guaranteeing that this'll look great on your shelf next to the RED VS. BLUE: THE CHORUS TRILOGY SteelBook as it also included a similar slipcover.
The RWBY: BEACON Blu-ray SteelBook hits retailers on October 4th with an SRP of $49.97.
—————————————————————
ABOUT ROOSTER TEETH
Rooster Teeth is a pioneering studio responsible for some of the biggest online series in history, such as the award-winning and longest-running web series, "Red vs. Blue." Rooster Teeth also produces the globally acclaimed animated series "RWBY," the first western anime series to be distributed in Japan, the award-winning "Rooster Teeth Podcast," and "Immersion," a reality format that brings video game theory to the real world. With a massive global footprint of more than 25 million subscribers to its YouTube Network, 3 million unique monthly visitors to its RoosterTeeth.com hub and 1.8 million registered community members, Rooster Teeth was founded by Matt Hullum, Burnie Burns, Gus Sorola, Geoff Ramsey, and Joel Heyman in 2003, and is now a subsidiary of Fullscreen, Inc., a global youth media company that develops online creators and produces multi-platform entertainment experiences. Discover more at http://www.roosterteeth.com.
—————————————————————
ABOUT CINEDIGM
Cinedigm is the leading independent content distributor in the United States, with direct relationships with over 60,000 physical and digital retailers, including Wal-Mart, Best Buy, Target, iTunes, Netflix, and Amazon.  The company's library of over 32,000 titles and episodes encompasses award-winning documentaries from Docurama Films®, next-gen Indies from Flatiron Film Company®, acclaimed independent films and festival picks through partnerships with the Sundance Institute and Tribeca Films and a wide range of content from brand name suppliers, including National Geographic, Discovery, Scholastic, WWE, NFL, Shout Factory, Hallmark, Jim Henson and more.  Cinedigm proudly distributes numerous Oscar®-nominated films, including The Invisible War, Hell and Back Again, GasLand, Waste Land and Paradise Lost 3: Purgatory; current and upcoming theatrical releases include Destin Daniel Cretton's highly acclaimed Short Term 12,  Godfrey Reggio's Visitors, Penny Lane's Our Nixon and Shaul Schwarz's Narco Cultura.
Cinedigm™ and Cinedigm Digital Cinema Corp™ are trademarks of Cinedigm Corp www.cinedigm.com.
—————————————————————