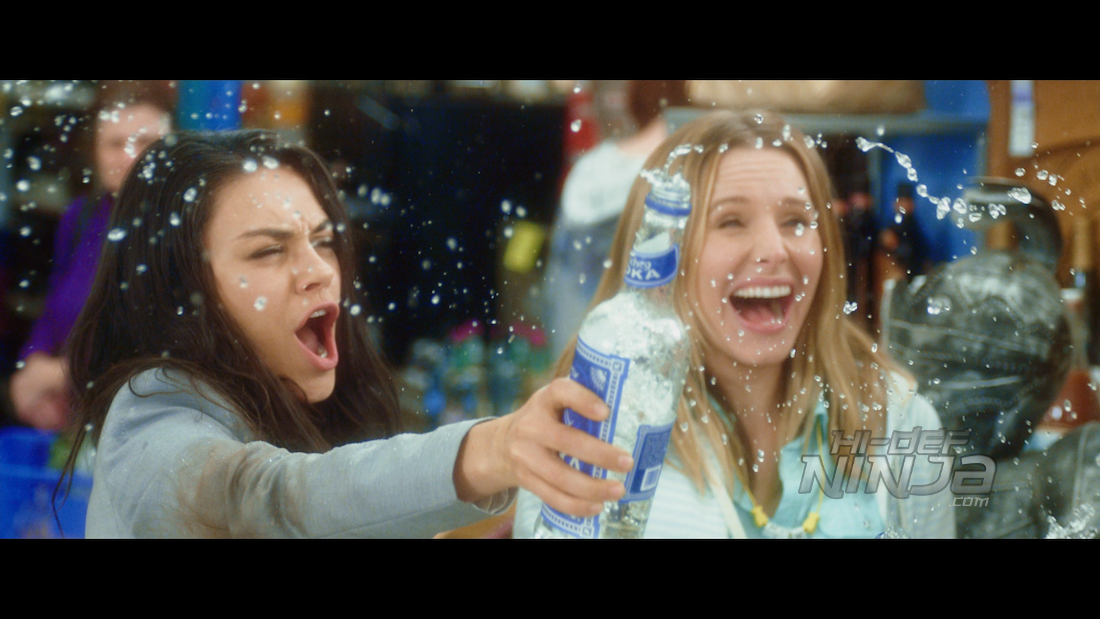 BAD MOMS Blu-ray Review
The Movie

Video Quality

Audio Quality

Supplements
Amy is a typical, married working mother of two. She makes breakfast, runs the kids to school, then she goes to work, runs back to pick up the kids for their extracurriculars, home to make dinner, help with their homework and maybe gets some sleep before she has to do it all over again. One morning while she is dropping off the kids, she is stopped by Gwendolyn James, one of the mothers and leader of the PTA, who tells Amy about an upcoming meeting.
At home, she ends up catching her husband cheating with a a girl over the internet. As the stress keeps piling on, she ends up late to the PTA meeting. Gwendolyn assigns her a task because she was late to the meeting and this was the last straw…Amy decides that she is done being a mom and all the crap that comes with it. 
The duo of Jon Lucas and Scott Moore wrote & directed the movie. They also worked together on the comedy film 21 & OVER which was the run of the mill college-aged comedy. This one focuses on moms with kids of a lot of different ages. The movie starts a little slow but once the trio of Mila Kunis, Kristen Bell, and 
Kathryn Hahn get together, it steps things up a notch. These three should definitely do some more movies together because they have a lot of good chemistry. Some of the other characters are a little over the top but not to the point where they become uninteresting. 
This movie is out of control. Being of a certain age, I have seen what some of my friends go through as moms and, given the right amount of stress, I could see them doing something similar to this. 
Cast
Mila Kunis – Amy Mitchell
Kristen Bell – Kiki
Kathryn Hahn – Carla
Christina Applegate – Gwendolyn James
Jada Pinkett Smith – Stacy
Annie Mumolo – Vicky
Jay Hernandez – Jessie Harkness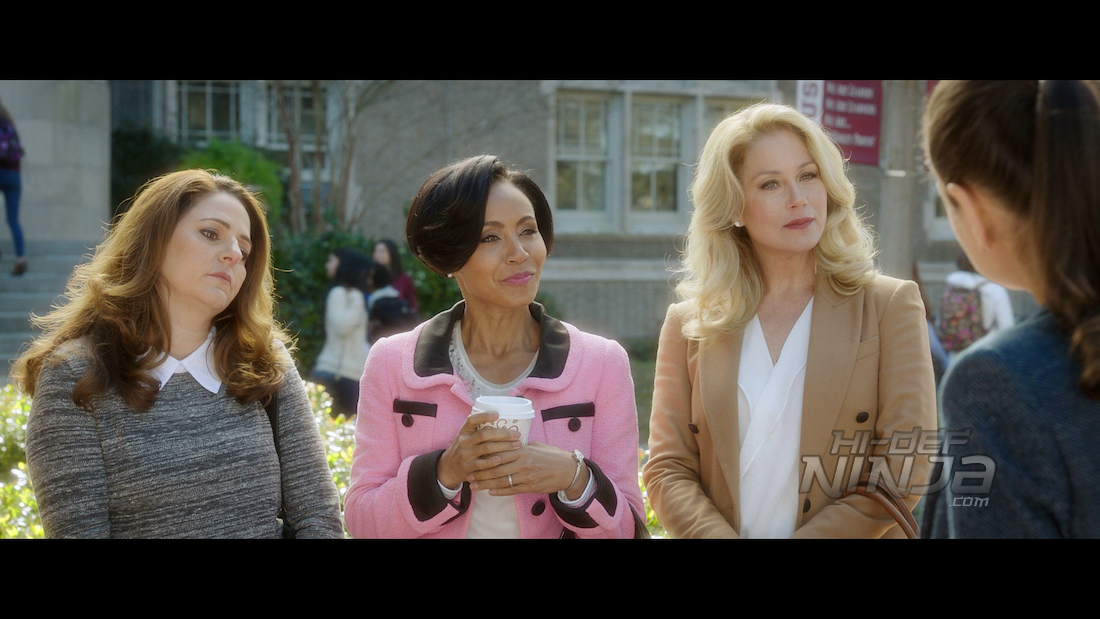 VIDEO QUALITY:
The transfer for the movie is a good one with bold, solid coloring. One of the brightest and most frequently used examples is Amy's Dodge Charger. The red is brilliant and looks gorgeous on screen. Unfortunately, there is also an issue that is seen throughout the film: the softness. The images have a consistent softness that make some of the contrasting and details get muddled together. This was a choice made during filming and not anything that happened in the authoring stage.
AUDIO QUALITY:
As for the audio, this is a strong mix. There is plenty of heavy LFEs and clear highs in this 7.1 mix. There are sound effects that move through the sound field and are well reproduced when in the front. Not only the roaring of the Charger but also some of the music are sure to utilize the digital track. For this type of movie, Universal went above and beyond to include such a remarkable mix.
SUPPLEMENTS & PACKAGING
:
-Cast & Mom Interviews: These mini interviews are with the cast members and their real moms just like during the credits.
-Gag Reel
-Deleted Scenes
Disc Details
2 disc set w/ 1 Blu-ray and 1 DVD
Digital copy
Running Time
101 mins
Edition Ratings
Rated R
Region Coding
Region Free
Video Resolution
1080p AVC MPEG-4
Aspect ratio: 2.40:1
Audio Mixes
English DTS-HD Master Audio 7.1
Subtitles
English SDH
French
Spanish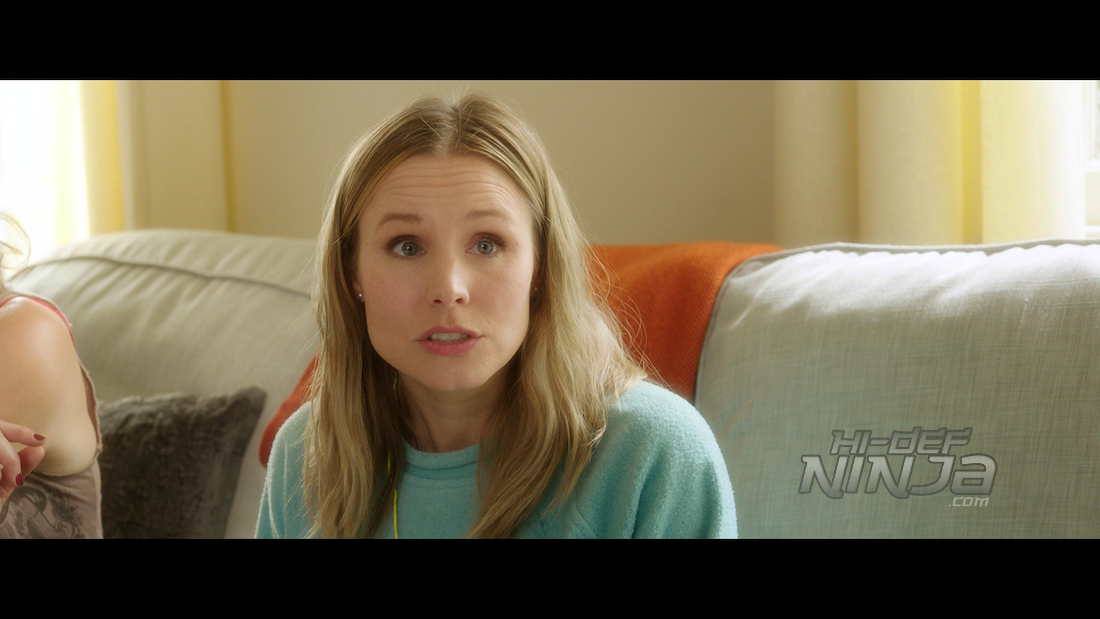 THE BOTTOM LINE:
BAD MOMS is a comedy that falls into the same areas as BRIDESMAIDS. The comedy is vulgar, in your face and I love it. Like I said, this could easily be how some of my friends who are supermoms like Amy might react if pushed to the edge. The Blu-ray has a decent transfer but that softness does negate any of the sharper details. However, the audio is on point with a very strong mix. The extras are a little light but most comedy releases are this way. This is a fun movie and I would recommend checking it out.