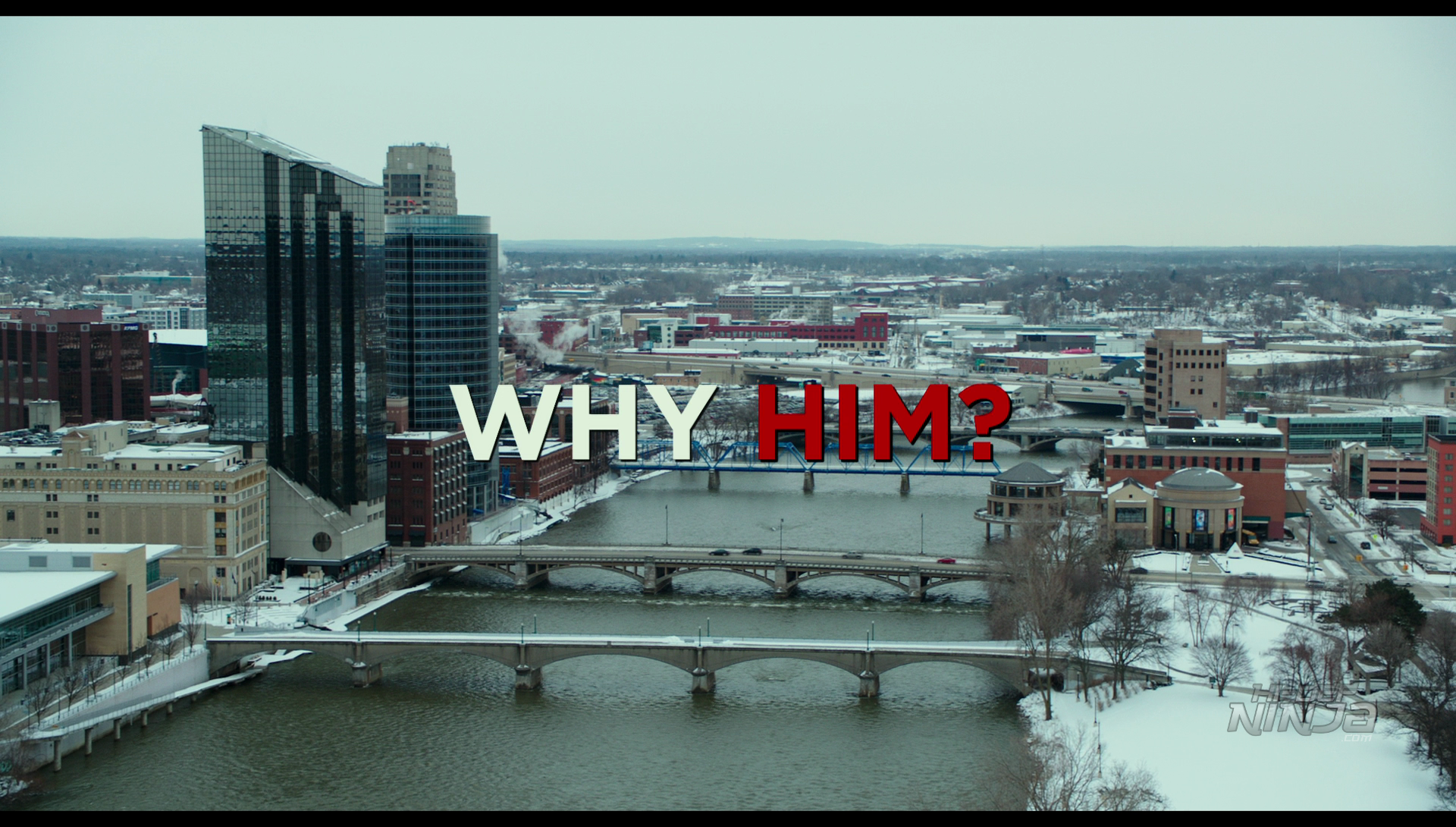 The over-the-top of WHY HIM? is a heaping of hilarity that looks great on Blu-ray and 4K.
By Matt Cummings
If you felt the frankly ridiculous slew of films in December 2016 left us with way more choices than time, get in line. And although it was totally eclipsed by ROGUE ONE: A STAR WARS STORY, the raunchy comedy WHY HIM? proved to be a modest hit for 20th Century Fox, raking in a nice $117m worldwide from a $38m budget. That's pretty good for a film that got virtually no press and had to exist on word of mouth. But boy was it earned: WHY HIM? is a hilarious non-stop ride that gets off on tickling every funny bone in your body, whether you want it to or not. Its arrival on Blu-ray and 4K looks great and is filled with lots of great supplements.
THE MOVIE
Michigan natives Ned (Bryan Cranston) and Barb (Megan Mullally) Fleming own a successful paper company for years and have raised two kids including Stephanie (Zoey Deutch) who's far away studying at Stanford. On his 55th birthday, Stephanie pays dad a visit over Skype, only to be interrupted by the naked rear of her boyfriend Laird (James Franco). A shocked and embarrassed Ned and Barb soon learn that their daughter is not only dating the flighty and foul-mouthed Laird but is in love with him. What they don't realize is that he is also the head of a giant gaming company and lives an opulent and lawn-to-kitchen lifestyle in Silicon Valley. When Stephanie invites the family to Laird's lair for Christmas, the conservative couple learn of Laird's eccentricities, including his penchant for sexually-themed statues, the potty-mouthed house AI (voiced by Katie Cuoco), and Laird's "estate manager" Gustav (Keegan-Michael Key) who also serves as his sparring partner. Things get even more out of hand when Laird asks for Ned's permission to marry Stephanie, which sets Ned on a path to uncover as much dirt as possible on the young upstart. The result will see the two tussle and The Flemings fracture along the crass and unfiltered fault line known as Laird Mayhew.
WHY HIM? is simply hilarious and one of the best comedies of 2016, not because it does anything necessarily new, but because it reorganizes the pieces of a raunchy comedy into an agreeable new shape. It starts with Cranston, who's ready and able to slide into virtually any role (see MALCOLM IN THE MIDDLE, THE INFILTRATOR, and even ZARDON in POWER RANGERS) with perfect professionalism. While one of Hollywood's great actors, Cranston is largely forgotten for his straight-man comedic genius, which he dusts off here after what seems like a two-decade vacation. Every scene revolves around him, and Director/Co-Writer John Hamburg lets Cranston have it all. He exudes the father figure here so well that his chemistry with Franco makes them a potent duo, especially when Laird goes off the deep end and Ned is forced to roll with the punches. Franco looks seriously stoned throughout the film, but he's right on target as the house-sharing, filter-less millionair. WHY HIM? could have devolved into an uncomfortable experience had Hamburg not known exactly where that line existed (apparently, Moose piss and balls are just about right). But he does an excellent job of curtailing what could have been an runaway train into such an effective comedy.
WHY HIM? also succeeds because Co-Writers Hamburg and Ian Helfer and Editor William Kerr manage to get the most out of even the smaller roles, including a rather subdued Mullally and the Fleming son Scotty (Griffin Gluck). Scotty is the child prodigy, and Laird's expansion of his abilities is almost brotherly, while Deutch plays Stephanie with a tough self-reliance that keeps Laird in surprising check. WHY HIM? also works because it's an eminently satisfying Father-Daughter story, focusing on Ned's pure love for Stephanie and his desire to see her maximize her potential. When we first learn of Laird, we can admit to ourselves that he represents the one guy you wish your daughter would never bring home. Luckily, our creative team make him so lovable that we can't help but call him 'son' by film's end, a move that Laird himself would be proud. Key is also a joy here, whether it's attacking his boss from the trees or helping Ned with the smart house toilet (which is one of the best exchanges of the film).
WHY HIM? clicks on all cylinders, although I know some will roll their eyes at just how raunchy things inevitably get. It takes all those pieces we enjoy about comedies (including a well-done subplot regarding Ned's failing business) and mixes it into a fizzy Christmas party drink that we only find out later has been spiked with some illicit drug. At least we didn't wake up this time to find ourselves missing a kidney (again).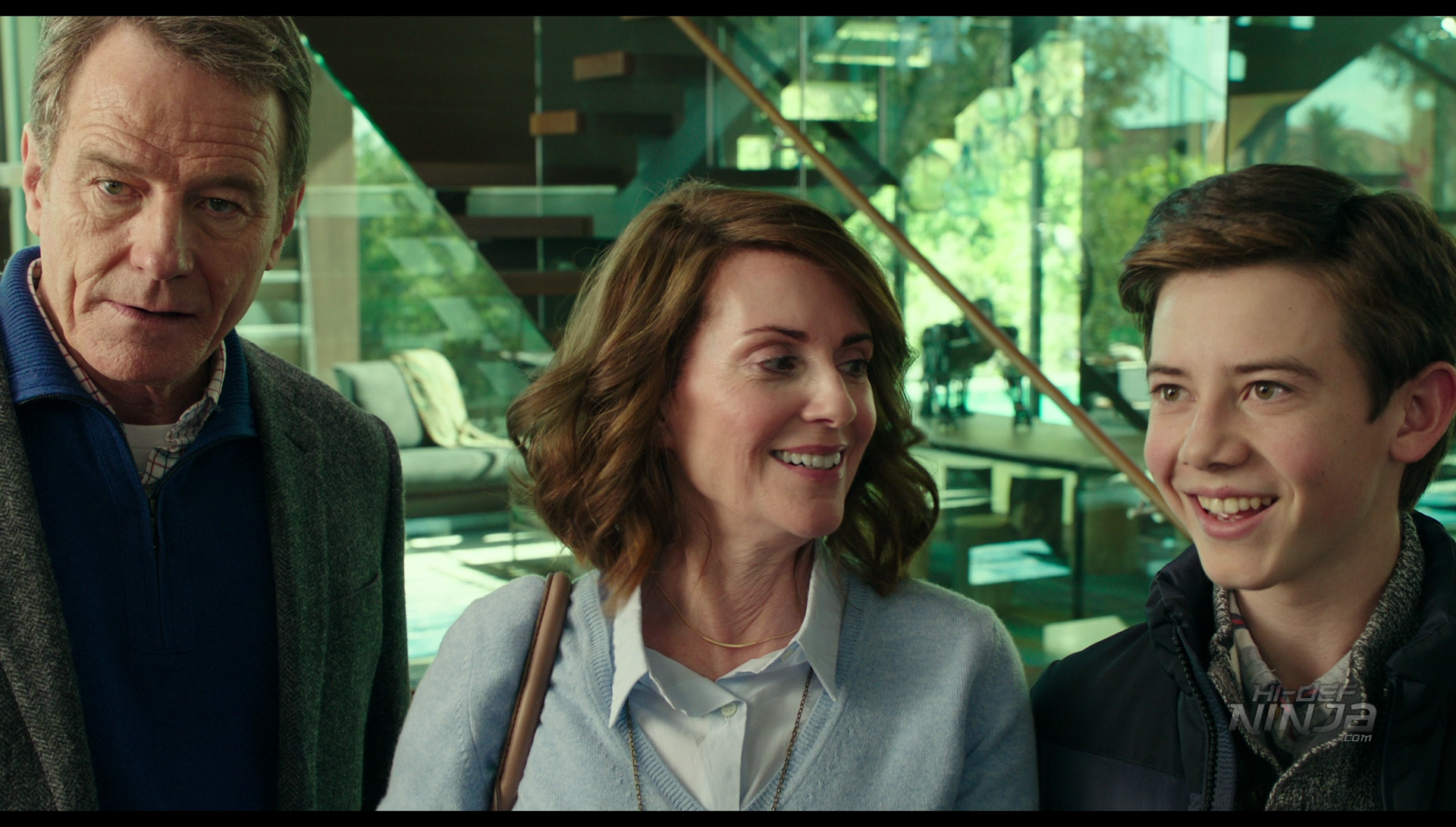 THE VIDEO
20th Century Fox's presentation of WHY HIM? is a surprisingly gorgeous visual experience. Shot on the Arri Alexa camera, the MPEG-4 AVC transfer provides a crisp sharpness that's also beautifully toned. Colors are saturated but never bleed, showing off lovely Christmas reds and revealing sharpness in whites that even make snow banks look good. Browns are also stunning, such as Laird's kitchen with it paneled doors. His Man Mansion offers up a wide color scheme, and Fox's transfer is ready for it all. Skin tones are realistic, with individual strands of hair in Ned's perfect coif on display. Our evaluation copy arrived with a 4K disc, and we were impressed with how much more we could see when we took the movie onto another platform. Both discs treat blacks and shadows very well, which are illustrated when Ned and Stephanie have it out during a holiday party that soon gets out of hand.  You can see shadows fade to black behind Cranston, never losing their detail even as night takes over behind him.  Of course with a print like this, we get zero aliasing, banding, or other issues; the 4K is so good that you might get ill with just how bad Franco's skin looks throughout. All in all, this is one of the best transfers of early 2017, and that says a lot with all the high quality goods we've been reviewing lately. I'd go so far as to proclaim it as reference quality.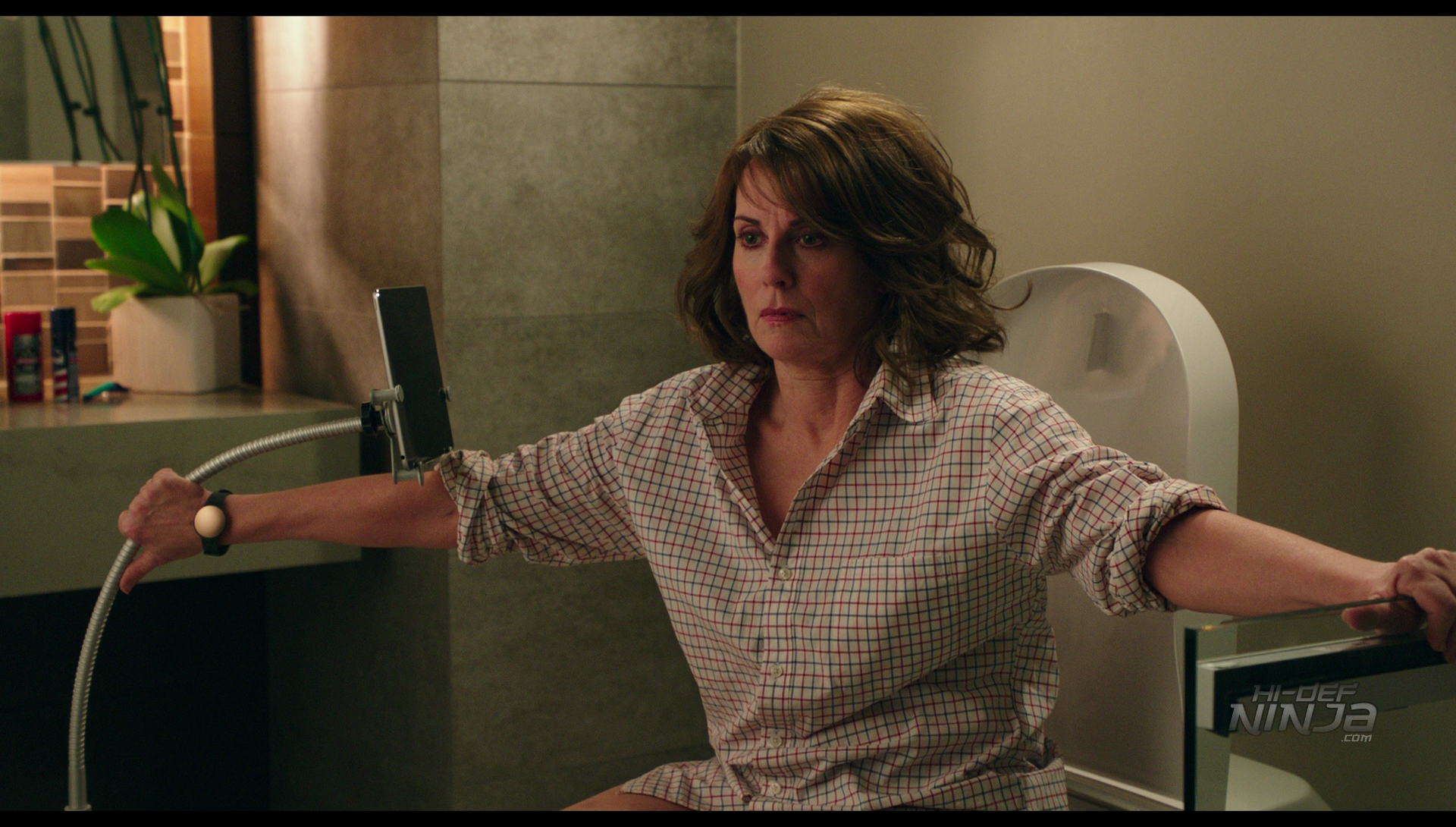 THE AUDIO
WHY HIM? from 20th Century Fox Home Entertainment features a nice but uneven audio presentation that's bordered by a completely unnecessary DTS-HD Master Audio 7.1 mix. The main problem is that the track is so quiet in parts that the 7.1 only comes alive once in awhile, and the effect can be a tad jarring. Our 5.1 downmix tends to make these experiences pretty loud, and that holds here as well, such as in a helicopter scene near film's end. It's not terrible, but with so much going through the center channel, we would have hoped that the audio would have been spread out across all speakers. Having said that, dialogue is perfectly situated and the left and right channels are solid throughout. Now if those surrounds had been given more to do, we would have been entirely satisfied. Instead, there are whole scenes in which the rears are dead silent, leading me to wonder if things back there had failed, until of course a booming party scene or orchestration by Composer Theodore Shapiro snaps us back into it, led by a sometimes boisterous LFE. You do get the occasional crowd noise, but one would think technicians would go back in Post-Production to make things a bit more involved.  Our 4K setup passes through a sound bar, so we couldn't comment on those specifics, therefore our score reflects an entirely 1080p experience.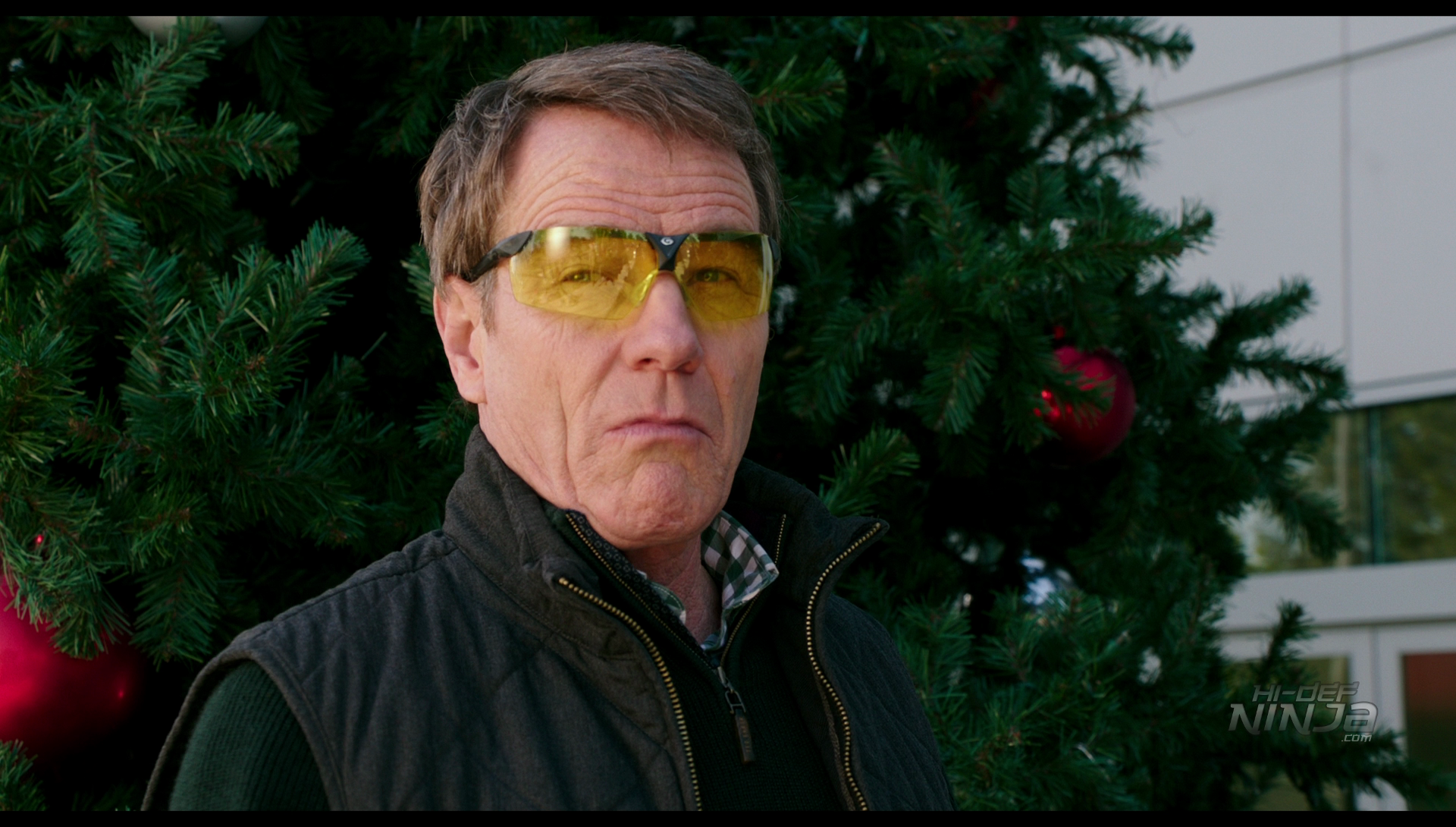 THE SUPPLEMENTS
WHY HIM? is also very good in the supplements section, offering us just about everything we could hope for. In a time when even serious films don't get a commentary, Hamburg goes the extra mile here to deliver one. Everything else is displayed in HD, but only the commentary is included on the 4K:
Gag Reel (9:58): This is a different kind of reel, editing various gags into other behind-the-scenes moments of the cast and crew prepping for shooting.
47 Minutes on the Can (6:39): One of the funniest moments of the film, we learn how a last-minute re-write resulted in a 47-minute comedic marathon on the toilet. Classic.
Why Gustav? (4:23): Key's genius is on display in a featurette about Laird's assistant.
Barb Fleming: America's Mom (5:44): A profile about Megan Mullaly's character.
Lou the Entertainer (4:27): Cedric is on display here.
Richard Blais: Twisted Chef (1:46): This is short moment with the chef.
Deleted Scenes (31:19): There's simply too many scenes to list, but enjoy all of them, which starts with The Lost KISS Scene and finishes with Laird & Gustav by the Buffet.
Audio Commentary by John Hamburg (Director/Co-Writer), Ian Helfer (Co-Writer) and William Kerr (Editor): This is an entertaining look at what seems to have been an enjoyable process for all involved. The team offer thoughts on every aspect of the film's production.
Gallery: Using either an Auto or Manual Advance, enjoy various images from the shoot.
Audio Commentary by John Hamburg (Director/Co-Writer), Ian Helfer (Co-Writer) and William Kerr (Editor): This is an entertaining look at what appears to have been an enjoyable process for all involved. The team offer thoughts on every aspect of the film's production, and the tone is light but informative.
Theatrical Trailer (2:33)
As mentioned before, our evaluation copy arrived as a 4k/Blu-ray Combo with an UltraViolet digital copy code. There is no DVD included with this purchase. The slipcase is colorful but offers no embossed lettering or interior artwork. At the time of this posting, we were not aware of any special versions.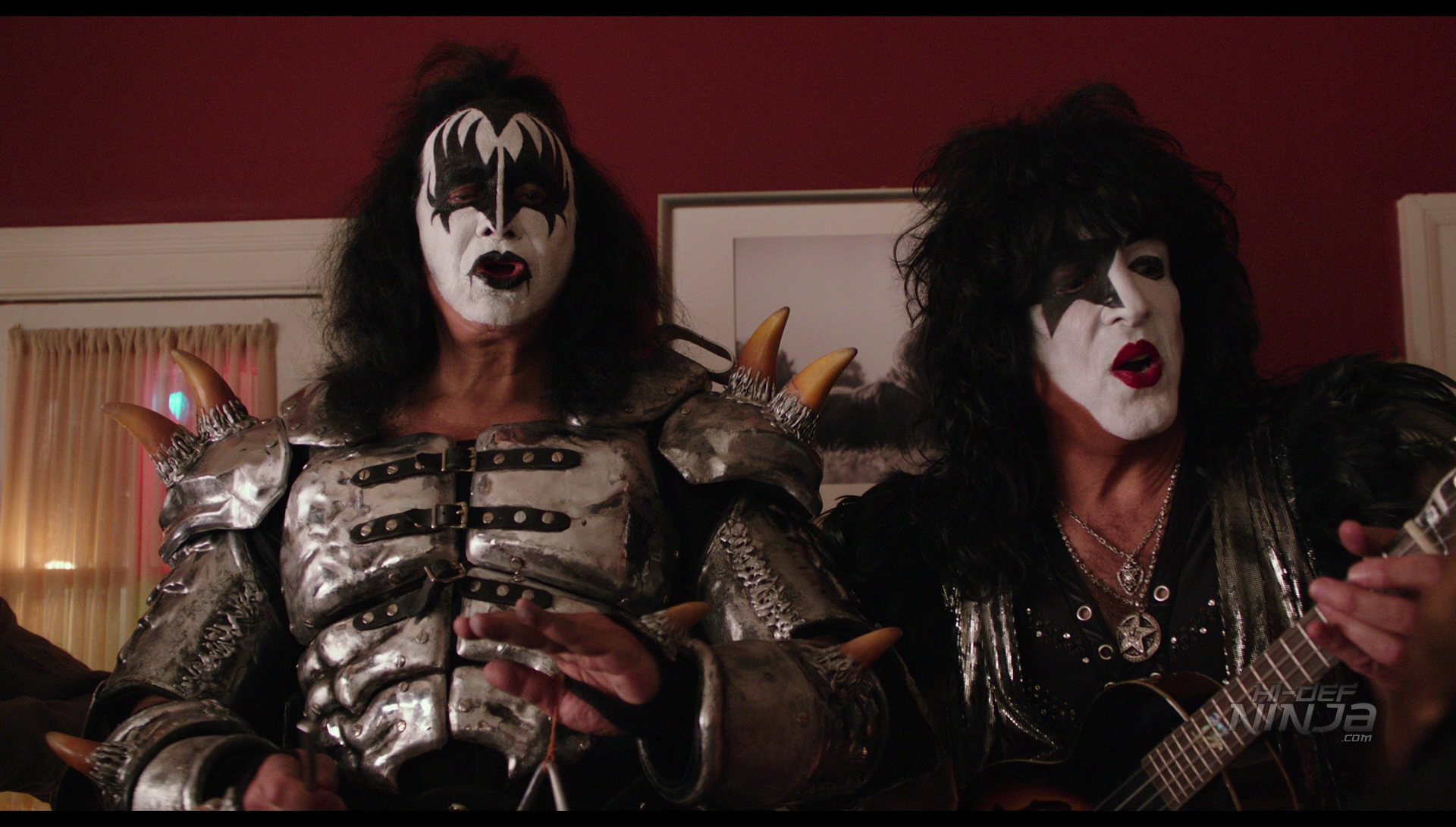 THE BOTTOM LINE
WHY HIM? is filled with non-stop obscenities, familial faux paws, and various porn references that should keep you laughing throughout. Even in comedy, Cranston dominates the room, but he also works very well with Franco who seems like he's playing a mirror of himself here. Key is (as always) an untapped source of genius, and based on the great supplements he probably had a hard time containing his laughter. Some will claim that this subgenre is already too long in the tooth, but I'd counter: anyone expecting an Oscar performance here or even something new and innovative is expecting too much. WHY HIM? is guaranteed to make you smile and laugh throughout, as its surprising ending is just one layer of a deeper Father-Daughter story. Technical elements are very good, although I wish the audio had been more busy. This one could go down as a cable fave, a must-watch when it suddenly appears on HBO or Cinemax, but you'd be smart to buy a copy as the supplements are deep and informative. Chock this one up as a pleasant surprise and definitely worth your time, no matter if you use it to spice up an otherwise dull Christmas or impress your friends with seeking out comedic gems. This one gets mighty close.
WHY HIM? is rated R for strong language and sexual material throughout and has a runtime of 111 minutes.