Pin/Patch

T-Shirt

Comic

Pop Figure(s)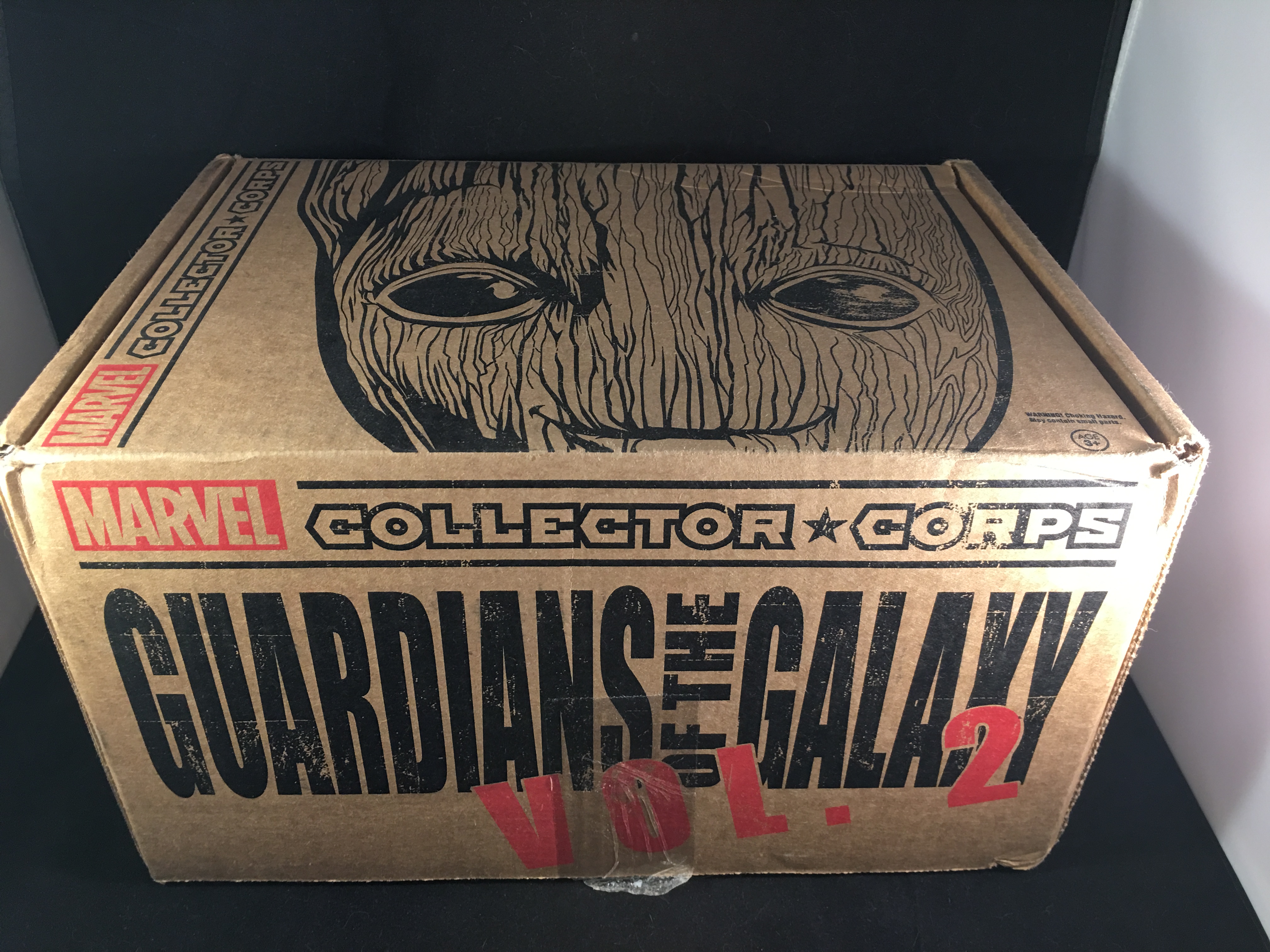 Marvel Collector Corps hits its stride with the terrific GUARDIANS OF THE GALAXY VOL 2 box.

Review by Matt Cummings
With 2016 clearly in its rear view mirror, Funko's Marvel Collector Corps has treated us to two very good sub boxes: December's X-MEN and April's SUPERHERO SHOWDOWNS. Both sported a collection of high quality products, even if some of them were not exactly on our most-desired list (Dorbz are just lame). And even though April's GUARDIANS OF THE GALAXY VOL 2 continues to gift us lines we couldn't care less about, at least this month's offering should make everyone happy.
THE PROMISE
Before we begin, let's look at the original deal and MCC's current offering: promising a value of $50, regular boxes would keep the "fluff" (their words) to a minimum with Funko partnering each time to deliver an exclusive figure. Regardless if you joined at the Founders level or took on a per-box delivery, the Year One box was offered for an additional cost of $135 after tax. We were also treated to an end-of-year gift from Funko in the form a golden Captain America statue. Yeah, that sounds even less cool as I write it.
THE DELIVERY
As always, we use QUALITY and TIMING to base our reviews, so let's see how this box measures up. As always, we'll end our review with some additional thoughts after the unboxing: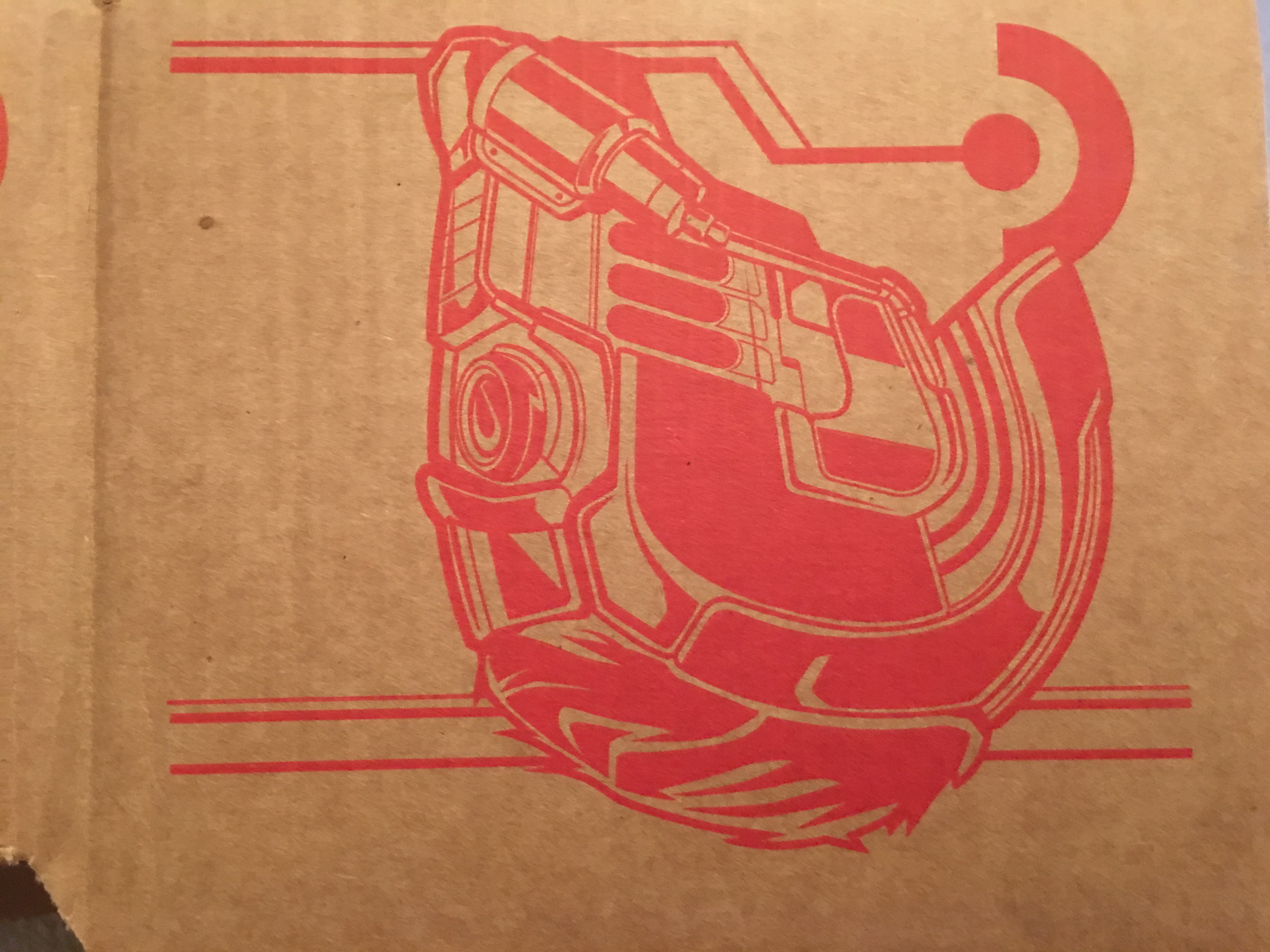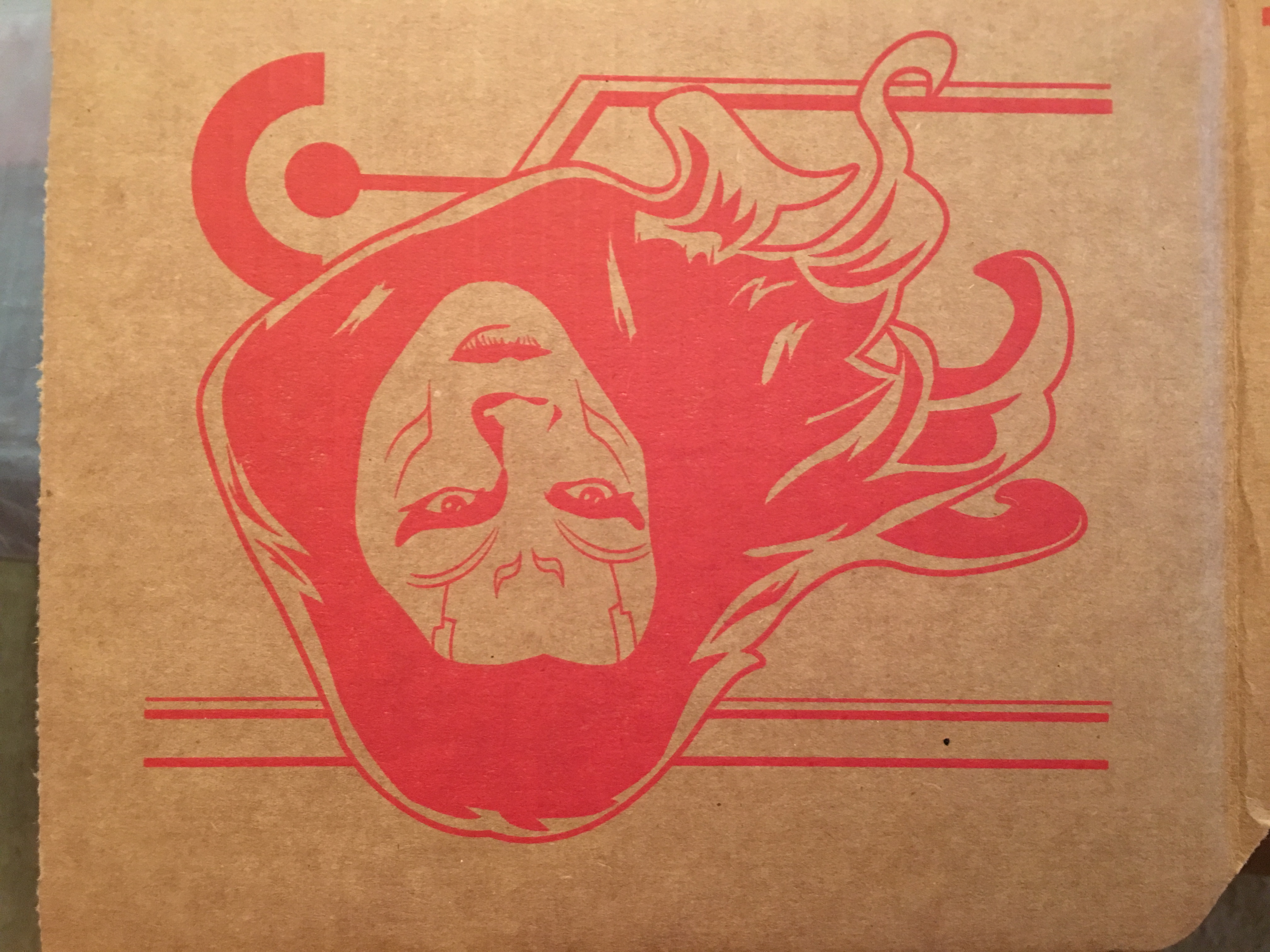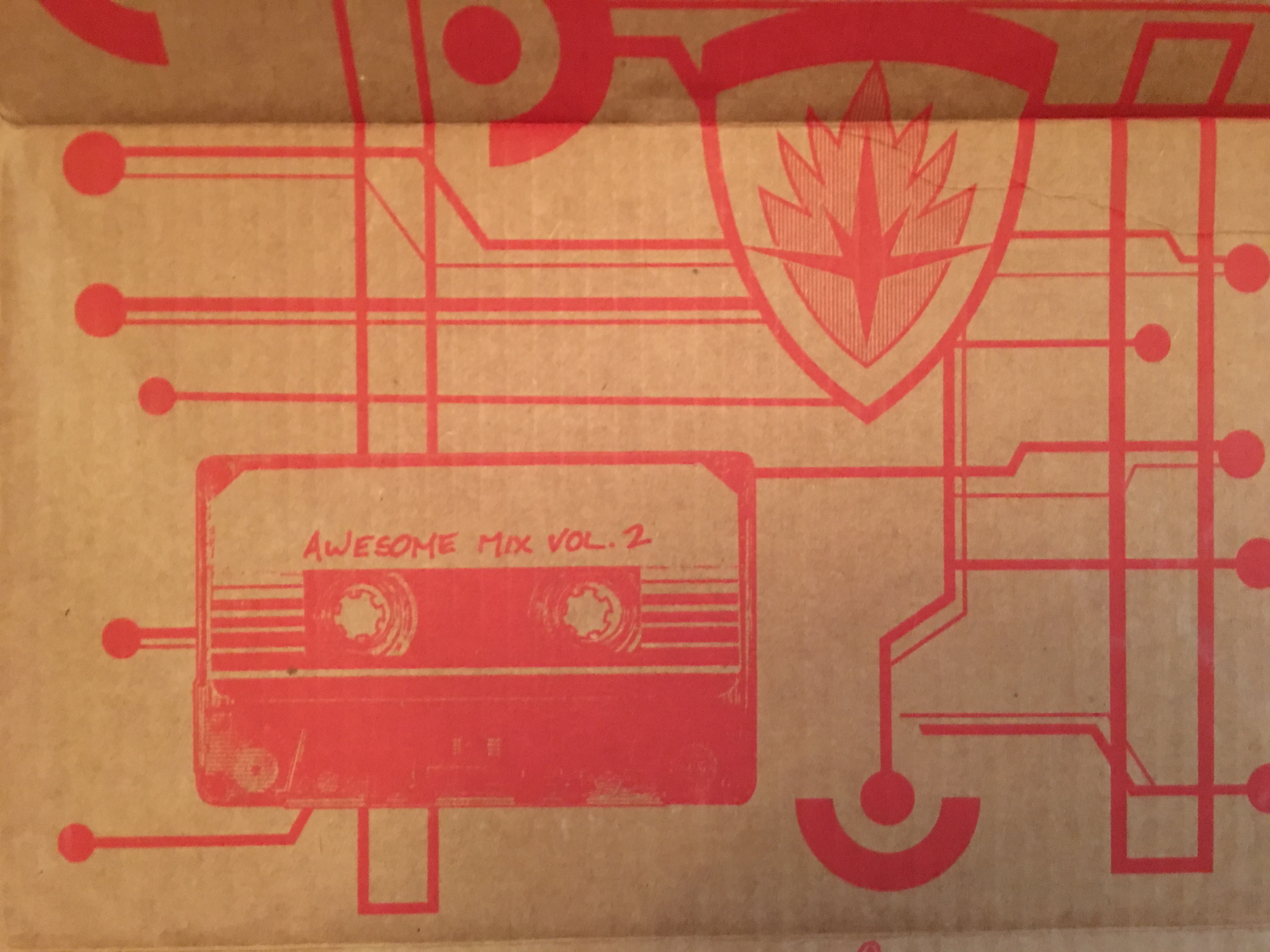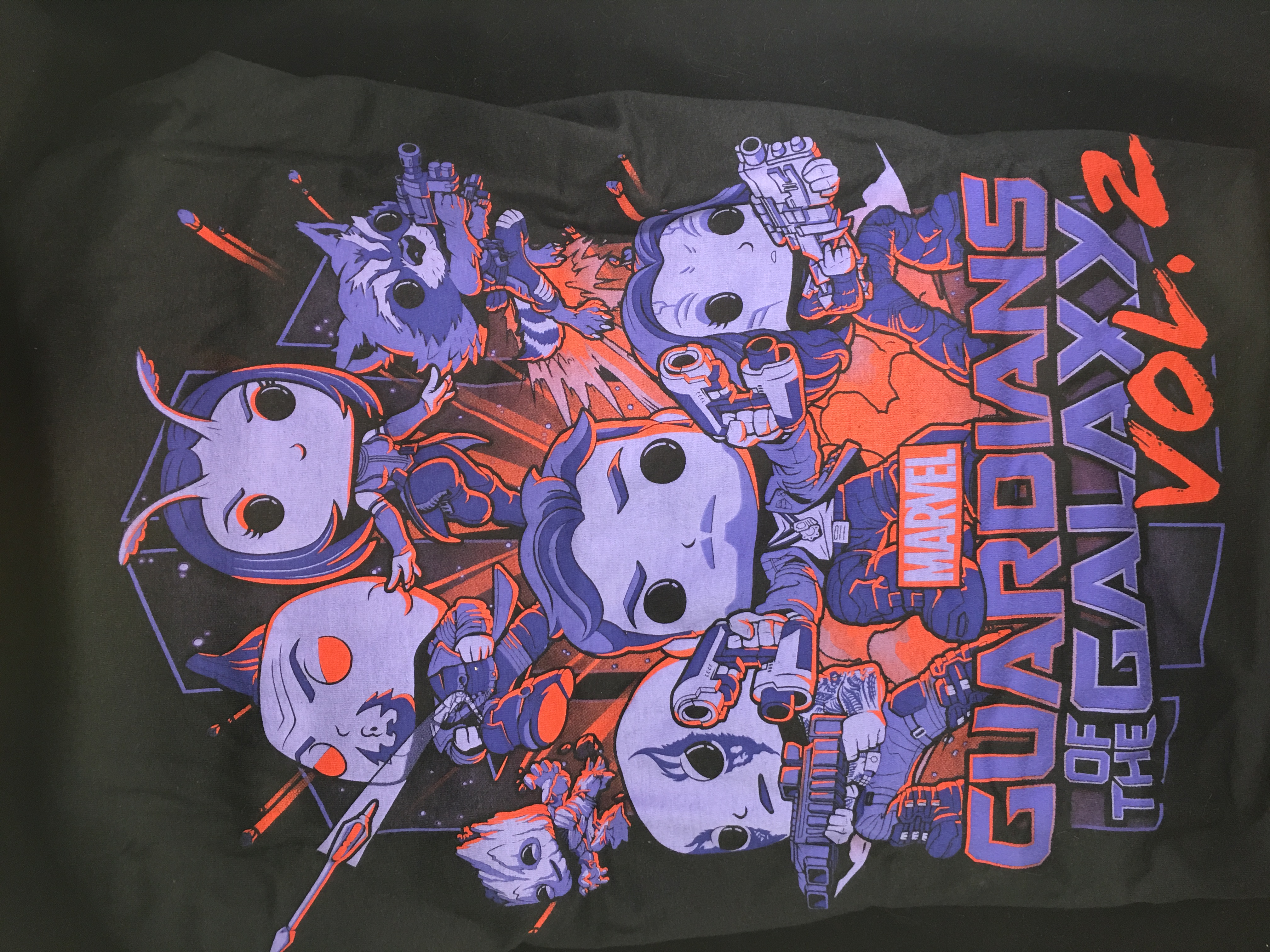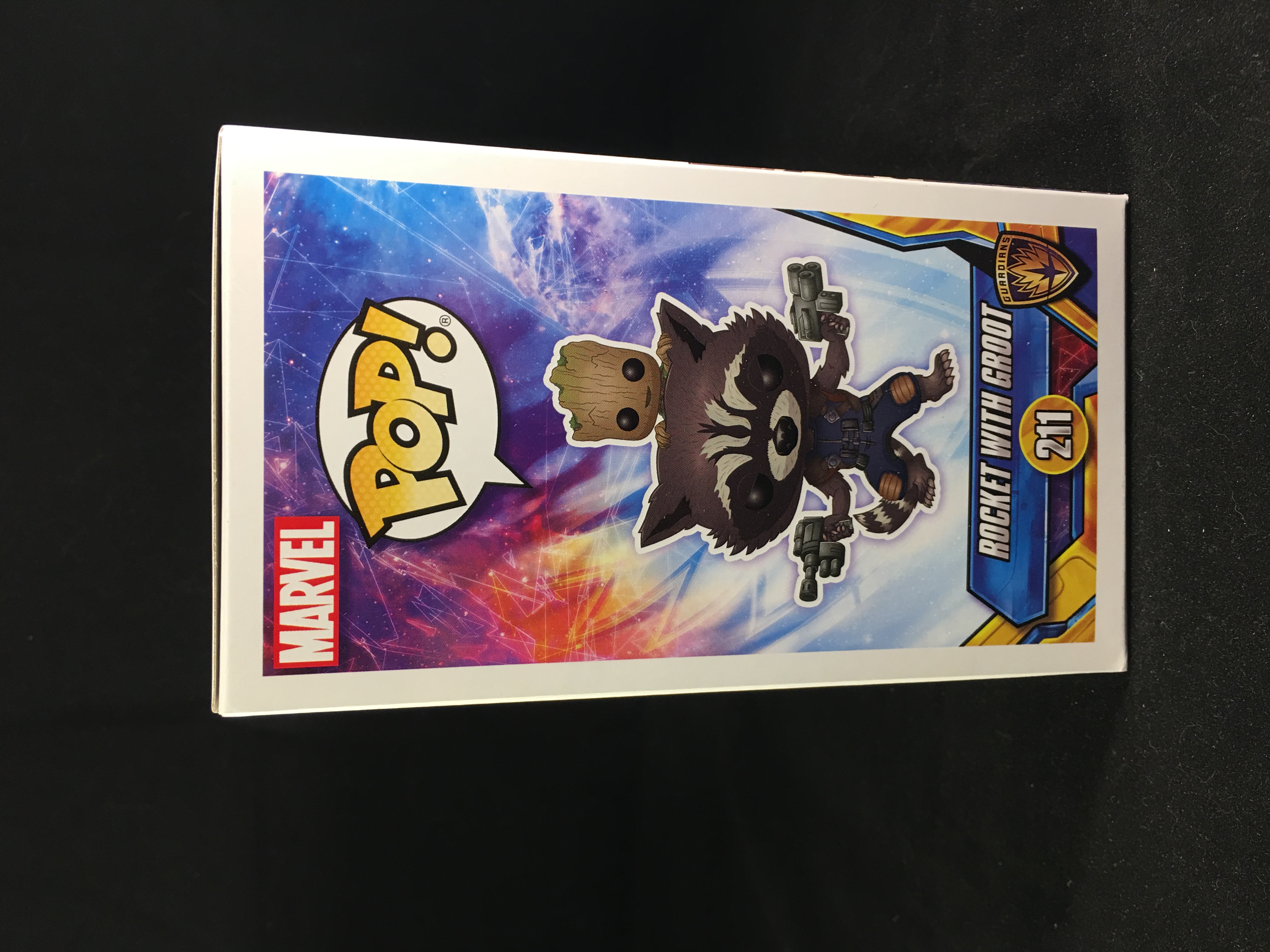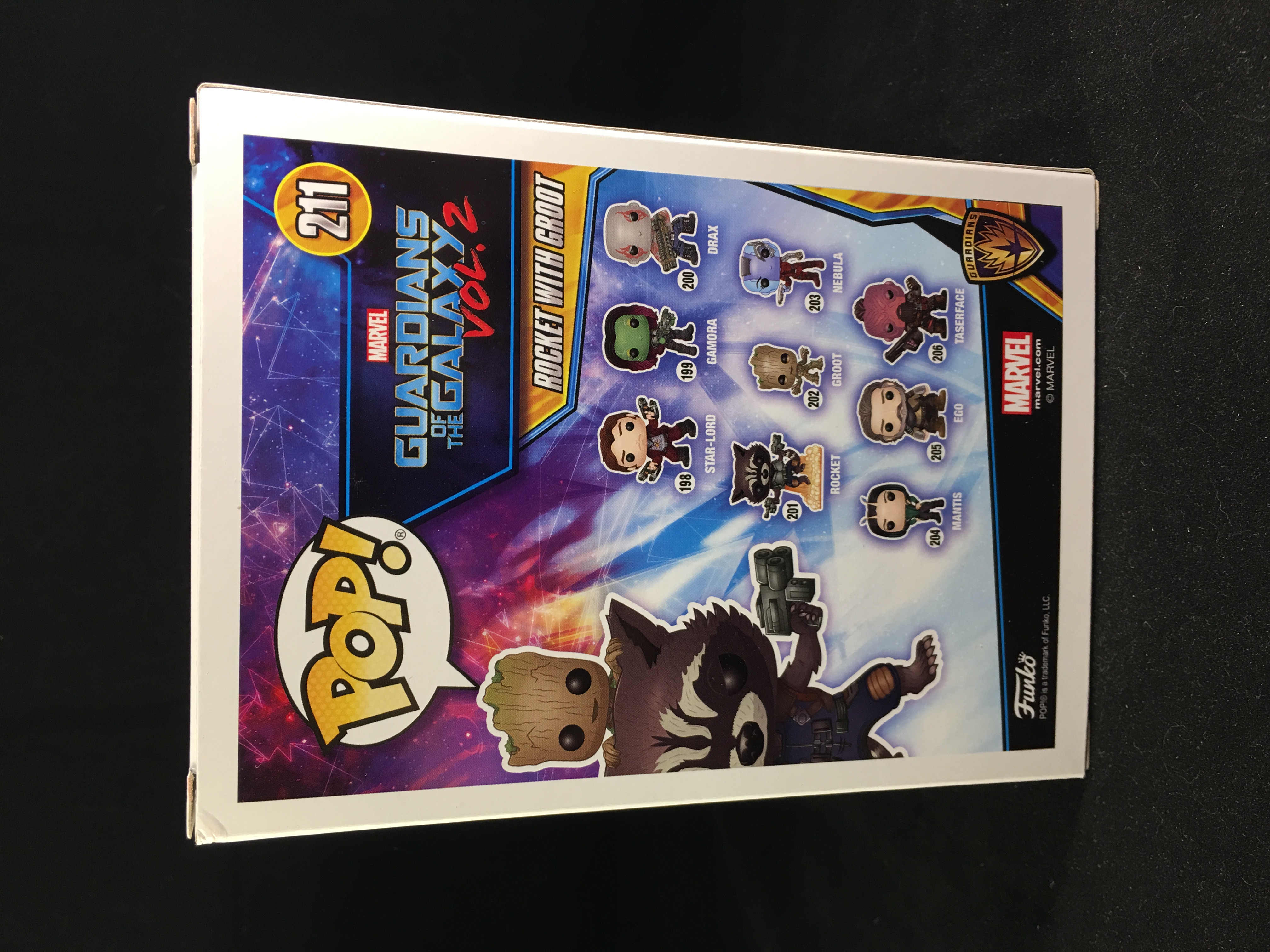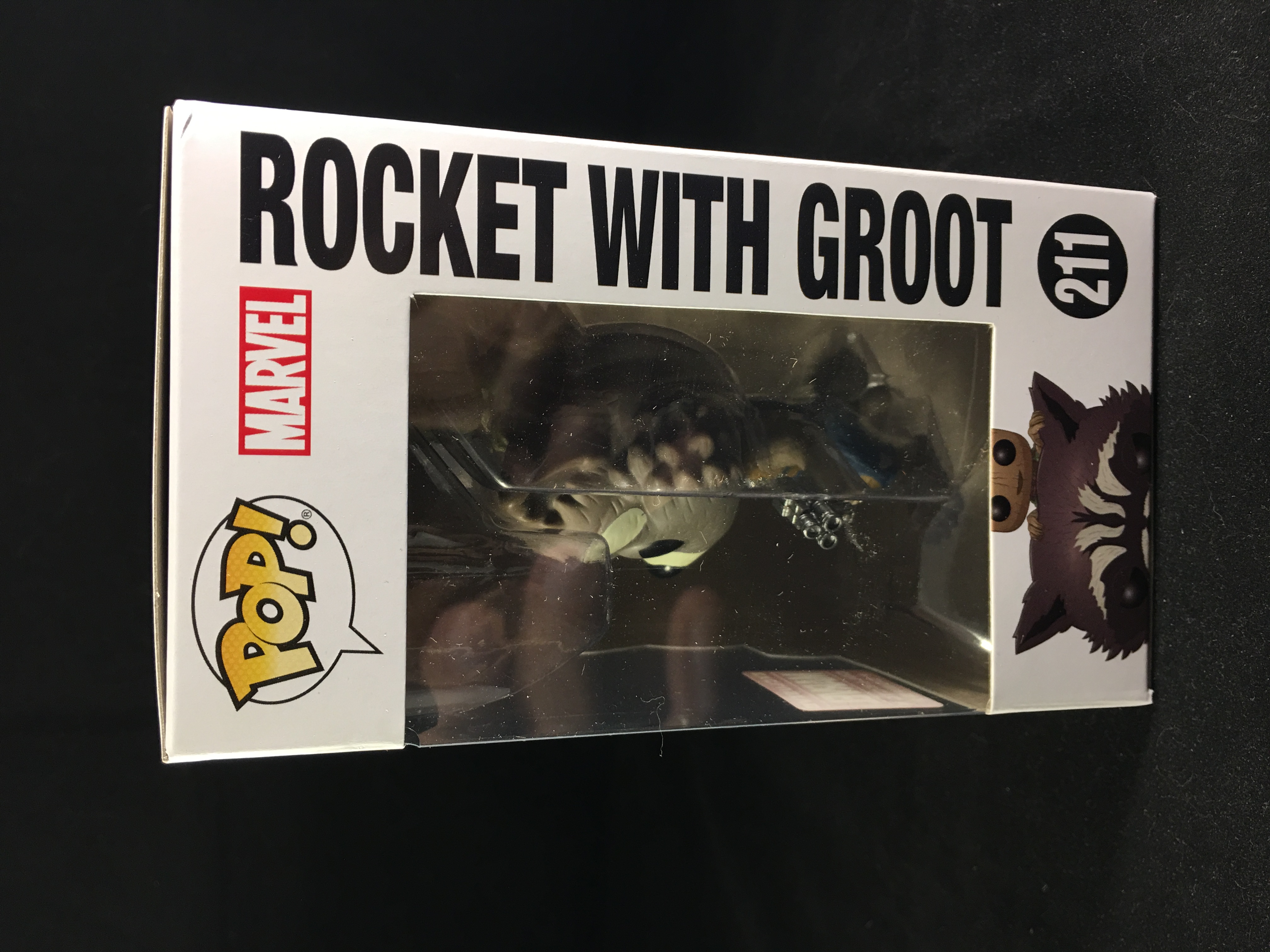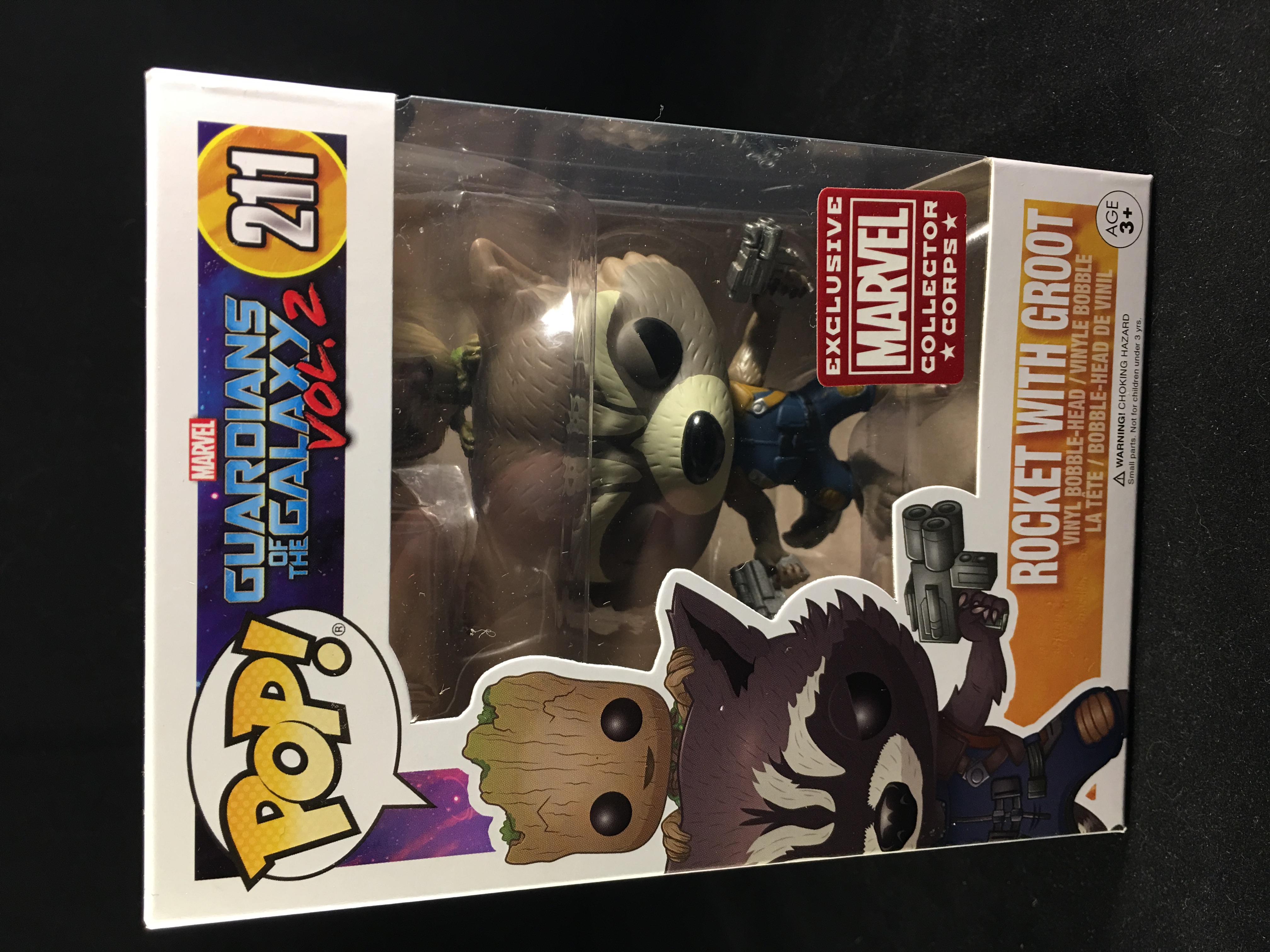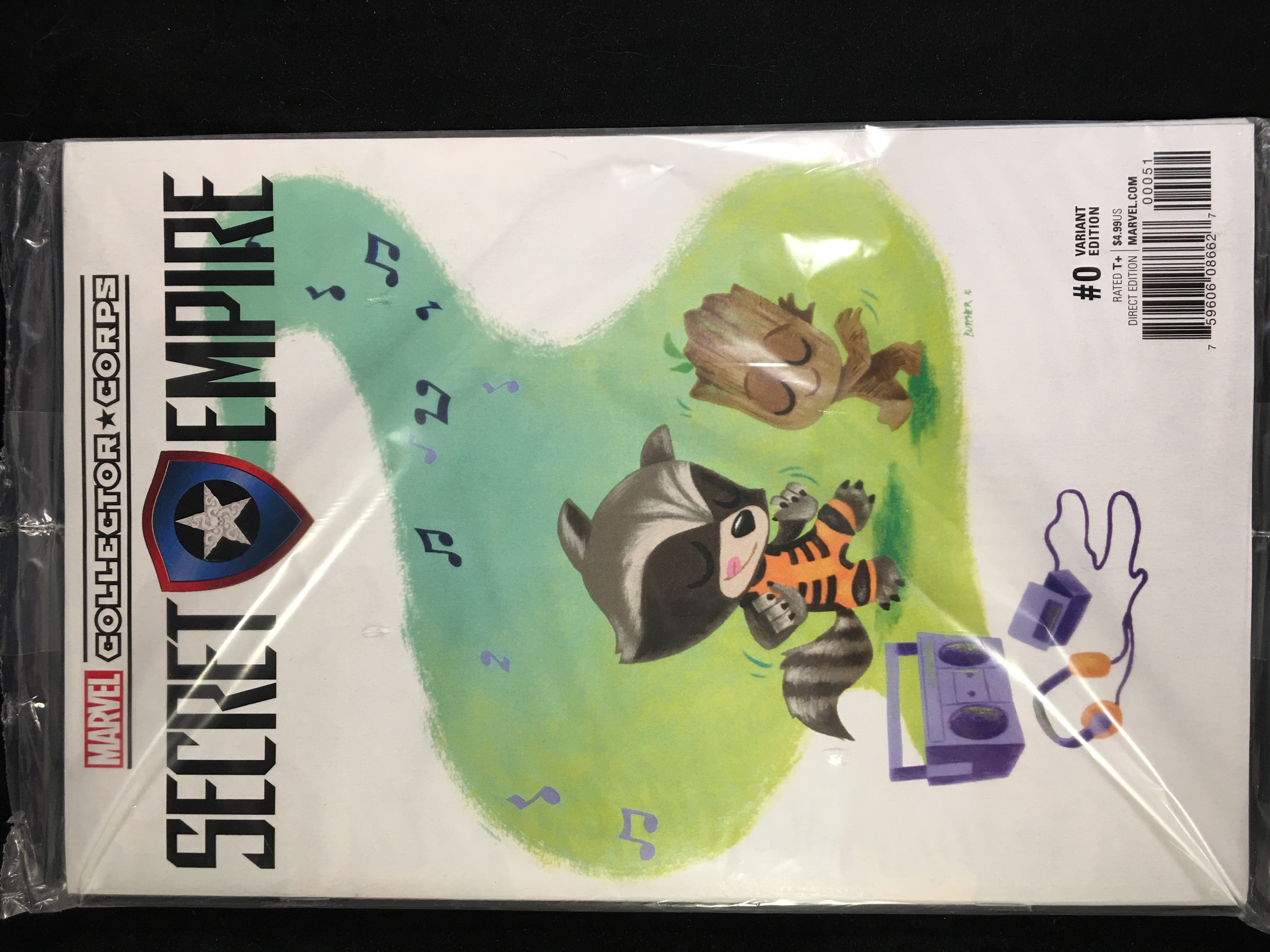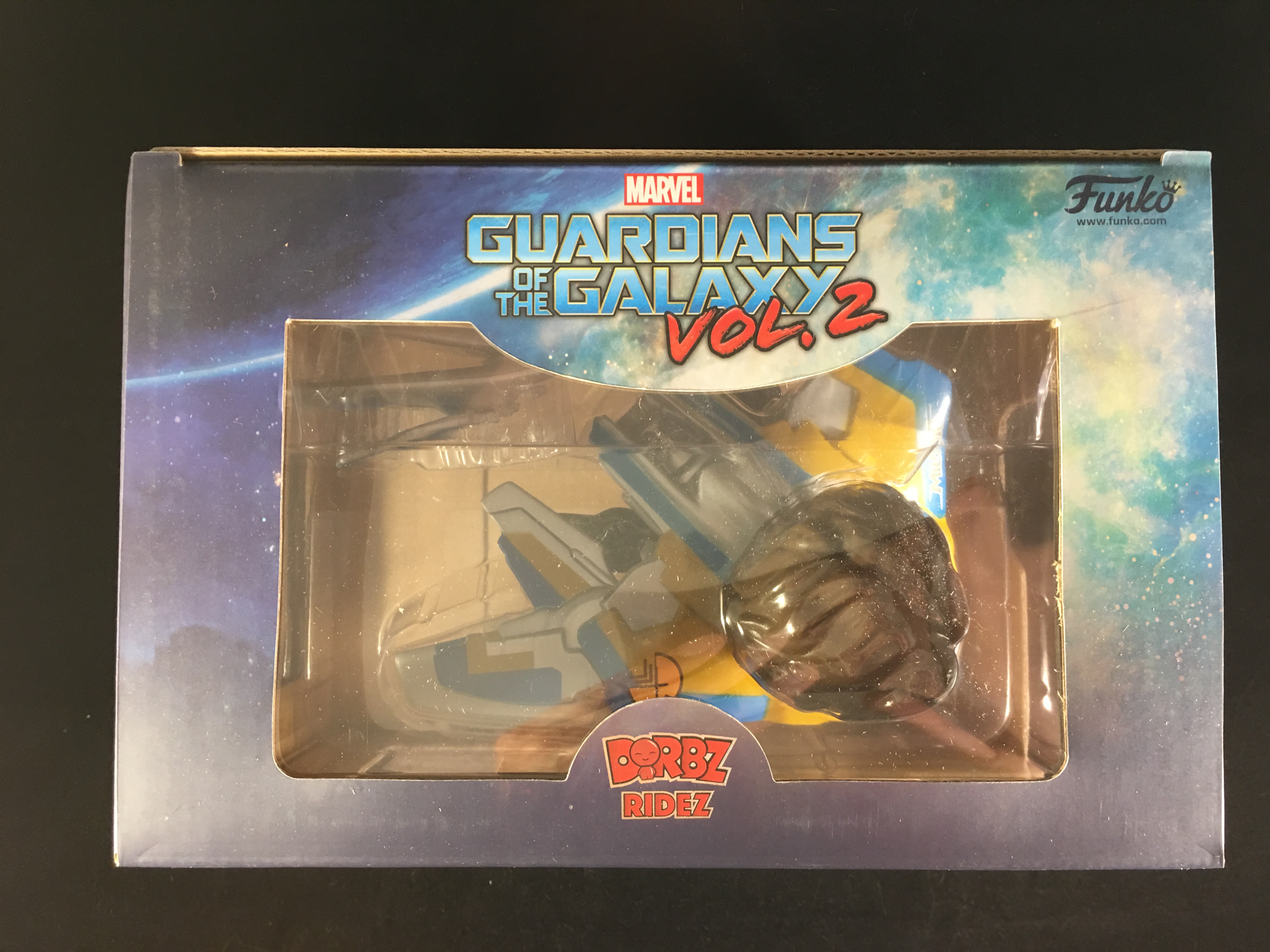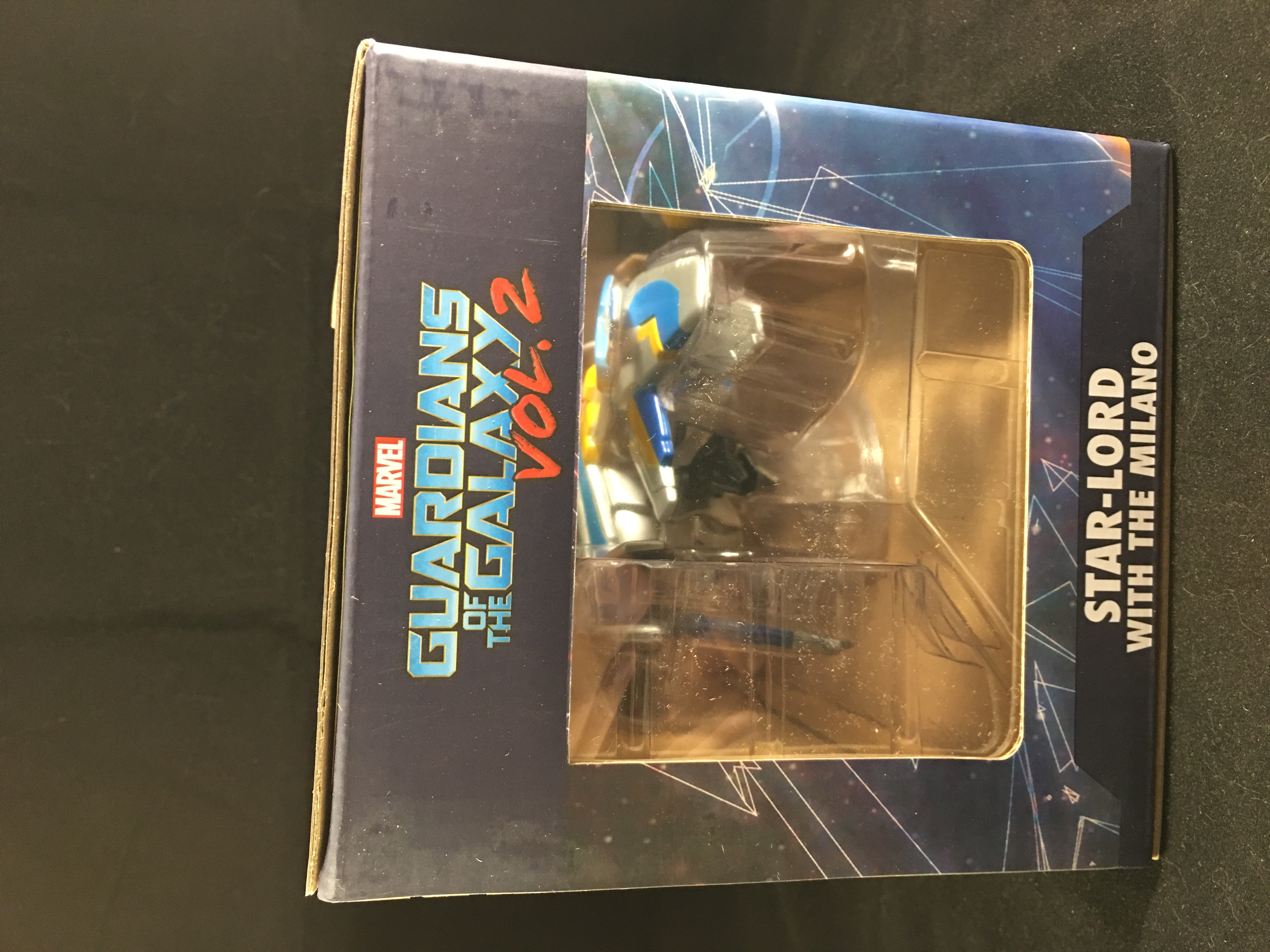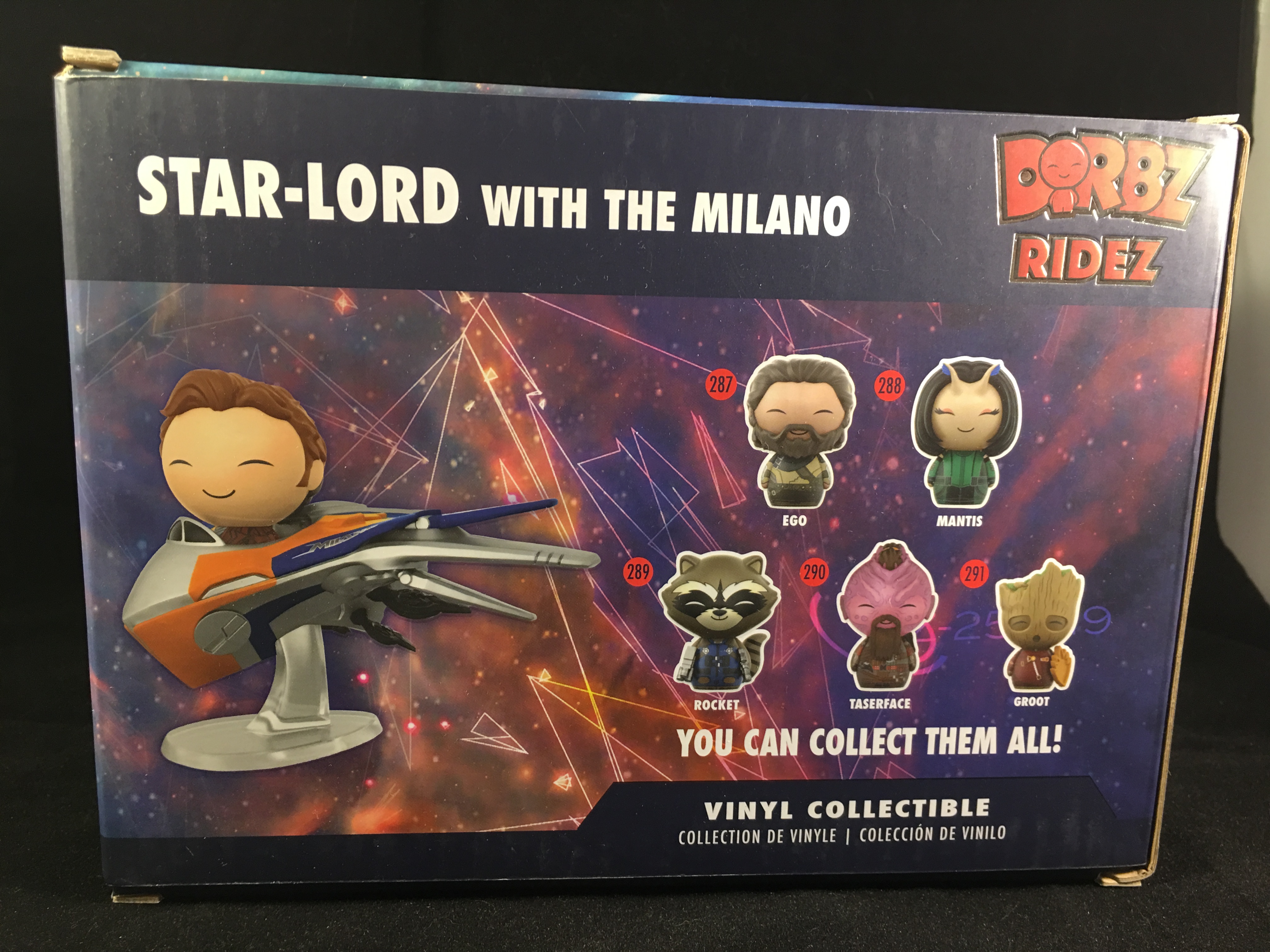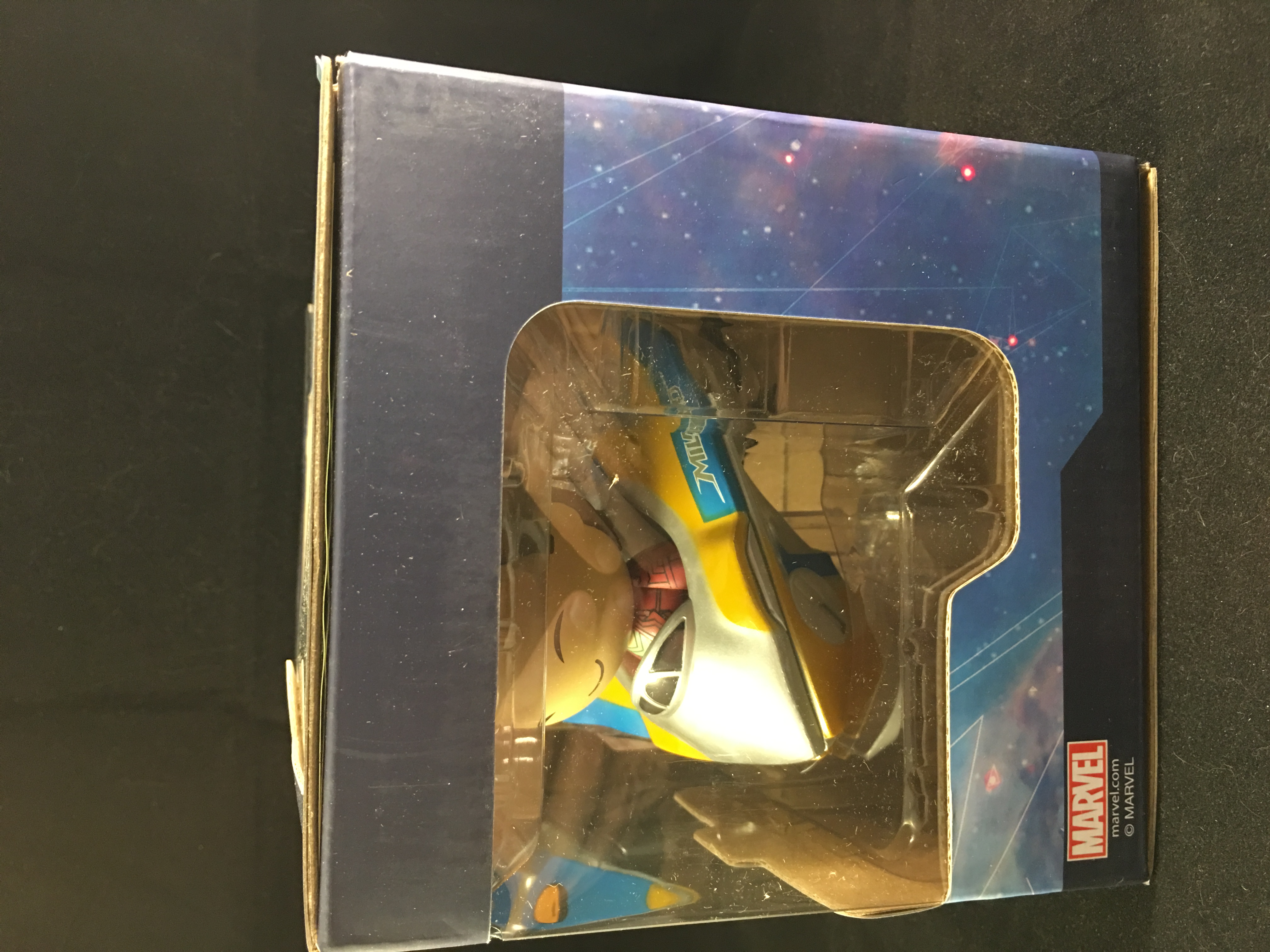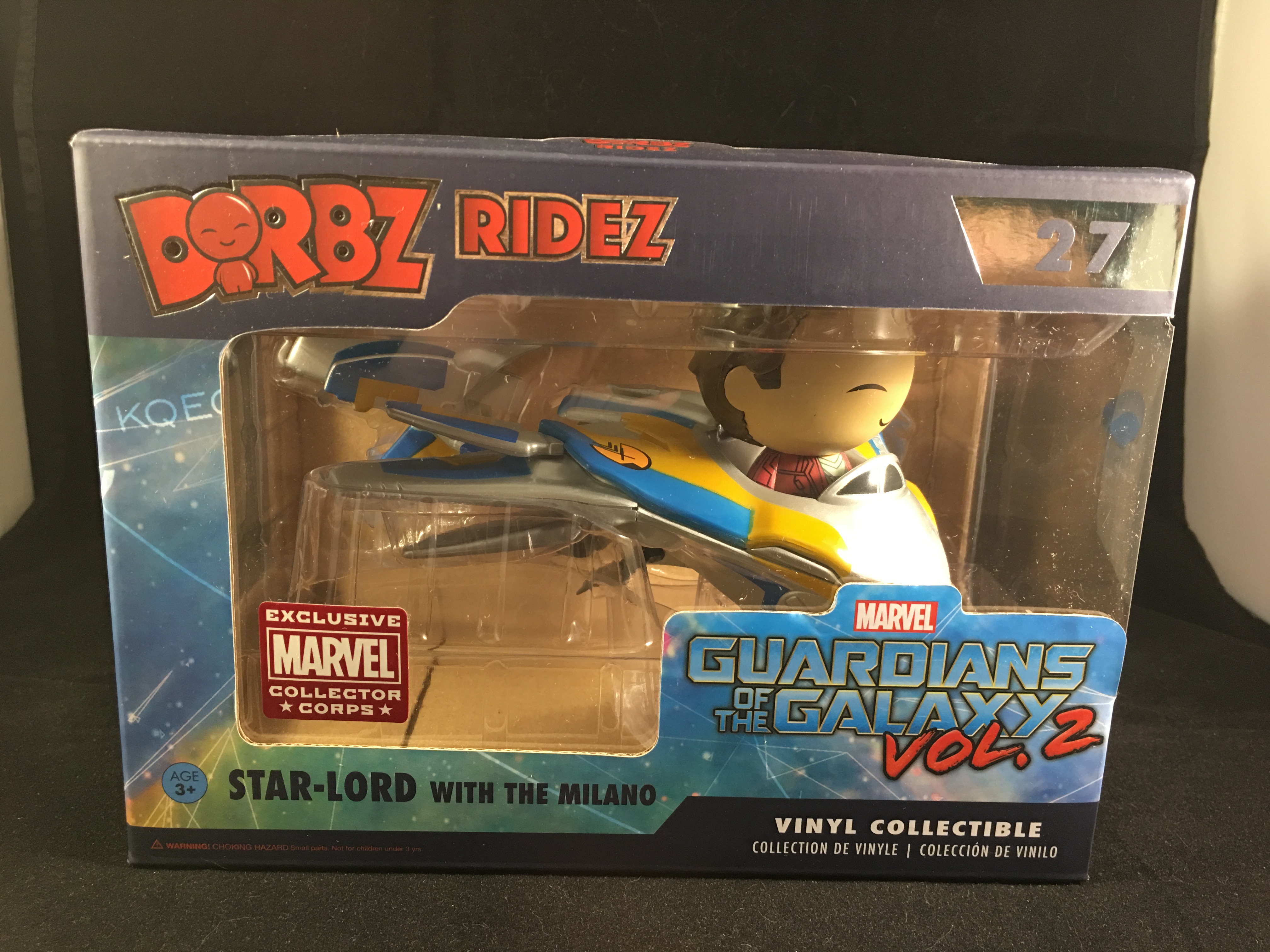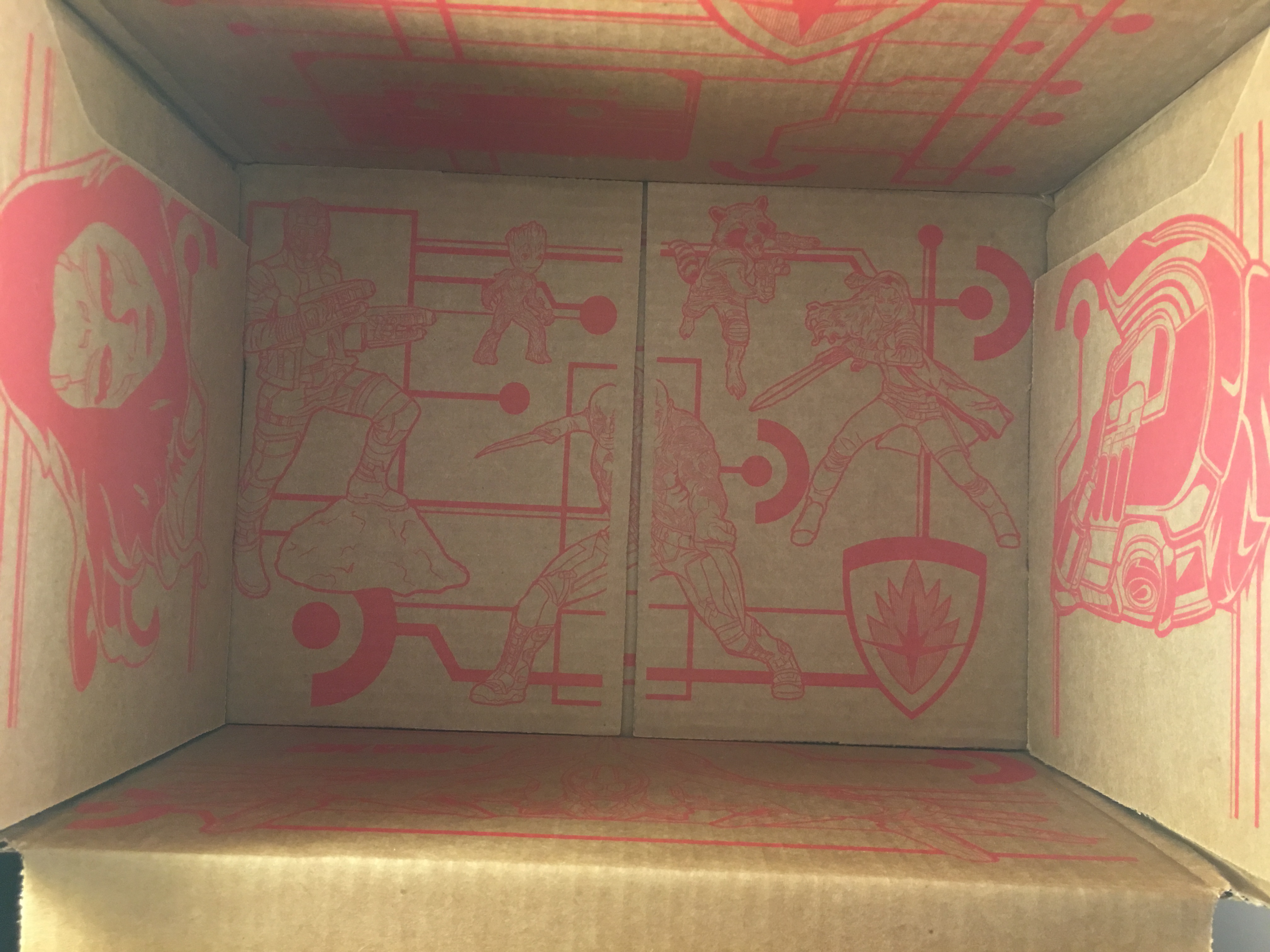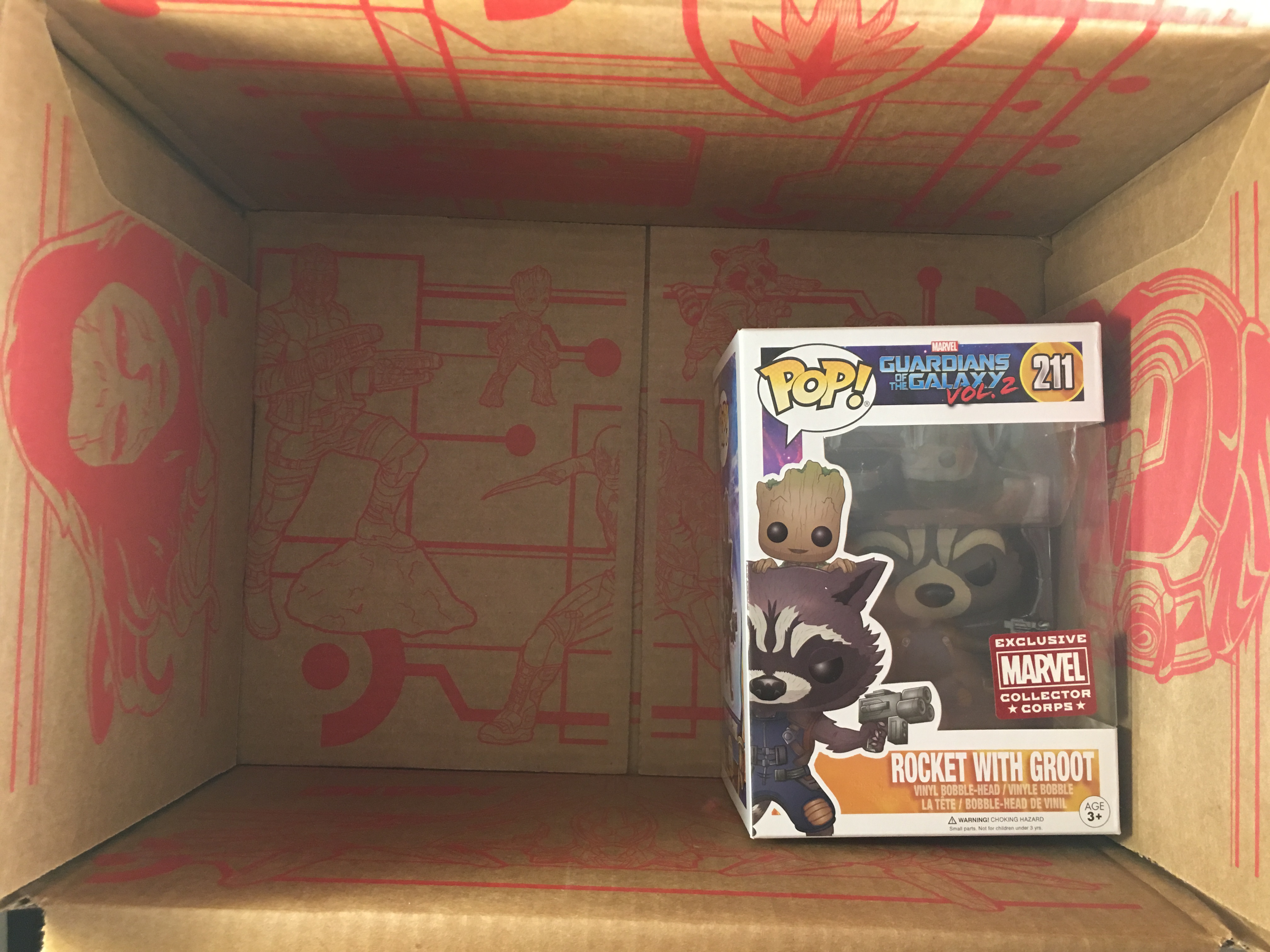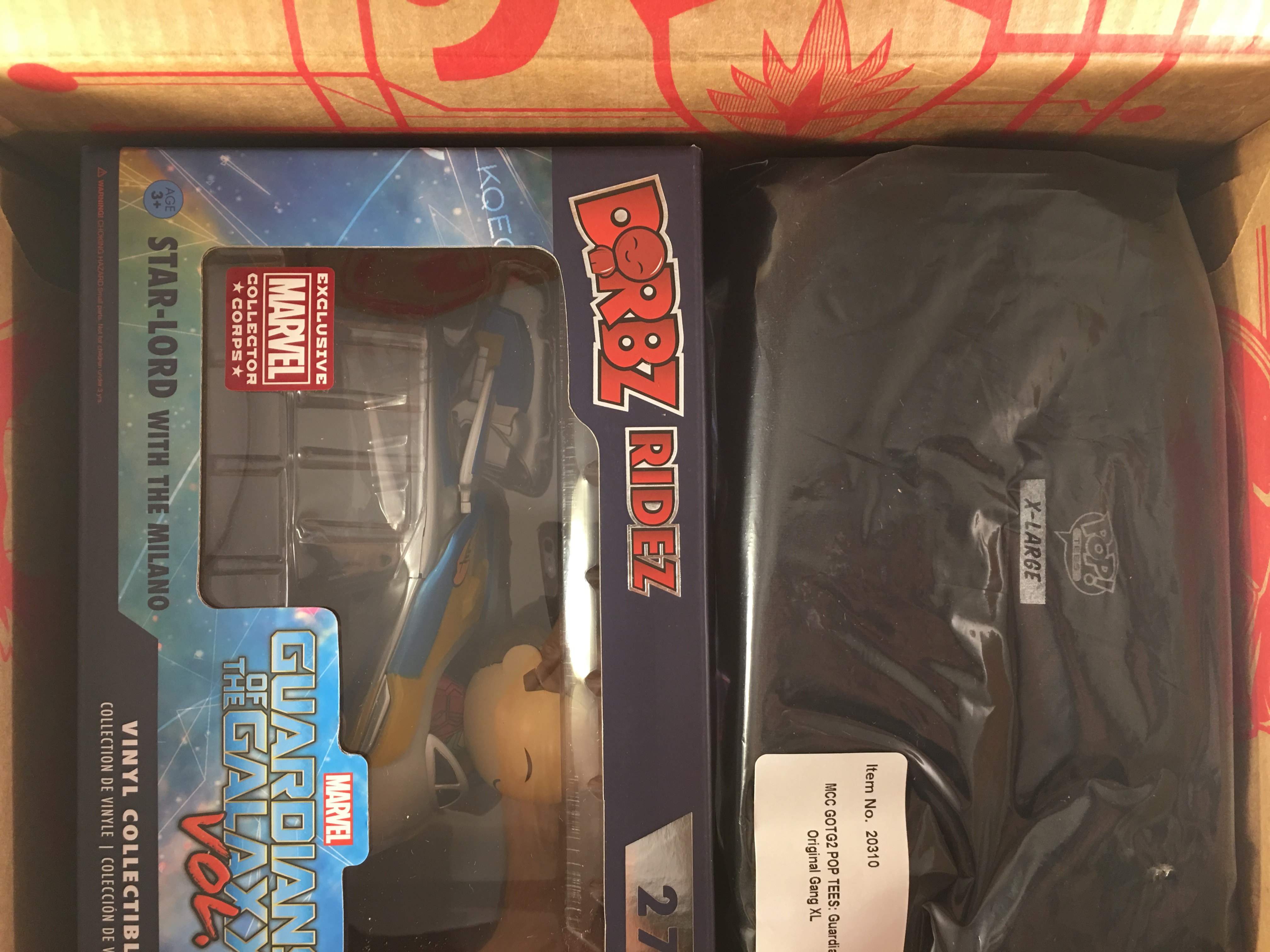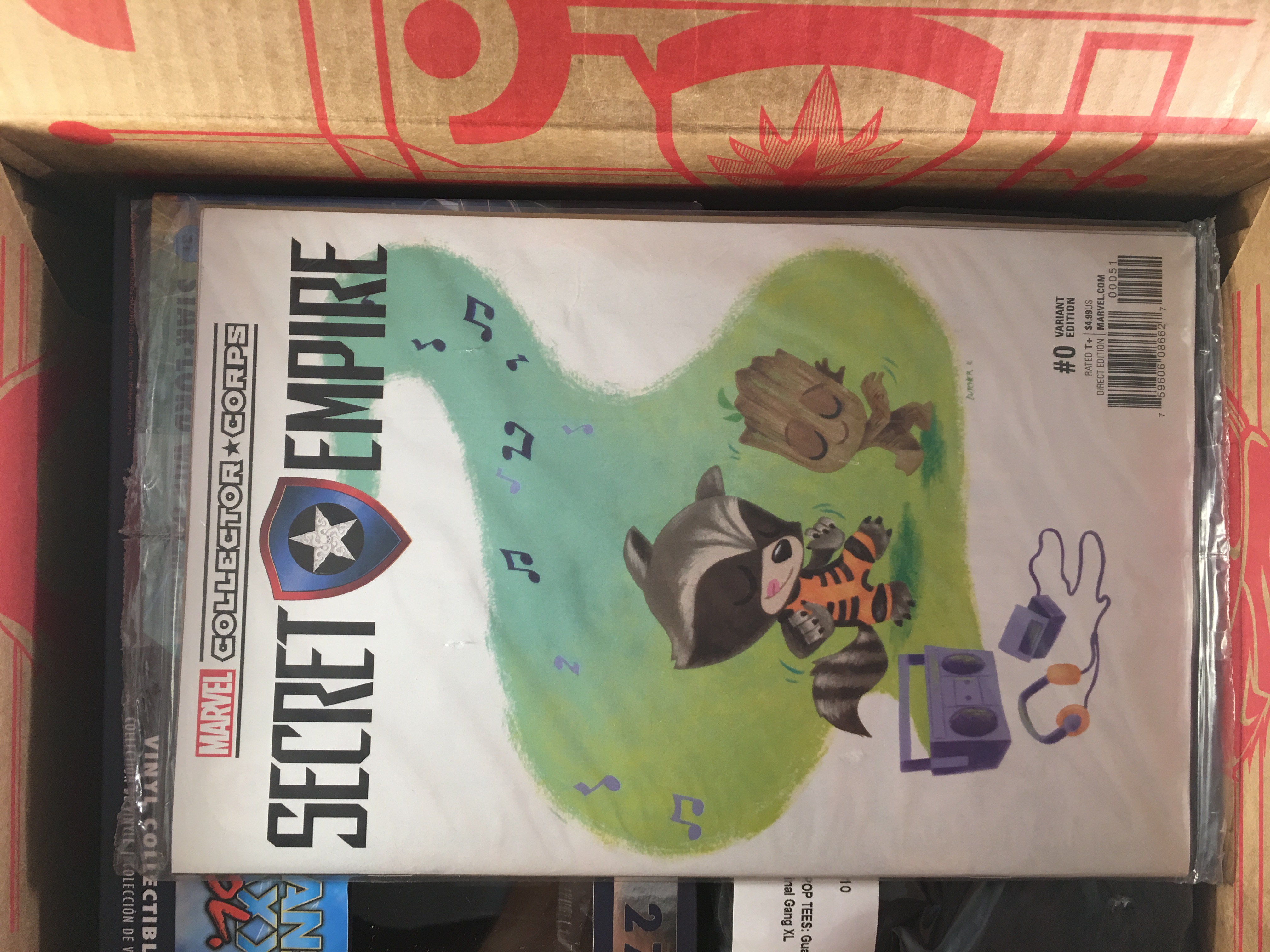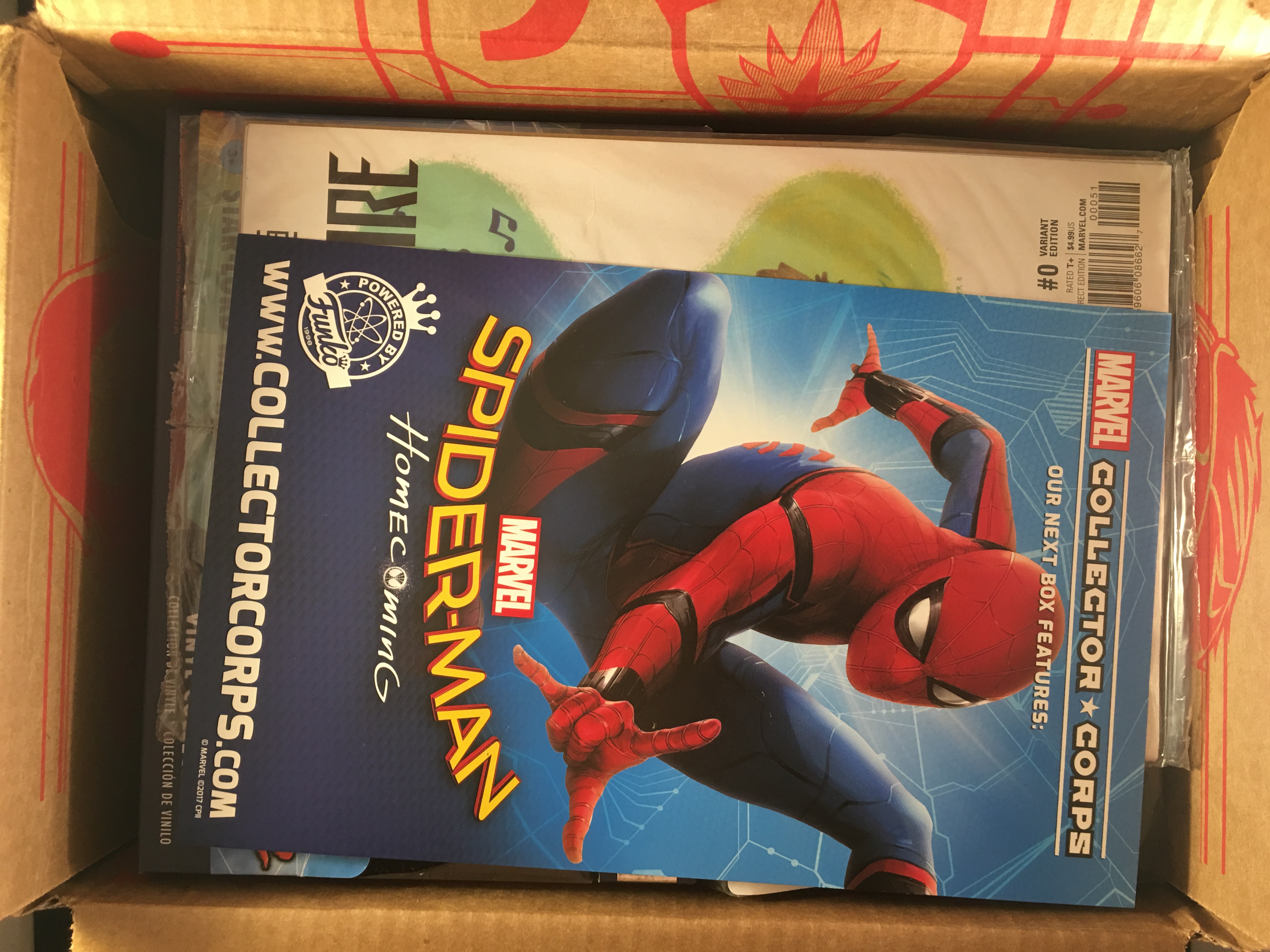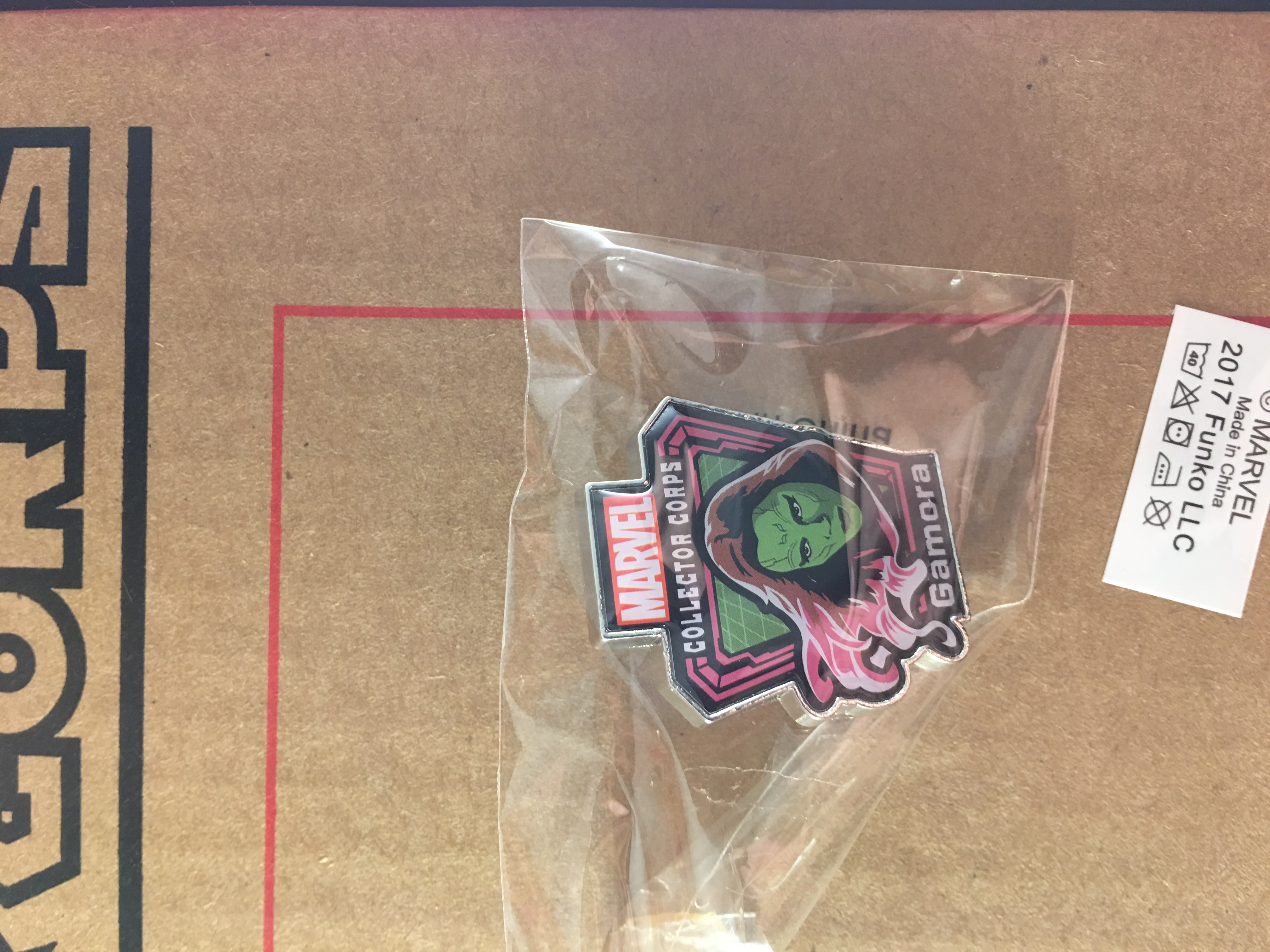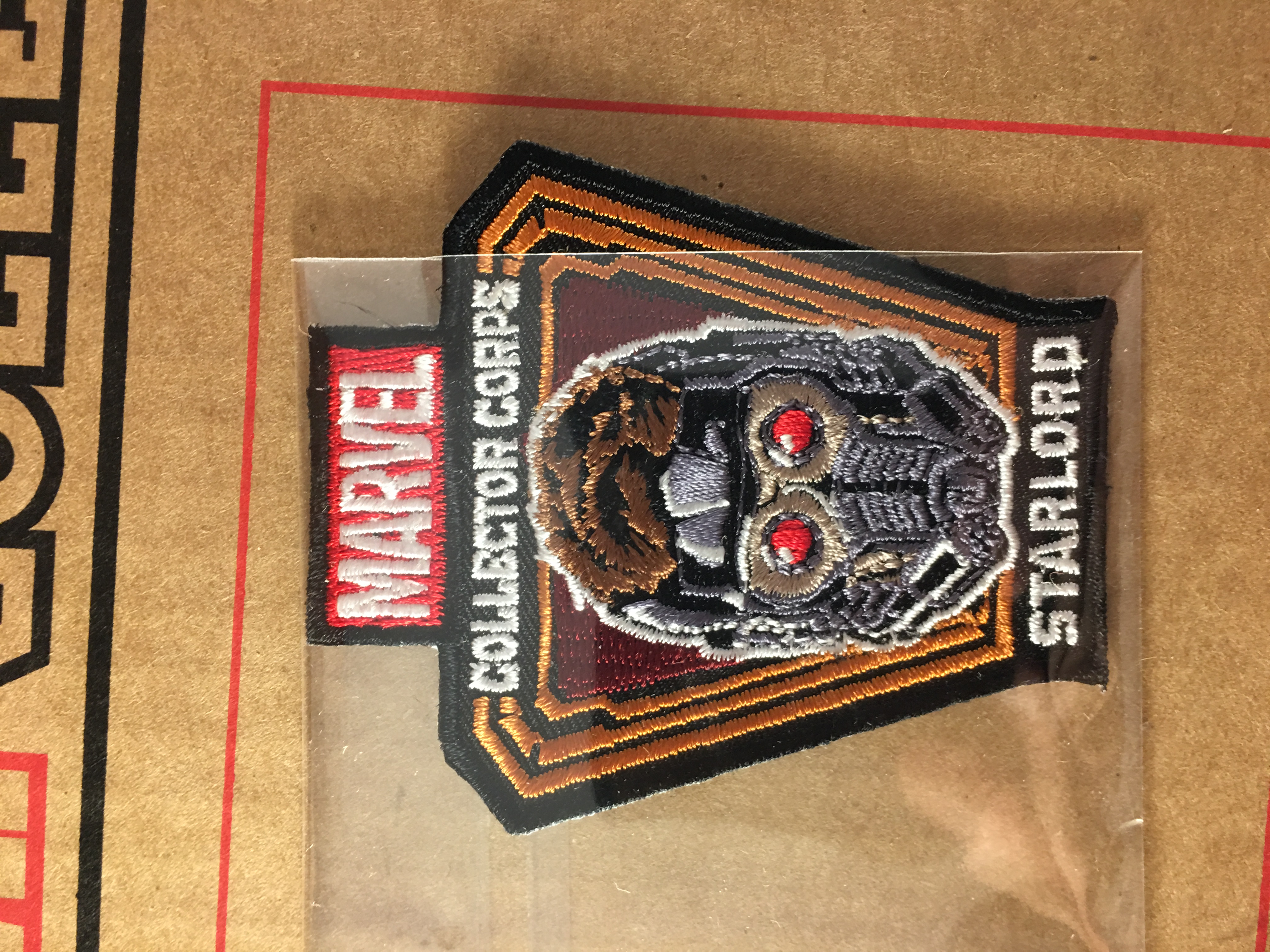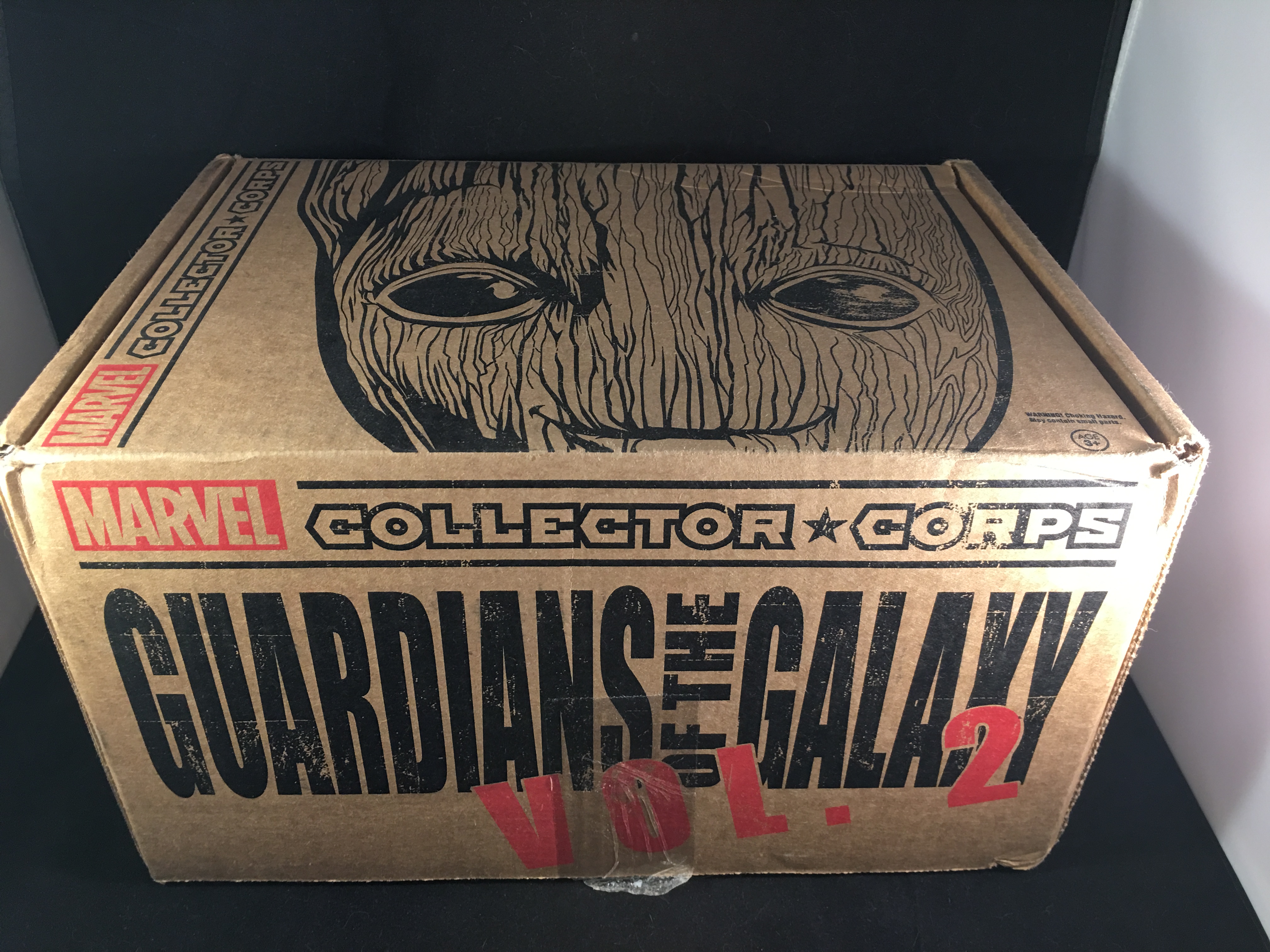 THE GUTS
MCC has always been one to time their releases with other Marvel happenings. Obviously, the release of GUARDIANS in theaters is impending, and so it makes sense to tie the box to the movie. It's a great concept, one that celebrates the diversity of the Marvel Universe during off months and locks in our interest for its films during others. As you can see, this box contains enough to make even Rocket happy.
PIN/PATCH
Upon opening any box, you're first treated to a pin/patch set that usually offers solid returns – this month is no different. The Starlord patch is detailed and authentic-looking, while Gamora looks exactly like Actress Zoe Saldana. I love how MCC is so open to presenting the different worlds of the Marvel Universe (in this case, it's the movie versions of these characters), so count these as WIN and WIN.
LOVE. THIS. SHIRT.
Another area that MCC generally hits it out of the park is their t-shirts. We're not just talking about a run-of-the-mill thing you can get at Hot Topic, these shirts are unique to the box and generally revolve around Funko-styled heroes and villains. April is no different, celebrating the Funko line by gifting us this little beauty. Our heroes are lid our movie-poster style, and I love that Mantis is so prominently featured here. She plays an important role in the comic universe, so it's great to see Funko share our love for her. This shirt will probably show up one day in a Hot Topic store (because it's so damn awesome), but you really have admire the quality of the shirt itself. It's comfortable – unlike many of the Loot Crate and Geek Fuel shirts – and the layout is something you just don't see in your local mall teen store. It's that feeling of exclusivity that really elevates its value. Taken under those circumstances, you can see why these are so popular among subscribers. WIN WIN WIN.
THE COMIC
Another solid element of MCC's boxes has been the variant comic covers. This month's cover shows off Rocket and Groot taking in a few jams during the SECRET EMPIRE run. I also love that these issues offer great jumping-off points for readers to join the Marvel universe. Apparently, SECRET EMPIRE has some heavy stuff happening, so I can't wait to eventually get to this line. Count this as another solid WIN.
…Dorbz…
I've made my distaste known for lines that aren't Pop! I dislike anything their Rock Candy, Dorbz, and Pint Size Heroes, because I don't need to start collecting yet another line of cheaply-crafted figures. While I understand that Funko's deal is expand their brand – and that these tiny guys are probably made for a much younger crowd – the end result is more throwaway than long-term keeper. But for this month, I have to admit that I'll be keeping Dorbz's Ridez. This is clearly the most unique offering from the line I've ever seen, both in terms of the sculpt and paint. Although colors still tend to fall towards the primary side, the sculpt here is impressive. Sure, it's not meant to look in scale, but neither is Pop! What sets this apart from other Dorbz is the quality of both the sculpt and paint (the detail here is perhaps worth the price of the entire box). And while I have no interest in collecting Dorbz as a line, I will be keeping this little jem. WIN.
Another Amazing Pop
Rocket Racoon is one of my favorite Marvel Cosmic characters. Tough, opinionated, and clearly a damaged hero, Rocket doesn't merely exist in this universe, he moves it by his sheer force of will. I also love his interaction with Groot, which helps to ground the character much in the same way that Chewbacca grounds Han Solo. This month's Pop! celebrates this special relationship with a yet another awesome offering. Rocket's in full form here, ready to take on any villain including his PIA Cosmo! I love this sculpt for a ton of reasons, but it's perhaps the inclusion of Baby Groot here that puts this one over the top. Colors and costumes are solid, and the paint is stellar. I continue to love Pop! because of its quality, even though after two years of collecting three lines I have an entire wall of them now. This one isn't going anywhere, which I think Rocket would be happy to know. Such a WIN.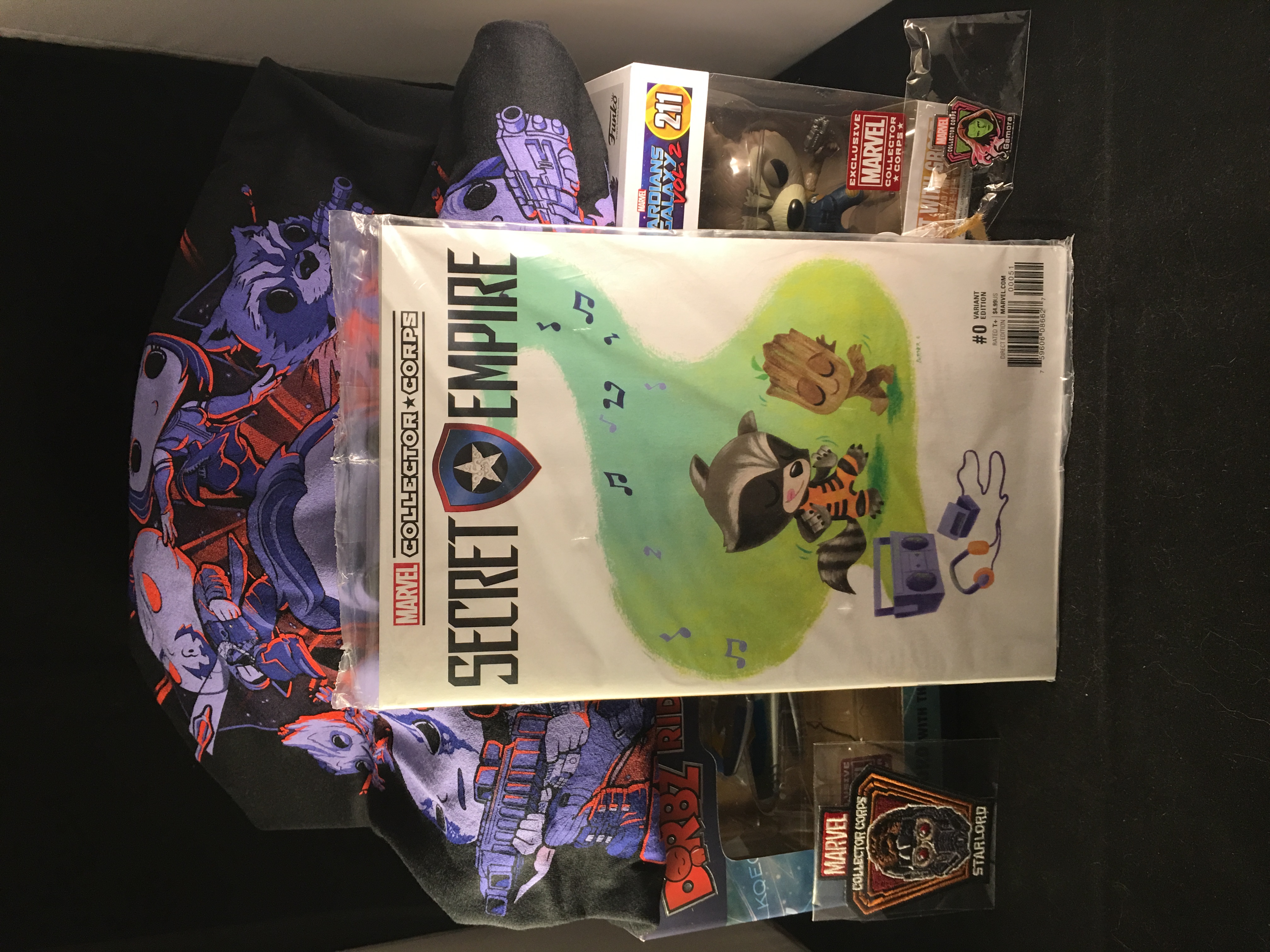 THE BOTTOM LINE
April's Marvel Collector Corps box continues an amazing upward trend, delivering quality and timing in spades throughout. Our $50 investment feels well spent here, with Dorbz even bringing the heat. It's a great box, and I'll be wearing my shirt to see GUARDIANS when it arrives in theaters. From the splendid pin/patch set, to one of the best shirts ever, and two figures that easily establish themselves among the very best, it's a homerun. Even Funko has every intention of continuing to shove their other lines down our throats (as they've done with DC's Legion of Collectors), I can forgive them this month because RIDEZ is so epic. Still, I'd love to see them branch out to other lines like Hasbro to include exclusive Marvel Legends figures. There is also the question of predictability here: are fans cool with consistency here or does MCC need to make major changes? At this point it would be hard to envision such a change, especially if we continue to get boxes of this quality each time. For now, I'll be happily adding all of this to my collection. It's time for a GoTG display, and now I clearly have enough to do it right. Next box is SPIDER-MAN: HOMECOMING, which celebrates the upcoming return of Ol' Webhead!