#TheLaw
Super Moderator
Premium Supporter
[MOVIE1]
Title:
The Equalizer 2 (2018)
Genre:
Thriller
,
Action
,
Crime
Director:
Antoine Fuqua
Cast:
Denzel Washington
Plot:
Plot unknown. A sequel to the the 2014 film, "The Equalizer", which is based on the TV series about a retired agent who's a hired gun for vengeance.[/MOVIE1][POSTER1]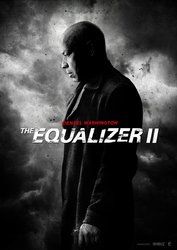 [/POSTER1]
IMDb
Columbia Pictures has confirmed the news yesterday.
Comingsoon
reports:
A sequel to Village Roadshow's The Equalizer is on the way! Columbia Pictures has officially set a 2017 release date for the follow up to director Antoine Fuqua's 2014 adaptation of the 1980s television series.
The Equalizer 2
will hit the big screen September 29, 2017. That's almost exactly three years after the first film opened.
In the first film, Denzel Washington stars as McCall, a former black ops commando who has faked his death to live a quiet life in Boston. When he comes out of his self-imposed retirement to rescue a young girl, Teri (Chloë Grace Moretz), he finds himself face to face with ultra-violent Russian gangsters. As he serves vengeance against those who brutalize the helpless, McCall's desire for justice is reawakened. If someone has a problem, the odds are stacked against them, and they have nowhere else to turn, McCall will help. He is The Equalizer.
Washington should definitely be returning for
The Equalizer 2
, although no director or additional cast has, as of yet, been confirmed. Washington is currently reteaming with Fuqua, however, for The Magnificent Seven, a remake of the John Sturges western classic that, in turn, was a remake of Akira Kurosawa's Seven Samurai.
Last edited:
2

2