Ltd. Ed./Birthdays/Video Game Mod
Moderator
Premium Supporter
[MOVIE1]
Title:
The Forest (2016)
Tagline:
Everyone comes here looking for a way out
Genre:
Horror
,
Thriller
Director:
Jason Zada
Cast:
Natalie Dormer
,
Taylor Kinney
,
Yukiyoshi Ozawa
,
Eoin Macken
,
Rina Takasaki
,
Kikuo Ichikawa
,
Noriko Sakura
,
Yûho Yamashita
,
Stephanie Vogt
,
James Owen
,
Nadja Mazalica
,
Terry Diab
,
Akiko Iwase
,
Masashi Fujimoto
,
Meg Kubota
,
Tatsujiro Oto
,
Gen Seto
,
Shintaro Taketani
Release Date:
2016-01-08
Runtime:
0
Plot:
Set in the Aokigahara Forest, a real-life place in Japan where people go to end their lives. Against this backdrop, a young American woman comes in search of her twin sister, who has mysteriously disappeared.[/MOVIE1][POSTER1]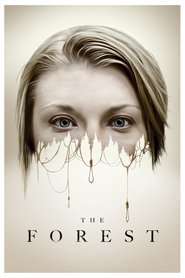 [/POSTER1]
The supernatural thriller, starring Natalie Dormer ("Game of Thrones," The Hunger Games) and directed by Jason Zada,is based on an original idea by David S. Goyer and was filmed on location in Tokyo, Japan and in the areas surrounding the legendary Aokigahara forest at the base of Mt. Fuji.

The Forest tells the story of a young American woman who goes in search of her twin sister, who has mysteriously disappeared. Despite everyone's warnings to "stay on the path," Sara enters the forest determined to discover the truth about her sister's fate, only to be confronted by the angry and tormented souls of the dead who prey on anyone who wanders into the forest.

Taylor Kinney also stars in the horror thriller, which was scripted by Sarah Cornwell and Nick Antosca. It is produced by Lava Bear Films and Goyer, under his Phantom Four banner. Len Blavatnik, Aviv Giladi and Lawrence Bender serve as executive producers for AI Film. Tory Metzger, President of Lava Bear, oversaw the production.
Last edited by a moderator:
1

1