http://tinyurl.com/4msw3hz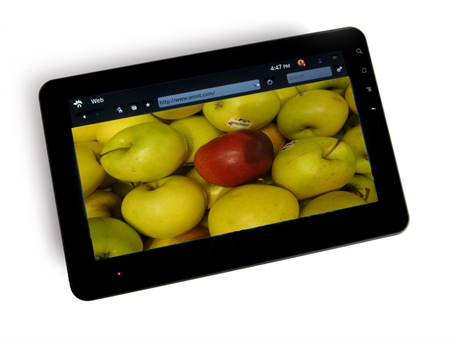 Specs:
Warranty: 1 Year ViewSonic
Condition: New
Features:
The ViewSonic gTablet has a crisp and vibrant 10.1" capacitive touch screen display with plenty of real estate for even the most demanding tablet users
Great for multitasking, viewing multiple apps, and browsing web pages in their entirety, including the ability to play Flash videos
With is 1080p playback resolution, sharing entertainment and photos on this gorgeous display is truly a delight
Extensive format support includes H.264, WMV, WMA, MP3, DivX and more
Easy to take anywhere with its super slim and sleek design and smooth beveled edges. Weighing in at 1.5 pounds and just 0.5" thick, just grab it and go
Newly revised OS gives you the ability to switch between TapnTap menu environment and Droid graphic environment with a single screen touch and results in improved system stability and speed
Engineered with you in mind, the navigation is practically instinctive. You find the buttons exactly where you would have placed them, which will have you toggling, searching, going back and moving forward all at lightning speed
On-display buttons include Search, Home, Menu and back. Volume rocker is located on top
You get an awesome performance from practically any source with this tablet: play music files, watch movies, or upload images from your camcorder and share entertainment with your friends on the go
Switch between apps and tasks instantly: while checking email, download apps while updating your calendar, jump from reading your eBooks to keeping up with your favorite blogs
Open multiple apps with the flick of a finger. It is so intuitive, you'll be able to pinch, scroll, rotate or zoom to your heart's content
Expandable memory up to 32GB via microSD
Offers 3.5 mm headphone jack, USB port, and mini USB port
Direct access to the Apps Store to download thousands of leading Android apps
Features Google's Android 2.2 OS with new features and benefits such as faster web browsing, simple app launching and updating, and a completely more intuitive experience
Improvement in JavaScript loading, better overall performance of Android OS, USB and Wi-Fi Internet Tethering, Microsoft Exchange integration, compass support for Google Maps, improved Google Voice Search that recognizes long and complicated speech
Now you can contact anyone just the way they like. Use email, video chatting, tweet them on Twitter or update your status on Facebook
Wi-Fi b/g/n support, video conferencing via 1.3MP camera, and Bluetooth support with 8-10 hours of battery life
Experience the power of NVIDIA's latest processor. Designed for mobile applications, you will experience super fast gaming, crystal clear 1080p HD video, blazingly fast web access and surreal HD video chatting
1 GHz Dual ARM Cortex-A9 processor, 512MB DDR2 memory, 2D/3D Graphics processing, HD Video encode and decode, Ultra-low power GeForce GPU, 1080p video playback processor, OpenGL ES 2.0, and 32-bit LP-DDR2, DDR2
Applications and games come alive in your hand with the G sensor. Your gaming imagination never has been this real or this wild. An ambient light sensor also automatically reduces brightness in dim lit settings to conserve power. It follows your every move; it feels what you feel
The gTablet app is preloaded, which gives you instant access to manuals, user guides, the latest update information, file download resources, support hotline number, source code information for developers, and more
Quick Start Guide (click here)
Users Guide (click here)
How to Use Android (click here)
Additional Photos:
Power Button, USB Port, Speakers, Headphone Jack, and Power Port
Speakers and On-Display Controls
Volume Rocker
Microphone and Proprietary Port
Back Profile
1080p Resolution Video Playback
Best use for this and all other PCs
Package Contents
Packaging
Specifications
CAMERA: 1.3-megapixel camera
BATTERY: 3650mAh Li-ion polymer battery
OPERATING TEMP.: 32°F to 113°F
STORAGE TEMP.: -4°F to 113°F
DIMENSIONS: 6.8" (H) x 10.5" (W)
WEIGHT (with battery): 1.55 lbs.
MEMORY: 16GB internal memory
INPUT/OUTPUT:
USB 2.0 (Slave)
Mini USB 2.0 (Host)
3.5mm stereo headphone
MicroSD
DC Input (Power)
OPERATING SYSTEM: Google Android 2.2 (Froyo)
CPU: 1GHz NVIDIA Tegra 2-Dual-core ARM Cortex-A9 CPU with 512MB DRR
VIDEO: NVIDIA Tegra 2, OpenGL ES 2.0, 32-bit LP-DDR2, DDR2
DISPLAY: 10.1" TFT-LCD with LED driver system
NETWORK: Wi-Fi : 802.11 b/g/n
Bluetooth 2.1 + EDR
RESOLUTIONS: 1024x600 resolution
AUDIO OUTPUT: Built-in 2 x 1-watt stereo speakers
3.5mm stereo headphone
POWER: 7.4 Voltage Power Adapter
SUPPORTED MEDIA FORMATS:
S1080p H.264/H.263/ VC-1/MPEG-2/4/WMV9/DivX 4/5 Video Decode
1080p H.264/MPEG-4 Video Encode
Supports multi-standard audio formats, including AAC, AMR, WMA, and MP3
Included Software
Adobe Flash Player
Kindle
Pandora Radio
G-market
Angry Birds
Color Note
In the box:
ViewSonic gTablet 10.1" PC Android 2.2 (UPS300-2.2)
USB Cable
Power Adapter
Cleaning Cloth
ESD Cover
User Guide
Quick Start Guide