The movie's excellent, but is the transfer worth the money?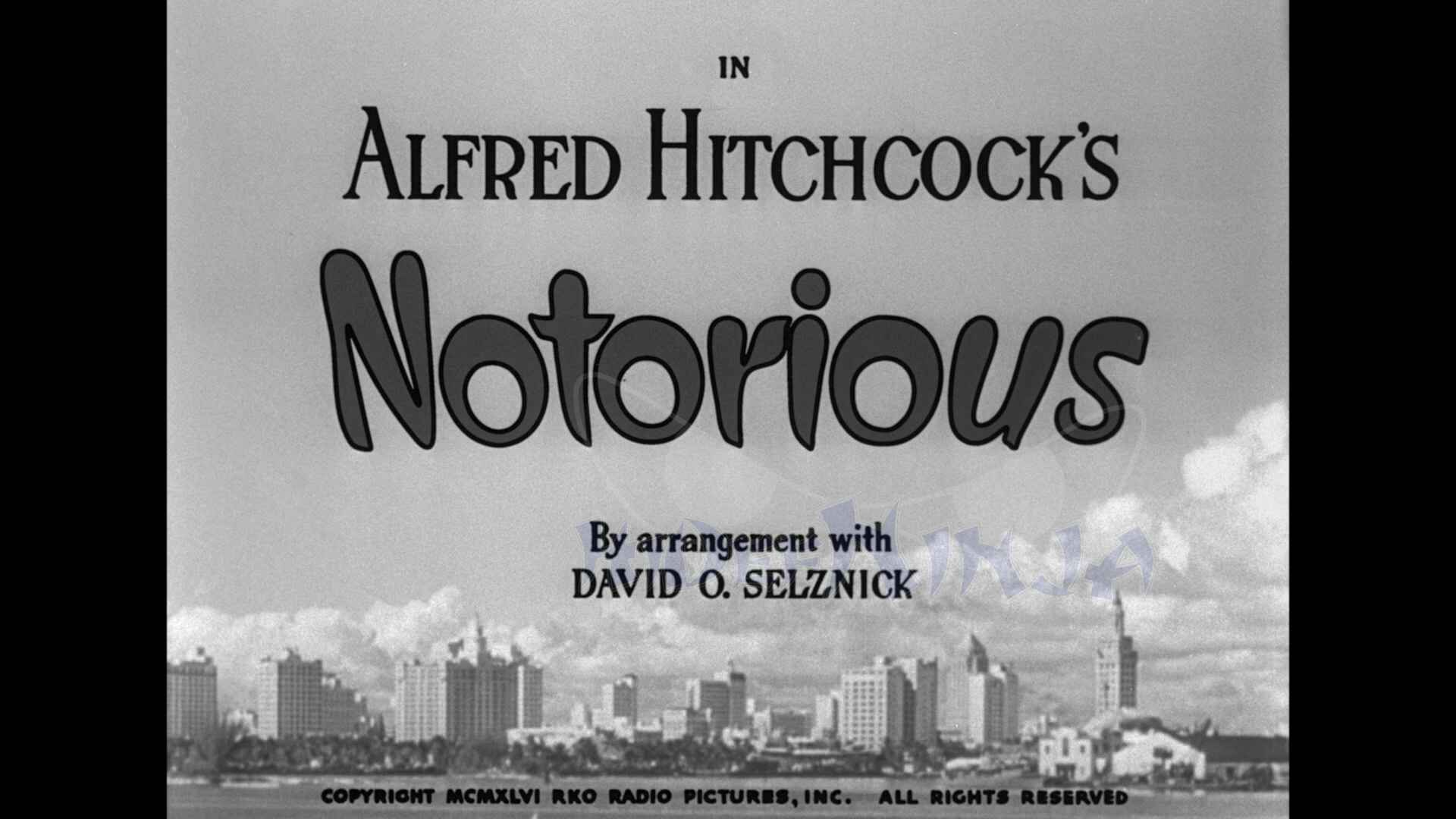 For many, the name Alfred Hitchcock is synonymous with films like Psycho, The Birds, and North By Northwest (my personal favorite).  When Notorious is mentioned, reaction is generally somewhere between blank stares and lying about having seen it to gain acceptance.  Since it didn't make AFI's Top 100 releases in 1998, or its update in 2007, the importance of the film threatened to disappear altogether.  Luckily, with its recent release to Blu-ray, even the most casual fans of Hitchcock or of early suspense can now learn about this brilliant, disturbing (for 1946), and enthralling tale Film Noir tale.
From almost every angle, Notorious is a solid film.  Set in 1946, our story follows the exploits of Alicia Huberman (Ingrid Bergman, Casablanca), a wild, sexually available woman, who falls in love with CIA agent T. R. Devlin (Carey Grant, Charade) while attempting to infiltrate an organization of Nazis who have relocated to Brazil.  Huberman's father, recently sentenced for treason, is like a ship without a rudder: she's a party girl, easily succoming to liquor and all the fun (or evil, depending upon your viewpoint) that arises from it.  Devlin is introduced in typical Hitch style: back to the camera, only willing to give up the goods after 5 minutes.  This technique of hiding your hand is standard Hitchcock brilliance, even when introducing someone as important as Grant.  Devlin is not a man to trifled with: he even hits Huberman when she refuses to give up the wheel after a wild ride around town.  For 1946, Devlin's behavior would have seemed extreme, and I can't imagine audience's reactions when the film was first released.  Even when the two begin to fall in love, Devlin won't show his affection: he knows Huberman's past all too well, even though she is smitten with him.  No, the job here is espionage, and Devlin needs Huberman to seduce an old admirer down in Brazil.  Enter the always amazing Claude Reins (Casablanca), who plays Alex Sebastian.  Sebastian is a German sympathizer who's sheltering a group of ex-Nazis who want to build a bomb.  Reins plays every role with a style and dignity we simply do not see in modern film.  He moves with a grace and silent swagger through this film, showing the true depth of his skill as an actor.  I've seen about a dozen of his films, and to land him in this supporting role was a real feat.
The story builds slowly throughout the first third of the picture, as Alicia and Devlin come to grips with an ever-fluid situation and their feelings for each other.  Soon, Sebastian proposes marriage, and Huberman ever the woman who loves a sexual challenge, accepts.  By this time in the film, the walls are beginning to fall down for Devlin, who is both shocked and resigned to Huberman's plan to accept the proposal.  You can see the war raging in his mind, another classic Hitch tool.  Devlin takes it out on Huberman throughout Notorious, with interplay that is both funny and degrading, even as the duo uncover Sebastian's plot.  You can tell this is not what our heroes bargained for, but this is espionage, and Hitchcock revels in every moment.  He is both a technical genius when it comes to direction, as well as an excellent storyteller.  While the beautiful crane shot demonstrates his mastery with the camera, Hitch's command of characters and building tension and intrigue are what made him so undisputed.  His is a love for film that is demonstrated in every shot of Notorious, making it among the most glamorous of his efforts.  Also, credit the writing of Ben Hecht (Some Like it Hot, Gone With the Wind), who weaves this tale like an expert tailor.  The story went through several writes, with some intriguing plot lines revealed in the special features.  This was a time when studios like RKO 'owned' their talent, placing them in whatever films they wanted.  Luckily, Hecht could write for any actor, and his acumen is demonstrated throughout Notorious.  It's this perfect match of writing, acting, and directing that makes Notorious so intoxicating.  The final scene is one not to be missed, as Sebastian's plot is exposed, and he is called back into his elegant mansion by the Germans to 'have a word' with him.  Reins executes this flawlessly, like a man heading to his own execution.
But in many ways, Notorious is a search for oneself.  From the moment that the two arrive in Brazil, Bergman's and Grant's characters begin to transform.  For Bergman, it's the moral journey from party girl to patriot, to atone for her father's treason; for Grant, his is more like a wrestling match between his tough CIA exterior and the man who is falling for Huberman.  Hitchcock invites us to be silent witnesses to these struggles, and Hecht's mastery at creating pitfalls for our characters to overcome makes Notorious an engrossing thrill ride.
Notorious is presented in 1080p with AVC encoding.  The screen ratio of 1:37.1 will leave a lot of black on your flat panel, but that's ok, as this transfer is mostly good.  Hi-def really opens the palette, allowing us to enjoy a beautiful soft shot of Bergman in one frame, an elegant open shot of Brazil in the next, as well as Hitch's classic blurred 'hangover' ones.  And while It does appear that this transfer was not taken from a master print but perhaps from the DVD release a number from several years ago, most of the transfer appears to have been successful.  Shadows and blacks play well here, with whites and grays enjoying their fun in scenes throughout the film.  It's a nice transfer, but one that could use a little more love the next go-around.
So many films from this time suffered a huge disrespect to the audio track.  Thin, 'tingy' sound and hiss were the culprits, leaving audiences of our time to wonder how those in Hitch's age ever let this go on.  The good news is that this release attempts to resolve that by presenting a good DTS-HD Master Audio lossless track.  The effect does not remove all the ting, but pops, hissing, and other issues with prior releases appear to be gone.  The isolated music track, featuring the efforts of Roy Webb (Flying Leathernecks), is a little hidden with all of the visual intrigue featured, but it's appreciated that MGM made such an effort to include it.  Overall, a solid audio track, given the tall hill MGM had to climb.
Everything here is presented in SD, which is understandable considering the age of the source material.  Yet, the sheer amount of features is terrific and it's good to see so many offered.  They provide us film nerds with an exceptional opportunity to learn about the film:
Commentary with Film Professor Rick Jewell. Not your typical commentary, Jewell spends the first part of the movie talking about the history of RKO, then diving into Selznick's role in the project, before moving on to the movie itself.  Very insightful.
Commentary with Film Professor Drew Casper. Again, nice commentary with some flair thrown in for color.
Isolated Music and Effects Track. Again, a very nice touch to see Notorious' score given an isolated track.  It shows how composer Roy Webb could hide in the shadows but deliver a solid soundtrack.
The Ultimate Romance: The Making of Notorious. (SD; 28:22)  This is a look at how romance was used as a central focus of the film.
Alfred Hitchcock: The Ultimate Spymaster. (SD; 13:10) A quality discussion of how films like Notorious have influenced spy and espionage films in general.
The American Film Institute Award: The Key to Hitchcock. (SD; 3:20) Mary Stone, Hitch's granddaughter, discusses of footage from Hitch's AFI Lifetime Achievement Award.
1948 Radio Play starring Joseph Cotton and Ingrid Bergman. (59:35) If you have time to listen to this, rather than watch another hour of reality television, do yourself a favor and check it out.
Hitchcock Audio Interviews.  These fascinating audio tracks feature interviews given by Peter Bogdanovich (2:14) and François Truffaut (16:22).
Restoration Comparison. (SD; 2:50)  This segment really shows the attention which the film received in its restoration.
Theatrical Trailer (SD; 2:31)
Alfred Hitchcock's Notorious is one of those films that demands your attention from the moment of the first scene, holds that attention with some of the best actors of the time, and delivers the quintessential big Hitchcock punch at the end.   Bergman, Grant, and Reins are outstanding, Hitch's direction is nothing short of groundbreaking and the special features on the disc are terrific.  While dealing with a weathered master source, the transfer is good, and the audio track keeps the audience on the edge of their seats.  Notorious is a reminder that the studios can breathe new life into these older releases, using the hi-def medium to its greatest advantage.  I definitely recommend it.