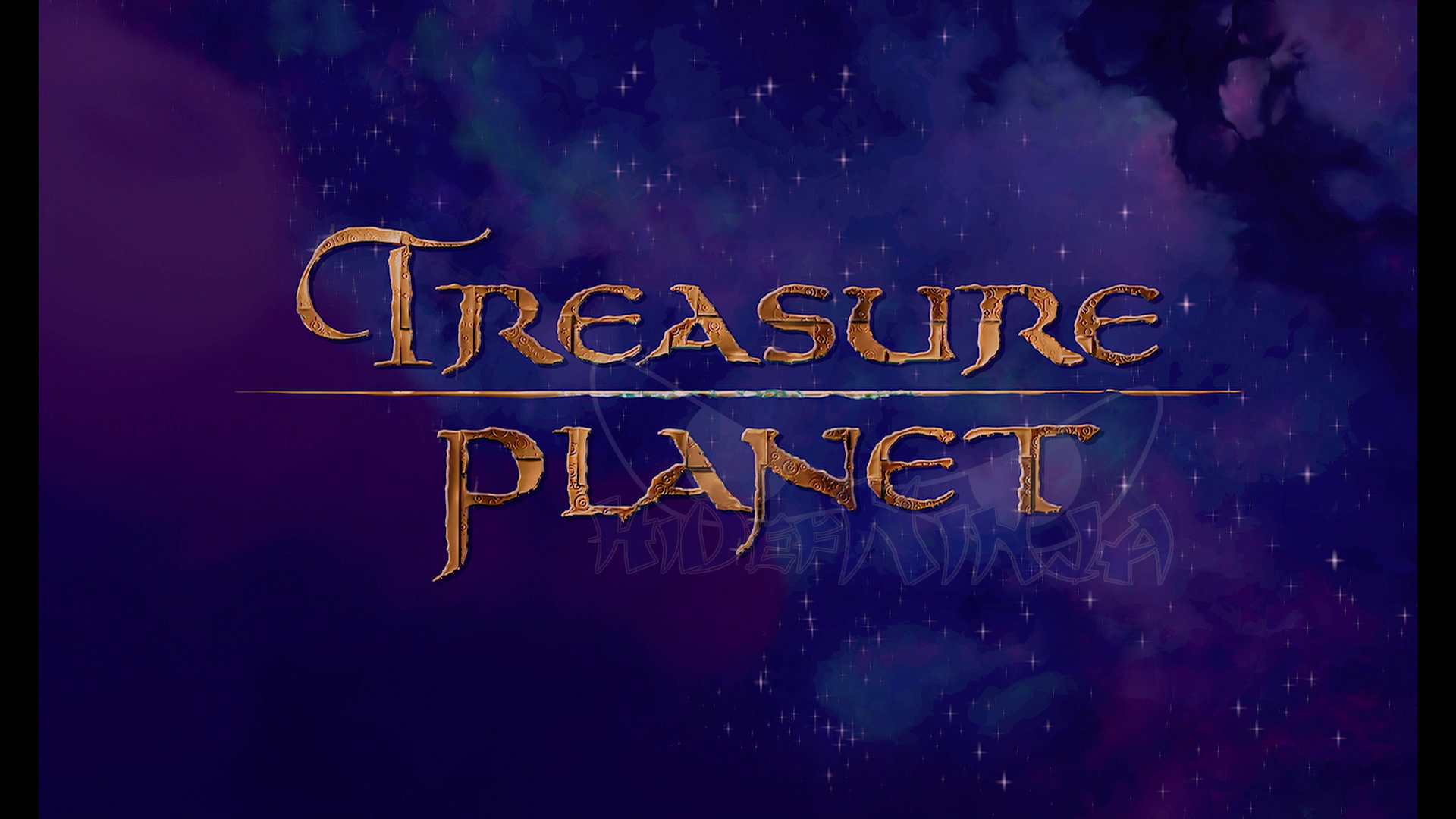 Is Disney's 10th Anniversary release of the fantasy pirate swashbuckler Treasure Planet a lost classic, or is it lost at sea?
When you consider the great Disney animated films from the past 20 years, you're bound to rattle off Monsters Inc, Toy Story 2, Finding Nemo, and The Incredibles (my personal favorite).  These instant classics from 1999-2004 connected with audiences in ways few films do, ushering in a renaissance for Disney that it still enjoys today.  That road back from the dearth of the 1980's/early 90's wasn't without its share of potholes: nestled within this rebirth is Treasure Planet, a 2002 critical flop that was soon forced to walk the plank, replaced by the mammoth Pirates of the Caribbean: Dead Man's Chest just one year later.  A DVD release in 2003 contained many supplements, yet moviegoers stayed away from  Treasure Planet.   With its 10th anniversary release on Blu-ray, audiences now have the chance to either reconnect with this forgotten treasure or learn why its status as a disappointment might have been justified.
Based on the terrific book by Robert Louis Stevenson (Tarzan), Treasure Planet takes the world of high-seas pirates and places it in outer space.  Jim Hawkins (Joseph Gordon-Levitt, Inception) is a fatherless, troublesome 15-year-old who's dreamed of adventure ever since he was three, missing every opportunity to further his life in the hopes that glory would soon pay a visit.  That chance presents itself when he inherits a strange orb from the dying rat Billy Bones (Patrick McGoogan, Escape from Alcatraz), who's apparently running from an unknown enemy.  Jim soon learns that the orb is a treasure map, and that several seedy pirates will stop at nothing to secure it.  Their attack leaves Jim and his mother (Laurie Metcalf, The Big Bang Theory) on the run, and Sarah's restaurant and home in burning ruins.  Eventually, they seek help from the friend Dr. Delbert Doppler (David Hyde-Pierce, Frasier), who charters a sailing vessel that's also a starship, able to travel through pockets of air in outer space.  The RLS Legacy is commanded by the tough and smart Captain Amelia (Emma Thompson, MIB3) and her first mate Mr. Arrow (Roscoe Lee Brown, The Cowboys), who keep their 'cargo' a closely-guarded secret from a crew that's thoroughly distasteful.  With Dr. Doppler in tow, Jim sets out to fulfill his dream of high adventure on the open 'seas' of space, knowing that no one can be trusted, incuding the Legacy's cyborg cook (Brian Murray, Bob Roberts).  Throw in the marooned robot B.E.N. (Martin Short, Three Amigos), and you have a story that sounds fun and ready for adventure, right?
Not so much – a Disney classic this is not.  Filled with forgettable characters and a script that fails to get off the 'troublesome boy doing right' soapbox, Planet is lost at sea almost from the start.  While visually appealing, the script adaptation by Ron Clements misses the human elements that made his earlier works like The Litle Mermaid so appealing, instead choosing high action over meaningful character development.  Even our strong female captain, almost unheard of in animation to this time, is relegated to Injured Reserve in Act 3, leaving audiences to wonder how she could have been better used.  Also hampering Planet is its voice actors, whose performances come off flat and strangely disconnected from each other.  It's almost as if those performances were done without the benefit of having the other actors in the studio.  Even the usually unflappable Thompson sounds like she's locked in a steel cage with her dowdy script, bound to serve only as the ship's dull evening entertainment.  Other performances, such as Short's, seem strangely out of place.  His Act 3 entrance feels like directors Clements and John Musker (Aladdin) inserted him at the behest of studio reps, worried about the blase direction the film was taking and hoping that a dose of physical comedy would help. Perhaps this wasn't the case, but something's not quite right about Planet, a fact which eventually unravels any motivation we have to follow our characters.  Additionally, its hybrid animation style works against it in some scenes, creating an unbalanced sense of movement when both CG and paintbrush are used concurrently.  You see this occur most often in any scene involving the 'sailing' of the Legacy (CG) among the gorgeous backdrops of galaxies and land environments (paintbrush).  It's strange that Disney chose to take this two-headed approach, considering the success advancements made between Toy Story 1 & 2 just 7 years before.  Perhaps an all-computer trajectory might have suited them better?  Don't get me wrong, Treasure Planet isn't awful – it's just not memorable in any way.  As soon as the credits roll, our characters are as lost to the winds as our pirate's treasure.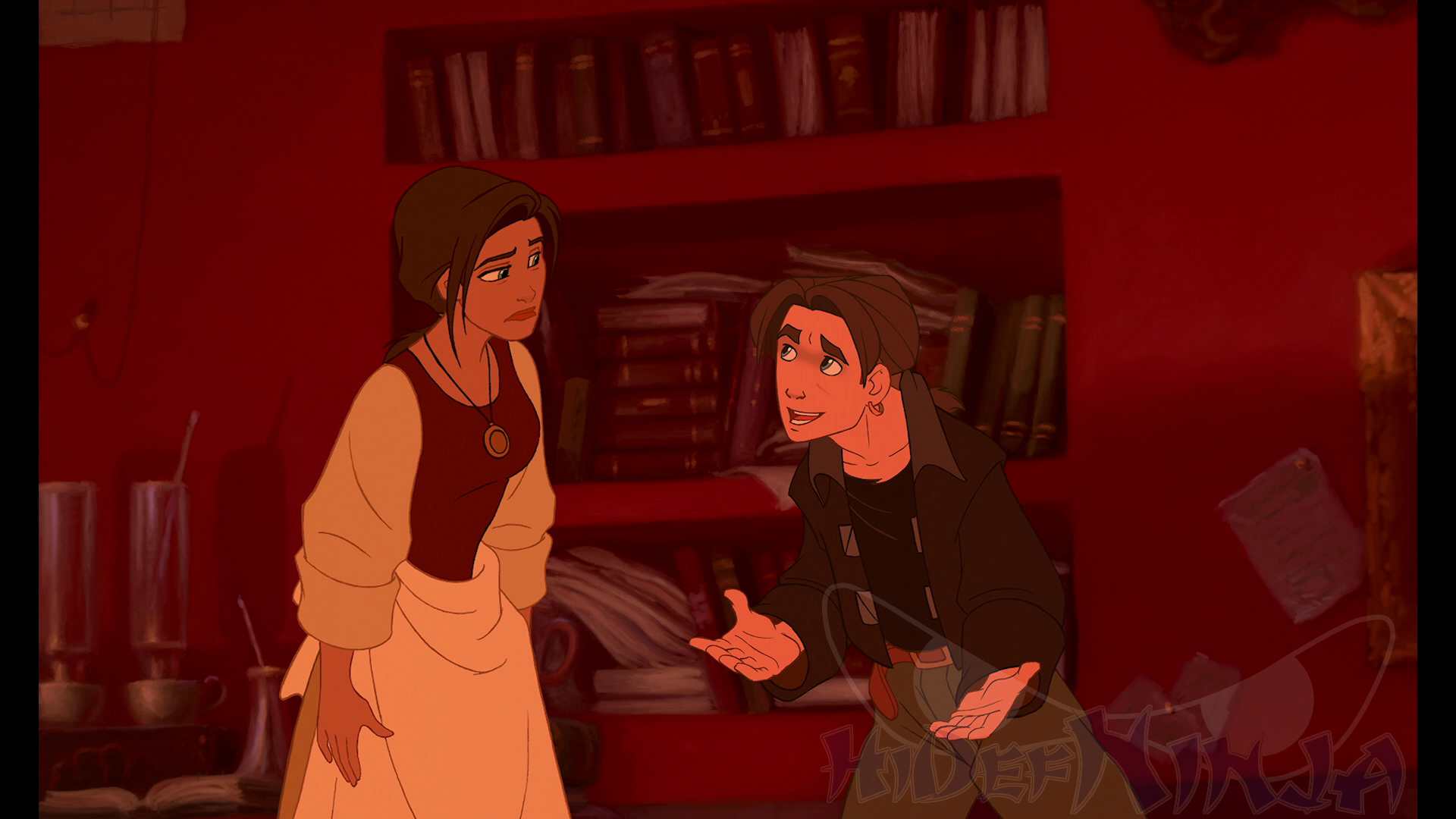 Treasure Planet is presented in a near-perfect 1080p/AVC transfer whose only detractor is the busy competition between CG and hand-painted techniques I previously mentioned.  Colors are amazingly bright but clear, with zero bleeding.  Darks and blacks play well with each other, lending good depth to clothing and space scenes.  Hand-drawn lines are crisp, and CG (particularly at the Crescent Moon Shipyard) is impressive, but not quite perfect.  Banding, haloing, and edge enhancement are not present, and it appears that the studio used the master print for its transfer, as it's free of any pops or dirt.  The end result demonstrates Disney's commitment to providing its audience with transfers that will look terrific on any high-definition platform.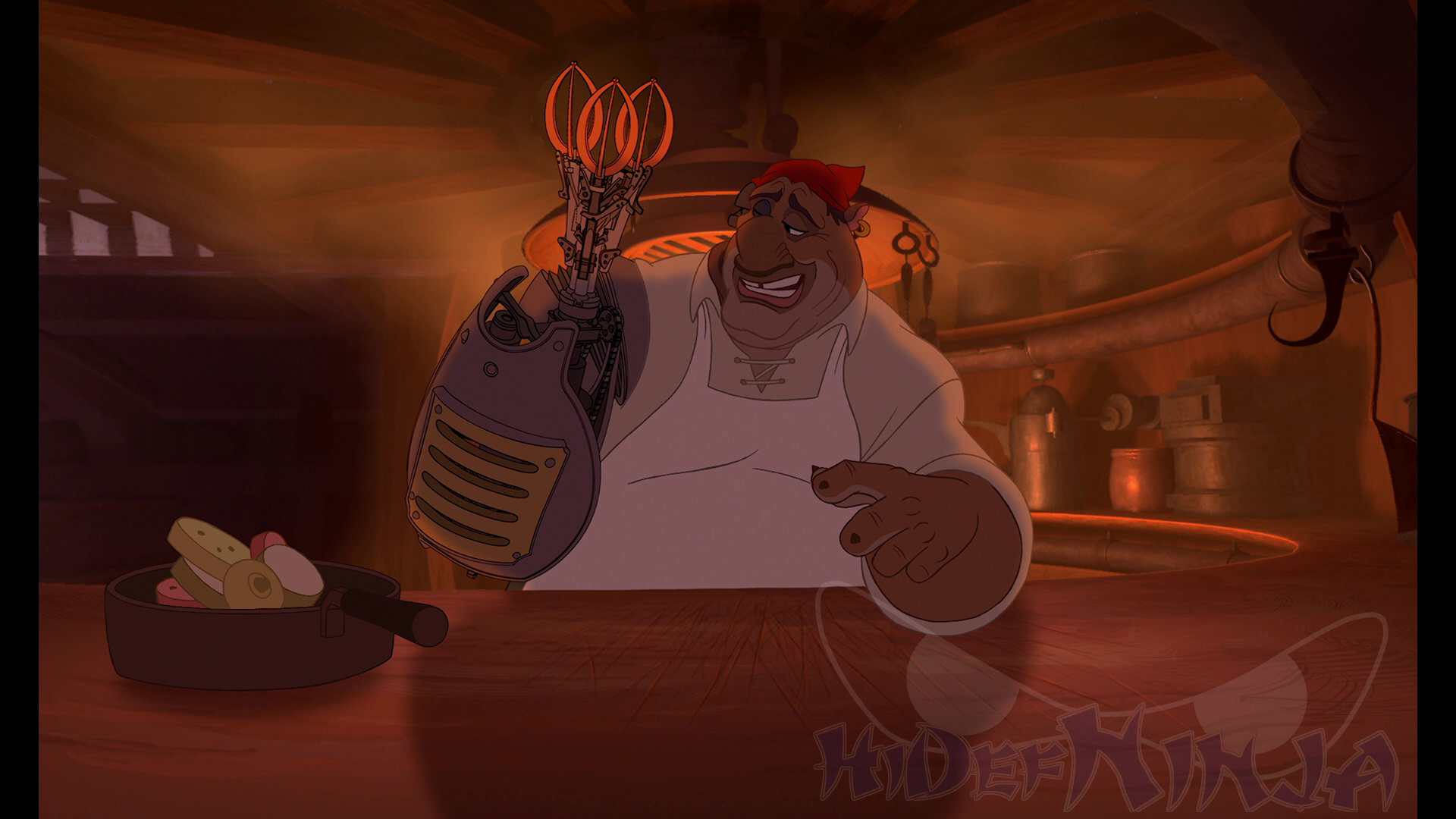 Disney also demonstrates its acumen in the sound processing department, delivering a DTS-HD Master Audio 5.1 track that's booming when it should and clear when it must.  Battle sequences are mixed to perfection, wrapping the listener in a variety of explosions, crew shouting, and footsteps.  Other scenes, such as the Legacy's encounter with a black hole and the crew's discovery of the hidden treasure, are crisp and do not require the Remote Control Game to access dialogue in more quiet scenes.  The LFE is perfect here, pounding out rich bass during fighting and flight scenes with equal precision.  The music of James Newton Howard (Grand Canyon) provides a suitable backdrop for our tale, without overpowering itself.  All in all, Planet's audio is ready for the voyage and will deliver the goods to your surround sound setup.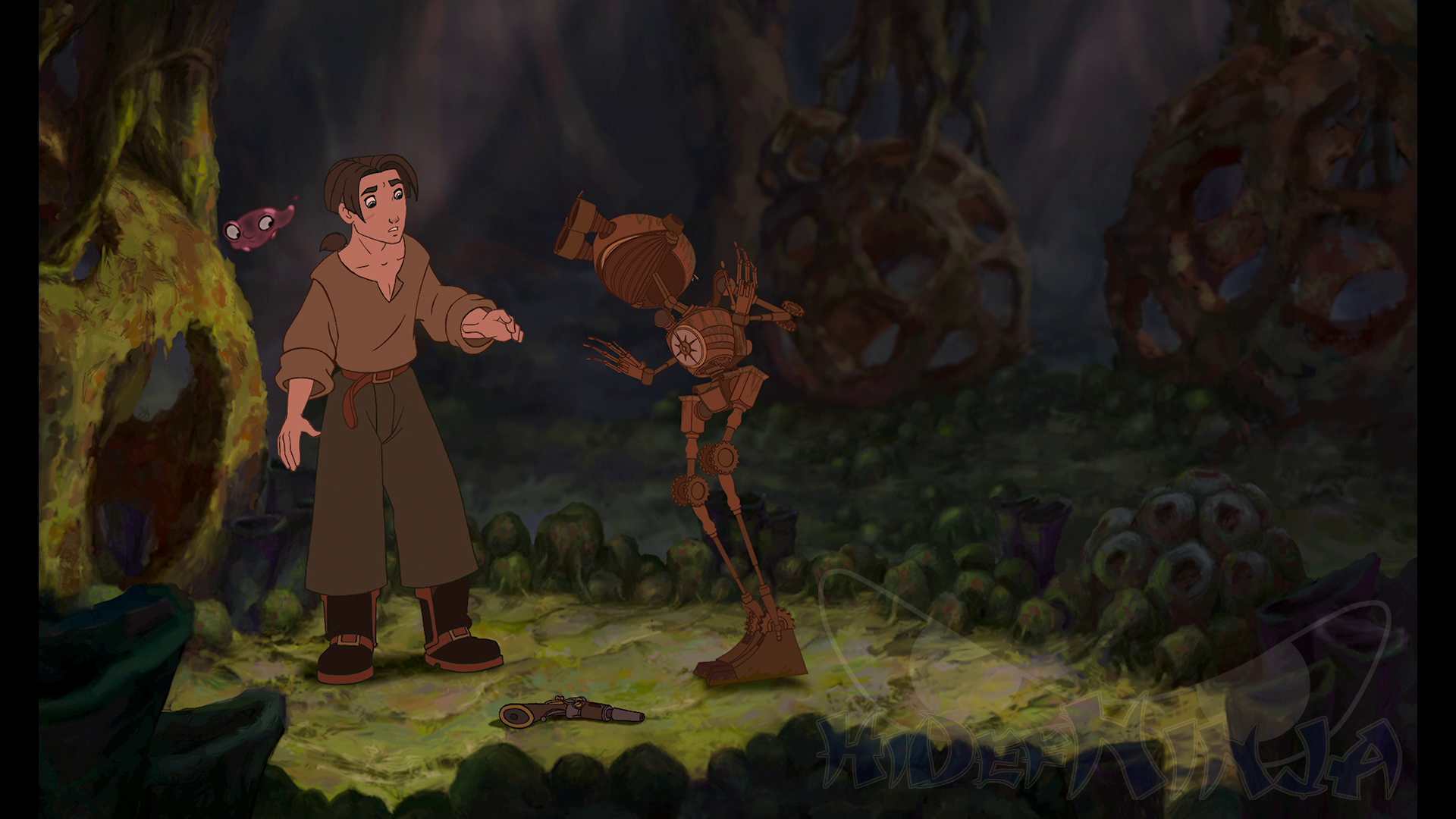 Is it better receive a ton of special features in SD, or a few in HD?  This is another conundrum which plagues Planet – the large amount of special features are only presented in SD, with no new HD offerings.  It appears that everything was ported over from the 2003 DVD release, but the lack of any new HD material (such as how the film was remastered for Blu-ray) is a head-scratcher:
Laurie Metcalf Introduction (SD, 1 minute): Metcalf gets things started by introducing the film's supplemental offerings.
Audio Commentary: One of the best parts of the release, we are treated to a slew of creators from the film, including Producer Roy Conli, Co-writers/Co-directors John Musker and Ron Clements, along with supervising animators John Ripa, Glen Keane, and Ian Gooding.  Their discussion of the production itself is deep and enlightening, with too many insights to mention.  The only issue I had was trying to find the commentary itself, which is hidden under the audio menu and not in the extras section.  Why one must navigate to the audio menu to experience this is beyond me, but it's enjoyable nonetheless.
Production Featurettes (SD, 43 minutes): A nice collection of production interviews, small featurettes, and other items (early drawings and animatics, trailers, music videos, etc) are appealing but ultimately requires one to take a break between it all, even for a supplement-head like myself.  I found sections like "Story," "Music," "Art Design," "The Characters," "Animation," "Dimensional Staging" and "Release" sections to be interesting.  It just took awhile, and it's probably best seen in sections.
Disney's Animation Magic (SD, 14 minutes): This featurette is headed by Walt Disney Feature Animation chairman Roy Disney, and goes into good depth to uncover the process behind Treasure Planet, including character designs, storyboards, and the actual process which animators used to create the hybrid CG/paintbrush world of Jim Hawkins.
Deleted Scenes (SD, 6 minutes): It's not too often that one sees completely new but deleted scenes from an animated feature.  Planet offers three, with introductions by directors John Musker and Ron Clements: "Original Prologue: Adult Jim," "Jim Meets Ethan" and "Alternate Ending: Rebuilding the Benbow."
R.L.S. Legacy: Virtual 3D Tour (SD, 17 minutes): Again, another feature ported over from the DVD, this section takes viewers through two virtual tours of the ship.  We are offered an early CG model of the ship and a final version, along with audio from various production designers.  It's enlightening, but the lack of an interactive element was a tad disappointing.
DisneyPedia: The Life of a Pirate Revealed (SD, 12 minutes): This six-part featurette is more for the young swashbucklers, delving in to what it meant to be a pirate during various periods in history.  Segments include "Pirate Flags," "Pirate Definitions," "Code of Conduct," "Real Pirates,"  "Treasures: Lost and Found," and"Pirate Ships."
Our review copy of Treasure Planet contains an embossed slipcase, along with a DVD and Blu-ray version of the film.  There's no digital copy provided, but perhaps other versions exist that do.
Treasure Planet reminds us that Disney's renaissance was not without its missteps, but still proves their desire to push the animation barrier, even if the the final result is uneven.  Its squandered opportunities at meaningful character development and an ineffective hybric animation style that was wisely dumped soon after the film's release made Planet an easily forgotten film.  Yet, the home release sports a great audio and video transfer that will be enjoyable to the young and those unfamiliar with Robert Lewis Stevenson's work.  A wealth of supplements should entertain movie geeks interested in every aspect of production who can get over the SD quality.  Treasure Planet is rated PG and has a runtime of 95 minutes.