Cinderella (Two-Disc Diamond Edition
Price : $24.96

Cinderella (Three-Disc Diamond Editi
Price : $29.96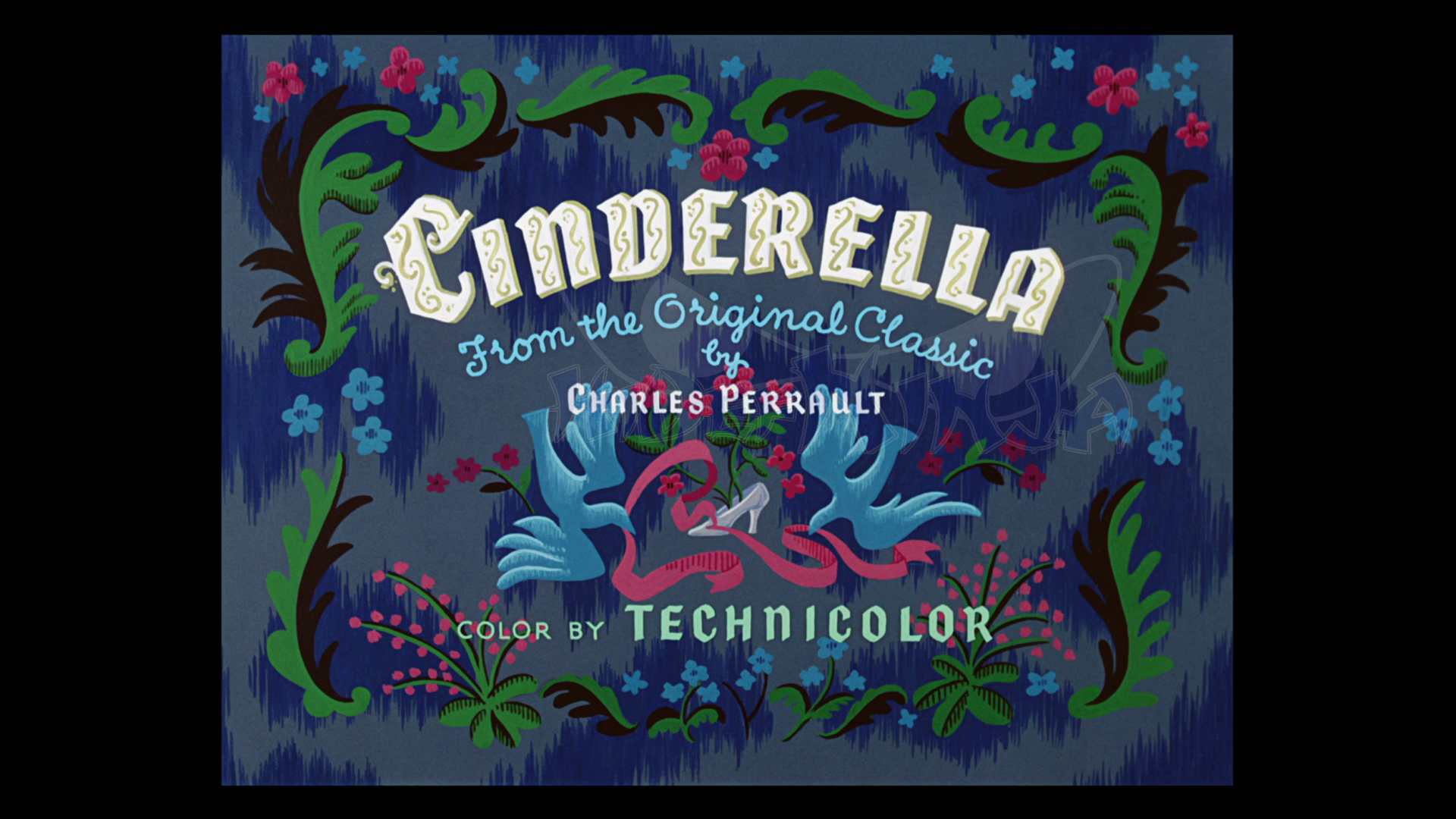 The Disney classic Cinderella receives the royal treatment in an impressive Blu-ray release.
As a person who's been privileged to review so many Disney releases this year for HDN, I've come to better appreciate the efforts of The Magic Kingdom in bringing high-quality versions of their classics to the ever-growing screen sizes of our home theatres.  The reasons for Disney's dominance are simple: take the time necessary to produce a high-quality restoration, and settle for nothing but the best.  Cinderella represents the pinnacle of that achievement, with a release that should go down as one of their best ever.
With a story almost as old as the written word, Cinderella received its most recent (and probably most popular) adaption in 1697 when author Charles Perrault dressed up the hand maiden with the glass slipper and fairy godmother.  Walt Disney took that version and dressed it up for the big screen, employing some of the brightest minds (who would be later dubbed The Nine Old Men) to rescue an industry that was headed for Post-WWII financial disaster.  Had Cinderella not been the critical and financial success it was (and still is), it's quite possible that the studio would have faded away entirely.  Growing up, I saw the film much differently than I do now: its simple story structure is nothing like today's complex Hollywood fare, but it also lacks the darkness and negativity which dominates the entertainment industry, signaling a time when studios rejected commentary about current society in favor of what society could become if it wanted to.
Cinderella is less a story about a woman clawing her way to the top, as it is a story about perseverance and faith.  Sure, the hand maiden (voiced by Illene Woods) does need help from a man (voiced by William Phipps) and a fairy godmother (voiced by Verna Felton); but instead of offering audiences a contrived Pretty Woman-like story about a woman suddenly receiving wealth and status, the studio took a bold approach (even for 1950), suggesting that Cinderella cast off her insecurities, escape from her wretched stepmother (voiced by Eleanor Audley), and make her own success.  It's a powerful message that still works, especially for girls who may have been educated to accept the dominance of men rather than working towards their dreams.  I'm all for equality, and Cinderella casts the greatest light in favor of it, remaining relevant after such a long time in the public eye.
Clearly the best restoration I've seen in a while, Cinderella arrives in a stunning MGEP-4/AVC transfer that's absolutely free of any imperfections or restoration flaws.  The graininess that appeared in the DVD release has been removed, leaving only a perfect work of art for us to enjoy.  I know many of our readers have strong feelings about the merits of restoring the grain out of a film, but Cinderella clearly benefits from the process.  Colors jump off the screen in an array of soft pastels, black inky lines, and brilliant primary tones.  I found no evidence of dirt, pops, or other issues that plague lesser studios' efforts -there's no aliasing, banding, or edge enhancement or any kind.  Shadows blend into agreeable shades of black, while contrasts are properly balanced, as demonstrated in the elegant royal ball sequence.  It appears that Disney used the mother of all master prints for this conversion, and the results are nothing short of remarkable.  The studios' acumen has been demonstrated often this year (see my reviews for The Tigger Movie and Treasure Planet), but Cinderella is probably more extraordinary given the years since its initial release.  Depending upon your point of view regarding the grain removal, this is either a perfect transfer or a disaster.
Cinderella graces the audio senses with two impressive options: a single-channel DTS-HD mix of the original mono track and a DTS-HD Master Audio 7.1 surround mix.  Both are lossless and will appeal to both the audiophiles who prefer the original as well as those who want a state-of-the-art experience.  Regardless of which you choose, be prepared for a soundfield that is devoid of any noise, with music and sound effects never getting in the way of the dialogue – from the sound of scurrying mice to cat growls, both tracks offer an experience that's second to none.  It's rare that we get to see two options, as well as the presence of a French and Spanish 5.1 mix, a fact I believe is based on the a lack of a commentary track.  The LFE, while not playing a consistently dominant role here, does come out to play when required,  rounding out a presentation that should take top honors for those of you who make such lists at year's end.
Disney pulls out all the stops for its Diamond Release, with an impressive mix of featurettes ported over from the DVD release in 2005 and several newly-created ones for its Blu-ray debut:
Personalized Digital Storybook – Bibbidi-Bobbidi-You (HD): Disney offers an interactive experience with its Second Screen Storybook. With it, you can follow the film on your mobile device or tablet.  I had significant trouble getting it started, but the concept is an interesting one.
DisneyView (HD): Don't like to see the black bars on either side of the film?  You can now fill it with  artwork by Disney background painter Cristy Maltese, who's contributed to several other classic Disney restorations.  Most chapters feature different artwork, which change as you progress through the film.  Such a small feature may seem minor, but it demonstrates the total commitment which the studio has towards honoring its films.
Diane Disney-Miller Introduction (HD, 1 minute): The film starts with a quick hello from Disney-Miller at the Walt Disney Museum at the Presidio in San Francisco.
Backstage Disney: Diamond Edition (HD, 31 minutes): Several new featurettes are collected under this title.  First up is "The Real Fairy Godmother," which discusses the inspiration for the look of the Fairy Godmother, the humanitarian Mary Alice. "Behind the Magic: A New Disney Princess Fantasyland" discusses Disney's renovation and expansion of Fantasyland by Once Upon a Time actress Ginnifer Goodwin. "The Magic of a Glass Slipper: A Cinderella Story" is a Amelie-inspired French short film starring shoe designer Christian Louboutin.  And while it's very stylized, the simplicity of its message should resonate among the female viewers.  It's one of my favorite parts of the disc.  Finally, we're treated to "Cinderella Alternate Opening Sequence" (HD, 1 minute), a collection of original storyboards that make for an insightful alternate opening.
Tangled Ever After (HD, 6 minutes): A zany and thoroughly entertaining CG short, Pascal and Maximus must retrieve a pair of wedding rings before bride Rapunzel and groom Eugene realize they're gone.  I hope it garners some attention from the Oscar Nominating Committee, as it's a perfect candidate for Animated Short of the Year, even though it did not appear in the re-release which I attended prior to receiving the discs.
Classic Backstage Disney DVD Features (SD, 117 minutes): Much of the 2005 Special Edition DVD have been ported over, and even though they're still offered in SD, it's a welcomed sight to see them here.  Among my favorites are the Deleted Scenes and Classic Music, "From Rags to Riches: The Making of Cinderella" (an insightful 39-minute documentary), and "From Walt's Table: A Tribute to the Nine Old Men" a terrific 22-minute tribute to the nine legendary Disney animators who created everything from Pinocchio to Sleeping Beauty. Regardless that this section is a simple porting of the features, it's absolutely recommended.
Some might growl (or even utter a Lucifer-inspired cat hiss) at the lack of a commentary track from a leading critic or someone tied to the Cinderella franchise – this is a minor quibble, as so much supplementary material is already packed into these discs.  While there are several versions worth mentioning (including a nice Best Buy Viva Metal Pack with interior artwork), Disney offers three attractive embossed slipcases for its 2- and 3-disc sets.  The 3-disc is basically a rehash of its 2005 release, and the Best Buy Metal Pack can only accommodate the 2-disc.  Whichever you decide upon, the price points are attractive and represent an excellent value.
Disney has done it again with a fabulous transfer of Cinderella – from the video and audio, to the deep and rich supplements, our favorite rags-to-riches story shines brighter than it ever has.  Its message of hope and perseverance still resonates, especially in our tough economic times.  The rest of Hollywood, take note: when it comes to restorations and packaging, Disney is in the driver's seat.  The only question left is which version you should take home.
Cinderella (Two-Disc Diamond Edition
Price : $24.96

Cinderella (Three-Disc Diamond Editi
Price : $29.96