When I originally watched Rob Cohen's THE FAST AND THE FURIOUS in 2001, I never, ever thought that I was watching the first film in what would become a massively successful franchise. Sure, the series has had one slightly not-so-successful film (THE FAST AND THE FURIOUS: TOKYO DRIFT) and one that's not too favored by the series' fans (2 FAST 2 FURIOUS), but ever since the franchise's soft reboot with the fourth film, FAST & FURIOUS, the series has only been NOS'ing itself upwards on the box office charts. Part of this success comes from the fact that the franchise is never afraid to try something new — always introducing exciting new plots and characters. FAST & FURIOUS 6 followed this rule and took the series to a new level once again.
Dwayne 'The Rock' Johnson returns as FAST FIVE's hulked-out agent Hobbs. In this film, he's hunting a new breed of terrorist — Luke Evans as the delightfully sinister Owen Shaw — and he needs help from Dominic Toretto (Vin Diesel), the only man that he knows can go toe-to-toe with such a foe. Gaining his help will be no easy task, though, so Hobbs decides to hang a worm out in front of Toretto's nose — his thought-to-be-dead girlfriend Letty (Michelle Rodriguez) is actually still alive and she's been keeping company with Shaw. Toretto comes out of retirement and calls in his team — or, in the case of this film series, his "family" — to go after Shaw and to bring Letty back home.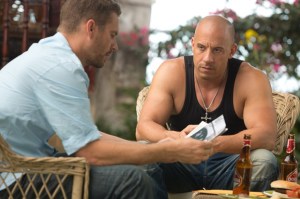 While I admit that I didn't enjoy FAST & FURIOUS 6 as much as the previous film, it was still ridiculously thrilling throughout its entire 130-minute runtime. Besides Diesel, Johnson and Rodriguez, series regulars Paul Walker, Jordana Brewster, Tyrese Gibson, Ludacris, Sung Kang and Gal Gadot all returned here. I was pleasantly surprised with the role that Walker's Brian O'Conner played in the film. I think that out of all the FAST & FURIOUS films that Walker's taken part in, he was most enjoyable in this film. I was definitely rooting for him more than once during my viewing. Joining the regulars this time around was the ultra-beautiful and ultra-kick-ass Gina Carano. Ever since seeing her in HAYFIRE, I've been excited for the next film where she'd be able to destroy more adversaries. This brings me to one of my favorite parts about FAST & FURIOUS 6.
In numerous scenes in this film, Carano and Rodriguez slug it out in the catfight to end all catfights. Carano's a pro fighter in real life and Rodriguez is one of the toughest actresses out there (take a look at GIRLFIGHT to see what I'm talking about), so I was beyond excited whenever they were exchanging hits on screen. To me, Carano vs. Rodriguez for FAST & FURIOUS 6 is what Diesel vs. Johnson was for FAST FIVE; a dream match that's been brought to life right in front of your eyes.
That wasn't all that was exciting about FAST & FURIOUS 6, though. The action and set-pieces in the film were phenomenal. Shaw's arsenal of weapons was exciting and something that almost seemed to be straight out of a James Bond film. Seeing his crazy antics go up against the 'Ride or Die' attitude of Toretto and company was absolutely superb. The humor was through-the-roof in the film, too. The chemistry between Johnson, Gibson and Ludacris was spot-on, giving the audience one-liners that were often gut-bursting hilarious.
With that said, where as I found very little about FAST FIVE to be disappointing, FAST & FURIOUS 6 definitely wasn't without its flaws. I think the biggest thing of all was Hobbs' disappearing/reappearing facial hair in the film. How that was overlooked, I have no idea. While it seems like something small to complain about, it actually took me right out of the film and had me anticipating the next scene featuring Hobbs just so I could see whether he had a goatee or not. Another negative was that the stunts were a little too over the top. Yes, they're exciting and they boost your adrenaline, but they were often too silly to be taken seriously. One particular stunt in the film actually made the entire audience laugh within the theater I was watching the film at. What was supposed to make the crowd cheer in celebration made them laugh uncontrollably instead. That's not a very good sign. The climax of the film was a bit of a letdown, too. While visually cool, it was majorly flawed. I don't want to give anything away, but chances are, after you view the film yourself, you'll know exactly what I was talking about.
While the FAST & FURIOUS series has always been a guilty pleasure of mine, I can't help but think that maybe it should call it a day soon. Obviously that won't happen anytime in the near future (FAST & FURIOUS 7 is already coming next year and there's no way that Universal will let this series die with the amount of cash that it's been bringing in), but it's always good to take a break before you break down completely. At least this film finally brings TOKYO DRIFT closer to the present day. That gives me hope that, maybe just possibly, Lucas Black will be back for the next entry. It's just unfortunate that Justin Lin, the FAST & FURIOUS director of the past four installments, won't be back for the next film. Either way, after you watch the scene that appears during the end credits of the film, you will be pumped for the seventh FAST & FURIOUS!
~K
——————–
Final Thoughts are an opinion, not a review. I don't believe that anyone should base their own opinion on that of another person. Reviewers and critics are just regular people like everyone else and their opinion shouldn't be the be-all, end-all. What you just read were my Final Thoughts of FAST & FURIOUS 6. I hope you share yours.