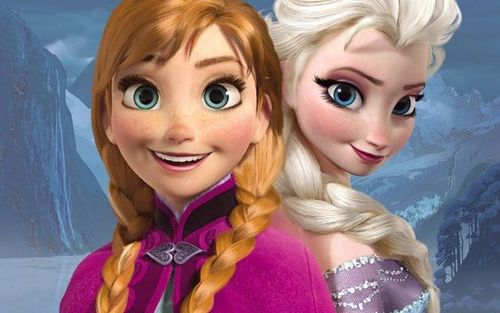 When the original teaser trailer for FROZEN arrived, it was funny and cute, but it really gave no clues on what the full-length film would be about. Cut to the release of the first full trailer and you soon realized that this was just another Disney princess tale… though something seemed special about it.
Walt Disney Animation Studios (WDAS) has been on a bit of a hot streak lately. After a run of duds in the 2000s which included films like CHICKEN LITTLE and MEET THE ROBINSONS, they switched course with 2010's TANGLED and have been churning out animated gems ever since. Last year's WRECK-IT RALPH was immensely enjoyable and original, so I wasn't about to count FROZEN out or flat-out label it as "just another Disney princess movie". I'm glad that I didn't.
Before going into FROZEN, I read and heard multiple times that – and this will sound shocking – FROZEN is Disney's best animated film since their 1994 classic, THE LION KING. That's an incredibly bold statement and one that intrigued me. Could this be true? If so, I was in for a treat. THE LION KING is my favorite animated film of all time, after all.
With my interest piqued, I was off to experience the animated re-telling of Hans Christian Anderson's THE SNOW QUEEN. Let me tell you something: FROZEN is a certified Disney masterpiece.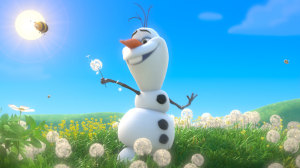 FROZEN tells the story of two sisters (Kristen Bell as Anna and Idina Menzel as Elsa) who love each other but can't be with each other. It's a rather tragic tale, but it's told so beautifully that it's hard to not just smile when taking it in.
Ever since they were children, Anna and her older sister Elsa have been close. The only problem is that Elsa has been developing ice-based powers and they're only getting stronger as she gets older. When an innocent act turns horrifying, Elsa is sheltered away from her family where she grows to adolescence alone, locked in her bedroom. When Elsa is of age and crowned Queen of Arendelle, she accidently exposes her powers to the public which turns the townspeople against her. After Elsa flees the kingdom for the solitude of the wilderness, Anna sets out on an adventure to find her sister and bring her back home.
FROZEN is a touching story and one that I can easily relate to as I've always been close to my own siblings. It's also quite humorous thanks to the colorful side characters Kristoff (Jonathan Groff), Olaf the Snowman (Josh Gad) and Sven the reindeer. The animation is superb and it's easy to see that WDAS have really stepped up their game over the years.
The score and musical numbers that play throughout FROZEN are some of the very best I have ever heard in an animated film. Every time a character began to sing and dance, all I could think of was that this could easily be a Broadway play because the quality is undeniable. I would not be surprised if Disney brought this to Broadway one day because the music and story are perfectly suited for the stage.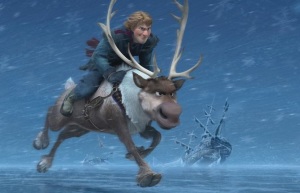 With that said, Kristen Bell can sing?! I always assumed that she could probably sing decently as a lot of Hollywood actresses can, but damn did she blow me away with her performance as Anna. All the actors did a phenomenal job (especially Menzel as the tortured Elsa), but Bell just really surprised me with her vocal range.
The actors aren't the stars of this show, though. No, that honor goes to newcomer writer/director Jennifer Lee. Disney brought Lee in as part of the screenwriting team on WRECK-IT RALPH, but it's here where she really gets to shine. Yes, Chris Buck co-directed FROZEN alongside her, but I have this feeling that the fresh vibe comes from Lee's side of things. If you look at Lee's professional background, there is really nothing before WRECK-IT RALPH, so it's mind-boggling to think of where she came from. Wherever Disney grabbed her from, I'm sure glad they did and I truly hope they continue to give her more work throughout the years.
So, is FROZEN better than THE LION KING? No, it's not – but is it Disney's best animated film since then? It very well could be. I cannot even explain how great FROZEN is nor could I recommend it more. The animation studios that Disney built is surely proving that they can be just as successful as their sister company Pixar. Walt Disney Animation Studios' next film is BIG HERO 6 – Disney's first animated film to use existing Marvel characters. That'll definitely make animation fans excited, but in the meantime, they should go and support FROZEN… over and over again.
~K
——————–
Final Thoughts are an opinion, not a review. I don't believe that anyone should base their own opinion on that of another person. Reviewers and critics are just regular people like everyone else and their opinion shouldn't be the be-all, end-all. What you just read were my Final Thoughts of FROZEN. I hope you share yours.