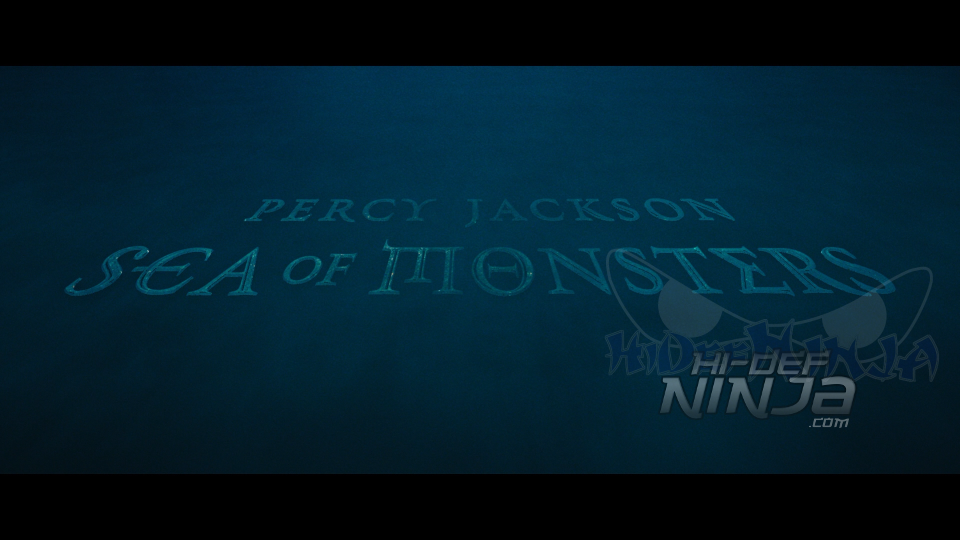 The magical, mythical adventures of teenager Percy Jackson continue in this heroic, action-packed thrill ride! Out to prove He's not just a "one-quest wonder," Percy and his demigod friends embark on an epic, cross-country journey into the treacherous Sea of Monsters, where they battle terrifying creatures, an army of zombies, and the ultimate evil. With time running out, Percy must find and bring home the fabled Golden Fleece, which has the power to save his world…and save us all!
I had mixed feelings about the first film when I saw it. Despite loving the Greek mythology angle (my wife works at the British Museum and is a historian so we have plenty of books on the subject), it was a bit too Harry Pottery for my liking. No doubt this wasn't helped as it was directed by Chris Columbus as well. But I enjoyed it but never thought a sequel would come from it. When Sea of Monsters arrived on my door step, I was a bit cautious but to my surprise, I actually preferred it to the Lightening Thief. It seems to had a bit of a budget cut since there was no sight of any of the Greek gods themselves or Olympus but overall it was a lot more fun and the additional casting of Percy's half brother Tyson, a half god, half Cyclops as the comic relief of the trio added to the fun nature of the film. Managing to tie in some great Greek Mythology into the story (featuring a superb cameo from Nathan Fillion as Hermes , messenger of the gods, as a manager of a parcel company), it's a fun ride with some decent showcase scenes and action. Great family viewing and a superb introduction to Greek mythology for the younger viewers.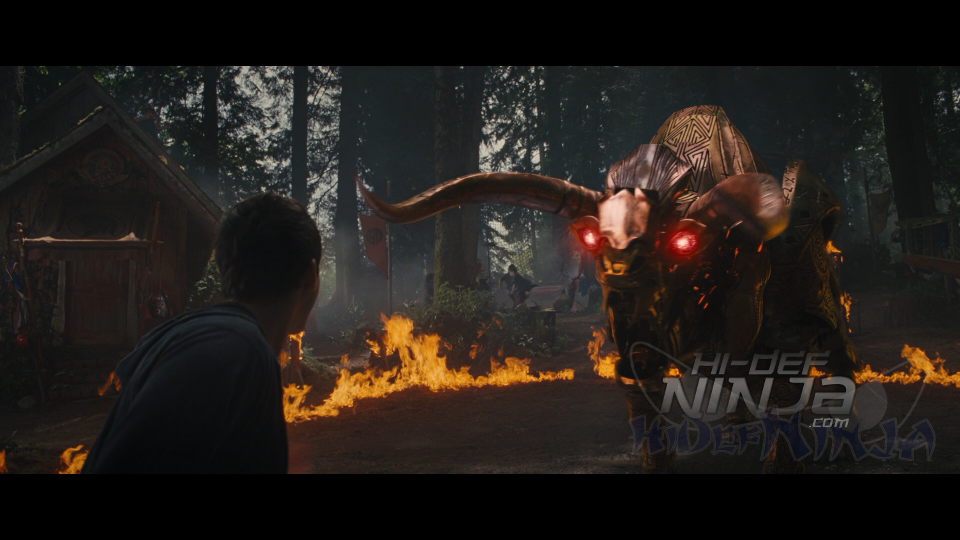 Percy Jackson: Sea of Monsters is presented on two BD50 discs. Disc one being the 3D version of the film and disc two being the 2D version of the film. The 3D version is presented with a MPEG4-MVC codec and the 2D version presented with a MPEG4-AVC codec. Both transfers are 1080/24p that preserve the film's original 2.40:1 aspect ratio.
Converted to 3D in post production but with an eye for the 3D format whilst filming, the transfer is a bit of a mixed bag. The 3D elements are somewhat limited to only foreground elements. Any background elements don't seem to have any separation of depth at all. Some examples of this are the forest background in the first act of the film and a key scene in a large Olympian parcel processing warehouse with multi-storey racks and conveyor belts going off into the distance. Whilst the photography is impressive, there is very little to no 3D element to it at all. Even during the finale that features a huge amusement park. However, the layering and depth in the foreground elements (characters and prominent scenery and crowds) does impress. Also featuring some playful pop-out photography like a sword being thrown towards the camera and extending in slow motion does have a wow effect to it and whilst it may not be as immersive as one would hope, it does have some great 3D moments.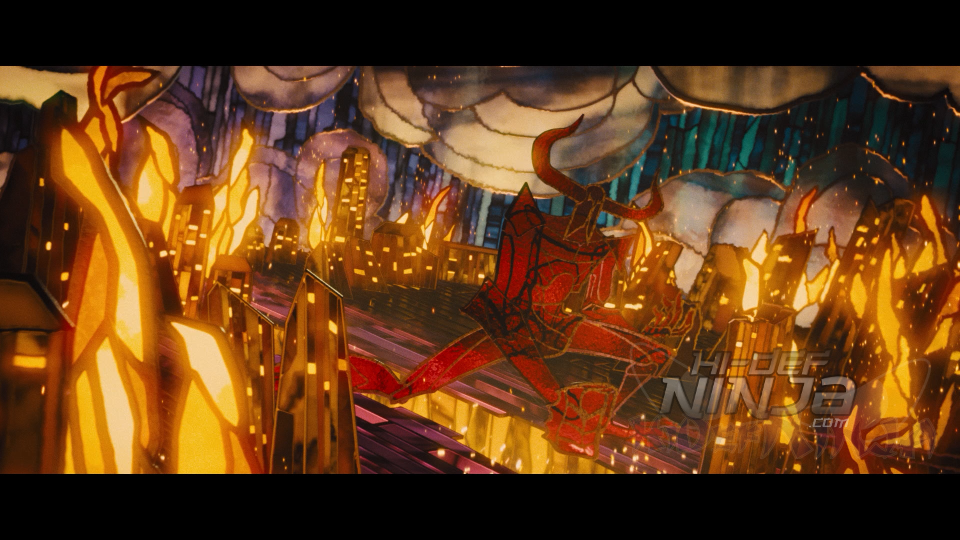 Switching to the 2D version on disc two, Percy Jackson : Sea of Monsters, originally shot on Super 35mm and then transferred to digital, The film has very warm and somewhat muted feel to it. Colours don't exactly come off as vibrant as you think they would. Not that it's a bad thing though as it gives the film a very natural look but with the film's theme and production design it could have been a bit of eye candy. Apart from that observation, it's a solid transfer with plenty of detail and there isn't any evidence of any post processing.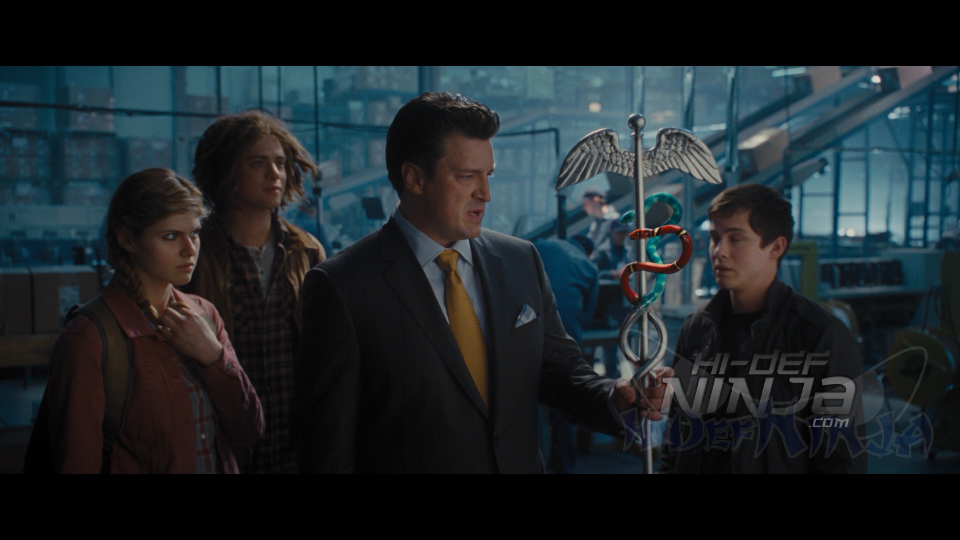 Percy Jackson : Sea of Monsters is presented on both 3D and 2D Blu-rays with an English DTS-MA 7.1 audio track. Originally mixed with Dolby Atmos for it's cinema release, the audio mix contained on this disc is a delight to listen to. Making full use of the expanded rear soundstage, the audio mix creates a great atmosphere throughout the film. The first act set in the forest has some superb discrete effects with general crowd gatherings at camp half-blood and the surrounding forest activity. When the action kicks in (like the mechanic bull attack) some great directional effects and panning do heighten the intensity and fun. A major highlight though was the Charybdis scene when the characters are consumed by this leviathan. Inside the Charybdis creates a astonishing atmosphere with some superb sonics and LFE usage creating an immersive experience. It's a well mixed audio track that adds to the enjoyment of the film.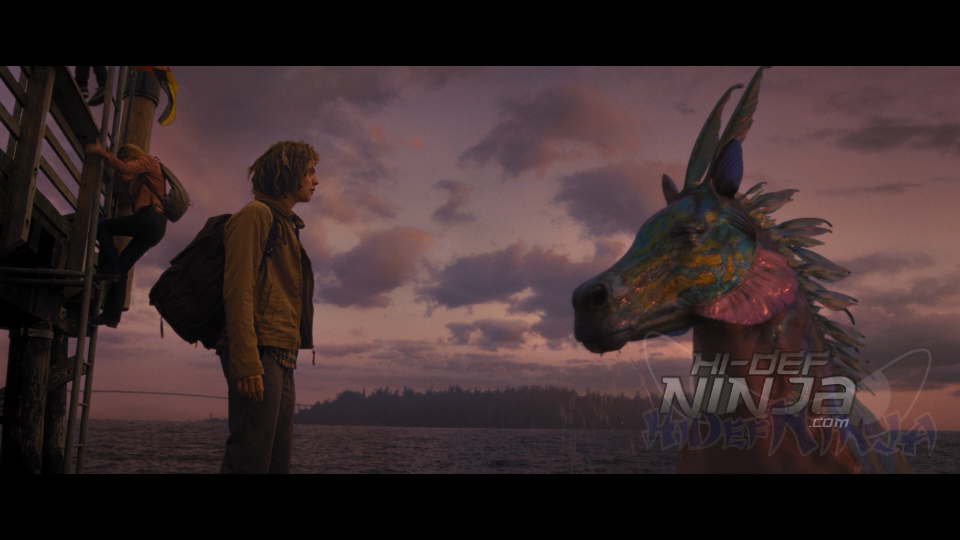 Startup Trailers: The 2D disc starts up with trailers for the upcoming home video releases of The Croods & Turbo
Tyson Motion Comic (5:50) – A motion comic that gives a bit of insight into the Tyson character and serves as a semi-prequel to sea of monsters. Presented in 1080/24p with Dolby Digital 2.0 audio
Deconstructing a Demigod (04:11) – a brief look at the Percy Jackson character and it's transition from novel to film. Presented in 1080/24p with Dolby Digital 2.0 audio
Back to camp half-blood (02:39) – the cast and crew briefly discuss how great it was getting back together for the sequel. Presented in 1080/24p with Dolby Digital 2.0 audio.
It's all in the eye (05:00) – a brief look at the character of Tyson and his introduction to the world of Percy Jackson. Presented in 1080/24p with Dolby Digital 2.0 audio
Theatrical Trailer 1 (02:25) – Presented in 1080/24p with Dolby Digital 5.1 audio
Theatrical Trailer 2 (02:12) – Presented in 1080/24p with Dolby Digital 5.1 audio
Digital Copy – The package is rounded off with a redemption code for a Digital HD Ultraviolet version of the film in 2D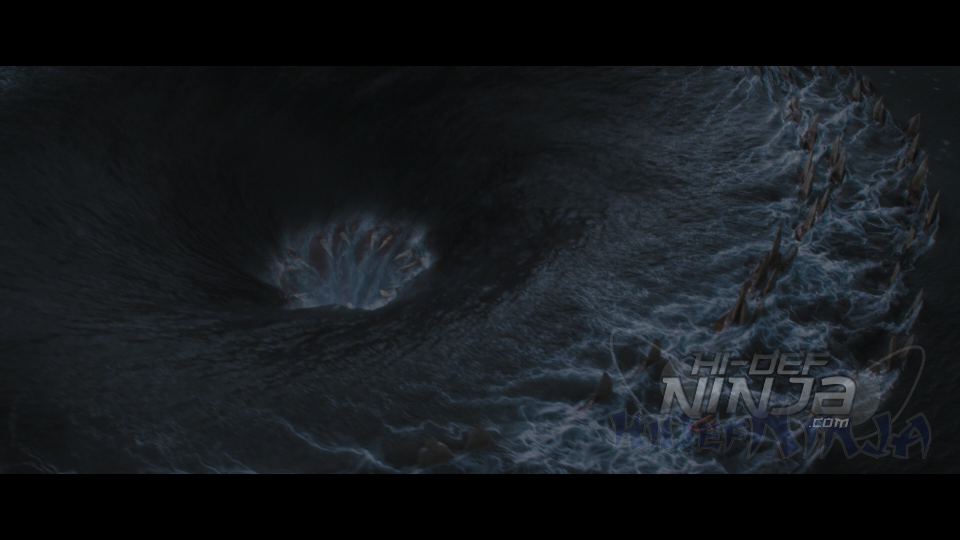 Percy Jackson : Sea of Monsters was a pleasant surprise to watch. As described above, it has a bit of a smaller scope for a sequel but this seems to work in its favour as it's a fun ride and a good couple of hours family entertainment. The 3D transfer won't exactly offer much in terms of immersion or eye popping visuals but it does deliver where it needs to and the 3D inspired photography in some scenes do make it worthwhile. The audio mix is great and certainly adds to the fun. The bonus features were a bit of a letdown with all of them struggling to pass the five minute mark so they don't offer much in terms of insight or production stories.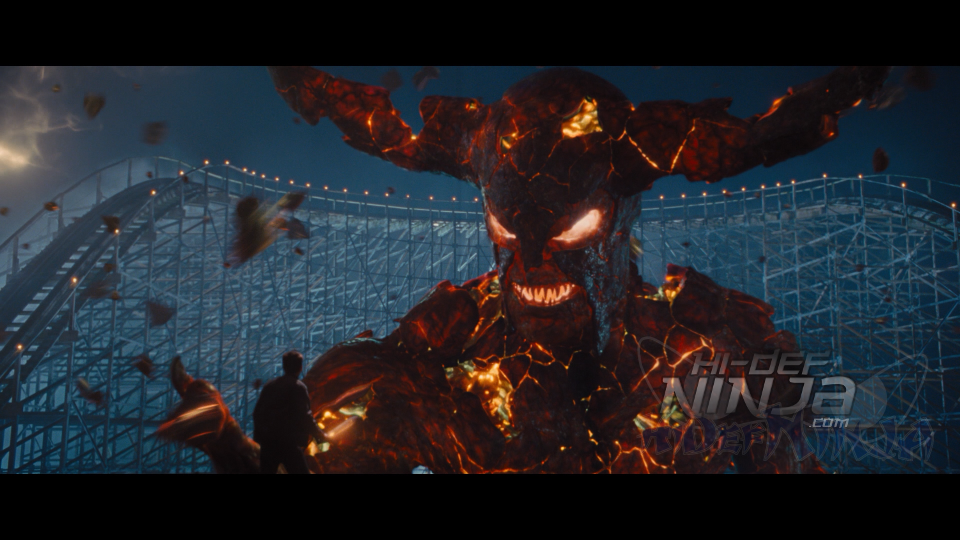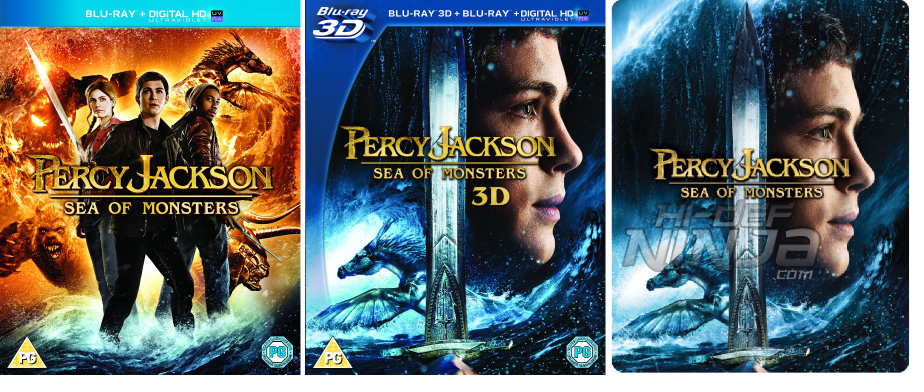 Percy Jackson is available in three separate editions. A 2D Blu-ray edition, a 3D/2D Blu-ray edition and a limited edition 3D/2D Steelbook edition