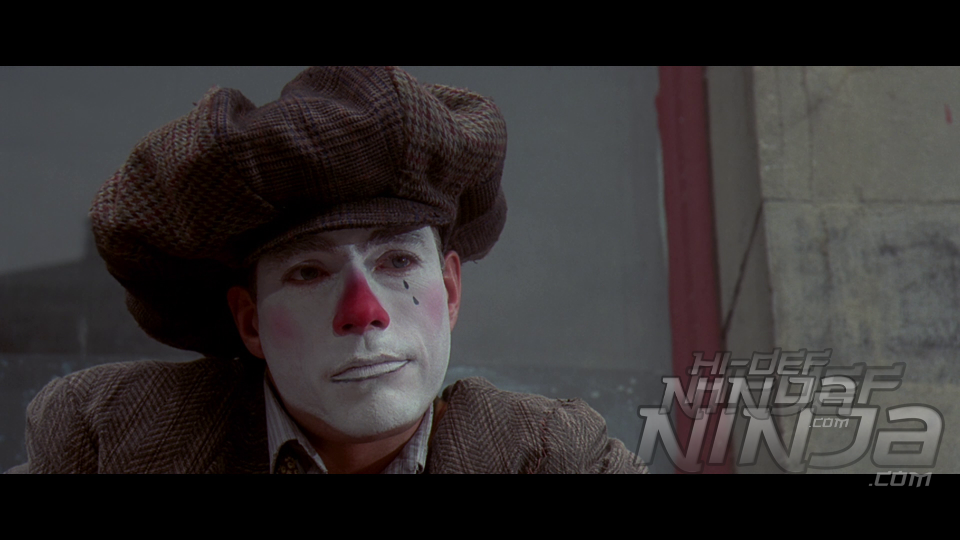 One man's search for his soul leads him on the ultimate journey. Acclaimed action superstar Jean-Claude Van Damme directs and stars in The Quest, an exotic odyssey that takes him from the slums of 1920's New York to the mysterious Lost City of Tibet. Van Damme stars as Christopher Dubois, a street criminal who's run from the police thrusts him into a forbidding realm of gun smugglers, pirates and an ancient, underworld martial arts competition. The legendary contest, known as the Ghan-gheng, pits the world's deadliest fighters against each other in a furious winner-take-all battle. Forced to compete, Christopher faces the ultimate test of manhood where one wrong move could cost him not only the competition but his life.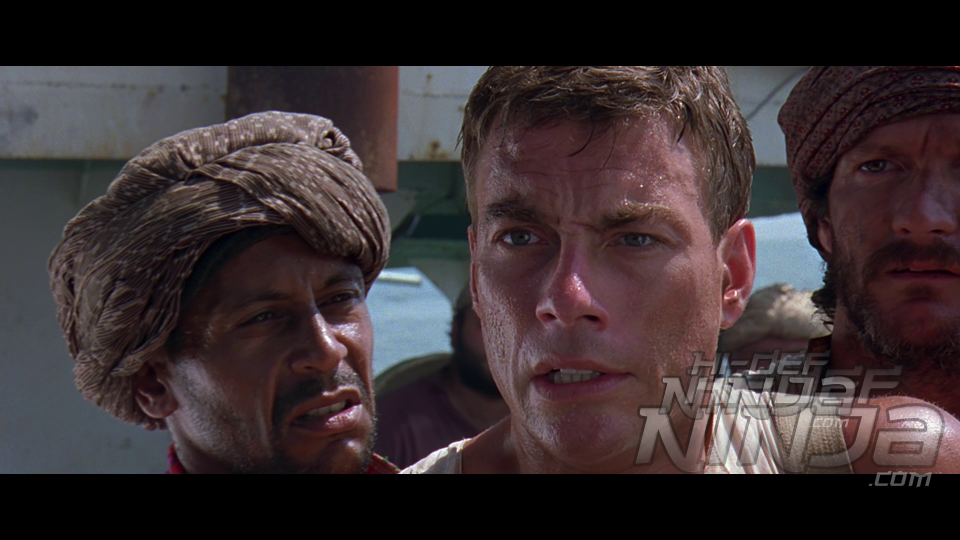 Platinum Cult Editions brings 'The Quest' onto Blu-ray presented with a 2.35:1 1080p AVC encode transfer.
Detail very good although the picture is a little soft in places but overall it's very good. Facial and hair detail are very good shown with fine definition. Colours are good and are not too saturated, with some looking very good on screen; for example a standout I noticed straight away was the vibrant red monk clothing that appears on screen when they are delivering the competition invitations to fighters. Both day time and night time scenery are very good. During the day time scenes, colours appear natural. The outdoor scenery looks excellent, particularly on the beach under the sun light. Darker scenes the detail stays and again is very good, not losing too much detail nor producing a great amount of digital noise. Skin tones also appear natural.
A slight amount of grain remains and it is noticeable that DNR has been applied to the transfer, however details still remain and looks to have done the transfer a favour. There is a very small hint of motion blur, however the transfer on the disc is very good and a definite noticeable upgrade from the DVD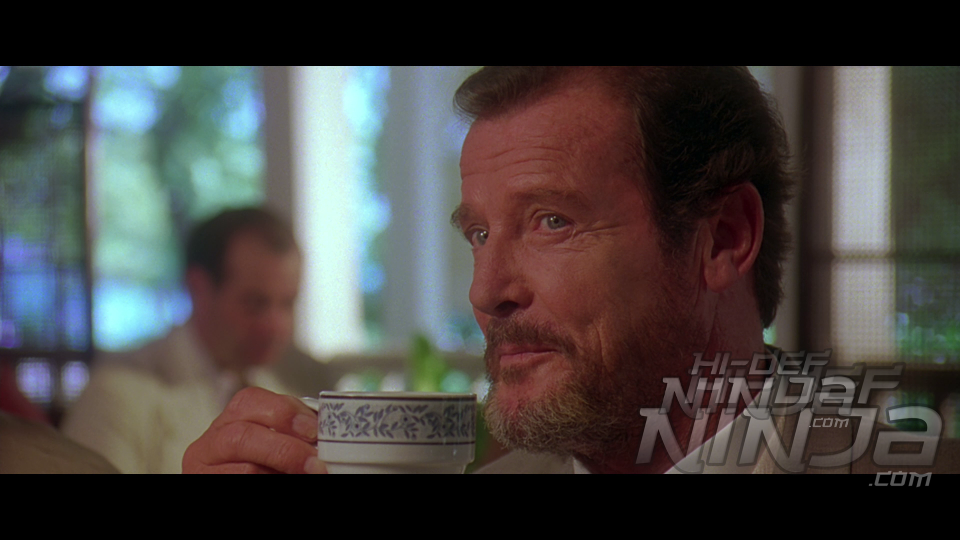 On the disc are various audio tracks to choose from. English Dolby Digital 5.1, German Dolby Digital 5.1, English Dolby Digital 2.0 and German Dolby Digital 2.0 for which I have opted to review the English Dolby Digital 5.1 track.
The first thing I noticed is that the track as a whole is fairly quiet, but once I had my receiver turned up adequately the Dolby Digital 5.1 track is very good.
Dialogue comes from the centre speaker sounding natural with great clarity and is never lost within the track. The rear speakers pick up all the background noise very well adding some great ambience to the track, most particularly noticed with the crowd noise during the fight scenes in the latter half of the movie. The score never really stops throughout the film, and lays underlying on the movie as whole adding that bit of extra atmosphere for the movie, building up and becoming more prominent in the fight scenes. LFE is quite subdued throughout the whole film but does kick in where necessary, which is most noticeable again in the fight scenes of the film adding that extra oomph when the punches or kicks connect.
Whilst the track isn't a HD track, nor is it reference material it is very good and is more than good enough for the Blu-ray.
Also included are optional German subtitles.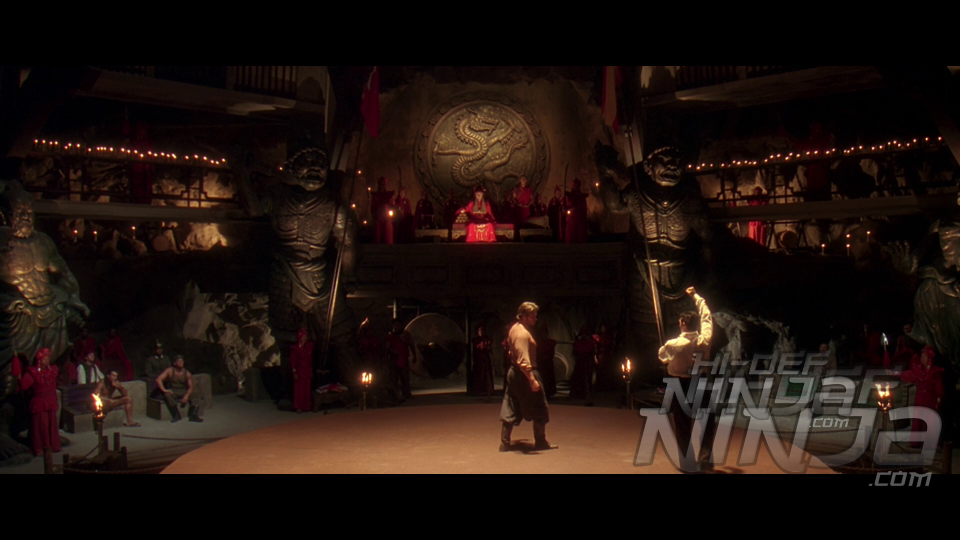 The Quest comes with the following extras –
* Making Of (17 mins) – Shows a lot of behind the scenes filming as well as interviews with some of the cast and crew but is dubbed in German language, with no English subtitles
* Behind the Scenes (2 mins) – A brief behind the scenes look at some of the fight sequences from the film with Jean-Claude choreographing
* Trailer
* Artwork Gallery Slideshow
* Behind the Scenes Gallery
* Interview with Jean-Claude Van Damme (2 mins) – A brief interview with the films main star and director, which is in English with forced German subtitles
* Interview with Roger Moore (2 mins) – A brief interview conducted on set with Roger Moore, the interview is in English with forced German subtitles.
* Electronic Press Kit
* 'Box' Making-Of (3 mins) – Presented in French and broken English with no subtitles, this is an on-set 'E!' style behind the scenes look at the movie
* Photo Gallery
* 8 Page booklet inside the case (text in German)
The extras here are quite hard to score mainly because they aren't particularly English friendly, but we need to remember that this is a German Blu-ray aimed primarily at the German market so it would be unfair to mark it down because of this.
There's quite a wealth of extras on the disc, certainly the most seen for this film on one disc so far (whether that be DVD or Blu-ray), and it's nice to see the film be loaded up with as much as it has been for the Van Damme fans to be able to sit back and watch. Initial pressing also includes an embossed slipcase.

I've been a life-long Jean-Claude Van Damme, and was over joyed to see him cast as the lead villain for 'The Expendables 2', which in turn got him back onto the big screen for the first time in a long time, and have always found it unfair and unfortunate with the 'Direct-to-Video' rut that Jean-Claude found himself in from the late 90's up until now, despite knocking out some very solid films which in my opinion would've done well in the cinemas, but I digress.
I remember buying 'The Quest' on VHS and being very excited to watch even more so with it being Van Damme's directorial debut. As I do with most Van Damme movies, I thoroughly enjoyed 'The Quest' and was a movie that I happily watched repeatedly. However, it is hard not to compare this to 'Bloodsport', which are both very similar in terms of story and which I believe Frank Dux tried to sue Jean-Claude Van Damme over when 'The Quest' was released back in 1991. I do look at both films differently and whilst I think 'Bloodsport' is the better film, I can't help but enjoy 'The Quest'. I'm fond of the action movies that feature fighting tournaments and I found this to have a decent storyline, some very good action and fight sequences with a good supporting cast (I still find it strange to see that Roger Moore was a star in a Van Damme film, kind of the same with Charlton Heston being involved with 'The Order').
The guys over at Platinum Cult Editions have produced a fine Blu-ray for 'The Quest', with a decent picture and both a goo soundtrack and selection of extras. This Blu-ray is a must for all Van Damme fans.
httpvh://www.youtube.com/watch?v=C-8WuCEYL74
Order your copy from Amazon.de