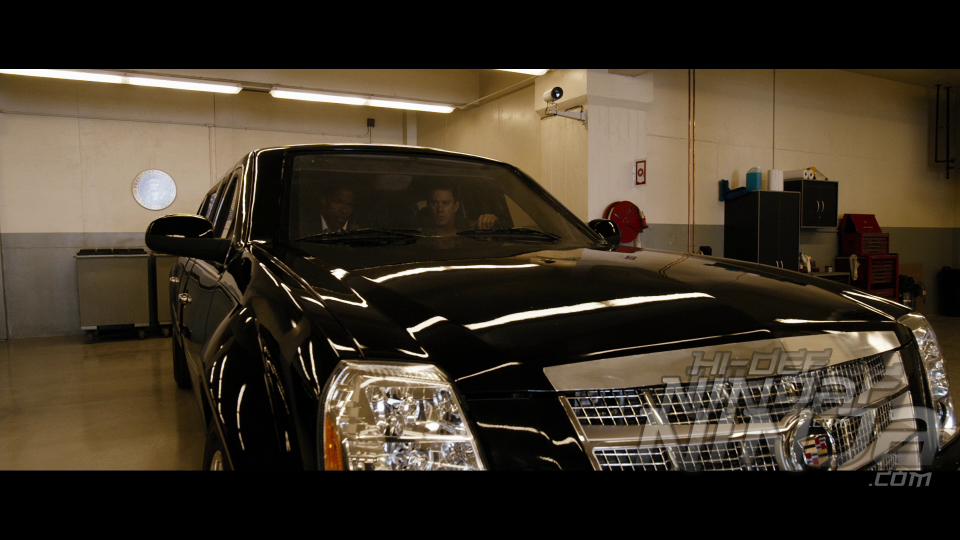 Capitol Police Officer John Cale has just been denied his dream job with the Secret Service of protecting President James Sawyer. Not wanting to let down his little girl with the news, he takes her on a tour of the White House, when the complex is overtaken by a heavily armed paramilitary group. Now, with the nation's government falling into chaos and time running out, it's up to Cale to save the President, his daughter and the country.
'White House Down' comes presented in 2.40:1 1080p AVC encode, put simply the transfer is fantastic.
Details are superb! All facial, clothing and building details are brilliant, with some great definition and clarity. Skin tones are natural as they can be. Colours again are brilliant; whether that be light or dark, inside or outside. Bright blue skies look fantastic, greenery from grass and trees outside is lush and vivid, and likewise for interior shots and darker scenes no detail is lost at all. Black colours add great depth to the picture, adding great shadow detail. No colour saturation, no problems whatsoever with the print.
Pretty much reference material here!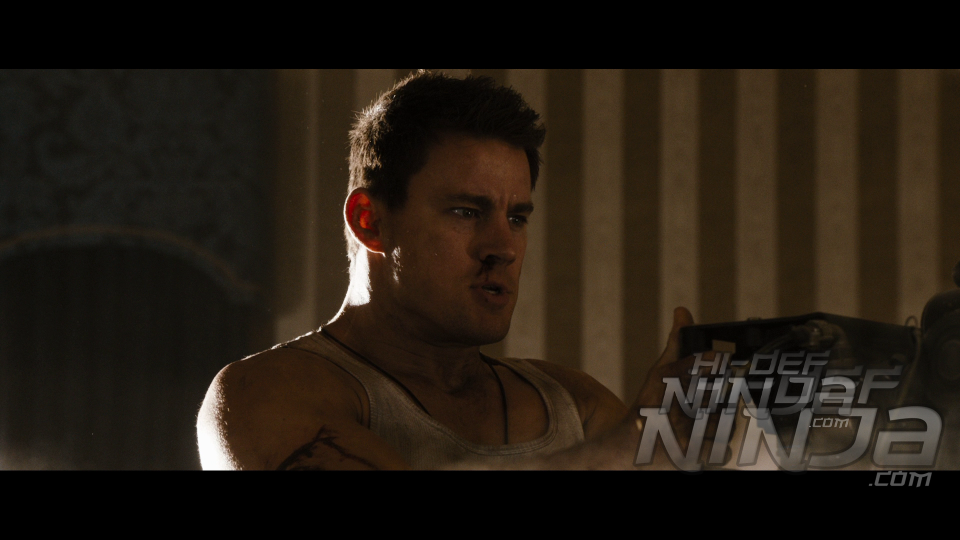 'White House Down' crashes its way with a stonking English DTS-HD Master Audio 5.1 track.
Just like the video, the audio on the disc is outstanding. From the off you know it's going to be a good track, as you would come to expect from a Roland Emmerich movie.
All speakers are used to maximum effect, dialogue is delivered from the front speakers with great precision and clarity and is never drowned out, even in the noisiest of scenes. Rear speakers pick up all the background noise, from the crowds gathering from outside the White House to cars on the streets adding to create some great ambience to the track. The DTS-HD Master Audio track is also a great workout track for the LFE, having plenty of work to do. Shots from a machine guns, rocket launchers, tanks and helicopters, the rumbles from your sub-woofer will pound your room recreating superbly what's being shown on your screen. The score, while being nothing out of the ordinary, does remain mainly subdued throughout, building tension at the right time and in all of the right places.
As I've mentioned above, the DTS-HD Master Audio track is superb, and just like the video transfer this is reference material to show off your home cinema system with.
Also included on the disc is an English 5.1 Audio Descriptive track, as well as English, Hindi and Spanish subtitles.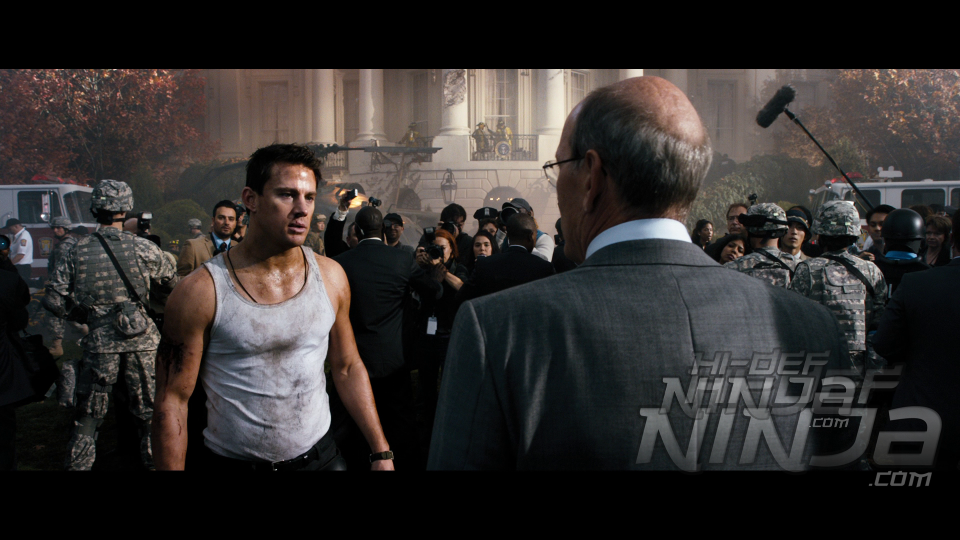 'White House Down' arrives on Blu-ray with the following extras –
* A Dynamic Duo (HD, 4 mins) – Cast and crew talk about Tatum and Foxx, with both of them complimenting each other
* The Beast (HD, 5 mins) – A look at the construction of the Limo built for the movie
* Men of Action (HD, 4 mins) – A very brief featurette that looks at Tatum's stunt work on the movie
* The Full Arsenal (HD, 5 mins) – A look at the weapons used in the movie
* VFX Boundaries Breakdown (HD, 3 mins) – A look at the special effects system used in the film
* The Inside Story (HD, 3 mins) – A brief look at how the project was sold to Sony, how the director was chosen and the casting of Tatum
* Presidential Treatment (HD, 4 mins) – A look at the setting of the White House for the movie, creating the sets and building the digital backdrops.
* Lights, Camera, Heart-Pumping Action (HD, 3 mins)
* Roland Emmerich – Upping the Ante (HD, 5 mins) – Cast and crew talk fondly of the film's director
* Crashing the Oval Office (HD, 4 mins) – A look at building the Oval Office set and crashing a car through it
* Drowning the Beast (HD, 3 mins)
* Recreating the White House (HD, 10 mins) – A more detailed look at the White House sets
* Meet the Insiders (HD, 5 mins) – A brief look at the film's secondary characters
* Gag Reel (HD, 6 mins)
Whilst the list of extras are extensive as you can see, totalling in just over an hour's worth of extra material there looks to be more than there actually is. However, fans of the movie will be pleased with what's on offer here.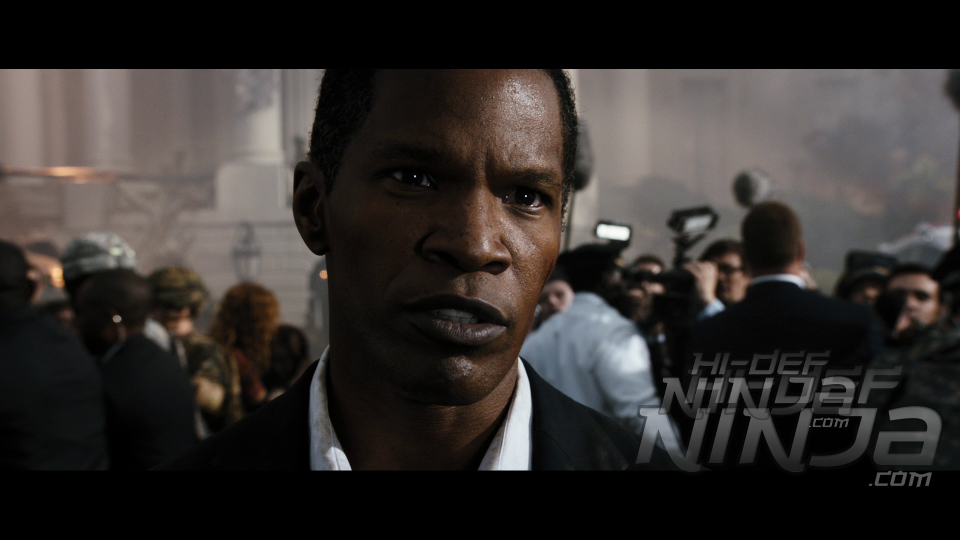 When I saw this at my local cinema it wasn't too long after 'Olympus Has Fallen' had been released in UK cinemas, and upon watching it I was instantly comparing 'White House Down' to that. Whilst the films have their similarities, 'White House Down' is definatly the more 'fun' movie of the two which in my opinion caters to the more family friendly side of the viewers, not being as violent, blood or with as much swearing to that of 'Olympus Has Fallen'. However, I thoroughly enjoyed 'White House Down', and alongside 'Independence Day' could be my favourite Roland Emmerich film to date.
I thought the casting was great, I've become quite fond of Channing Tatum since I saw him in 'G.I Joe: Rise of the Cobra', even more so in '21 Jump Street', thinking he could be a decent action movie star for the next few years and for me this movie proved it, I also like to think the white vest he's in is a little nod to 'John McClane' from 'Die Hard. I'm not normally the biggest fan of Jamie Foxx, however I did think he did a fine job playing the President 'James Sawyer', and with Tatum and Foxx cast together it's obvious to see they had a good time making the movie together, and they bounced off each other very well. As for James Woods, all that needs to be said that you can never have enough James Woods! The man is always fun to watch, and not being top billed cast it was a pleasant surprise when he turned up on the screen.
I would say if you enjoyed 'Olympus Has Fallen' then it's a safe bet that you'll enjoy 'White House Down'. Whilst the film is nothing new and some of the CGI and VFX leave a little to be desired (well, it is a Roland Emmerich film afterall), it's a real fun two hours that I know I can happily watch over and over again, and I hope this will continue the trend of some new action movies to be brought to the table.
Sony have brought 'White House Down' onto Blu-ray with a reference quality AV package and a very good set of extra materials. If you're an action movie fan like I am, I cannot recommend this disc enough.
httpvh://www.youtube.com/watch?v=4AXbiCdmXgw
Order your copy now from Amazon.co.uk or the limited edition Steelbook from Amazon.co.uk